The Female Archaeologists of the Scottish Orkneys Were Hiding in Plain Sight
The women in this century-old photo weren't visitors—they were probably scientists.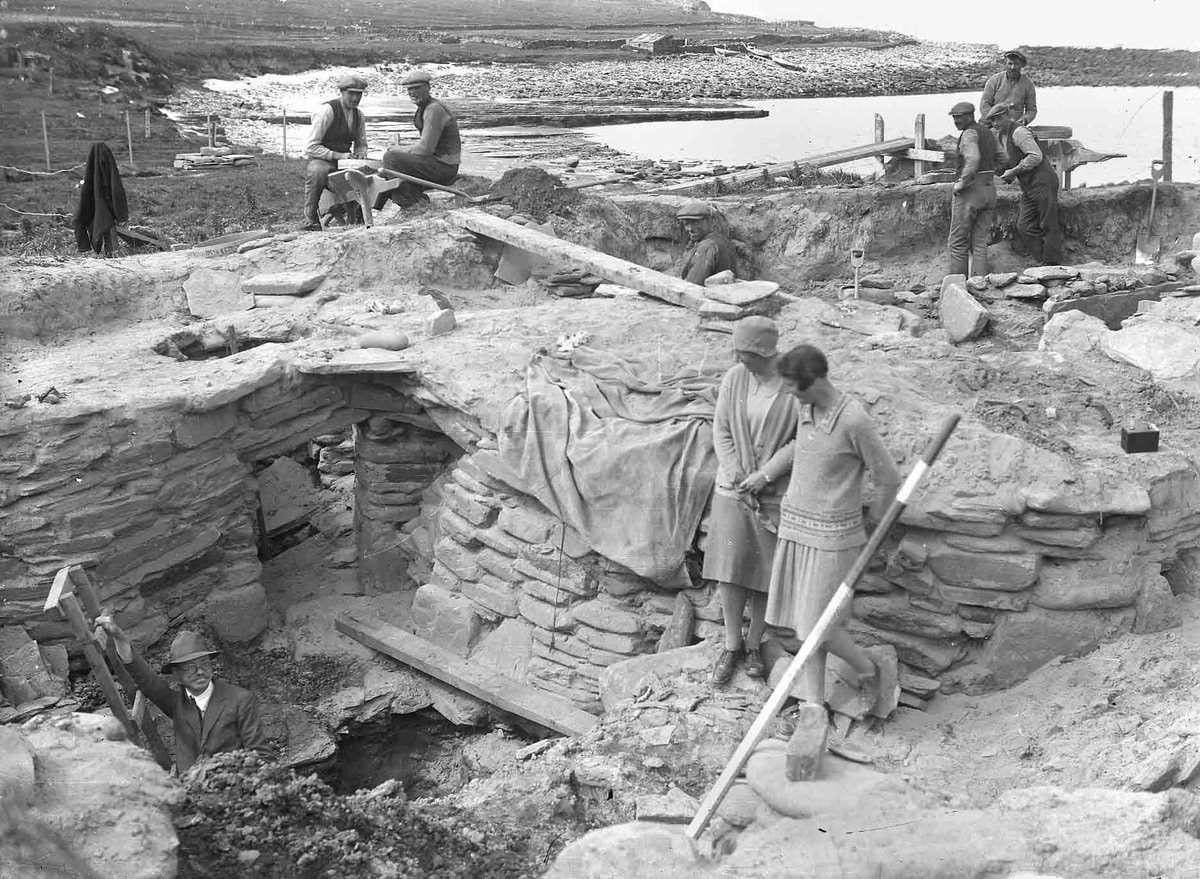 Archaeological excavations often attract rubberneckers, lookie-loos, and inquiring minds, and who can blame them? It's exciting to see something old and fragile come out of the ground and get dusted off. These digs are reminders that there are countless stories under our feet.
At first glance, many viewers figured that an old photo of archaeological work being done at the Neolithic settlement of Skara Brae, in Scotland's remote Orkney Islands, showed exactly that—onlookers hanging around to catch a peek. Nope. It turns out that, beyond the artifacts, another story was hiding in plain sight—the contributions of female archaeologists, who were later mistaken for visitors.
Hints of this settlement first appeared to modern eyes in 1850, when a storm raged over the Bay of Skaill. The tempest revealed the shape of several small structures on Mainland, a confusingly named island in the Orkney archipelago. Over the course of several excavations spanning decades, archaeologists uncovered a stand of domed, stacked-stone homes, and dated them to somewhere between 3100 and 2500 B.C.
Much of the archaeological work was performed by V. Gordon Childe, during his tenure as an archaeologist at the University of Edinburgh. Childe's work at Skara Brae began in earnest in the late 1920s, and he is the star of a series of photographs snapped at the site and held by the Orkney Library and Archives. But he's not alone in the images—a few women are present, too. One perches her foot on a rock, and another wears a jaunty cloche. In some images, they're down in the thick of things in the excavation pit. In others, they smile down at Childe, who clings to a ladder, half-concealed within the dig.
A caption in a decades-old book about the dig identified some of these figures as "visitors," and that was the general thought until last year, when an article in Current Archaeology identified one of the women as a pioneer in the field. As BBC reported, when Oxford professor Dan Hicks recently shared some of the images on Twitter, other archaeologists jumped in to try and puzzle out the identities of the whole group. What followed next was a collective awakening, followed by a "D'oh!" It wasn't just one—several of the women were probably scientists.
Mairi Davies, an archaeologist at Historic Environment Scotland, had been curious about the images for a few years—ever since she noticed that the woman in the cap is clutching a trowel. And their sensible shoes are caked with sand or dirt. As the images made the rounds on social media, a clearer picture began to emerge.
The trowel-wielding figure is likely Margaret Simpson, who studied under Childe, wrote guidebooks, worked as an assistant Inspector of Ancient Monuments, and became one of Scotland's first professional female archaeologists. She also received thanks in Childe's report about the site, and "multiple sources point to her being the lady in the hat with the trowel," Davies says. The other identities aren't quite so easily confirmed. BBC reports that they are Margaret Mitchell—another graduate of Edinburgh's archaeology department—and possibly Mary Kennedy and Margaret Cole, who did not go on to work in the field.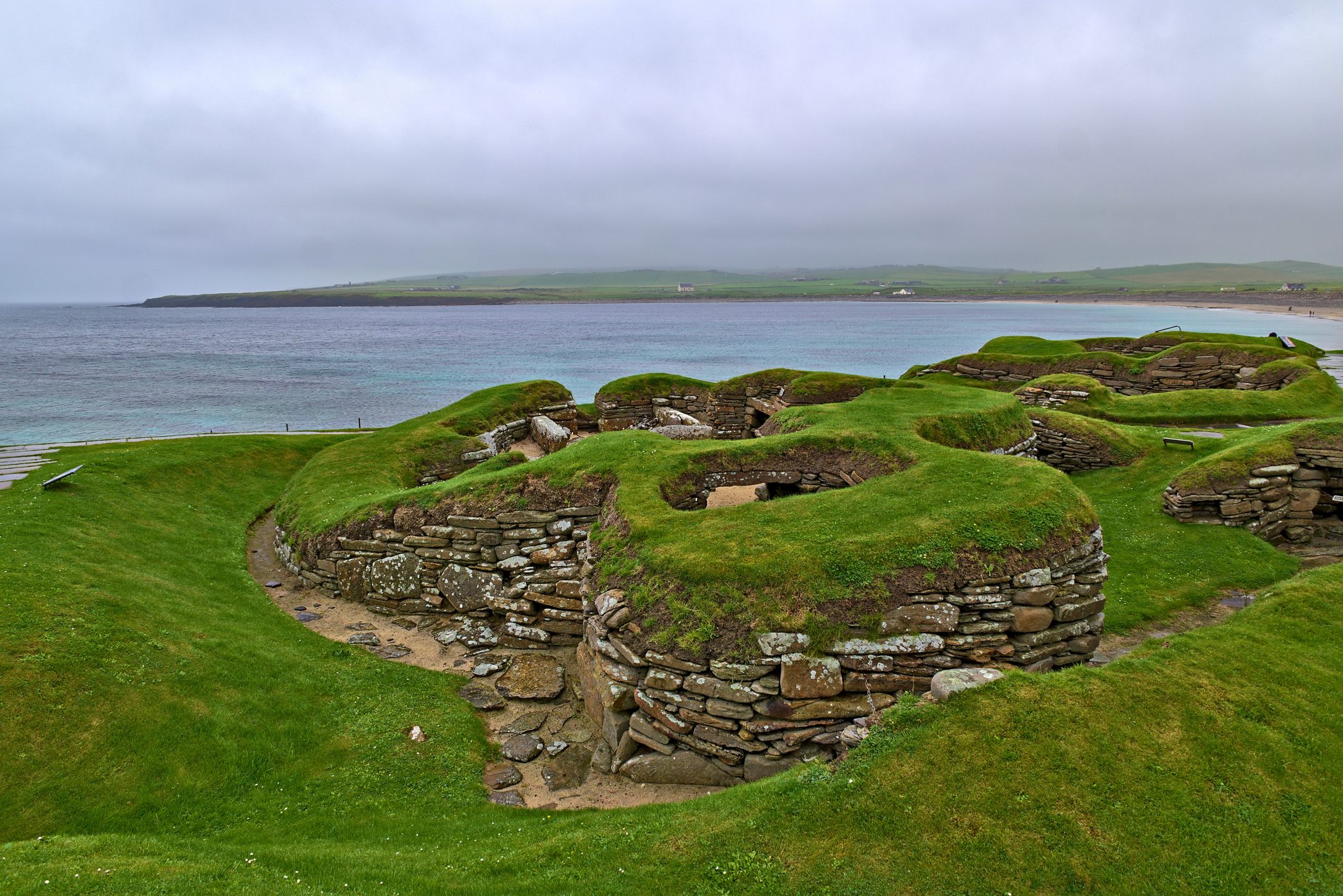 "We shouldn't actually be surprised that there are female archaeologists at this site," Davies says. "If you look into the wider context of what's going on at this time, there were a lot of women active in field of archaeology, including in director roles in field excavations." She told BBC that some of Childe's classes had more female students than male ones, and the mid-20th century saw female archaeologists such as Kathleen Kenyon, Tessa Verney Wheeler, and many more actively involved in fieldwork. "There is a tendency in archaeology for things to focus on a heroic male figure," Davies says. "You can see how that's translated into popular culture, even with Indiana Jones, this white male who goes out on adventures and excavates and finds treasure." The composition of this photo is a great example of the effort to center the work of the male archaeologist, says Antonia Thomas, an archaeologist at the University of the Highlands and Islands: "All angles lead to Childe."
Davies wonders whether some confusion about the images is a product of contemporary viewers "projecting our own prejudices into the past"—particularly when it comes to the women's outfits. "It's a bit disappointing that people will look at photos of women in skirts in a work context and not take them seriously, or assume they're not there to work," Davies says. On Twitter, Rachel Pope, a director of fieldwork and lecturer in European prehistory at the University of Liverpool, observed that the women's getups were de rigueur for middle-class ladies at the time. "Posh clothes do not a tourist make," Pope wrote. "I can think of my own family photographs of my grandmothers from not much later," Davies says, "doing quite adventurous things in very similar outfits." When it comes to uncovering the legacies of women in archaeology, Davies says, researchers have "a lot more digging" to do—in archives, that is.