Deer, Violence, and Videotape
When a deer ran over an aspiring rap artist on April 1, no one believed him. Until he got surveillance footage, that is.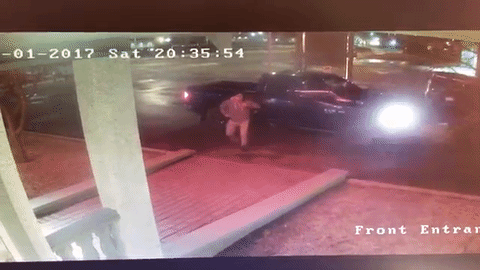 April Fool's Day is a real pain for a number of reasons, not the least of which being that if something crazy happens to you, it's going to be hard to convince people that it really happened. That's why, when a British Columbia man got run over by a deer on this most recent April 1st, he had to get some security footage to prove it.
At around 8:30 last Saturday, aspiring hip-hop artist Cary McCook was getting out of his truck, when out of nowhere, a young deer crashed into him, trampling over him into the night. As he told the CBC, he was able to see the deer for a second before the crash, noting that it was being chased by a dog.
McCook was able get up and dust himself off, relatively unharmed, more or less immediately posting about it on Facebook. 
Still, no one believed him because, well, it sounded like a joke.
Luckily for McCook, he was able get his hands on the hotel security footage that perfectly recorded him getting assaulted by the deer. Naturally, McCook is now semi-famous, or, as he said on Facebook, "shout out to that deer for my success!!"