The Unlikely Triumph of a Cuban Sandwich Shop in Seoul
The chefs have amassed awards at an international competition with skills they honed on YouTube.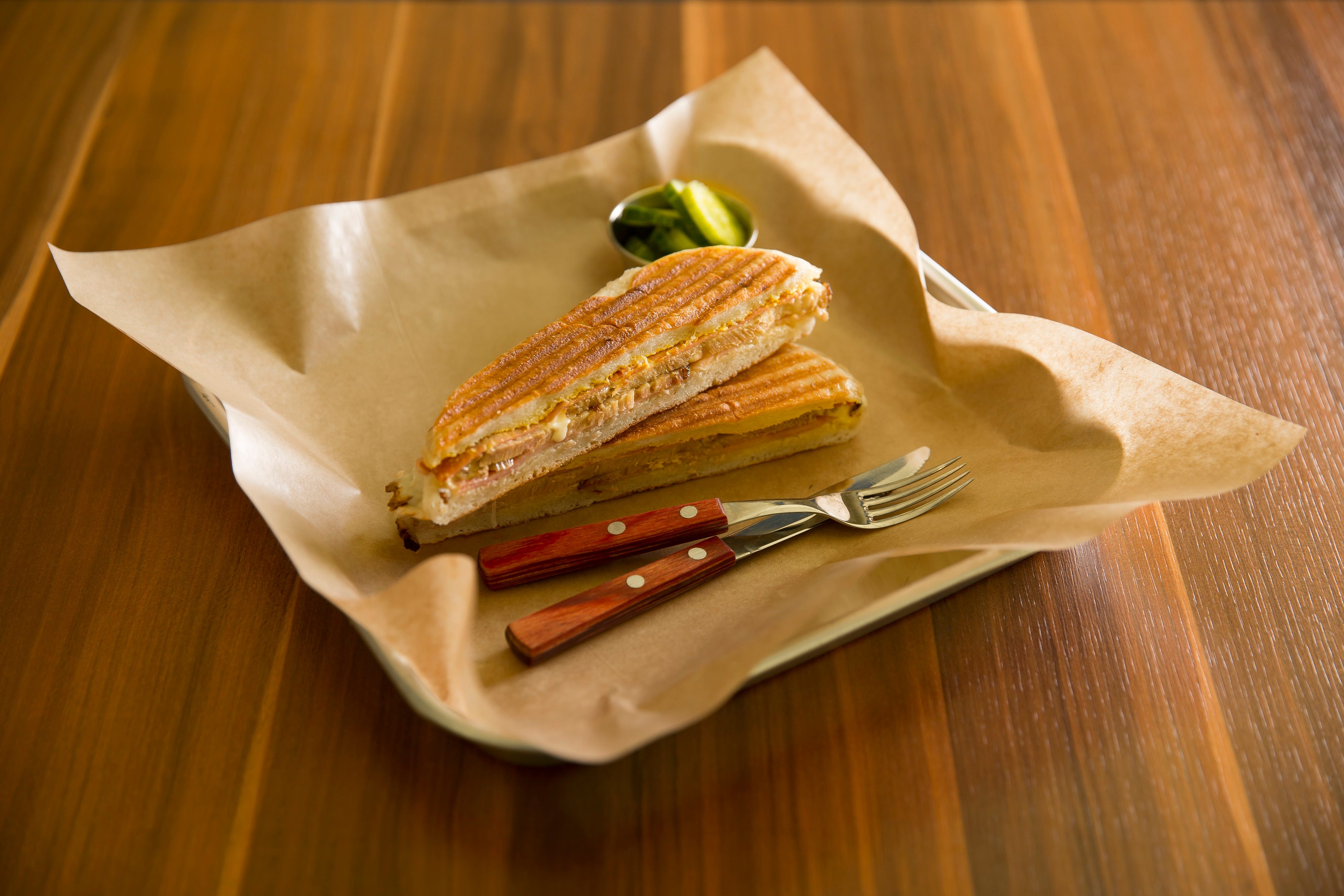 Crafting the perfect Cuban sandwich involves a near-sacred ritual, and rules that leave little wiggle room for variation. A proper Cuban requires ham, pork, Swiss cheese, pickles, and mustard, and—depending if you make them in the style of Miami or Tampa—Genoa salami. (In Miami, adding salami is considered blasphemous, while nearly 300 miles away in Tampa, it's a marker of true authenticity.)
Some purists believe that even switching up the order of how ingredients are added can throw off a Cuban's delicate balance. So when someone finds a recipe that works, it becomes religion. That's especially true of Tampa's legendary Columbia Restaurant, the country's oldest Hispanic restaurant. There, chefs dole out over 600 Cubans daily using the same family recipe that's been a mainstay since 1915.
But for Hyunmin Cho and Geunmin Kang, the owners of the South Korean sandwich shop Tampa Sandwich Bar, in Seoul, the invitation to compete in Tampa against dozens of other local, statewide, and international vendors at the 2017 International Cuban Sandwich Festival "was a dream come true". Some of their competitors had been churning out Cubans for decades. Kang and Cho had started making them less than two years before the festival.
The festival, started in 2012 by the Cuban-American Tampa resident Victor Padilla, claims responsibility for heating up the rivalry between Tampa and Miami—particularly on where the sandwich was born. Fittingly, the three-day festival and competition takes place in historic Ybor City, the disputed (but never dethroned) birthplace of the Cuban sandwich. Unsurprisingly, it is the place to prove yourself—and your sandwich. After learning that Kang and Cho's Seoul-based Tampa Sandwich Bar menu focused on Cuban sandwiches, Padilla knew he needed them at the festival.
Set up in a small booth, the proprietors of Tampa Sandwich Bar doled out samples as fast as they could. Attendees were hungry to try the out-of-towners' take on a traditional Tampa-style Cuban and their special spicy chicken Cuban. For Kang and Cho, the latter, made with kochujang (a red pepper paste-based sauce) and kimchi fried in butter and oil, offered festival-goers a taste of Korea, too.
Padilla recalls people "raving" about the duo's sandwiches all weekend. "They barely lasted an hour—both days—before they were out of food." On Saturday, lines were so long that even Padilla himself had a hard time getting his hands on a taste. Then on Sunday, the festival's competition day, they won the popular vote, placing first in the Most Popular Sandwich category*. Kang and Cho were so taken aback by the win that at first they stood cheering for themselves, not realizing they'd won.
The winning didn't stop there. Tampa Sandwich Bar snagged the title again when they returned to compete in 2018.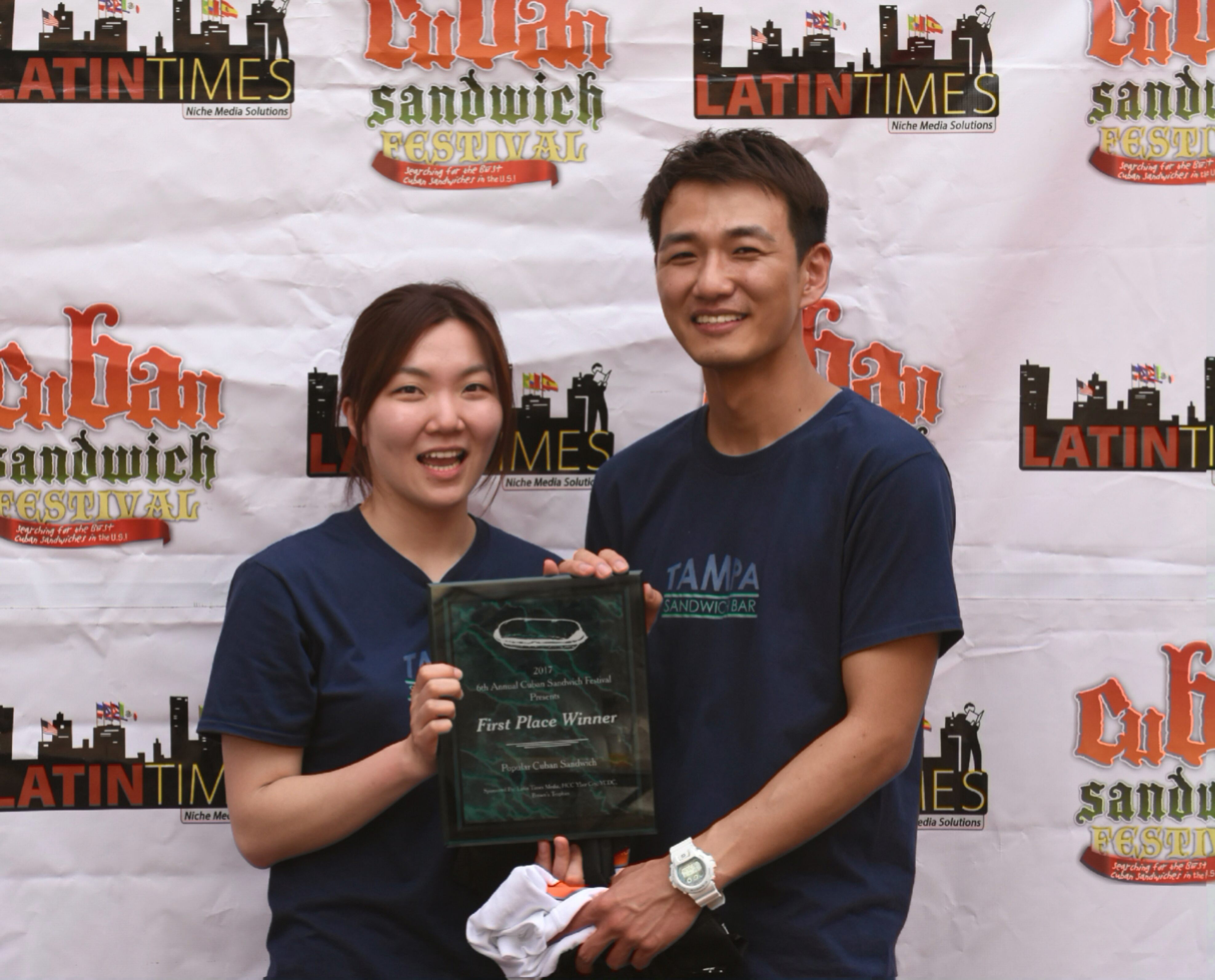 It was a coup for two friends who met in night school, and who both dreamed of starting their own food businesses. After talking over beers, they decided to go into business together, though they had no clue what they might sell. One night, while watching the movie Chef, they were inspired by the main character's courage in following his dream—opening a food truck that sold Miami-style Cuban sandwiches. But Kang and Cho still had zero experience in restaurants and minimal experience with the Cuban sandwich.
Kang mentions she had tried a Cuban sandwich once in Korea (one she now feels had been "slightly modified to suit the taste of Koreans"), and Cho remembers eating a Texan Cuban while on vacation in the United States. However, both sandwiches were far from the real deal—and what's more, the pair's only taste of an authentic Cuban came mere days before competing in 2017. This left the friends a bit stumped as to how exactly to make a Cuban sandwich themselves.
So how did they go from novices to the proprietors of South Korea's most famous Cuban sandwich shop in less than two years? They turned to the internet. "The only way to learn how to make the Cuban was to use YouTube," Kang explains. "I was used to watching videos from all over the world on YouTube, so it was natural to [use it] to learn." And since Korean menus tended to always feature Miami-style Cubans, the two decided to play it safe and do the same.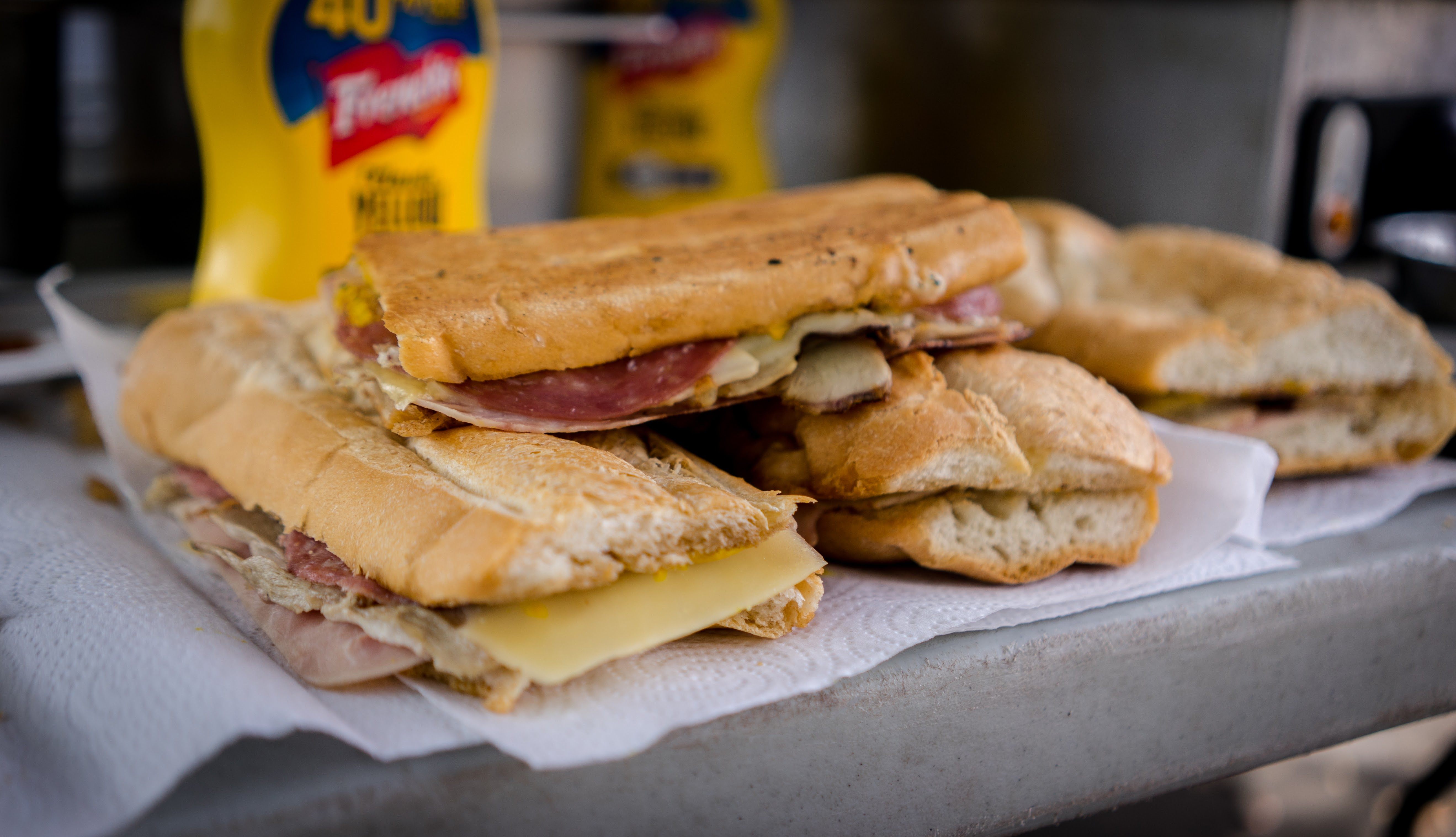 First, the pair spent countless hours poring over video tutorials. From there, they stocked up on the sandwich's many expensive foreign ingredients, some of which are tough to come by in South Korea and only available at Costco. (Unfortunately, real Cuban bread is not available in Seoul, leaving Kang and Cho to press their sandwiches on ciabatta or baguette bread.) They spent weeks testing recipes, making dozens of sandwiches each day and gathering feedback from friends and family.
When they felt that they were close to the real thing, they went public, setting up a one-time booth inside of a flea market in Sangnam-dong. After the sandwiches sold out and received rave reviews from foreigners familiar with the Cuban, they were convinced they had a winner.
Even then, perfecting their Miami-style Cuban took three more months. Eventually, when they first opened in Seoul's Yeonnam-dong neighborhood in October 2015, it was the only item on their menu (at the time, they didn't realize that they should have more than one offering.) They placed their in-house marinated mojo pork on the bottom piece of bread, followed by a slice of sweet baked ham, then Swiss cheese. Next up, the sliced pickles clung to a generous slathering of yellow mustard lining the top piece of bread. And finally, they buttered the outside of the bread and then gave sandwich a well-timed press on the plancha.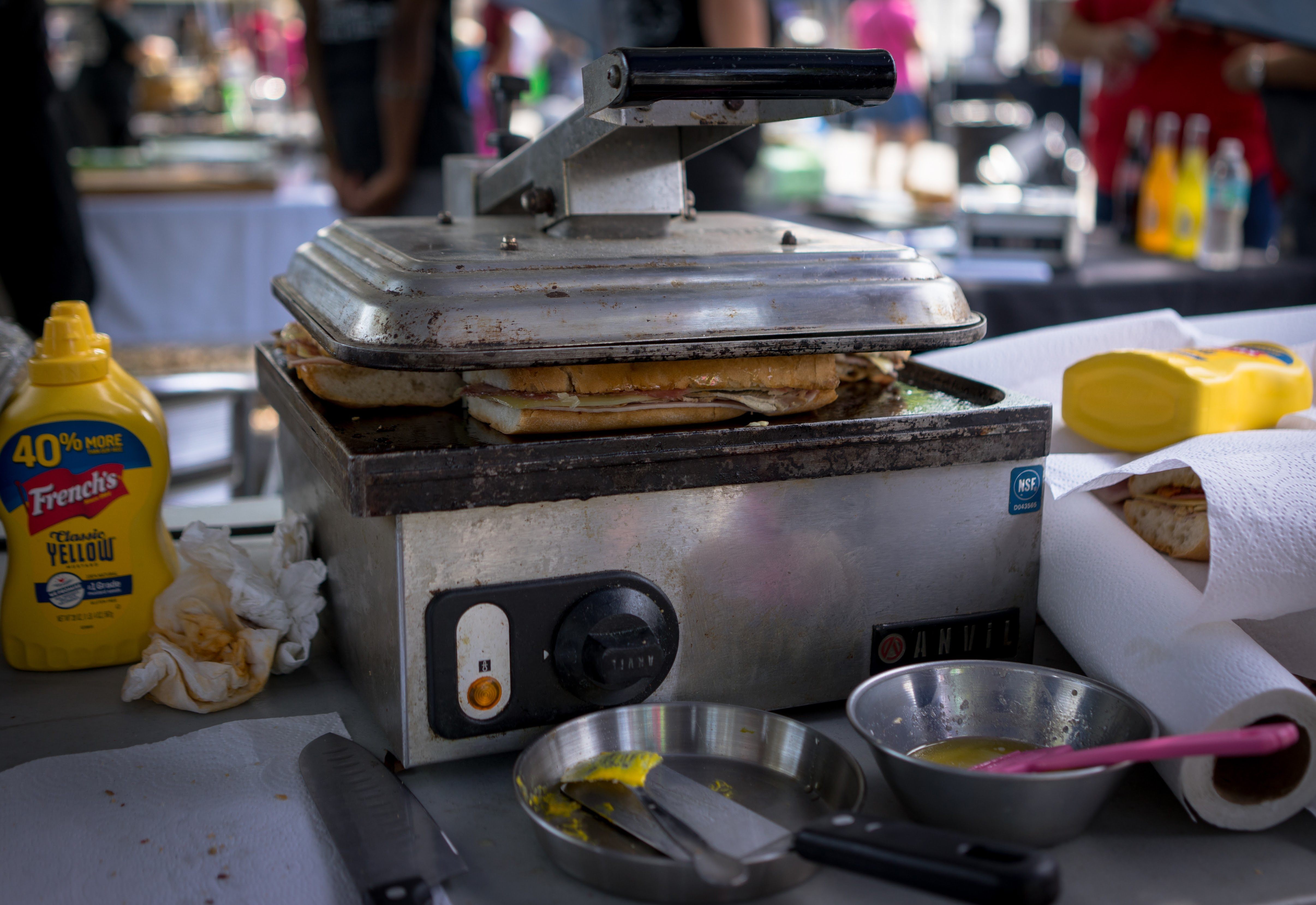 Right away, expats praised its authenticity, though Kang notes that their Korean customers weren't sure what to make of the new food. Even with a stellar product, being celebrated outside of the expat community proved to be challenging. "Part of the problem [of trying to sell American-style sandwiches]," they explain, "is Koreans tend to view sandwiches as picnic or snack food rather than a whole meal." For many Koreans, consuming a large sandwich stuffed with a variety of fillings, and served piping hot, was, well, a foreign concept.
Although the Cuban sandwich wasn't new to Korea at the time, it didn't have the best track record. The spot where Kang ate her first "Korean-friendly" Cuban is now closed. Out of the three restaurants in Seoul that feature Cuban sandwiches on their menus (including the city's first and only Cuban restaurant), the only one still open is an Irish pub in the foreigner-saturated neighborhood of Itaewon.
Historically, Koreans have deftly co-opted specific foods into their existing culinary culture. This has often been the result of military or political occupation. Take budae jiigae, or army base stew. An amalgamation of Korean, American, and sometimes Japanese foods, this 1950s post-war hot pot dish combines Korean staples such as spicy kimchi and gochujang with processed U.S. army rations including Spam, hot dogs, baked beans, and cheese slices. Later iterations also included ramyeon, Japanese-style ramen noodles introduced to Korea in the 1960s.
Joshua Leiner, an American expat who lived and taught in Seoul from 2011 to 2016, notes that several popular American-style restaurants and chains feature menu modifications to complement traditional Korean tastes. Savory pasta sauces are sweetened, pizzas are adorned with snails or cream cheese, and some types of garlic bread are often dusted with sugar. The western sandwich chain Subway aside, American-style sandwiches are usually offered as part of a larger menu.
A month after opening, Tampa Sandwich Bar beefed up their menu, adding a rotation of other American favorites, such as the Tampa-style Cuban, shrimp po' boys, sandwiches stuffed with warm comforts such as mac 'n' cheese or pulled pork, and sides including fried Oreos—all with recipes sourced from YouTube tutorials.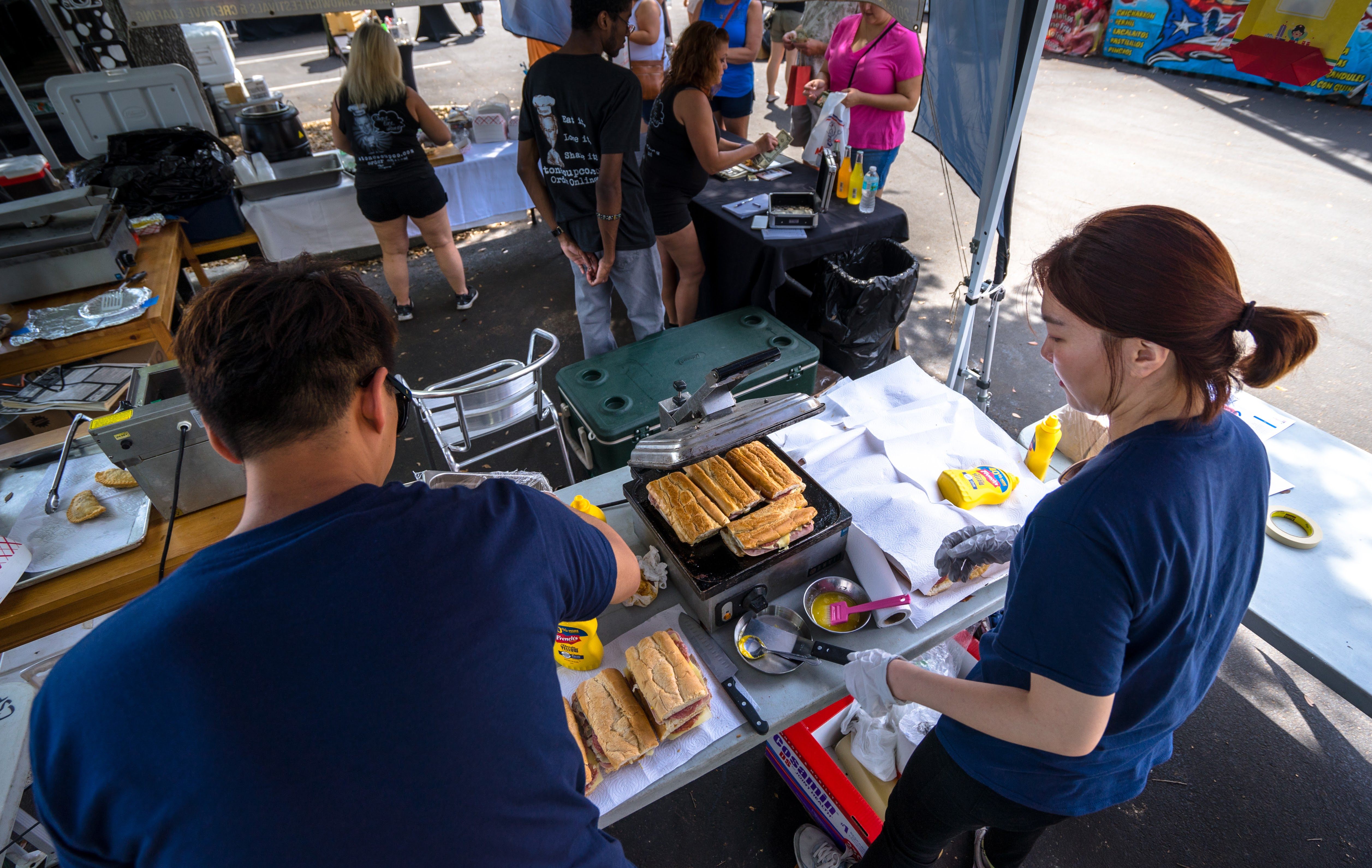 Thanks to the success of two festival wins and a third-place nod to their authentic Tampa-style Cuban sandwich, plus local and international TV appearances and press, pilgrimages to Tampa Sandwich Bar are often met with lines and waits for tables. They have also inspired several new Cuban sandwich shops to open around the country, even some as far south as Jeju Island.
Kang now estimates that nearly half of their shop's customers are Korean. And even though they've added two Korean-style Cubans to their menu (a Spicy Chicken Cuban and a Seoul Cuban), the traditional-style Tampa Cuban is now, improbably and in a delicious twist of irony, Tampa Sandwich Bar's top-seller.
*Correction 5/12: A previous version of this article stated that Tampa Sandwich Bar placed third in the Tampa Historic Traditional category. They won Most Popular Sandwich.
Gastro Obscura covers the world's most wondrous food and drink.
Sign up for our email, delivered twice a week.