80,000 Snails, 12 Tiny Electric Fences, and 1 Rediscovered Recipe for 'Wallfish'
It's snail-herding season in England.
"They call me the Queen of Snails," Lyn Paxman says with a laugh as she guides me through her Somerset farm's snail pens. As she talks about her free-range molluscs, she readies tiny electric fences and lays down salt traps for the approaching summer snail-herding season. Last year, Paxman's prized Helix Aspersa Müller (the common garden snail) escaped and made short work of her vegetable patch. This year, she's fortifying the farm.
Eating snails fell out of fashion long ago in England, but in Somerset, Paxman and her partner, Rob, are busy rearing tens of thousands of garden snails. To market molluscs to famously unadventurous English eaters, the Paxmans have also been reviving a curiously named, cider-soaked West Country dish known as wallfish—a long-forgotten English take on escargot that dates back centuries.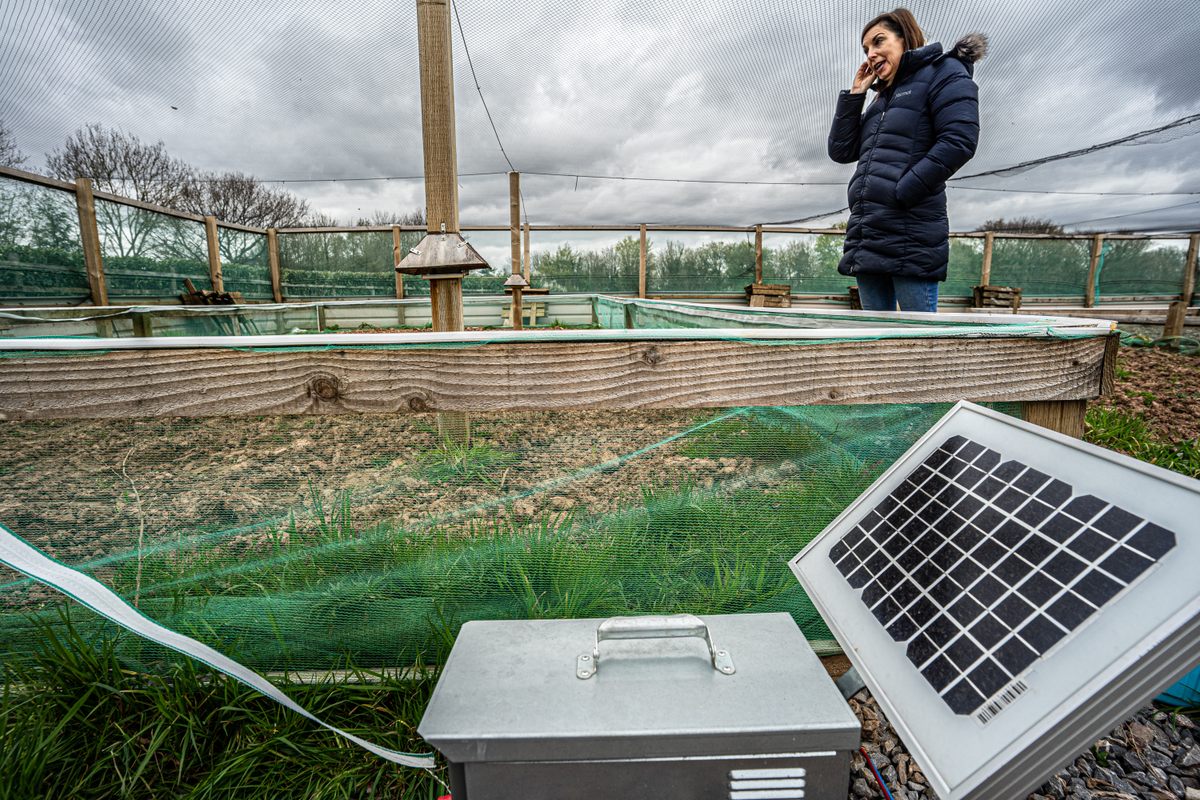 Wallfish can be traced back to the Romans, who were likely the first to rear snails in enclosures. When they occupied ancient Britain some 2,000 years ago, they're believed to have brought with them their taste for milk- and wine-fattened snails. Eating snails remained somewhat popular in Catholic, medieval England (at least on Fridays), and in Somerset, snails were given the name wallfish. It was an allusion to snails' slippery, wall-clinging nature. But categorizing snails as fish was also a sneaky way around the Catholic Church's prohibition on eating meat on Fridays.
Over time, though, snails all but disappeared from the English menu. Despite a short-lived resurgence of cider-poached wallfish in the 1960s, the dish was increasingly consigned to old recipes, and Somerset's last wallfish-serving pub closed in the late 1990s.
"The British are quite picky and squeamish," says Paxman self-deprecatingly on the general dislike of molluscs in the United Kingdom. "When I first went to Greece, I remember freaking out when I ate squid!"
The Paxmans' mission to change the British public's perception of snails began three years ago when they purchased the farm. "We debated raising llamas or growing Christmas trees," says Paxman. "Then one day, I googled, 'What to do with a piece of land?' and snail farming came up. There were low start-up costs and low overheads, and we decided to give it a go."
Drawn in by the novel nature of snail-farming and a desire to influence how Brits eat, the Paxmans took a trip to Ireland to learn the basics from a seasoned snail farmer. Then, after acquiring a few breeding snails, they founded their company, Somerset Escargot.
The Paxmans turned part of their property into a glamping site, too, and began offering guests a taste of freshly cooked Escargot. Paxman observed that while younger guests enjoyed the novelty, older guests mostly turned them down. Searching for a new approach, a string of online snail searches revealed a very English way to prepare snails in the form of an old Somerset recipe for wallfish.
The recipe surfaced in old articles and obscure food blogs, but best of all, Paxman chanced upon a quaint British newsreel from the 1960s. It explains how traditional wallfish were prepared in Somerset's Mendip Hills by adding locally pressed and fermented West Country cider to a stock of vegetables, herbs, and seasoning. The snails are slowly simmered before the shells are filled with a creamy mixture of butter, cheese, and more herbs.
Paxman was heartened to learn that, back then, this traditional style of wallfish became a national sensation. A former rocket engineer named Paul Leyton had turned the Miner's Arms pub in the Somerset village of Priddy into one of England's first gastro-pubs, and wallfish were top of the menu. Leyton popularised the local dish, which was still occasionally prepared with foraged snails in rural Somerset homes. As Leyton's obituary explains, he brought his engineering expertise to the kitchen, installing a pressure gun to inject the snail shells with their creamy filling. He also designed an elaborate electric fence to farm hundreds of thousands of snails in an abandoned swimming pool in order to meet the increasing demands of the British public. But by the time the Miner's Arms closed in the 1990s, it was the last pub serving wallfish.
Still, as Paxman readies her own tiny electric fences, she's betting that the time is right to re-acquaint the British with snail-eating, and she's hoping that wallfish poached in cider (a distinctly British approach to snail-eating) and served with parsley, thyme, chive, and cayenne-pepper butter could be the secret ingredient. Paxman has published her unique wallfish recipe on the farm's website, and she encourages all her customers, as well as local pubs and restaurants, to try it out. She's also developing more snail-focused dishes that range from Spanish-style snail tapas to Thai-flavored snail curries.
"Snail bombs are another avenue," she says excitedly. "They are like street food or festival food. The snail is covered in breadcrumbs, deep-fried, and then dipped in garlic mayo. It would be something really different!"
The Paxmans' plans to sell fresh, free-range snails to local pubs and restaurants were put on hold by the pandemic, but Paxman estimates that they still reared 50-80,000 snails in their first full season last year. Another more established commercial snail farm, Dorset Snails, reported a 250 percent increase in snail sales during the pandemic, as locked-down home-cooks became more adventurous.
Alongside a few inspiring recipes, Paxman hopes the sustainability of snail farming will win over Brits. Land, water, and food requirements are minimal, but the protein yield of a snail is remarkably high. And the snails certainly seem up for a resurgence. "We only started with a thousand snails last season," explains Paxman. "They multiply like you wouldn't believe."
Before I leave, Paxman ventures into the snails' hibernation attic, which she'll release them from in a few weeks, when the sun finally emerges over South-West England, so they can furiously reproduce. She emerges with a mollusc-filled polystyrene takeaway box. "Will you be brave enough to try them?" she asks, before waving me off down the driveway.
Mendip Wallfish
Recipe courtesy of Somerset Escargot
Ingredients to serve 4
24 pre-cooked escargot (instead of cooking in court boullion, use cider, carrot and onion)*
24 clean and empty snail shells
325g butter
1 tbsp fresh chervil, finely chopped
1 tbsp fresh chives, chopped
1 tbsp fresh flat-leaf parsley, chopped
1 tsp fresh thyme
Pinch of cayenne pepper
Salt to taste
*For instructions on pre-cooking the snails in cider, consult Somerset Escargot's directions or the recipe from the Miner's Arms Pub, published by the BBC.
Method
Pre heat the oven to 200 degrees C
Mash all of the herbs and seasoning together in the butter
Push a snail into each shell
Fill up the shell with herby butter
Put the shells into a baking dish making sure the open ends point upward
Bake for 12 minutes until the butter is bubbling
Allow the shells to cool for about a minute before serving
If you prefer, this dish can be cooked without using snail shells. Just place pre-cooked escargot into a baking dish and cover with the herby butter mixture, then bake until the butter is bubbling, as before. Try melting some gooey cheese on top, too. It's amazing with crusty bread, which soaks up the herby butter.
Gastro Obscura covers the world's most wondrous food and drink.
Sign up for our email, delivered twice a week.