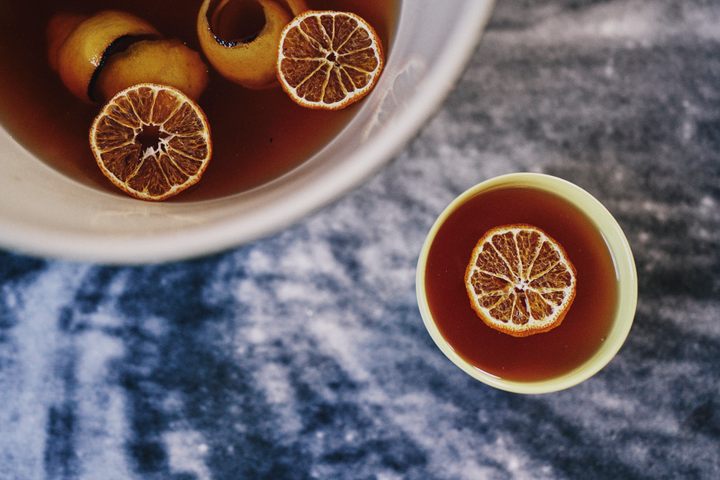 Drink Like Dickens With the Author's Punch Recipe
With flair and fire, he turned mixology into a performance.
For party guests in 19th-century London, Charles Dickens appearing with his punch bowl was the Victorian equivalent of a modern host breaking out his acoustic guitar. Whether his guests were ready or not, it was showtime.
To Dickens, punch was more than simple party fare. It was a ritual that blended the author's love for theater, storytelling, and the warm conviviality of a bygone era. And he committed to the performance: Often decked out in a blue velvet cloak, primrose-yellow gloves, glinting watch chains, and a jeweled tie pin, he punctuated his punch-making with narration about the ingredients. According to one account, when the concoction was ready, it was "poured out in the manner of a conjuror producing strange articles from a hat."
There are several lasting relics to Dickens's penchant for punch. There's his work, which depicts many characters—from the Ghost of Christmas Present to David Copperfield—enjoying the pleasures of the flowing bowl. There are artifacts, such as his silver punch ladle and elegant, aromatic nutmeg grater, which he often took with him on his walks through London's more odorous neighborhoods. Then there's the author's own punch recipe, preserved in a letter he penned to a friend on January 18, 1847. Dickens thought highly of his recipe, informing his acquaintance that she was now in possession of a "tremendous document which will make you for ninety years (I hope) a beautiful Punchmaker."
The punch is rather traditional: a blend of rum, brandy, lemon, sugar, and hot water that's set aflame. But, as Dickens's three thorough paragraphs of instructions suggest, it was the care and drama the mixologist applied to those ingredients that made the punch special.
Pen Vogler, a food historian who has written several books on Dickensian food and drink, notes that you can see hints of the author's theatricality in his recipe. "There's one line where he's talking about how you flame the punch, then extinguish it by covering it," she says. "And for that step, he says 'at this crisis…' which is kind of a dramatic line for a recipe."
By the time Dickens wrote that letter, punch's reign over the drinking world was nearly at its end. In his book Imbibe, the cocktail historian David Wondrich dates the heyday of these sweetened, spiced bowls of booze from 1670 to 1850. Wondrich notes that punch's mid-century decline in popularity was not lost on Dickens. In an 1853 issue of the author's magazine Household Words, an unsigned article lamented the writer's (possibly Dickens himself) recent experience entering a tavern and finding the china punch bowls shoved into a corner "as if no longer asked for."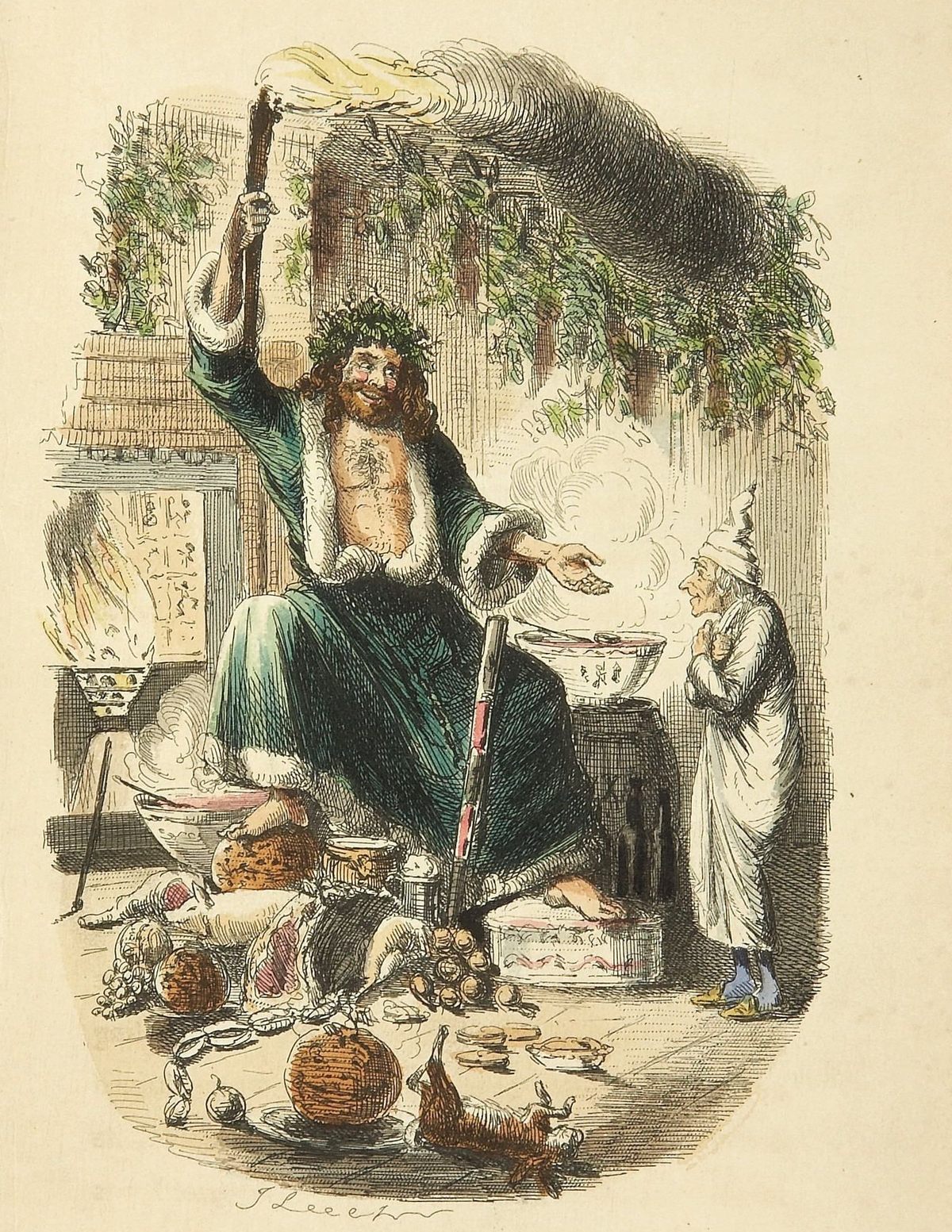 Punch's journey to the corner of the tavern was hastened by the Industrial Age. As England was hurtling into modernity, the stagecoaches, inns, and flowing bowls of Dickens's youth were being replaced by railroads, gin palaces, restaurants (a French import), and cocktails (an American import). In Convivial Dickens, which examines the role of drinks in the author's work and life, Edward Hewett and W.F. Axton note that these advancements came at a price: "Dickens perceived that, despite the wealth, power, and sheer magnitude of the new industrial world rising around him, some invaluable ingredient of the English spirit had been lost along the way."
A key part of this "English spirit" was the warm conviviality of the inns, taverns, and hearths Dickens so loved. His fiction is laden with nostalgia for these spaces, in which families share feasts by the fire and friendships bloom over a shared drink.
"He was very keen on bringing people together," Volger says. "Anybody who's read any Dickens will know some of the great scenes, particularly in his early work, when people share food and drink together—punch especially so, because it was something you made in a bowl and then you ladled out and that symbolically made it something very unifying."
In David Copperfield, for instance, Mr. Micawber—a character likely based off Dickens's own father—makes punch as a way to cheer himself and his family during their financial hardships. As Copperfield observes:
I never saw a man so thoroughly enjoy himself amid the fragrance of lemon-peel and sugar, the odour of burning rum, and the steam of boiling water, as Mr. Micawber did that afternoon … he stirred, and mixed, and tasted, and looked as if he were making, instead of punch, a fortune for his family down to the latest posterity.
Volger points out that punch wasn't yet entirely out of step in Dickens's time, and was still a favorite in households over the holidays. But English families seemed to stop brewing up bowls in the early 1900s.
"I think a lot of things were kind of thrown out then because they were seen as very sort of Victorian, very old fashioned in all the worst senses. And there's nothing like a World War to wipe the slate clean in terms of what your tastes are for the luxuries of life."
But even if you're not likely to see it on any cocktails menu soon, Dickens's recipe is worth trying, especially for the Christmas holiday. It has all the elements of solid party fare: warmth, fire, and plenty of booze.
"It's a knockout, literally," Volger says. "If you don't burn the alcohol off, it can be really quite strong. But that basic idea of lemons, sugar, hot water, and alcohol; it's such a timeless recipe. It's always going to work."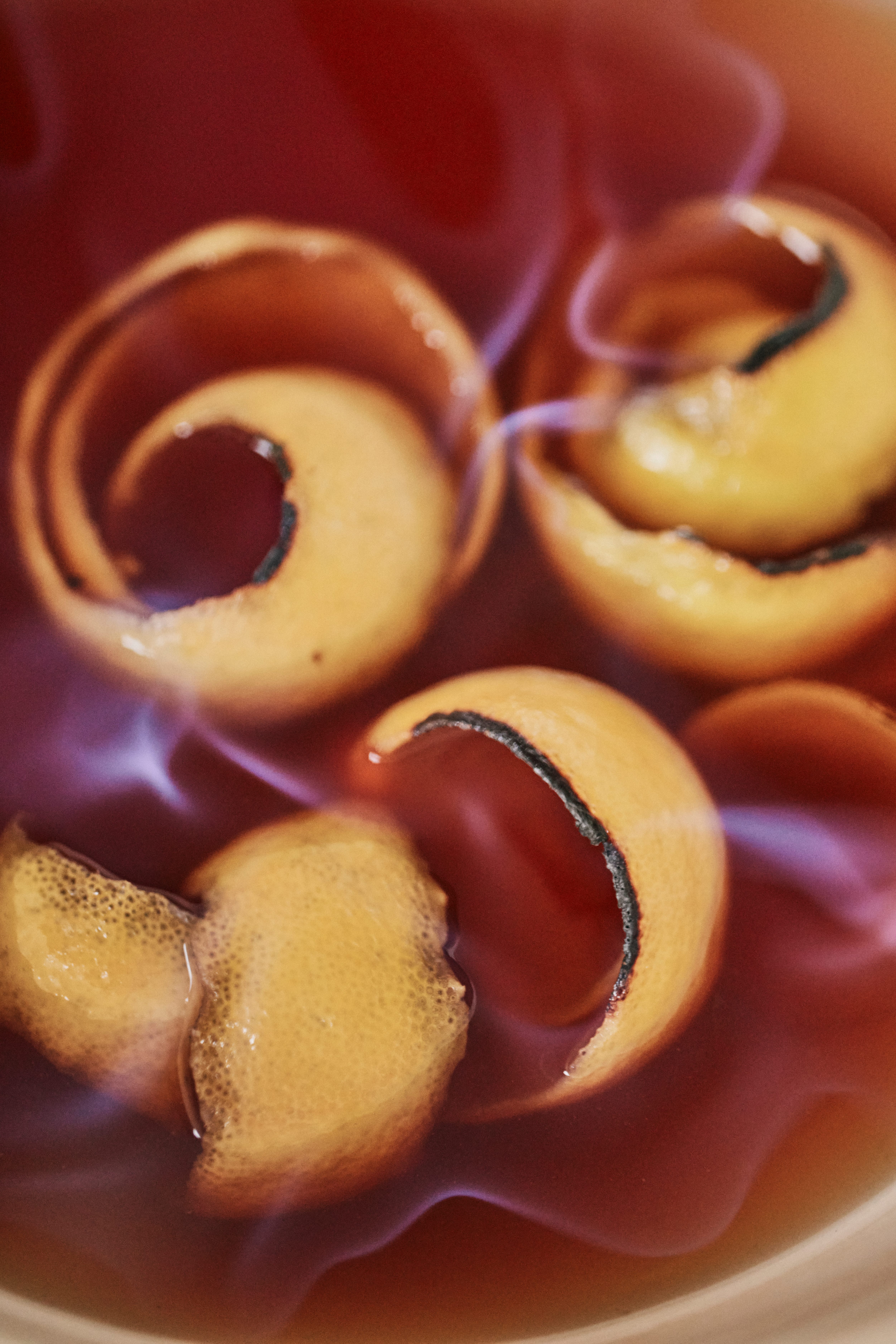 Charles Dickens's Punch
Adapted from the author's punch recipe
Ingredients
3/4 cup demerara sugar
3 lemons
2 cups rum (Smith & Cross works well, or Stiggins's Pineapple Rum, if you want a nod to Dickens's first novel, The Pickwick Papers)
1 1/4 cups cognac (preferably Courvoisier VSOP)
5 cups hot water
Lemon and orange wheels, for garnish
Freshly grated nutmeg, for garnish
Instructions
Peel the lemons and set aside the fruit. In a heatproof bowl or Dutch oven, combine the sugar and lemon peels and mix together. Set aside for 20–30 minutes for the citrus oils to release.

Add the rum and cognac to the bowl. Use a heatproof spoon to pick up some of the mixture, then light the spoonful aflame and bring it into contact with the rest of the contents of the bowl. After allowing it to burn for about three to four minutes, cover to extinguish.

Add hot tea or hot water, then squeeze in the juice of the lemons and cover. Let sit for five minutes, then uncover and garnish with citrus wheels and grated nutmeg. Ladle into glasses.
Gastro Obscura covers the world's most wondrous food and drink.
Sign up for our email, delivered twice a week.