The Places You Never Tire of Visiting
Atlas Obscura readers share the destinations they just can't quit.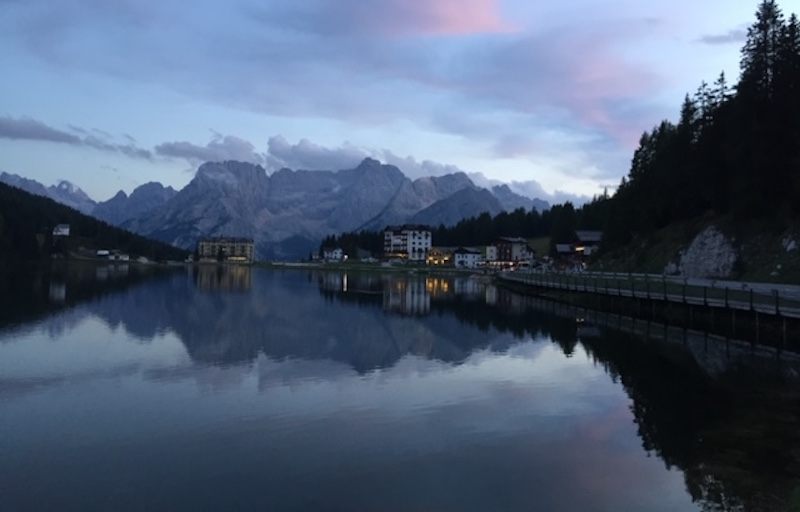 Welcome back! Recently, we asked Atlas Obscura readers to tell us about the places they can't stay away from. These are the destinations you keep returning to whenever you have the chance, despite the obvious appeal of using that time to go somewhere new. We wanted to hear about why some places continue to call to you over and over, and you came back with some truly incredible, inspirational stories.
Cities, islands, and mountains have all become travel touchstones for many of our readers. One of you has been visiting the same crumbling dam every time you see your family, and several of you wrote eloquently about the natural wonders of Yellowstone National Park.
A selection of some of our other favorite responses can be found below. If you don't already have a place like this in your life, these stories might just inspire you to keep looking.
Yellowstone National Park
"Being in Yellowstone National Park (YNP) is a religious experience. I don't believe in deities but I do believe in the power of nature to refresh and comfort. YNP bubbles with water—hot and cold—and it runs in gurgling channels and rocky streams, out of seething springs and gushing geysers; chuckling, roaring, and crashing down off the Continental Divide into big rivers that drain the backbone of the West. Water is everywhere in the park and it sparkles and scintillates. […] The entire Park lives and breathes, rising, falling and shaking as the magma beneath moves into the country rock. I go to this place every autumn, to watch the russet grasses move in the wind, to hear the elk call across the moonlit miles, to smell the fragrant steam rising from the springs, to feel the spray from an erupting geyser and to feel close to the Earth in a way that is impossible anywhere else. No, I don't believe in deities, but Yellowstone is my church, where I go to worship the elements of Earth, Water, Air, and Fire." — Cindy Rose, Wyoming
Daunt Books
London, England
"I always feel safe and relaxed whenever I go there. It keeps expanding its book collection." — Manar Altammar, Kuwait City, Kuwait
Berkeley Springs State Park
Berkeley Springs, West Virginia
"It's an in-between point between where I live and my parent's home. I stop there to take a break from driving. In the summer I dip my feet in the spring water. All year, I walk up the stairs to view the castle on the hill and look down at the park. I fill up my water bottles with spring water." — Elizabeth, Culpeper, Virginia
Cumberland Falls
Kentucky
"The power of the water. The beauty of the Earth. Not only is the area breathtakingly beautiful, but it is a wonderful teaching tool. There are countless examples of erosion and how powerless we are in the face of time. There is also a great little gift shop with fun trinkets. My first time there I was around 7 years old. I thought it looked like a giant chocolate milk waterfall. Now, as an adult, I take my two daughters." —Tiffany West, Somerset, Kentucky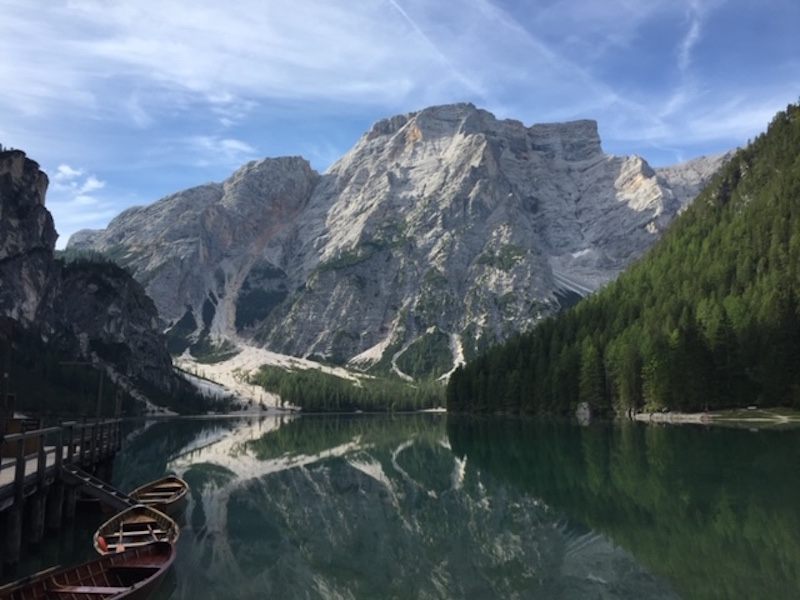 The Dolomites
Northeastern Italy
"The most stunning (literally weeping-it's-so-unbelievably-breathtaking) mountain landscapes, the sheer amount of possible activities, including hiking on the countless trails of varying difficulty; rowing a boat on Lago di Braies; paragliding from one of the lookout points; window shopping in one of the many small pedestrian-only towns; or just sitting outside at a mountainside restaurant with a glass of wine and incredible regional food. I would move there in a second." — Kevin, New York City, New York
Martha's Vineyard
Massachusetts
"The air feels different there. I can relax on Martha's Vineyard in a way that I can't in other places. I love how dynamic the ocean is. It's ever present, but always changing. I love the relaxed, excited, gearing-up-for-summer vibe when we visit (we like to go in late June before the traffic gets crazy). I love to visit the places there that are special to me, remember other times I've visited, and imagine future trips as well. My heart is there!" — Amy Wyman, New Hampshire
Frederik Meijer Gardens
Grand Rapids, Michigan
"Sometimes I go more for the plants, sometimes more for the art. Amazing special exhibits and events. Although it is always changing, I never fail to come away with a sense of peace and happiness." — Julie Parker, Howell, Michigan
Block Island
Rhode Island
"I keep going back to Block Island for its natural beauty, its simplicity, its friendly sense of community, and most importantly, for the nostalgia. Block Island was the location of my family's summer vacation for years when I was a child/young teen, so going back to Block Island always feels like going home. From the moment I step foot on the island, I'm reminded of simpler, very happy times. What I like most about Block Island is that it barely changes. It is virtually untouched by commercialism and the same families return year after year, frequenting the same locally-owned shops and restaurants that have been open for decades. The most change I've seen is to the beaches, especially Mansion Beach, where erosion has become obvious." — Julie M., New Haven, Connecticut
Tokyo
Japan
"There is something about Tokyo that is different from other large cities in the world like London, Paris, New York, or Seoul. No matter how many times you go there, there will always be something new to discover, yet you can keep going back to the same familiar places. Why do I keep going back? Tokyo to me has an effect no other city has. It can give me the feeling of falling in love for the first time, over and over and over again." — Andrew, Toronto, Canada
Sky Meadow
Danby, Vermont
"I grew up a little ways down the hill in a house my parents sold this summer. It's a beautiful spot, peaceful and calm, and you can see FOREVER. I would go there when I was upset or needed a break or even in good times, when I just needed a moment of quiet. There's a little house I always dreamed of owning, and about 15 years ago they built a bigger one (that I still think looks out of place, and I despise it). It's a reminder that things change and that I literally can't ever go 'home' again, but home is still there." — Caitlin, Denver, Colorado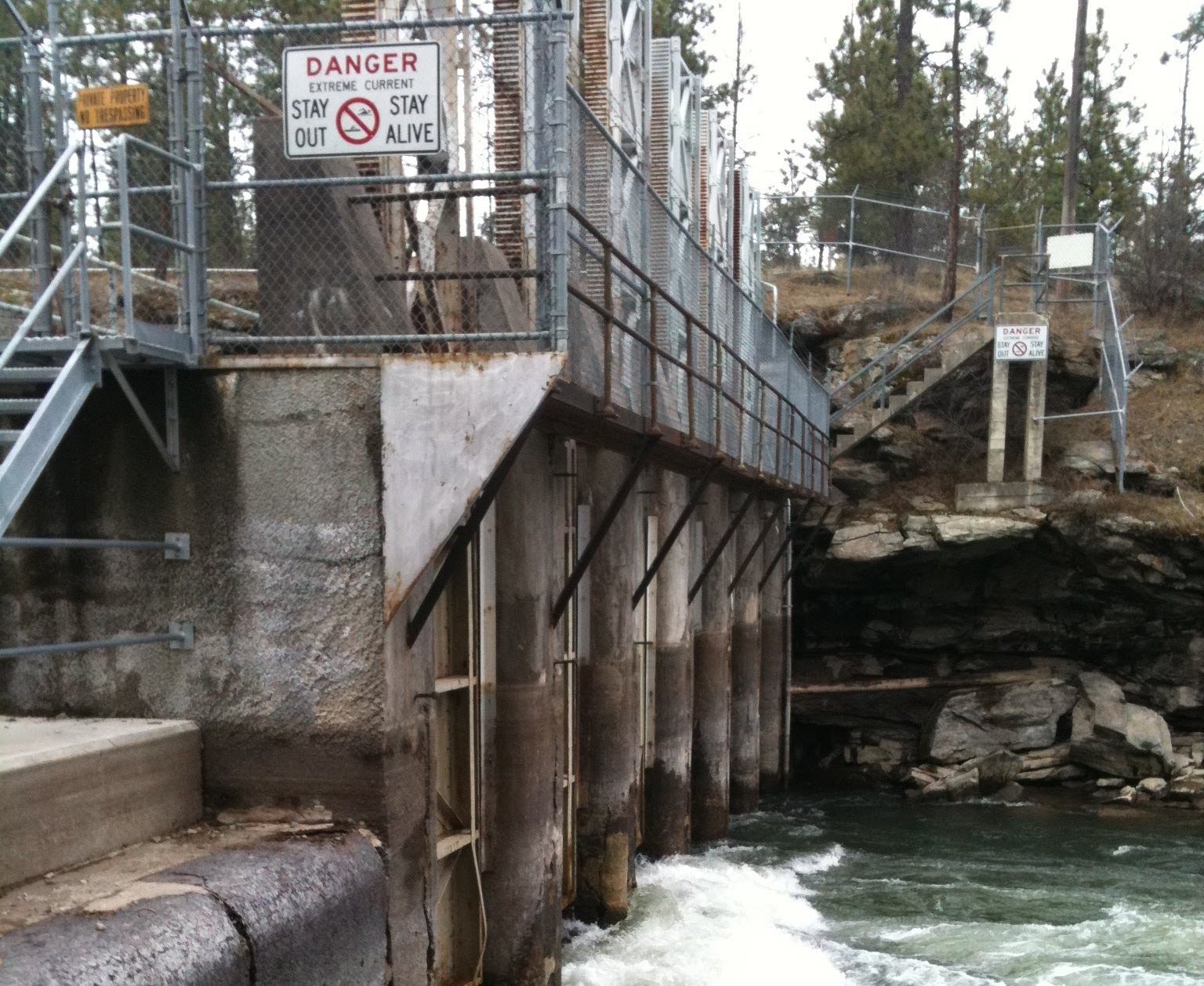 An Old Dam at the Mouth of Lake Coeur d'Alene
Idaho
"When I would go visit my folks at Pend Oreille Lake, I would need to get away. So I explored around and found this place. The next year I came back was when my mother died. I would walk the trails and think about our family's lives together and how change was inevitable. Last time I saw it, they had equipment there to possibly remove it." — Cherry Rice, Ketchikan, Alaska
Good Harbor Bay Beach
Cedar, Michigan
"I have been visiting Good Harbor Bay Beach in Sleeping Bear Dunes for over 30 years. I love it because every time I go there, it's the same, anchored by massive dunes and wide-open skies, yet it's also different, changing with the daylight, the seasons, the years. From my bedroom window at home in Chicago, I can see 27 other peoples' backyards. On the beach at Good Harbor, I see only sand, sky, water, and trees. It's a place to explore, reflect, and just breath." — Kate Murphy, Chicago, Illinois
Sanlúcar de Barrameda
Spain
"It's a very special town. It's the location of the start and end of the first circumnavigation of the world, and a wine is produced here which can only be made in this tiny town. This town stood up to Franco. The shrimp in the tidal river estuary are genetically unique from shrimp anywhere else in the world. It's also next to Europe's largest national park. Sanlúcar observes a three-hour siesta each day, is unapologetically Andalucian, and has a socialist spirit of resistance!" — Annette Fisher, Lilongwe, Malawi
Antikythera
Greece
"I keep returning because it is breathtakingly, wildly beautiful and it's the only place in the whole world where I feel completely safe. Nobody locks their doors, cars are left with the key in the ignition. If you drop or lose something, you are sure to find it later in the one shop in the village, because someone will have brought it in. The locals have become like family to me, and the moments at the tiny harbor each time I arrive or leave are precious, because everyone who can will come to greet me, or see me off. Coming from a family of immigrants, I find this sense of belonging deeply comforting, especially as the locals are immigrants themselves, all originally hailing from Crete in the 19th century. There is a sense of sadness and urgency too, as it is undeniably a dying community. So unlike other destinations, you don't have the feeling that you can 'go another time' and not find the community changed. Nature is reclaiming the landscape, and the locals are outmatched. Evidence of ancient life lies silently in the hard, resilient soil, birds fly above as they have done for thousands of years. I cannot resist the pull every spring and autumn, however hard I try sometimes. It is the only place where my soul can breathe easily." — Angie Athanassiades, Athens, Greece
Capitol Reef National Park
Utah
"I don't know. It feeds my soul somehow. It's vast, stark, quiet, stunningly beautiful high desert." — Debra Crosby, Austin, Texas
Glacier National Park
Montana
"My family is from the Blackfeet Reservation which is right next to the park. I have been traveling there since I was a small child. To me it is home, and I feel my ancestors when there. I am forever in awe of the sheer beauty of the place, and how small and insignificant I feel when there. Everywhere you look is another natural wonder. It has changed over the years with the loss of many of the glaciers, but it's still the most beautiful place in the world." — Mickey Kunnary, Helena, Montana
Mackinac Island
Michigan
"There's something about being surrounded by water that is peaceful and calm. Sure, there are throngs of tourists, but off the beaten path there is magic and serene beauty on the miles and miles of trails. Every time I go, I discover something new and different that I'd not noticed before. On an island where motor vehicles are not allowed, the gentle clip-clop of the horse hooves brings unimaginable tranquility to help ease a stressed soul." — Claudia, Michigan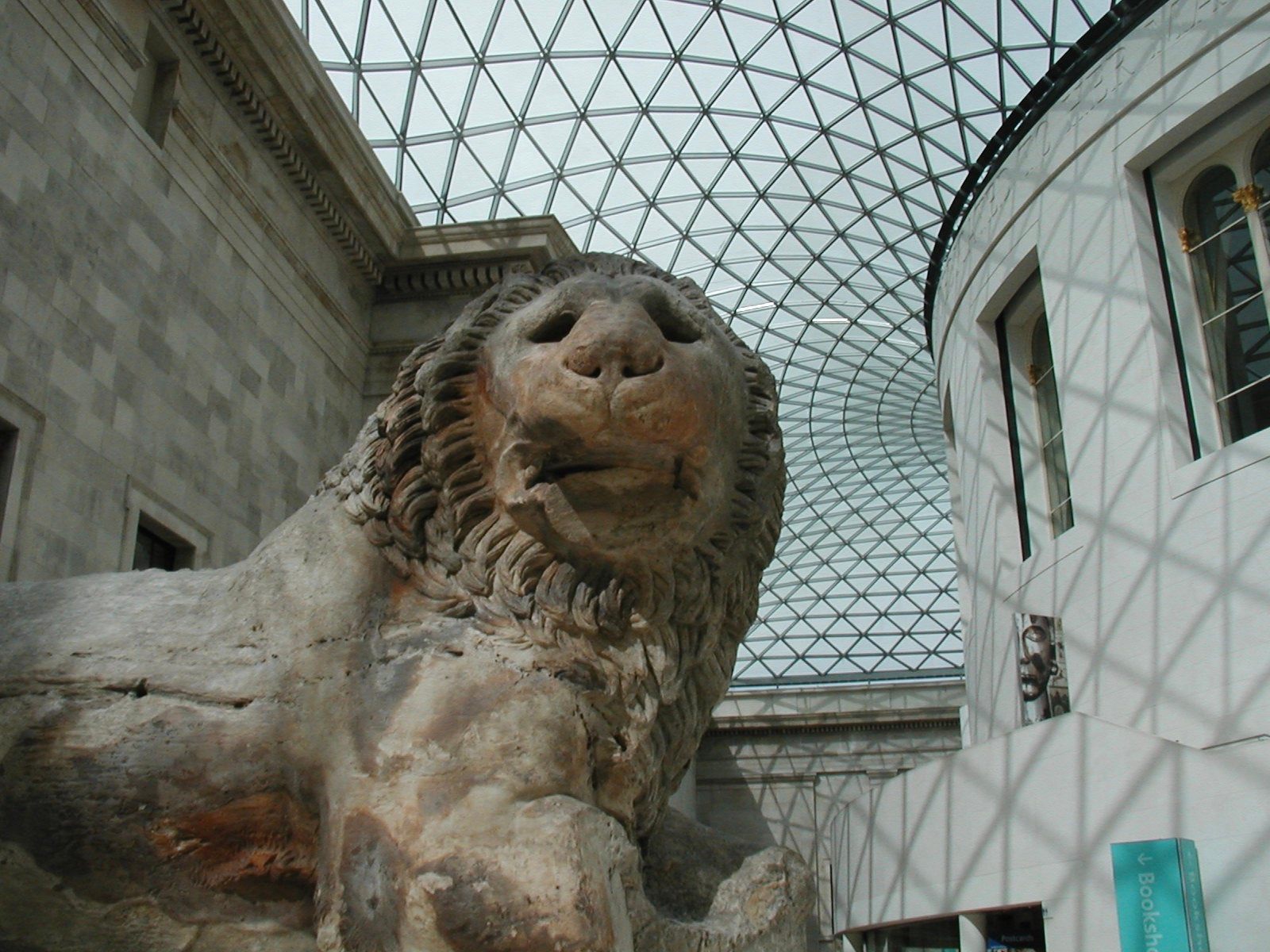 British Museum
London
"Years ago I accidentally got into one of the British Museum's cellars, and there, on an old, dilapidated, wheeled trundle and looking very forlorn, was this wonderful statue of a lion. He looked so sad! I stopped and chatted with him for a while, told him how handsome he was, and took many photos (hard copy, since this was before iPhones), until I was discovered and shooed out by a guard. Not long after, the British Museum undertook the remodel and installation of the rotunda. The museum was closed for what seemed like forever. But eventually it reopened. I returned to London and of course my first stop was the British Museum. I ran up to the guard at the main entrance, pulled out a photo and asked breathlessly, 'Have you seen this lion?' With true British cool, he replied, 'Yes, madam. If you will go through that door into the rotunda and look to your left, you will see him.' And there he was, not on a lowly trundle anymore, but on a magnificent plinth, looking very regal. I've been back many times since (and will be returning this November, in fact) and each time I greet him and photograph him." — Sandra Sizer, Boston, Massachusetts
Mineral King
California
"We found it by accident and fell in love. We spent our honeymoon there and have gone there every year for 21 years. You take a one-lane road up 24 miles to about 8,000 feet, and it takes two hours to drive those 24 miles. When you get there, it's absolute heaven. Hardly any people, no stop lights, no internet, and until recently, no electricity! You're surrounded by giant sequoias and redwoods, glaciers, mountain streams, and wildlife. It's the only place in the world where I can actually nap!" — Jennifer Jesperson, North Hollywood, California
Tucson
Arizona
"The desert, mountains, and saguaros speak to my spirit, refreshing my mind and body. I feel cleansed after exploring Tucson and the surrounding areas. The sky at night is as enormous and breathtaking as any place I have yet to travel." — Victoria Whitman, Oakland, California
The Cotswolds
United Kingdom
"The quaintness is breathtaking. Thatched roof cottages, cobblestone streets, market squares, wearing 'wellies,' walking the Cotswold Way, bangers and mash, bubble and squeak, fish and chips.. The list, and the draw, is endless!" — Ivan, Scottsdale, Arizona
The Flatiron Building
New York City
"I'm (irrationally?) obsessed with the Flatiron Building. I always go there when I'm in New York City and do a 'laying on of the hands,' which gives me strength until the next time I'm there." — Frank Francisconi, New London, Connecticut
Hanauma Bay
Oʻahu, Hawaii
"I feel very lucky in the fact that I have been visiting Hawaii since I was 5. But I first visited Hanauma Bay with my family when I was about 11 years old. It was white sand, and glorious snorkeling with sea turtles, and a vibrant fish population which looked like tiny neon colors floating all around you as you swam in the water. The sky and ocean seemed to meet there in that magical place. In the years since, the crowds have gotten considerably larger and more touristy. But I have always seen it idealized in my mind. This transcendent place, filled with color and beauty which made the beaches back home seem almost sad. And as I traveled to more distant locations in my adulthood, I can agree that there are beaches just as beautiful and less crowded. However, I think places like these are like falling in love. It becomes a part of you and all the others after this are compared to it, and they fall short because nothing can come close enough to your heart. I keep coming back to this place 20+ years later because I simply fell in love with it, and it feels like home." — Veronica Ng, Palo Alto, California
The Spaulding Library
Athens, Pennsylvania
"I could walk to the library when I was a kid, and my mom (an English teacher at the local high school) didn't restrict my reading, so I could truly adventure when I was there. On the second floor was a museum of sorts, with ceremonial Iroquois leathers and headdress, and there was a dumbwaiter that moved books between floors. The facade had huge stone columns, and it was THE grandest building in town. I travel for work to an area several hours north, but I drive rather than fly just so I can stop in every year or two." — Lee Anne, Vienna, Virginia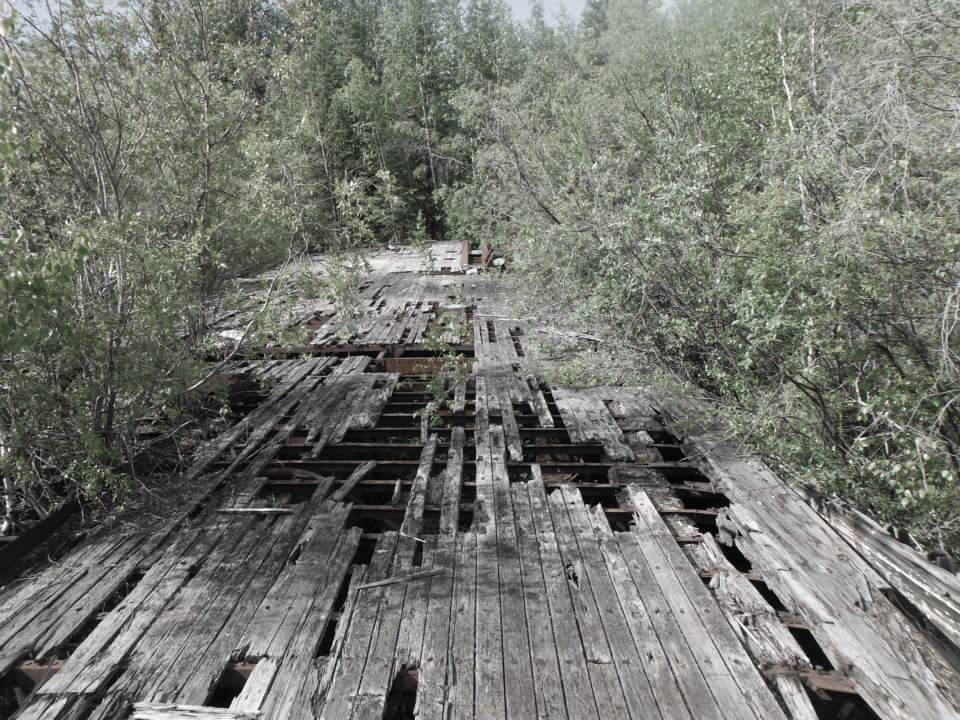 The Riverboat Graveyard
Dawson City, Yukon Territory
"It is, for me, a peaceful and reflective place. Although it is mostly in ruins, they whisper stories if you care to listen. And if you can find yourself in some remote nook, it is as though the mists of time part for a seemingly infinite split second. One time I even spent a night on the deck of one of the sleeping giants. I can't say I slept, but I feel I had one of those life-shifting moments, what with the combination of the history at my back and the unrestricted flow of the cosmos overhead. Intense, extremely personal, and otherwise indescribable!" — Doug Frechette, Wetaskiwin, Alberta
Calicut
India
"Everything about the place makes one feel warm and comforted. It has the beach where my dad taught me how to swim. Other than that amazing memory, there's this restaurant that I visit every time, where they give patrons warm water and heated plates prior to serving the food, and holding those warm plates makes one feel ultra cozy. Like the favored grandchild at Christmas! The winding mud paths and overhanging branches of trees and the slow pace of life never fail to evoke a pensive state of mind. It's a perfect place for dreamers and writers and philosophers. I'm not even from a beach town, but no matter where you're from, coming here can feel like coming home." — Karen R., India
If there's a place you just can't seem to stay away from, head over to our community forums and tell us about it!