Were These Beetles Once as Valuable as Gemstones?
Archaeologists believe jewelry made from the bugs was a coveted status symbol 2,000 years ago.
The discovery of 2,000-year-old, iridescent green figeater beetle (Cotinis mutabilis) jewelry at two sites at Bears Ears National Monument in southeastern Utah may help solve a long-standing historical mystery.
For years, archaeologists have debated why decorative metals and semi-precious stones have never been uncovered in the American Southwest from the period 500 BCE to 500 CE, when Basketmaker II society was in the thick of an agricultural revolution. It's a major exception to a universal cultural shift from hunting and gathering to agriculture with which those artifacts are almost always associated.
"With that transition, for the first time in human history, people had the ability to have a surplus of food," says Michael Terlep, district archaeologist for the North Kaibab Ranger District of Arizona's Kaibab National Forest.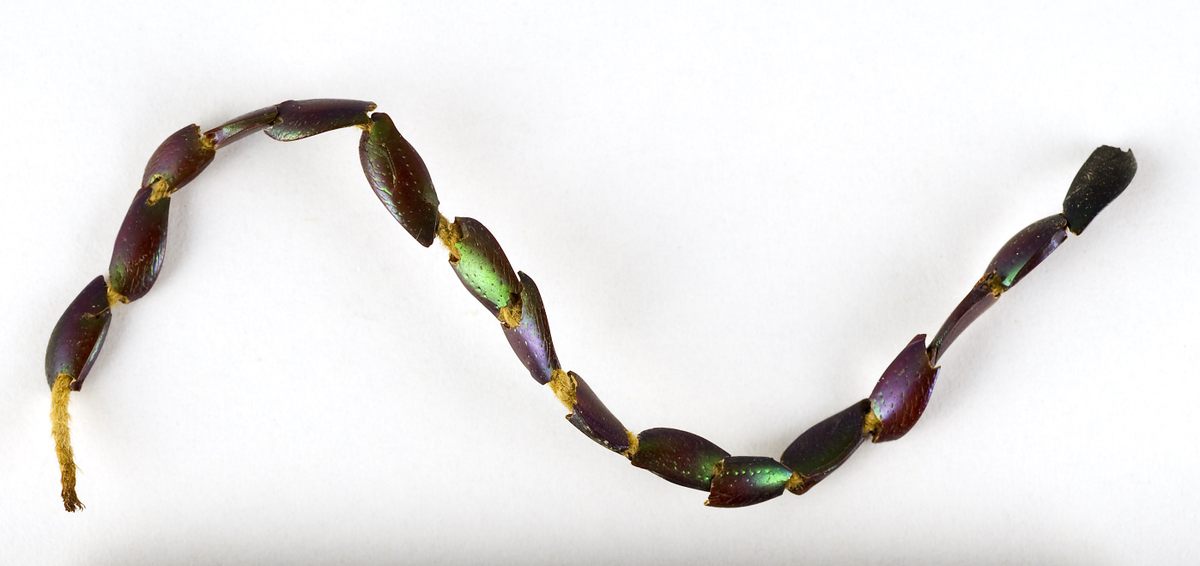 Suddenly, some individuals had the "need to display their status within societies," and the resources to trade for high-value prestige goods. But while decorative metal and semi-precious stones accompanied the transition from the Middle East through Asia to eastern North America and the Andes, they have not been found among artifacts from the Basketmaker II period.
So how did burgeoning agriculturalists signal their status in Southwestern Basketmaker II society? In their recent article in American Antiquity, Terlep and his colleagues argue that they may have used bright green figeater beetles as prestige goods instead.
Humanity has long been drawn to iridescent insects the way infants are drawn to shiny, colorful toys. They've been woven into exquisite garments for the elite in 18th-century India and added to the fringe of Pwo Karen funeral shawls in Myanmar. They've been embroidered into the dresses of Victorian England's upper crust and delicately layered with toucan feathers in earrings worn by the Indigenous Shuar of Ecuador and Peru.
So, although resource-rich individuals in Basketmaker II society could have gotten access to metal and semi-precious stones through trade the way early agriculturalists in southeastern North America did, Terlep believes that they chose not to. They gravitated instead towards ephemeral goods like iridescent beetles. "These items of adornment would function very similar to gold, and function very similar to copper," he says. "They would have been hard to produce, it would take, obviously, a lot of time to rip off those legs from those beetles, and that's time that could be better spent caring for your kids or farming. And they would have been similar to gold and other shiny things in that someone seeing the wearer would instantly know their status because of the iridescence and the shimmer and shine."
Like those garments and adornments, the delicate beetle jewelry found at Bears Ears did indeed shimmer and shine. One, a fragment of a longer necklace or bracelet discovered in a Bears Ears rock shelter in 1999, holds the remains of 16 beetle femora—the insect's thick, hollow leg segment—on 3.5 inches of yucca cord. The other, found just 20 miles away in Atlatl Cave, is a stunning 40-inch necklace strung with a whopping 212 beetle femora and an abalone shell pendant from a distant ocean.
Both would have taken a huge investment of time and skill to fashion. Because Bears Ears National Monument is on the very edge of the green June beetle's natural habitat, just catching enough of them to craft a necklace in the first place would have been an enormous project.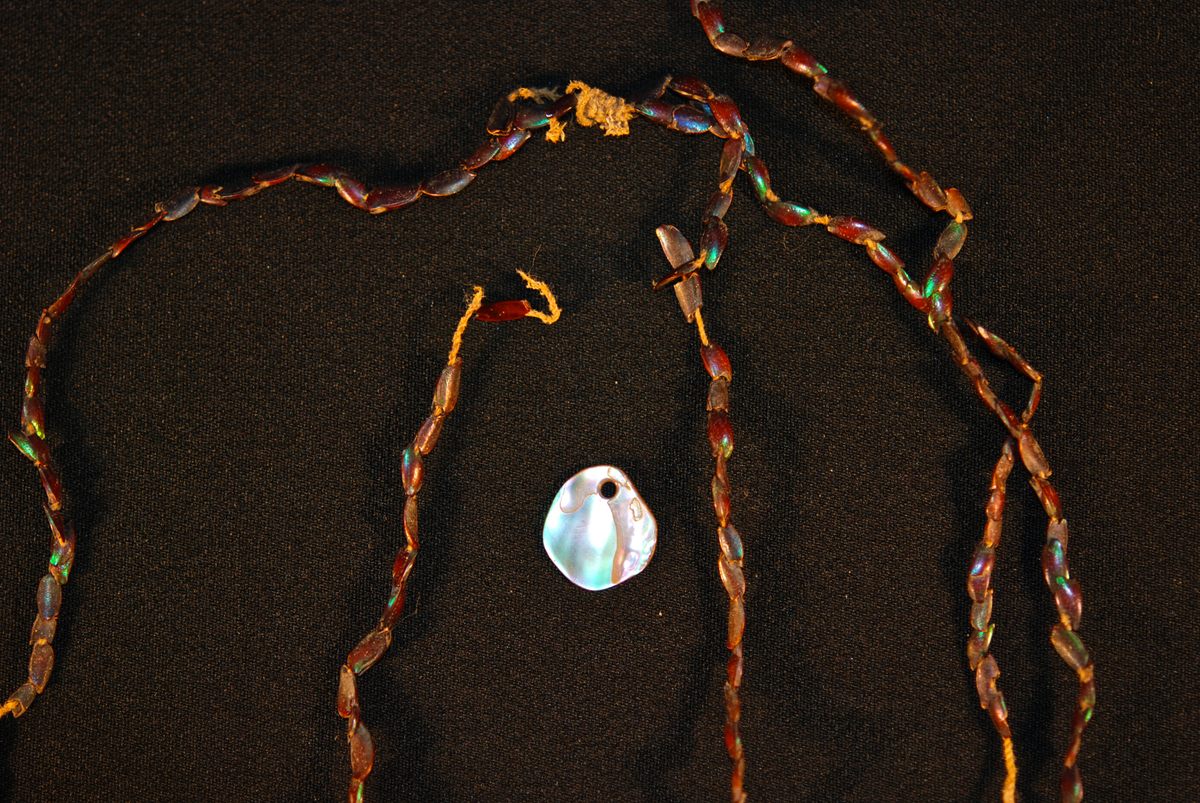 Archaeologist William D. Lipe, a professor emeritus at Washington State University in Pullman, agrees that the iridescent beetle adornments from Bears Ears were prestige goods and status symbols. But, he says, the artifacts, which date to around 70-60 BCE, are by no means the first ones associated with Basketmaker II society. It's just that archaeologists have historically interpreted objects made of perishable materials as less valuable than those made from metal or stone, in part because they were less likely to survive the last 2,000 years than the decorative metal and stone goods of other early agricultural societies.
"In the 1890s, multiple expeditions dug in dry caves like Boomerang Shelter and took out large collections of perishable items, especially materials such as baskets, bags, and sandals," Lipe explains. "Turkey feather blankets were also encountered—although these are even more susceptible to weathering and decomposition than the baskets and sandals. Each one was a very time-consuming production."
The two iridescent beetle adornments are the only ones archaeologists have from Basketmaker II culture; researchers have been unable to locate another jewelry fragment made of iridescent beetles that was found in the 1950s at Tularosa Cave in New Mexico. But it now seems likely that they, and similar goods made of delicate materials like feathers, plant fibers, and animal hides, were the epitome of status in the region between 500 BCE and 500 CE. Though why people in Basketmaker II shunned metal and semi-precious stones, even those endemic to the Southwest like copper and turquoise, remains a mystery.
"I do think yeah, absolutely there would have been more than just two people wearing these things," says Terlep. "We do, as a species, like flaunting our wealth."