In the Canadian Rockies, High Tea Is Served at 7,000 Feet
Staff hike hundreds of varieties up the slopes.
It might seem strange that tea is practically the official drink of the Canadian Rockies. Usually, trekkers tend to subsist on trail mix and as much water as can be comfortably carried. But visitors to Banff National Park in Alberta, Canada, not only want to climb the glorious slopes, photograph the crystal lakes, and peer at the mighty glaciers. Whether spring, summer, or fall, many set out to visit one of the park's century-old teahouses. At these two quaint wooden buildings, less than three miles apart, hundreds of tea varieties are available, all hauled up the mountainside by staff on foot.
The Lake Agnes Tea House and the Plain of Six Glaciers Teahouse started serving tea in 1905 and 1927, respectively. They're remnants of an era when mountainside tea service was expected, not unusual. Across North America, ruins of abandoned teahouses still linger beside trails or have been converted to other purposes. But in Alberta's backcountry lodges, tea has remained an essential ritual.
Jess McNally puts this down to the area's unique history. McNally is the co-owner of Jolene's Teahouse in Banff, the village within the park's borders. "A lot of the early development in the Canadian Rockies was by the railroads," she explains. Seeking to lure travelers out west, many companies built lodges and attractions, and even imported Swiss mountain guides to ferry trekkers up and down the slopes.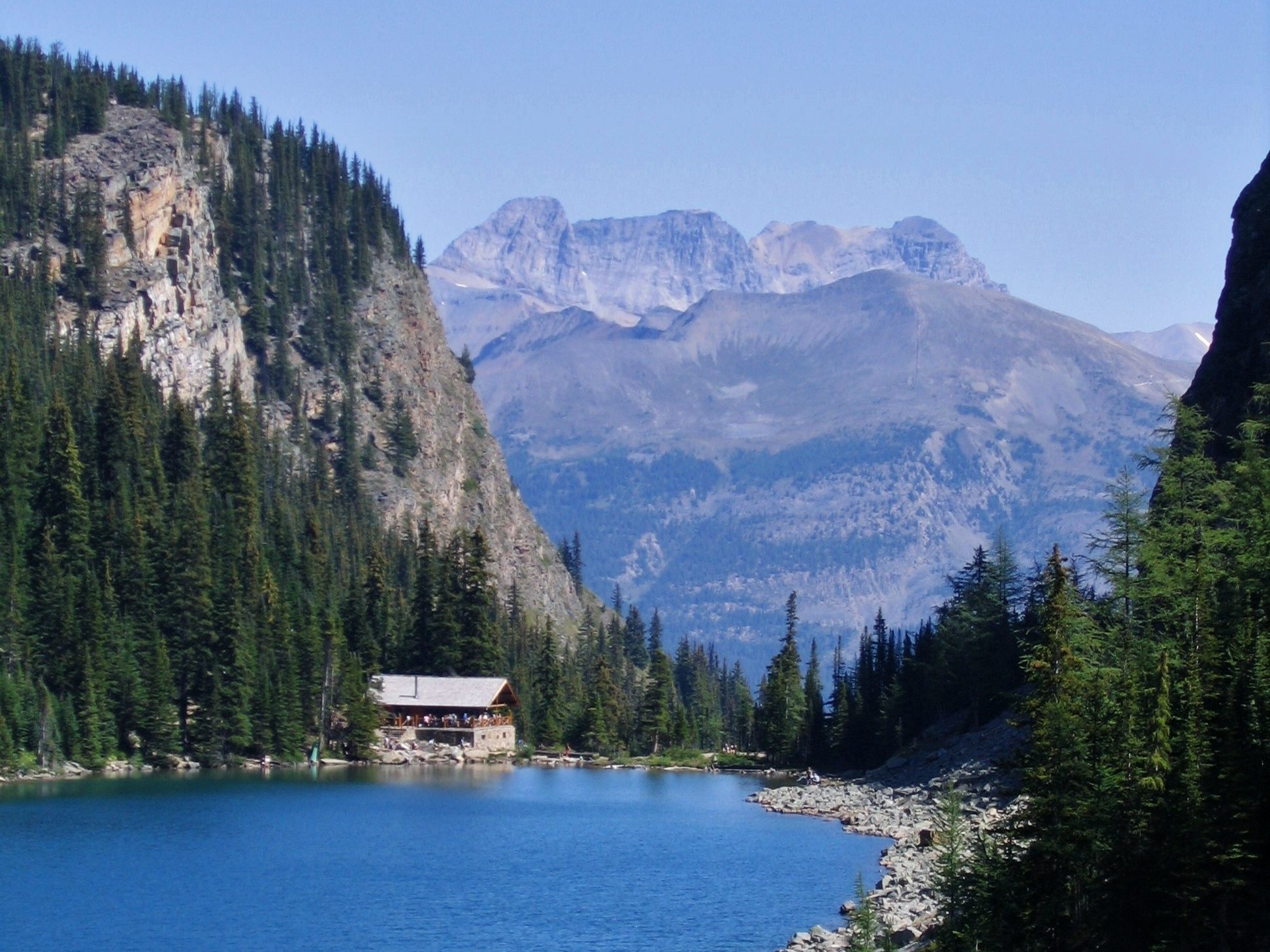 These Swiss guides, says McNally, brought tea culture from the Alps to the Rockies. To this day, trekkers hiking hut-to-hut in Switzerland leave each shelter with hefty amounts of hot, sugary tea for the road ahead. Albertan mountain teahouses took their cue from this tradition, or were built by the guides themselves. Most offered weary hikers a place to rest at night, or merely a thermos of hot tea for their journey. (Tea and mountains just seem to go together. In Nepal, guesthouses for trekkers are also called teahouses and serve much the same purpose as the ones in Switzerland and Alberta.)
McNally and her co-founder Jolene Brewster based their business on the long-standing local tea culture. Both have deep roots in the area, with Brewster coming from a family of mountain guides and McNally being the granddaughter of a Parks Canada official. Their business and many of the blends, explains McNally, were largely inspired by the mountain teahouse tradition in this neck of the Rockies.
Jolene's Teahouse doesn't sell cups of tea—they're a retail business that caters to restaurants and mountain lodges. For actual mountaintop tea, you'll need to lace up your hiking boots. Staff at both Lake Agnes and Plain of Six Glaciers do the same, just to commute to work. Supplies are usually hauled up by staff hiking in, or air-lifted into the mountains at the start of the season. While staff generally live on the premises during the week, when they do head back to town, they're saddled with carrying down the trash. Both teahouses generally shut their doors around Canadian Thanksgiving in early October, when winter starts to make inroads into the mountains.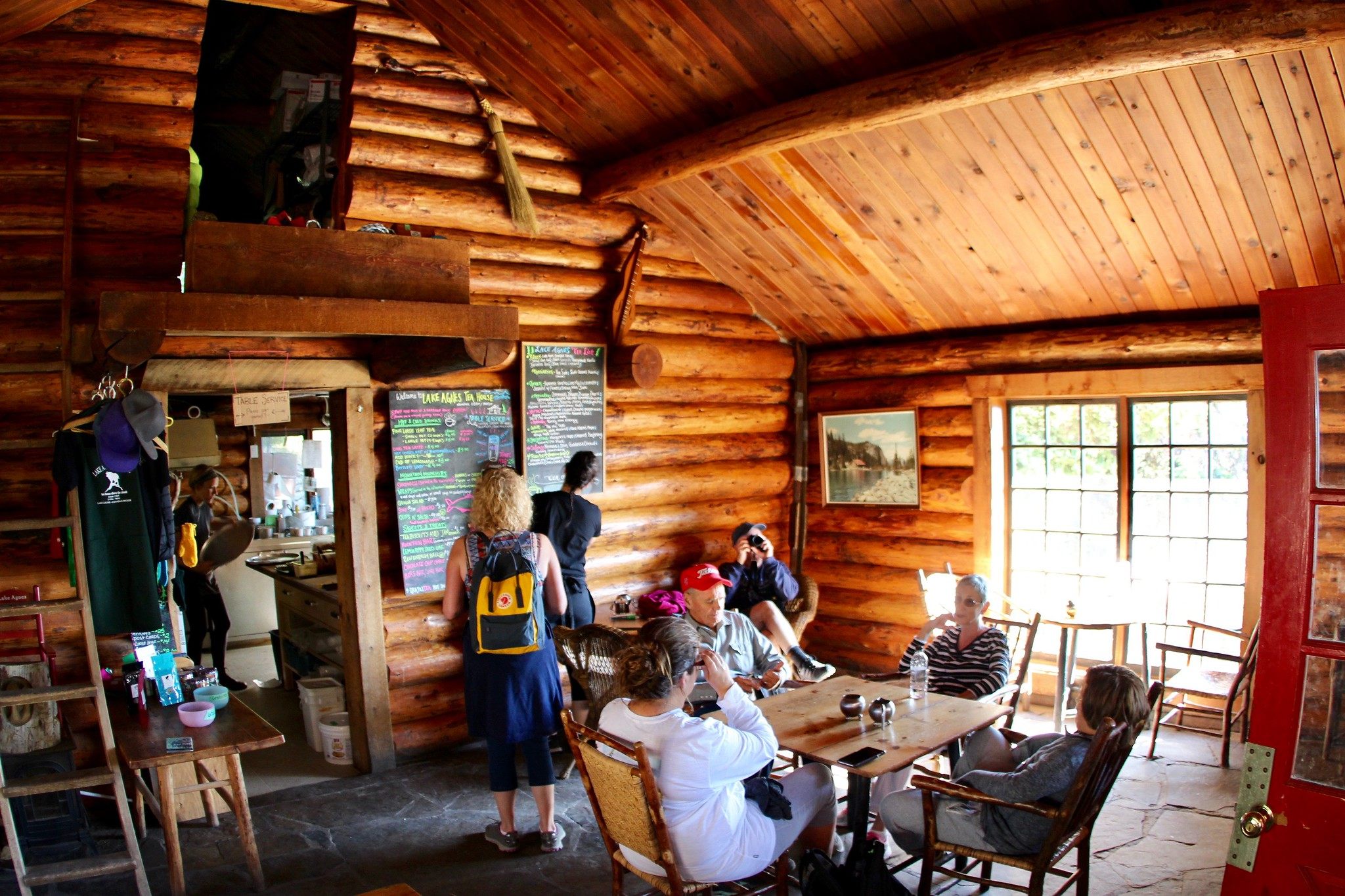 McNally notes that Alberta's mountain tea once consisted of a simple brew loaded with sugar and milk. But today, at the Lake Agnes Tea House, more than 100 kinds of tea are on offer, from 100 Monkeys white tea to Bora Bora mango rooibos. At the harder-to-reach Plain of Six Glaciers teahouse, the offerings are fewer but just as colorful, from strawberry cream tea to "Sunshine Lemon." Both teahouses, which are family-run, proudly offer in-house baked goods and other snacks, painstakingly baked with propane. That's because neither teahouse has electricity, nor running water.
But there's plenty of hot leaf water. To McNally, tea in the mountains isn't a frou-frou luxury. It's a necessity. "The Rockies are somewhere where even in the middle of the summer, if you go to the top of a mountain, it's always still a little chilly," she says. "Tea is really refreshing and nourishing, and just hits the spot when you're out in the mountains."
Gastro Obscura covers the world's most wondrous food and drink.
Sign up for our email, delivered twice a week.