Desert Breath
A massive work of modern art that appears to be a crop circle in the middle of the desert.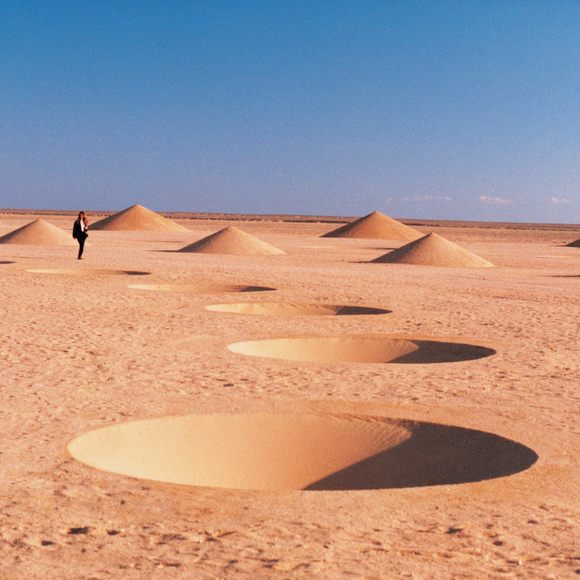 View all photos
Desert Breath just after its construction.
Rising out of a flat expanse in the Egyptian desert, the earthen cones of Desert Breath seem like giant, alien ant hills, but they are simply art.
Completed in 1997 after a number of years under construction, the installation consists of a fractal spiral of conical protrusions and alternately conical depressions. From the ground, the full scope of the project is hard to see, as the site appears to be a string of increasingly large sand piles, with the matching pits from which they were dug lurking nearby.
However, when seen from the air, the full effect of the piece becomes clear as the 89 cones and 89 matching depressions spiral out from one another in two geometrically precise arms that increase in diameter the farther they get from the central axis. At the center where the two strings meet, a cone rises up out of a large central pit which was originally filled with water. Despite being otherwise unadorned, the mathematical precision on display at the site creates a sense of wonder.  
Desert Breath was purpose-built to slowly erode back into the swept sands it was created from and in the decade and a half since its construction, it has begun to do just that. The piece may not be as large as it was when it was installed, but this work of art is still worth a visit for anyone wishing to see an Egyptian monument that isn't quite so ancient.
In partnership with KAYAK
Plan Your Trip
No purchase necessary. Winner will be selected at random on 10/01/2023. Offer available only in the U.S. (including Puerto Rico). Offer subject to change without notice. See
contest rules
for full details.