A Women's Circus School Is Growing in Gaza
If all goes as hoped, hundreds of Gazan girls will soon be swinging from trapezes.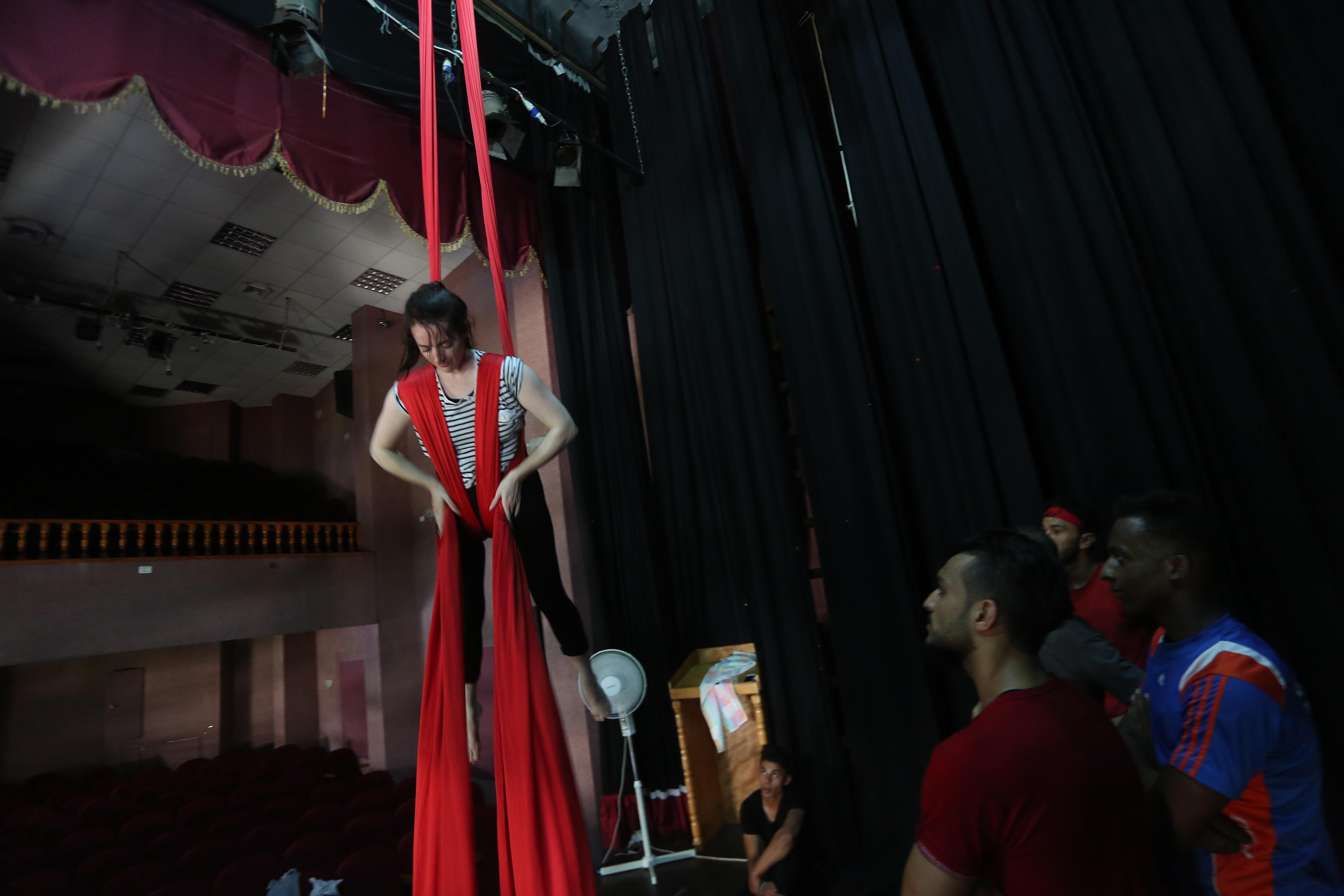 "I felt as free as a bird," says Hend Al-Khodary.

Last October, the 22-year-old woman was working as a translator for Jennifer Higgins, 30, an Irish circus trainer who works as a consultant in Gaza for a psychological support project. During her free time, Higgins was training a group of young men at the Gaza Circus School—which has all male students, as the Islamic society requires gender segregation. The only circus school in Gaza, it's an initiative implemented by young residents, and has been operating since 2011.
Higgins had always encouraged Al-Khodary to practice circus, but she refused. She had never thought she could do any circus movements, as she believed that circus requires a lot of flexibility and fitness. But when she tried it, she was surprised by her abilities.
"One day, we waited for the boys to leave the training hall, then Jenny helped me climb the circus silks," she says. "The feeling was amazing."
Al-Khodary invited two of her friends to join her in circus training at Al-Mishal Cultural Center in Gaza City. The circumstances were not perfect, with no electricity and a poorly equipped stage, but the young women were very excited to experience this art and to discover how it feels to be "flying high," as Al-Khodary describes. "We felt flexible and creative."
After two weeks of training, the Gaza Circus School organized a show at Al-Mishal Cultural Center, but Higgins and the three women were not allowed to perform. "Local authorities didn't allow any girl to perform as it's not allowed to have any kind of mixing at public events," says Al-Khodary. "It was a big disappointment."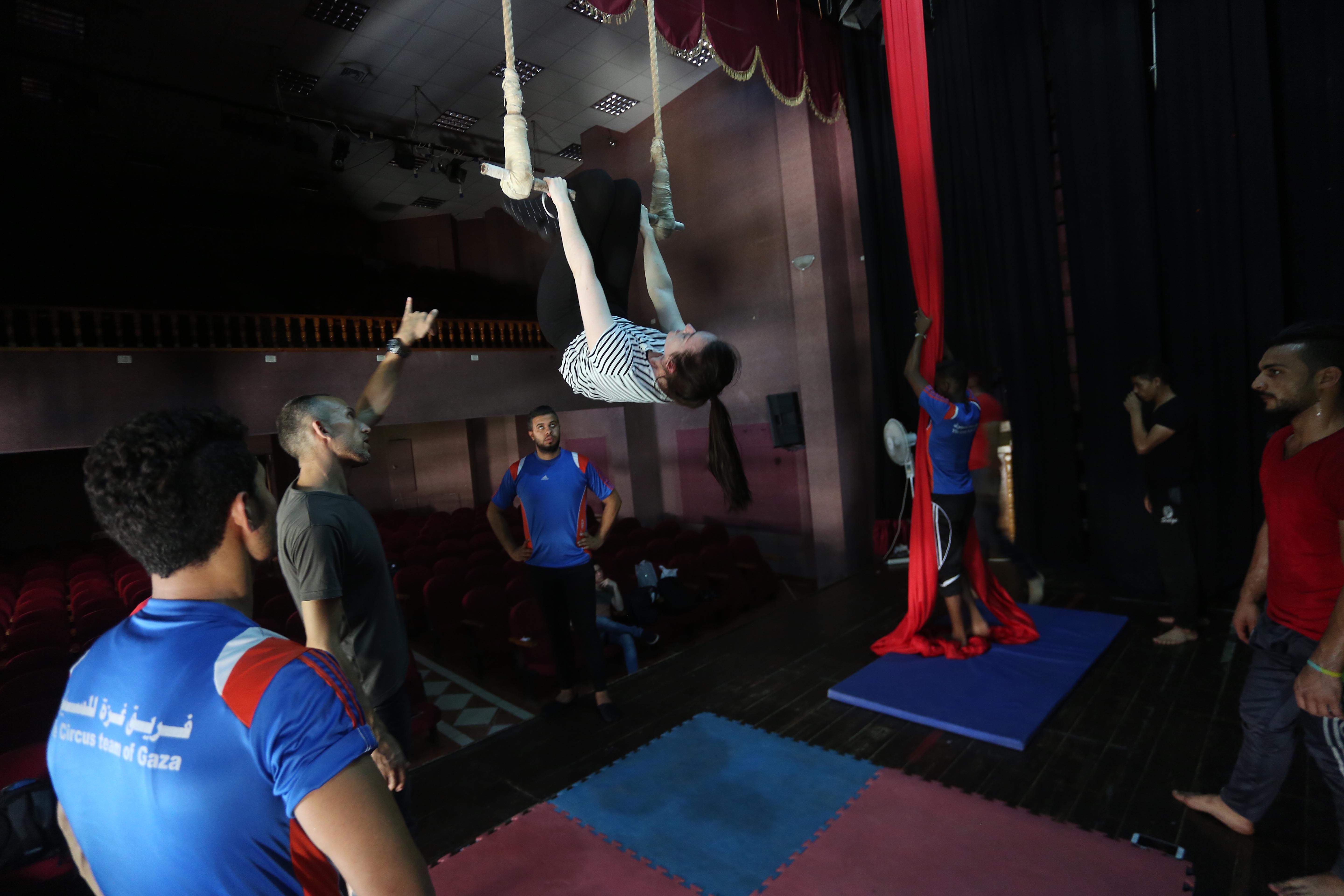 After this experience, Higgins contacted the Irish Ministry of Culture and held a fundraising campaign to help the Gaza School of Circus launch a women's project.
"In March, I came to Gaza with another circus trainer and a photographer," she says. "We brought 62 kilograms [137 pounds] of circus equipment: trapeze, silks, and some juggling tools. We held advanced training with the circus school and started to gather information for the girls' project."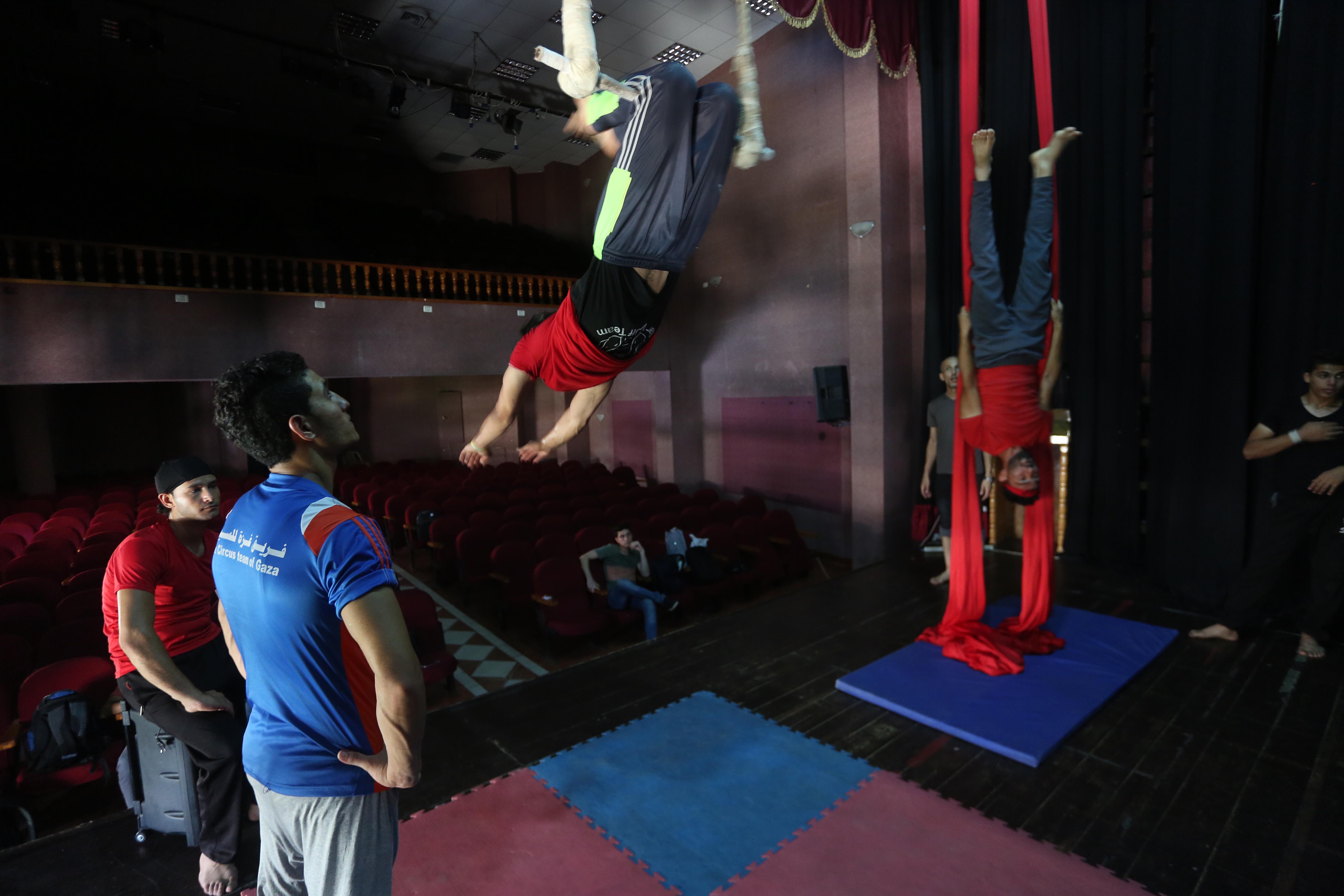 Meanwhile, Higgins held brainstorming meetings with 20 young women to understand their needs and imagine the perfect conditions for the project. "Girls prefer to be in a closed place with no men around," says Higgins, "to feel more free."
Since then, she has been working hard to find funders and to coordinate for the project which will be launched in January, "if all goes to plan."
The project will include 20-25 women aged between 18-25 years old. "We will have initial three-week training," says Higgins. "We will also concentrate on juggling, yoga, silk, and trapeze techniques. I will train those young women to be trainers and to train other girls all around the Gaza Strip. I dream to have 400 Gazan girls practicing circus at the end of the project."
Conditions at the school are not always favorable for practicing acrobatic movements. Power in Gaza may be cut for up to 20 hours a day, which can be especially challenging during the summer months.
"It's very hot in those days," says Higgins. "With no air conditioning or cold water, the trainings are very difficult."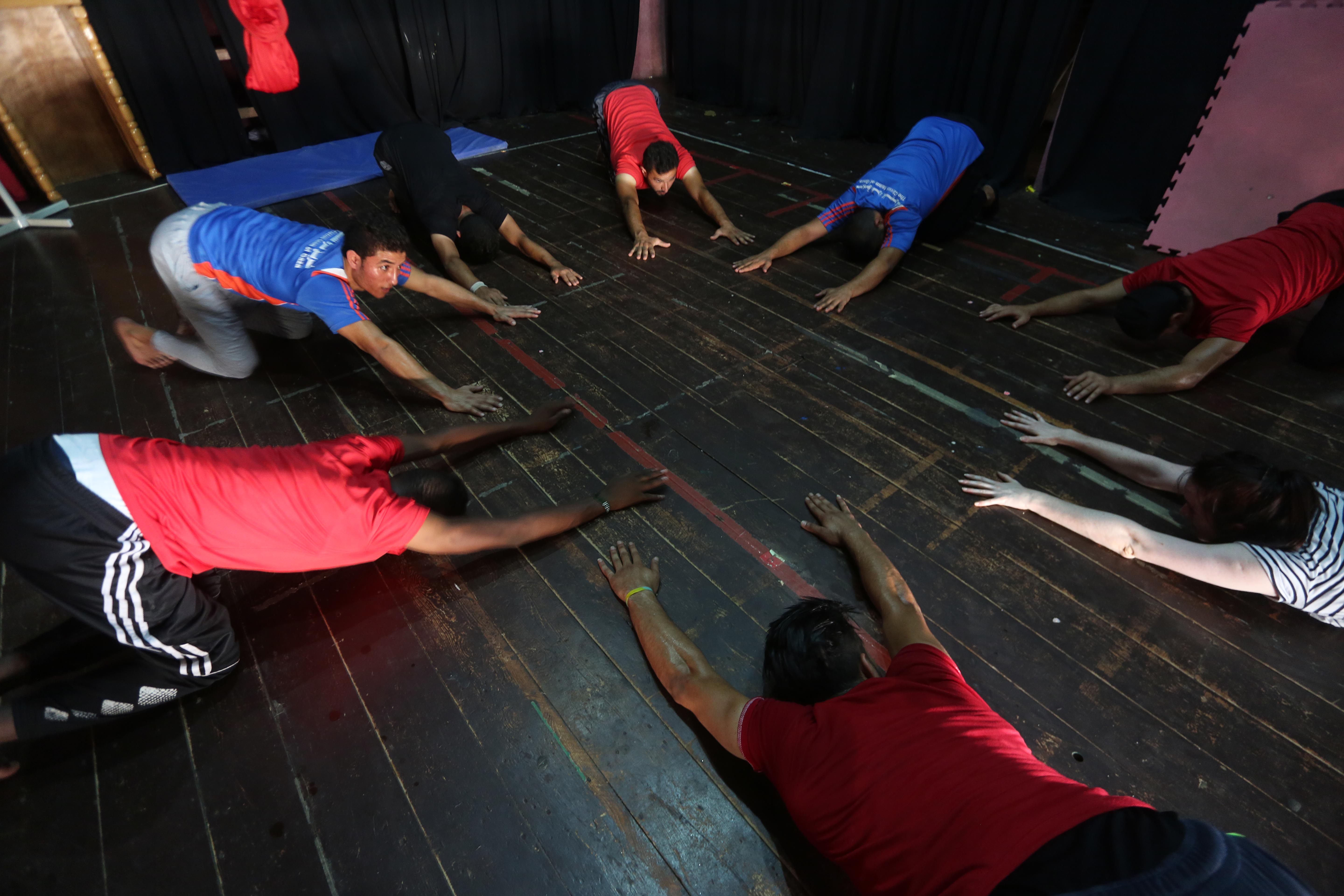 Mohammed Al-Ijla, 21, one of the participants at the Gaza Circus School, says circus formed a turning point in his life. For him, circus is a more advanced and complicated way to benefit from his sports and fitness skills, which include bodybuilding since the age of 12.
"It's really great to give the chance for girls to practice this amazing art," he says. "Although we, men, won't be able to watch or join their performances, we will be very happy for them. We dream to make circus more popular in Gaza and this project will help us do so."
Now, Hend Al-Khodary waits eagerly for the beginning of the project. She also looks forward to meeting friends with whom she will practice circus for first time in Gaza. "I'm sure that it will be outstanding," she says. "I believe that this art will change us. It will change our perspectives and expand our imagination. Circus will help us feel that we are out of Gaza and far away from any pressures or difficulties."