The Legendary Black Surfer Who Challenged Stereotypes
In his short 24 years, Nick Gabaldón made an impact on California surfing culture that is still felt today.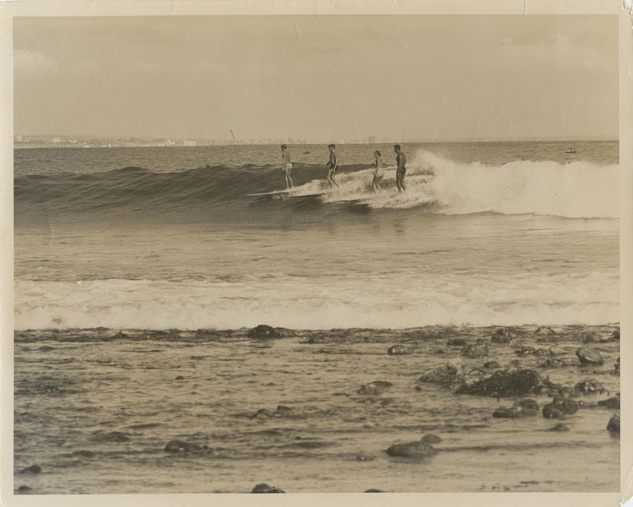 On June 5, 1951, 24-year-old Nick Gabaldón surfed his last wave in Malibu, California, crashing his board and disappearing into the water. In his short life, Gabaldón made an impact on surfing culture which is still felt today. Credited as being one of the first-documented surfers of African-American and Mexican-American descent, he is remembered as a rebel who challenged the idea of who belongs on California beaches.
On the boardwalk of Santa Monica's Bay Street Beach, within a small cluster of palm trees, is a small plaque that reads: "A place of celebration and pain." The plaque describes the fact that in the first half of the 20th century, this beach was one of the few beaches in Los Angeles County where African Americans felt they could come and enjoy the ocean free of harassment, and it's where Gabaldón got his start.
Born in 1927, Gabaldón grew up and went to high school in Santa Monica. He would sometimes skip class to hang out at the beach, remembered his friend and classmate Wayne King in a 2012 documentary called 12 Miles North. A skilled bodysurfer, Gabaldón gained the attention of Buzzy Trent, who worked as a lifeguard and went on to become a famous surfer. Trent, who was white, took a liking to young Gabaldón and invited him to surf with him and his friends in Malibu.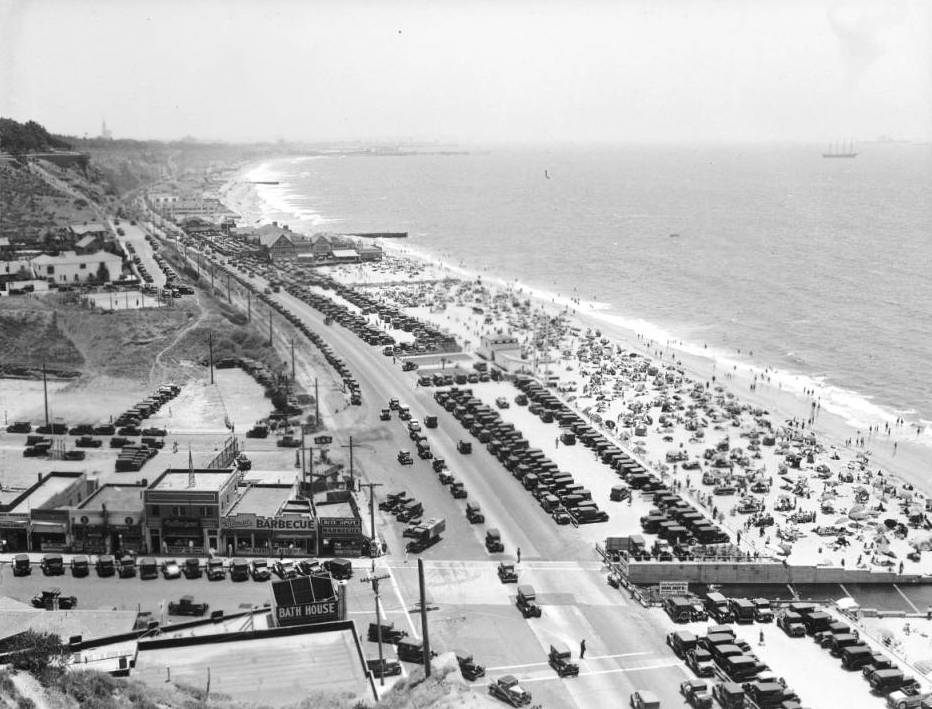 Gabaldón would famously paddle 12 miles from Santa Monica to surf with Trent in Malibu. "It's really insanely hard to paddle that far," says Richard Yelland, director of 12 Miles North. Yelland doesn't know why Gabaldón paddled all the way to Malibu, but he says some people think it was to avoid racist confrontation outside the familiar boundaries of Santa Monica. "What better way to access the beach if you weren't 100 percent welcome to walk across the sand?" says Yelland.
Gabaldón would have never become a surfer if it wasn't for his time riding waves at the Bay Street Beach. But besides the commemorative plaque, nothing at the beach serves to indicate the racial history of the place, which not only produced Gabaldón but some of the country's most iconic African-American beach culture. Alison Rose Jefferson, a historian of California, wants to change that.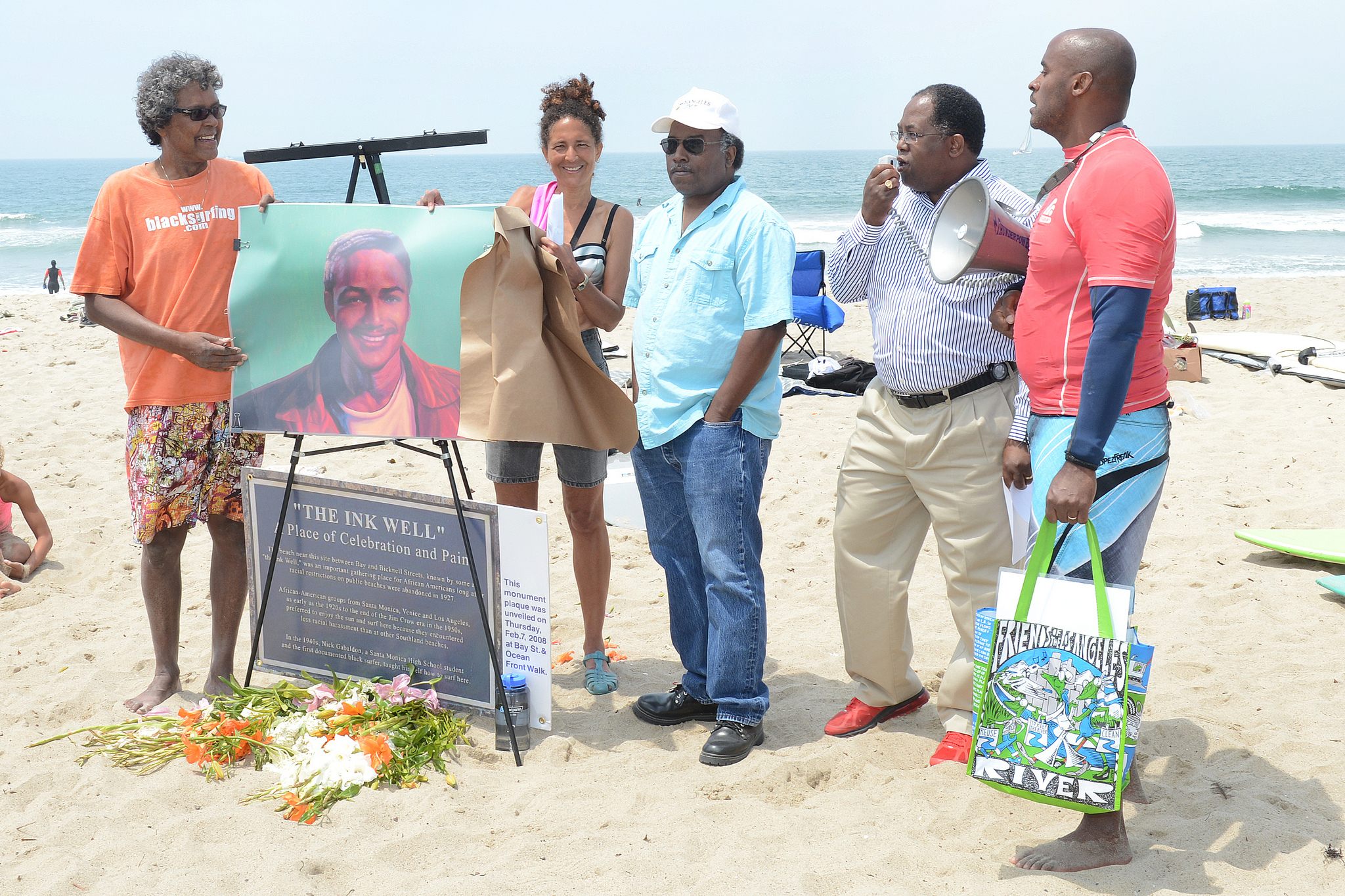 ---
Nick Gabaldón Day was first organized in 2013 by Jefferson and the Black Surfers Collective as a way to give free introductory surf lessons to African-American kids in the community. Now, the annual event draws in hundreds of people from around Los Angeles.
To begin the day, a group of surfers paddle out past the surf line and throw flowers in the water to honor lives lost in the ocean. "The event is commemorating this fallen surfer," says Jefferson, "but also all the people who struggled to use that beach over the years." The programming has changed from year to year and has included documentary screenings, lectures, and music.
The annual June event focuses partly on the historic struggle of African Americans to hang out at beaches free of harassment. Even in California where, Jefferson says, there were no official Jim Crow laws, discrimination was informally enforced through hostility or harassment, and more formally through real estate. According to her research, in the 1920s, Santa Monica officials stymied efforts of African-American investors to develop the waterfront. "They tried to put up a beach resort and the governmental authorities and the town citizens said, 'No, you can't build your resort,'" says Jefferson. As soon as the land passed to non-African-American owners, officials changed the law and allowed white developers to build. Jefferson says that the "pain" on the Bay Street Beach plaque refers to that racist history.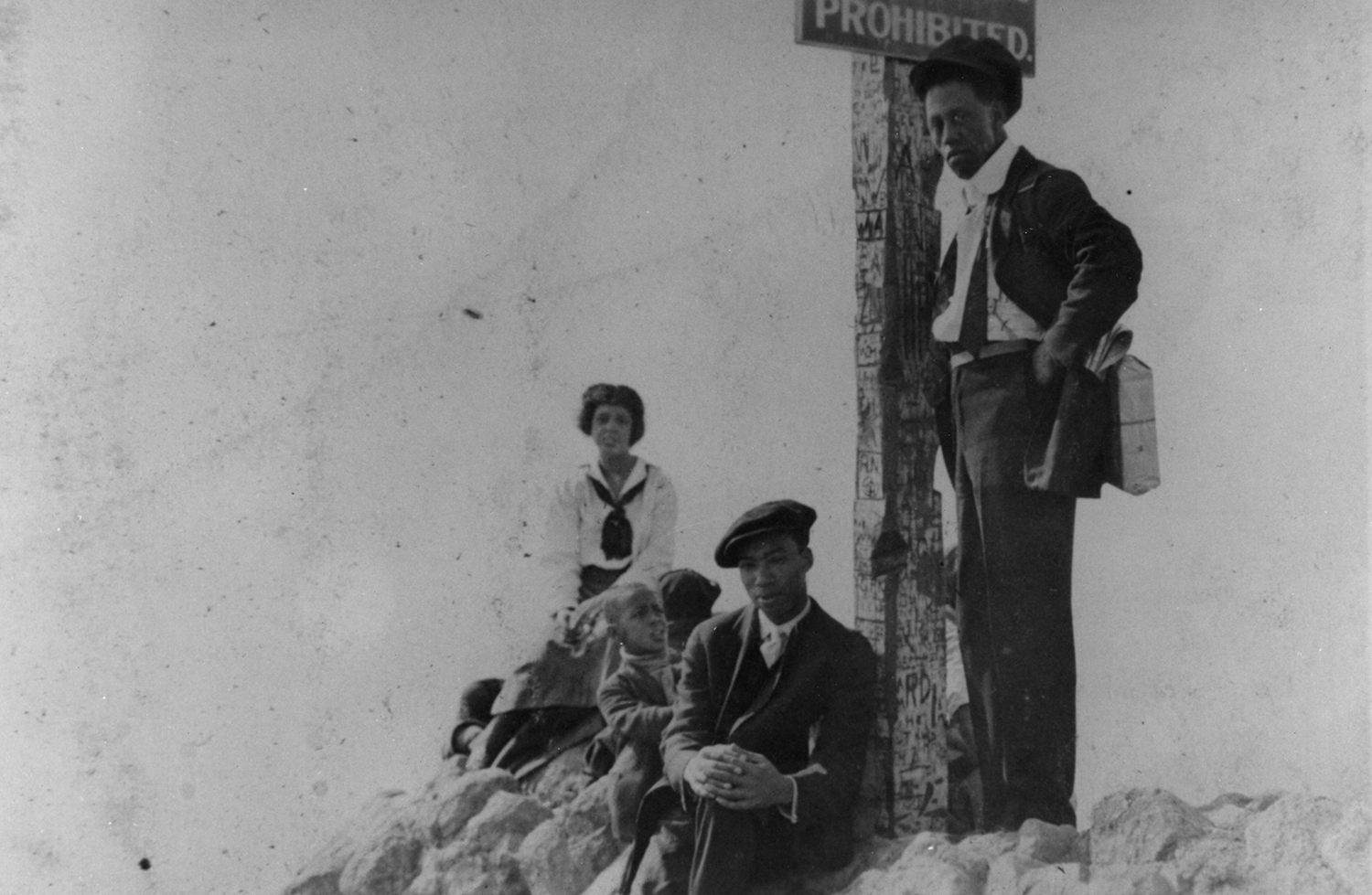 However, many African-Americans who grew up going to the Bay Street Beach don't associate it with pain. Carolyne Edwards, a 78-year-old African-American woman who grew up in Santa Monica and runs a local oral history project called the Quinn Research Center, spent her childhood at the beach. She remembers going there with her family for holidays, having picnics, and building sand castles. "It was not a place of pain and suffering," she says. "If anything, it was joy and fun for kids. It was a family type of environment."
Edwards says her uncles and friends were boogie boarders and bodysurfers, and should be remembered alongside Gabaldón. They were also important to the history of the beach and they should be on the plaque as well, she says. Her list includes her uncle Alfred Quinn, and his friends Boyd Carter, A.D. Williams, and R.C. Owen, to name a few.
Jefferson says she thinks Gabaldón's fame has a lot to do with the fact that he was accepted by prominent white surfers in Malibu, such as Trent and Mickey Munoz. Whereas Edwards's friends and family might have gone unnoticed, Gabaldón's acceptance with that group put him on the map. "The white people knew who he was," she says. "And they're the ones who determined at some point who was important and who wasn't."
Nevertheless, his legacy, it seems, is most important to a new generation of African-American surfers who, like Gabaldón, are trying to make space for themselves in the white-dominated and sometimes racially hostile culture of surfing.
51-year-old Remy Smith is a lifeguard captain with the Los Angeles Fire Department. He started surfing when he was 30 and it's now a huge part of his life.
Smith says African-American surfers are often judged before they even hit the water. When Smith learned about Gabaldón, he was inspired. "His story is definitely uplifting because he went through a lot at that time," he says. Smith says when he encounters racism when surfing, it motivates him to be better, and he imagines Gabaldón was probably the same way. "People are telling you, you can't do it, and that makes you want to do it even more. You want to be stronger and better and work harder," he says.
Smith has a house in Santa Monica four blocks from the ocean, and his first time surfing was at the Bay Street Beach. He says the neighborhood is almost entirely white-owned now, and he's one of the few African-American residents still living there. He has been to almost every Nick Gabaldón Day and says he is most excited about getting people in the water. "It's cool because they do surf lessons for kids and adults," he says. "There's a lot of adults that can't even swim and they need guidance and help."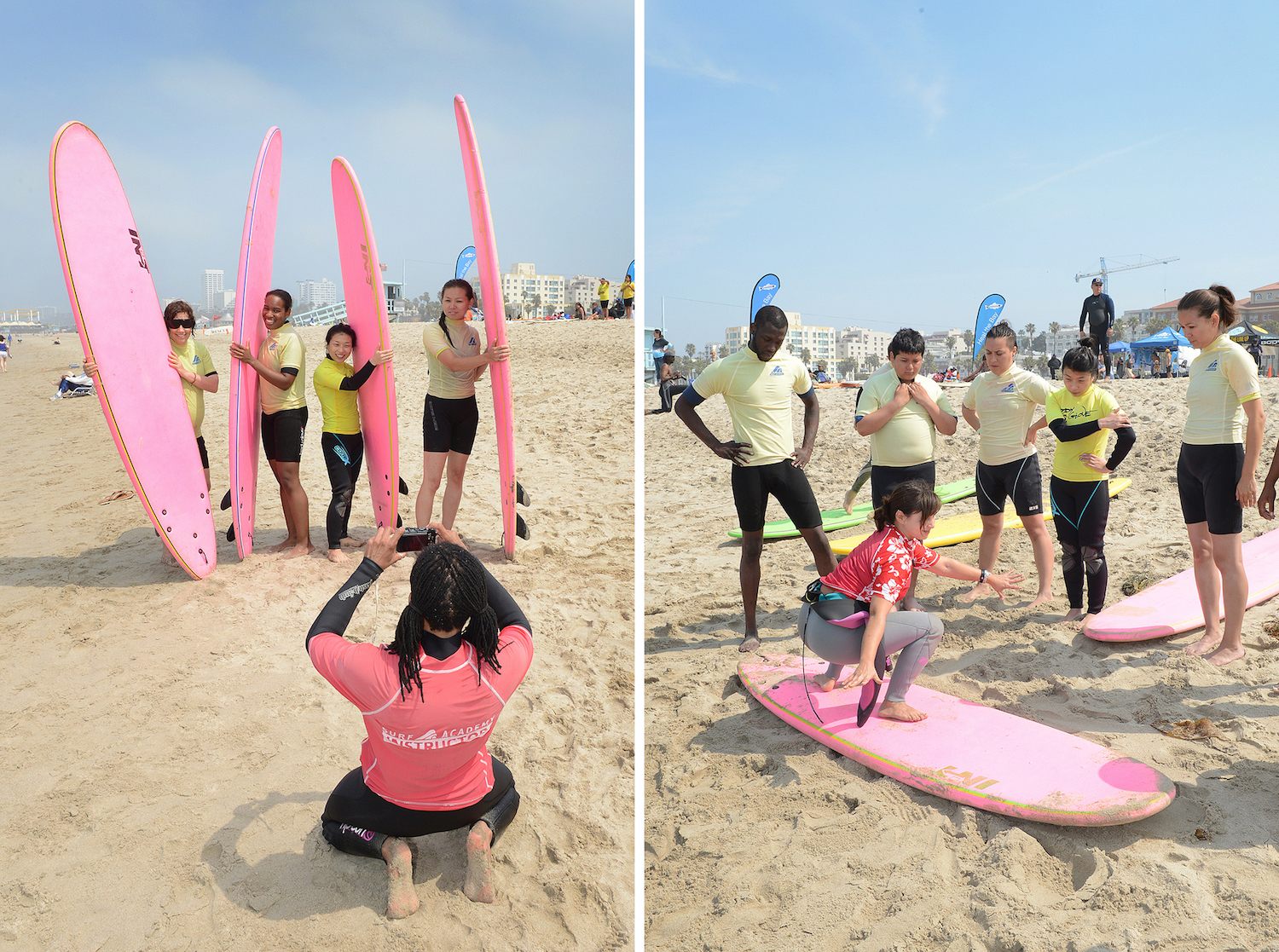 In Southern California, coastal access is dominated by majority-white communities, and African Americans are among the lowest represented ethnicity in areas where the best beaches are. Racial demographic maps show non-Hispanic white populations form a strong majority among almost every coastal community on the southern California coast. Coastal cities within Los Angeles County, such as Malibu and Santa Monica, are 84 and 65 percent non-Hispanic white, respectively, while the County is 27 percent non-Hispanic white as a whole. Within the city of Los Angeles, beach areas such as Venice and the Pacific Palisades are 69 and 84 percent non-Hispanic white, respectively, despite being only a quarter of the city's population.
Smith says there are only a handful of African-American lifeguards in the L.A. County Fire Department, out of hundreds. When he goes to Nick Gabaldón Day, he is partly there to recruit young people to become lifeguards. He says a lot of children of color living inland don't have the opportunity to explore California beaches. "Access to the water just isn't there," he says, "and if you don't have the resources to pay for it, it's hard."
---
According to Jefferson, Nick Gabaldón Day can be more than just about celebrating African-American beach culture and introducing young people to surfing. It is also a time to critically think about who belongs in the waves, and what it means to challenge the norms around the sport of surfing.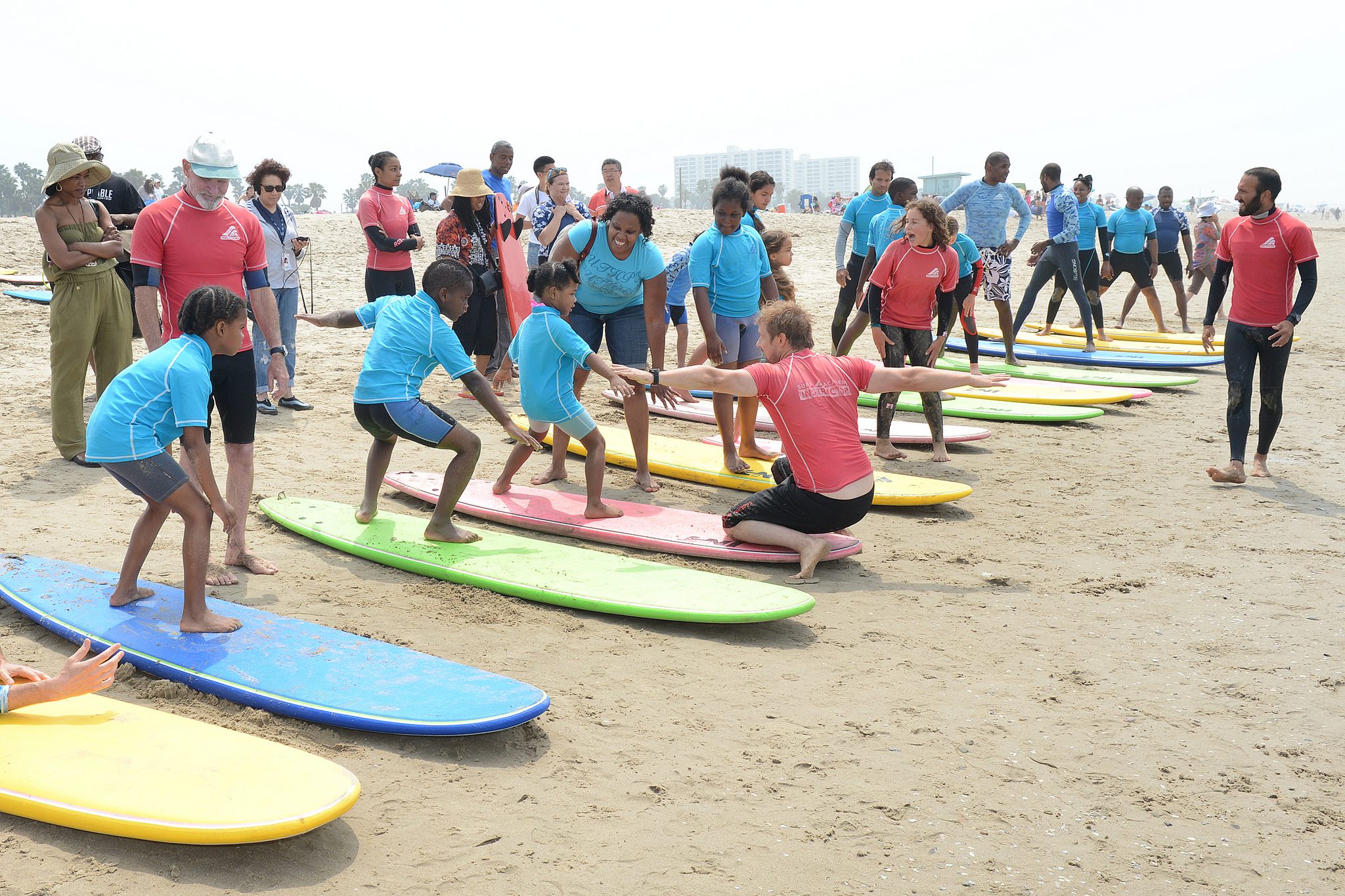 As part of this year's celebratory weekend, Jefferson organized panels, documentaries, and discussions to allow the public to learn about the critiques of male- and white-dominated surfing culture. The program included Elizabeth Pepin Silva's film La Maestra, which is about a female surfer in Mexico, and a panel about The Critical Surf Studies Reader, which explores how surfing was exploited by non-natives for tourism in Hawaii, among other critiques.
Jefferson says these are "critical counter voices" when it comes to understanding what surfing is and who it's for. "Gabaldón was challenging racial hierarchies in the Jim Crow Era," she says, "these scholars and activists are challenging other things. They're all pioneers."
Now, the Bay Street Beach looks like just any other on the Los Angeles coast. It's a good spot for beginner surfers, and hundreds can be found in the waves every weekend. As time passes, Jefferson and others feel it's important that its history is known. "It's an evolving discovery," she says.
Three days after his disappearance, Gabaldón's body was found by the coast guard and identified by his grief-stricken surfing friends. "Multiple grown men cried to me when they recounted the story," says Yelland. "They really felt that he was a beautiful example of a person who died way too young in a tragic accident."
In his short life, Gabaldón managed to change the world of surfing. His trips from Santa Monica to Malibu allowed him to surf some of the best waves in the world with some of the most famous surfers at the time. His skill and character made him unforgettable. "He was one of the guys in the water," says Yelland. "Nick is a beacon in the sport of modern surfing."