Why America's Craft Brewers All Love a Vintage Candy
The sweet fuels the country's breweries.
When Jagged Mountain Craft Brewery in Denver, Colorado, released their new milk stout last fall, brewers from across the country came pouring into their tap room to try it. Sure, it was the same weekend as the Great American Beer Festival, so representatives from more than 800 breweries were already beer hopping their way through the Mile High City. But the crush of pint-pouring peers was lured in by word that Jagged Mountain's freshest beer was brewed with lactose, peanut butter, and salt to mimic a candy that is revered within the brewing community.
"It seemed like the perfect inside joke," says Jagged Mountain head brewer Alyssa Thorpe.
The sweet in question is the Salted Nut Roll: a Depression-era candy from Minnesota that, while little-known outside the Midwest, has literally and figuratively fueled the modern craft beer industry in the United States.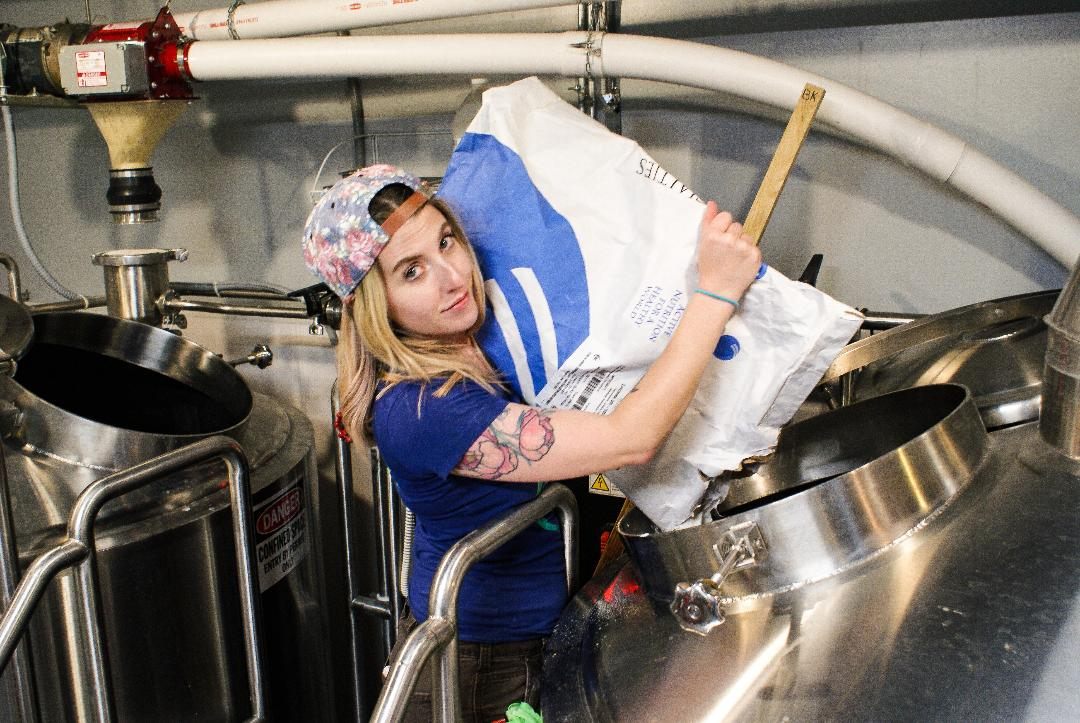 For decades, Brewers Supply Group (formerly Mid-America Brewing Supply) has slipped candy into the shipments of barley, wheat, and rye that they send to craft breweries. At first, they buried a cache of randomly assorted hard candies somewhere in the delivery; it was meant as a token of appreciation (and a fun scavenger hunt) for brewers who unpacked truckloads of 55-pound bags, one-ton pallets at a time. (This is why Jagged Mountain's homage to the candy is called "Pallet Present.") Since 2004, however, the treasure has exclusively been Pearson's Salted Nut Roll, a bar with a nougat center enrobed in caramel and salted peanuts.
Soon enough, brewers across the country were consuming so many that they started calling the bar "Brewers Lunch." While the gift may seem like riches now, when the candy was released in 1933, it was intended to be an economical, protein-packed meal replacement, eaten like a modern-day Clif Bar.
"We definitely fight over the Nut Rolls in the shipments," says Andy Bobst, the Operations and Marketing Manager for Tin Whiskers Brewing. "Sometimes you'll see shorter brewers' feet sticking out of the top of a pallet, because they dove in head first looking for the candy."
Because the craft beer industry didn't really start chugging until the 2000s (between 2005 and 2019, the U.S. went from 1,447 to 8,386 permitted breweries), and since BSG is one of the biggest players in the brewing-grains business, most breweries today haven't known a time when a Salted Nut Roll wasn't the prize for unpacking shipments.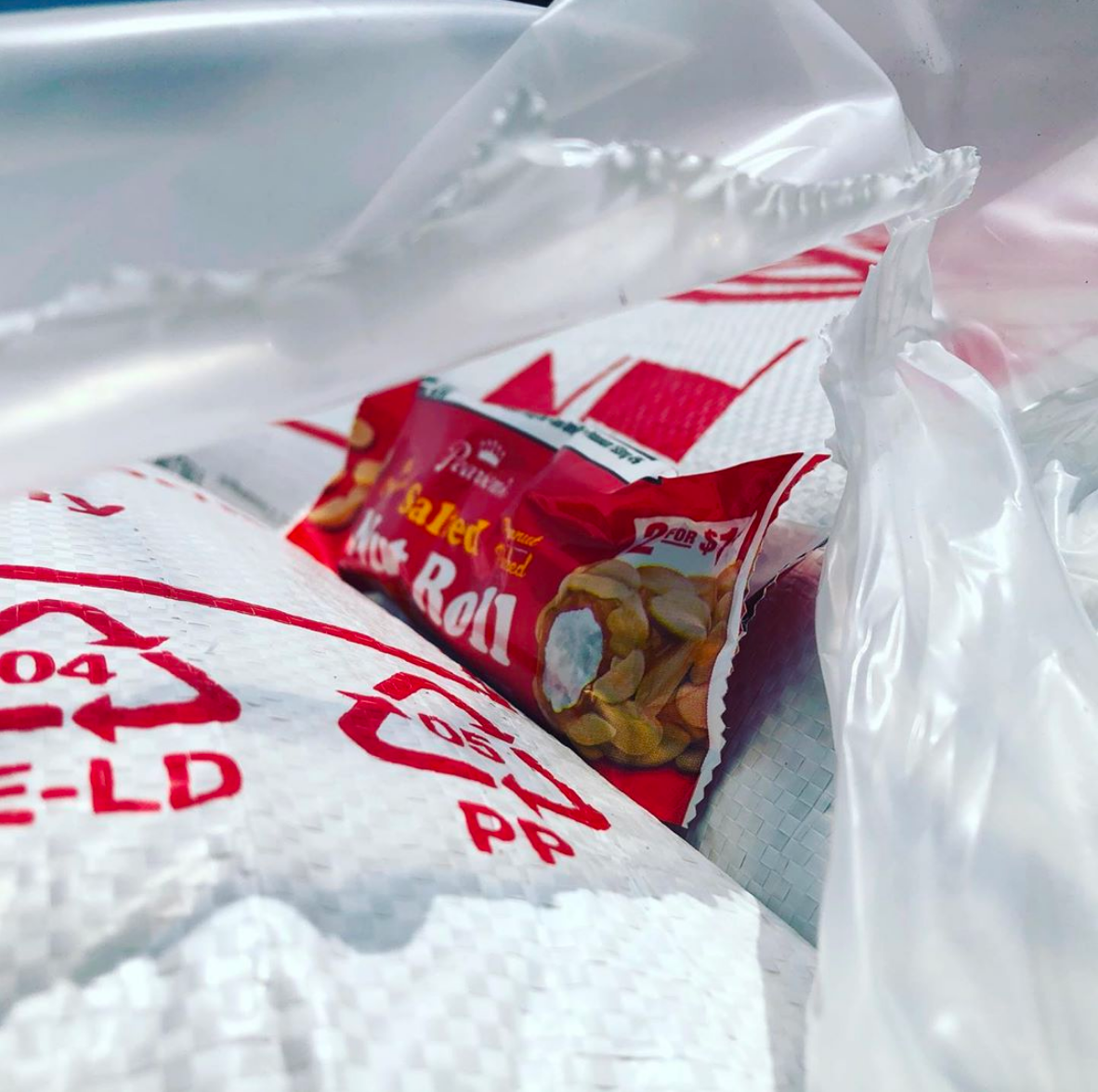 As a result, the shipment-day bounty has become a bit of a muse for brewers. In addition to Jagged Mountain, breweries including Prairie Artisan Ales in Oklahoma, AleSmith Brewing Company in San Diego, Crafty Bastard Brewery in Knoxville, and Tin Whiskers in Minnesota have all made ales inspired by Salted Nut Rolls in the last year or so.
Now BSG couldn't stop the Salted Nut Roll train if they tried. Tara Coy, their Events and Outreach Manager, says the response from brewers has exploded in recent years. BSG now has a social-media campaign dedicated to the candy, including an Instagram story devoted to showcasing brewers searching for the bars in their vast shipments. These photos and videos—typically uploaded by brewers themselves as they slice through plastic wrap with box cutters, pillage already dug out hauls, and heave grain bags off the pile in search of the trove—are often captioned, "If you know, you know."
"I always joke that we hear more about the Salted Nut Rolls [than brewing ingredients]," Coy says. Brewers constantly trade facts and fables about the quantity and size of their candies, and Coy says she hears about it if one brewery feels another fared better. Around the holidays, BSG sends out, at random, the Holy Grail of treats: a two-pound Salted Nut Roll, the size of a log.
"They're kind of obscene," Coy says. "It's a lot of Nut Roll."
Thorpe says she can't even estimate how many Nut Rolls she's consumed during her five-year tenure at Jagged Mountain. Similarly, Bobst says he'd be hard pressed to guess how many have passed through his brewery each year. Because Tin Whiskers makes their Salted Nut Roll Beer in direct collaboration with Pearson's, whose factory is just down the road, they're often gifted a stash from them, as well, sometimes still hot off the line.
"All I can say is, it's a lot," Bobst says. "A whole lot."
Gastro Obscura covers the world's most wondrous food and drink.
Sign up for our email, delivered twice a week.