Why Filipino Christians Greet the December Dawn With Purple Rice
Puto bumbong is a sweet, post-mass breakfast during Simbang Gabi.
This month, Gastro Obscura is sharing the recipes and stories behind amazing holiday dishes and drinks from around the world in the ongoing series "Home-Cooked Holidays."
The Simbang Gabi is a devotional nine-day mass practiced by many Christians in the Philippines. Masses start before dawn (usually around 4:00 a.m.) and are held daily from December 16 through Christmas Eve. The tradition dates back to the early days of Spanish colonization in the 1600s, when the morning mass allowed farmers to attend church before working in the fields. When I was a child in Manila in the 1980s, the anticipation of a reward after the service was often the reason I was able to muster some strength to be up that early. That reward was puto bumbong.
As early as 3:00 a.m., makeshift food stalls line up outside churches and await the worshippers to finish mass. It became a tradition for Filipinos to stop and savor native delicacies such as puto bumbong for breakfast afterward. The purple-hued rice cake (puto) is made with glutinous rice and often cooked inside bamboo tubes (bumbong). Its color traditionally comes from a local dark-purple rice variety called pirurutong, which gets soaked overnight, then ground. But many cooks opt for the more easily-accessible purple tinge obtained from ube (purple yam) flavoring added to glutinous rice flour.
Vendors brush softened butter on the cakes as soon as they come out of the bamboo steamer, then top them off with freshly grated coconut and dark brown sugar. A simple yet delectable kakanin (native delicacy), puto bumbong, will all its fixings, is sweet and buttery with a very pronounced fresh, coconut flavor. It's often complemented with salabat (ginger tea), tsokolate (Filipino hot chocolate), or coffee.
Now that I live in Vancouver, celebrating Christmas is certainly different. Gone are the traditional sights, sounds, and flavors of Filipino Christmas: Here, the radio doesn't start playing carols several months early (the Philippines starts in September) and the streets aren't lined with parol lanterns. But, with my family, we always try to bring the spirit of Filipino Christmas traditions alive at home. Below you'll find my recipe for puto bumbong. It took a lot of experimenting and adjustments with available cooking vessels and ingredients, but it brings me back to my happy childhood Christmases in the Philippines. Try it out and hopefully it gives you the same comfort it gives me as you celebrate the holidays.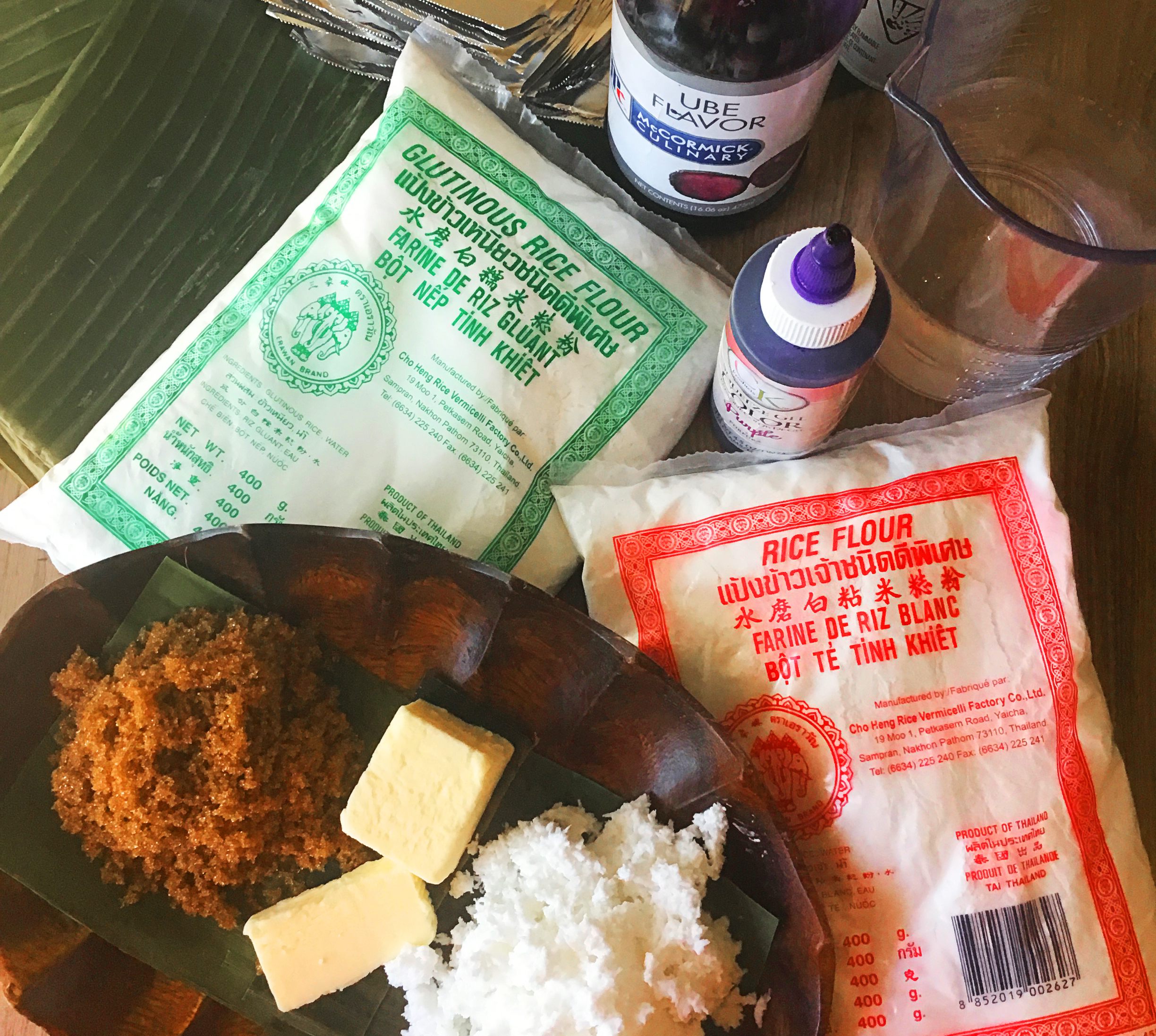 Puto Bumbong

2 cups glutinous rice flour
½ cup rice flour
1 cup water
2 teaspoons ube flavoring or 1 teaspoon violet food color
Nonstick cooking spray or canola oil
Butter, softened
Dark brown sugar, muscovado, or coconut sugar
Grated coconut
Banana leaves (for serving)

1. Pour both flours into a bowl. In a separate container, combine the water and ube flavoring (or food coloring). Stir and slowly add to flour, mixing with your hands until it forms a dough. Grate the mixture through a fine grater and into a bowl.

2. Tear aluminum foil into 4-by-6-inch pieces and grease one side with cooking spray or brush with oil. Gently place about 3 heaping tablespoons of the grated dough on the greased foil. Form the dough into a log. Do not pack for faster and even cooking.

3. Pick up the foil wrapper as you would a taco. Fold and pinch the edges of the long ends to seal but leave the top open. When done, arrange the wrappers in a steamer, leaving a bit of space between them to give room for the steam to evenly cook the puto bumbong.

4. Steam for 15 minutes or until cooked through. Transfer the puto bumbong to clean banana leaves and brush generously with softened butter. Top with grated coconut and sugar. Serve hot. If you have leftovers, don't refrigerate the puto bumbong with the toppings. To warm, place it on a microwavable dish and heat for 30 seconds to 1 minute. Then, add the toppings.
Gastro Obscura covers the world's most wondrous food and drink.
Sign up for our email, delivered twice a week.