The Quest to Revive the Bay Area's Fabled Doggie Diners
One man is determined to get these giant dachshunds smiling down on customers once more.
For nearly 40 years, nothing in the San Francisco Bay Area meant "lunchtime" like the grinning, hulking, 10-foot-tall canine faces that urged passersby to pull over and grab a bite. These were the mascots for the Doggie Diner, a locally iconic chain that boasted more than 20 locations between 1948 and 1986. Today, not a single Doggie Diner remains open, and only one of the giant heads remains in place: on San Francisco's Sloat Boulevard, near the city's zoo. San Francisco declared the head a historic landmark in 2005.
Enter Kip Atchley, a car salesman who has made it his mission to revive the chain. Though Atchley grew up in Napa Valley, about an hour's drive north of San Francisco and Oakland, he never once ate in a Doggie Diner. But that doesn't mean the diners weren't on his young mind. On a family trip to the San Francisco Zoo, he remembers seeing the giant head on Sloat. "It really resonated with me as something special," he says. It wasn't the kind of thing you normally saw out the car window. "It made [an] impact on me."
Perhaps that's why, roughly a decade ago, Atchley became intrigued by a rumor he heard about a Doggie Diner head in a nearby private collection. He spent nearly eight years tracking it down to a warehouse in the town of Vallejo, and, according to the San Francisco Chronicle, was only able to procure it in exchange for $10,000 and his own antique pinball machine—a niche-collectors' pas de deux if ever there was.
Before he went through with the transaction, Atchley had already acquired the trademark to Doggie Diner, found a location for the rebooted eatery in Napa, and received permission to build the restaurant from the local Planning Department. He had begun rounding up investors, too. The plans have been on hold, however, since one of his investors passed away from cancer, and the other had to back out after losing his winery in one of the wildfires that have become all too common in California.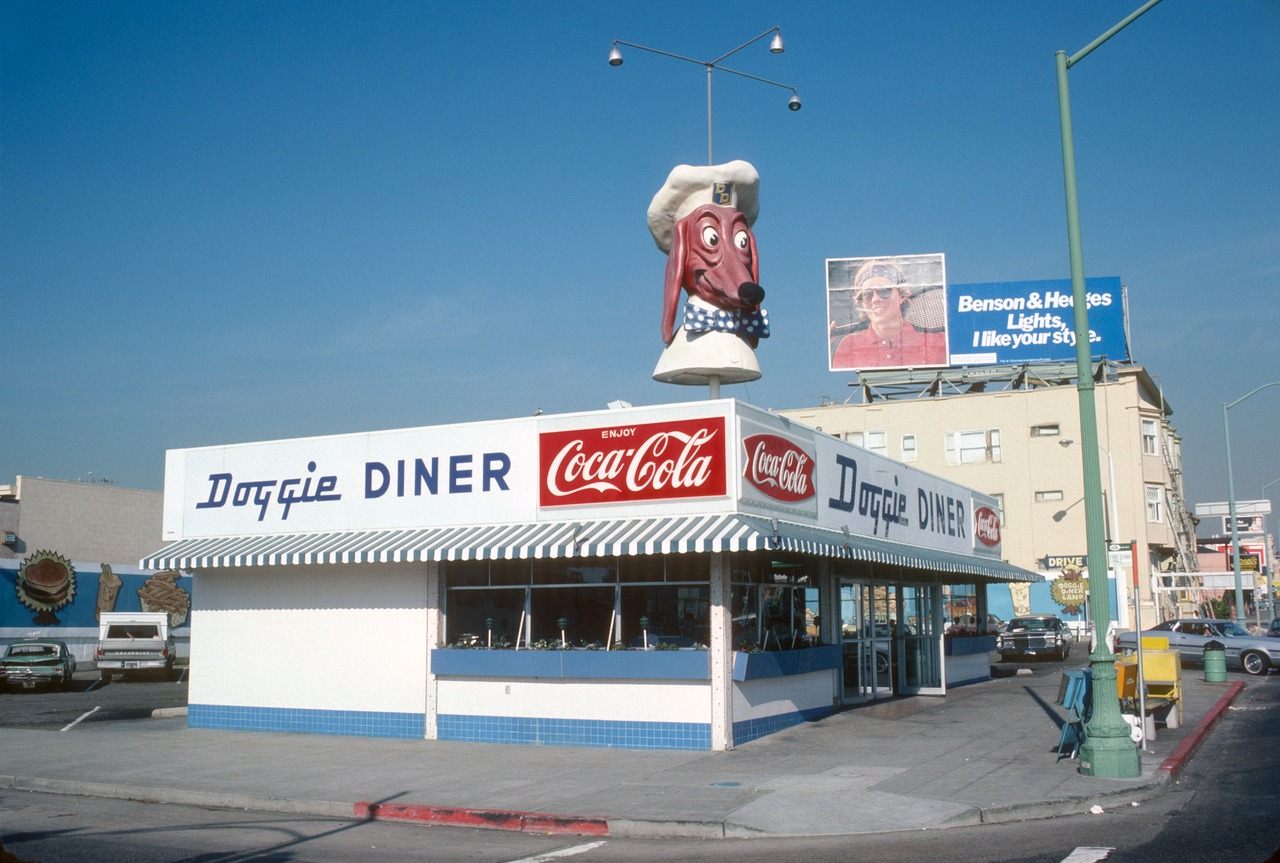 Atchley says that those former partners shared his instinctive belief in the project's commercial potential. As he has researched the old Doggie Dinners, Atchley says, he has come across former customers who feel a strong nostalgic connection to the chain. One man told Atchley that he's only alive because of the Doggie Diner, as his parents met there; another said that he and his mother bonded at the diner while waiting to pick up his older brother from karate class. One woman cried as she told Atchley, "When I look at that dog head, I think of a 10-year-old girl getting out of swim practice with her friends." She and her friends would pool their money to buy Doggie Diner fries and share them as they waited for the bus.
These stories, says Atchley—combined with his previous experience designing Chuck E. Cheese interiors—make him confident that customers will welcome the return of the Doggie Diner. But should his dream become reality, Atchley understands the brand will need some modern updates. He's been workshopping hot dog possibilities—at least enough to introduce a "Hot Dog of the Month" concept, and perhaps enough to send customers "Around the World in 50 Hot Dogs" as they survey franks with Chinese, French, and German influences. "I personally believe hot dogs are like a blank canvas to an artist," says Atchley.
Gastro Obscura covers the world's most wondrous food and drink.
Sign up for our email, delivered twice a week.