This Restaurant Pivoted From Molecular Gastronomy to a 5-Course Drive-Through
A server squeegees the window, too.
Chef Marc Lepine describes Atelier Restaurant in Ottawa, Canada, as a high-end minimalist nook specializing in molecular gastronomy. Since 2008, the restaurant has thrived on Lepine's signature 12-course blind tasting menu.
Pre-pandemic, the grey exterior of the narrow, brick building that houses Atelier provided no hint of the colorful bite plates served inside. Fantastical dishes reminiscent of snow globes, flower arrangements, garlands, and fashion accessories arrived one after the other, each equal parts abstract art and food.
When COVID-19 restrictions forced Atelier to close in March, Lepine had to find a way to pay the bills. But the two-time winner of the Canadian Culinary Championships, who was named Canada's most innovative chef in 2018, couldn't see his tasting menu translating to takeout. "Also, we never like to do what everyone else is doing," Lepine says.
His former pastry chef suggested a solution. "Pick up a course, drive around the block, get your next course, and do it again." The idea of a recurrent drive-through appealed to Lepine—Atelier could adhere to social-distancing regulations while staying true to the tasting-menu format.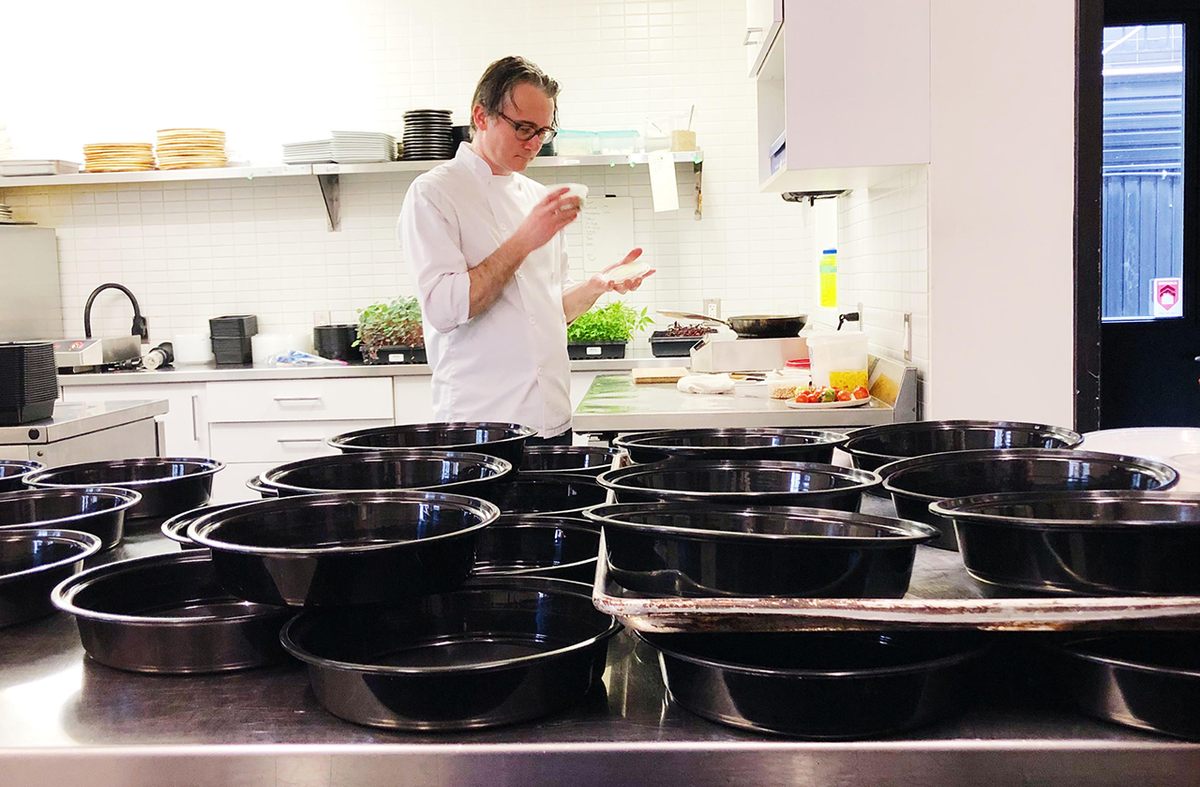 His staff was enthusiastic. In early May, they got to work, compressing 12 courses into five and selling limited tickets at $100 per person, 10 vehicles per service, weekends only. Atelier has sold out every dinner since launching.
"We tried to incorporate the theme of driving," says Lepine. Providing what he calls above and beyond service, pastry-chef-turned-carhop Justin Tse delivers dessert, then squeegees the windshield. Lepine slips a keepsake menu in the form of a parking ticket beneath the wiper.
Kristen and Jon Hamilton are loyal Atelier customers who love this new twist. "What a fun idea to drive-up, get your course with an incredible description from a knowledgeable server of what you will be eating, where the ingredients came from, and why they chose the drink pairing. As always, it's edgy, creative, different, and delicious, even in take-out containers."
"It's an outing," Lepine says. "People are bringing their own tables with tablecloth, candles, and flowers. They set up in the parking lot beside us. They say things like, 'This is our first date night in three months.' For one couple, it was supposed to be their wedding day. The bride-to-be said it turned out to be even better."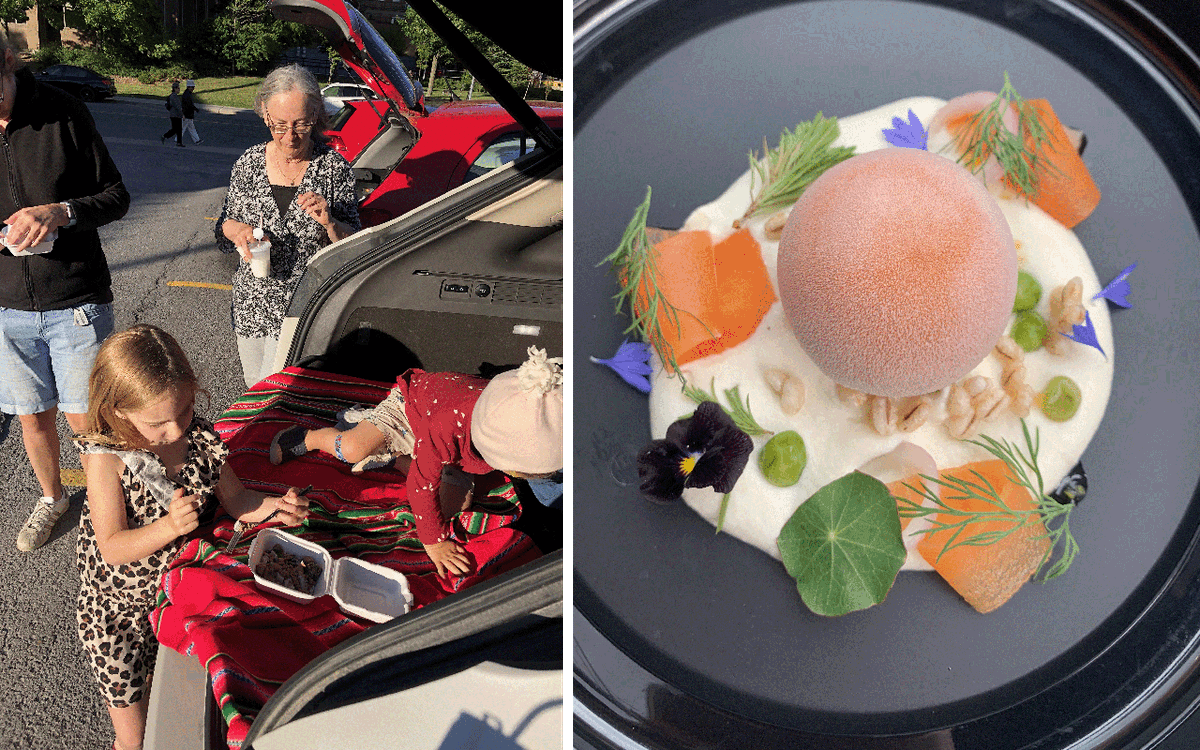 Families are coming out as well. After Bronwyn Lambert's sister raved about the experience, they planned a family outing. Lambert booked tickets for herself and her two kids twice inside a month. Lambert's sister, mother, and nephew joined them. The three generations pulled their cars together so the kids could tailgate on blankets in the back.
"My son is very much a foodie," Lambert says, "but my daughter's favorite food is Kraft Dinner." Although they'd never experienced molecular gastronomy before, the kids devoured every course … almost. Both tucked into the tuna tataki. When carrot soup arrived in the form of an icy globe, Lambert's son said it was the coolest thing he'd ever experienced, but her daughter proclaimed it too weird. Quoting her, Lambert says, "It's not ice cream. How can it be frozen?"
Atelier's drive-through is a big hit, but its fate depends on the coronavirus. The Province of Ontario determines when it's safe for restaurants to reopen their dining rooms. When that happens, Lepine will end his weekend drive-through service, window washing and all.
Gastro Obscura covers the world's most wondrous food and drink.
Sign up for our email, delivered twice a week.