These Farmers Are Delivering Veggies From a Fleet of Adult Ice-Cream Trucks
During the pandemic, arugula is just as exciting as a Choco Taco.
When the coronavirus pandemic escalated in early March and Colorado's governor ordered all restaurants to end on-site dining, Eric Skokan prepared to watch his life's work slip away. Instead, he's delivering carrots and arugula to his neighbors like a vegetable-slinging ice-cream-truck driver.
Skokan and his wife, Jill, own two restaurants and a farm in Boulder, Colorado. After closing their restaurants Black Cat and Bramble & Hare, the duo scrambled to come up with new ideas to keep the business afloat, including a roadside farmstand and meals for delivery or pickup.
But their biggest experiment also turned out to be the most successful. They cleaned up an old ice cream-esque box truck sitting on their property, installed some bells above the windshield, gave it a fresh coat of paint, and started selling vegetables around town. Mabel the farm truck, as she's affectionately known around Boulder, is a runaway success.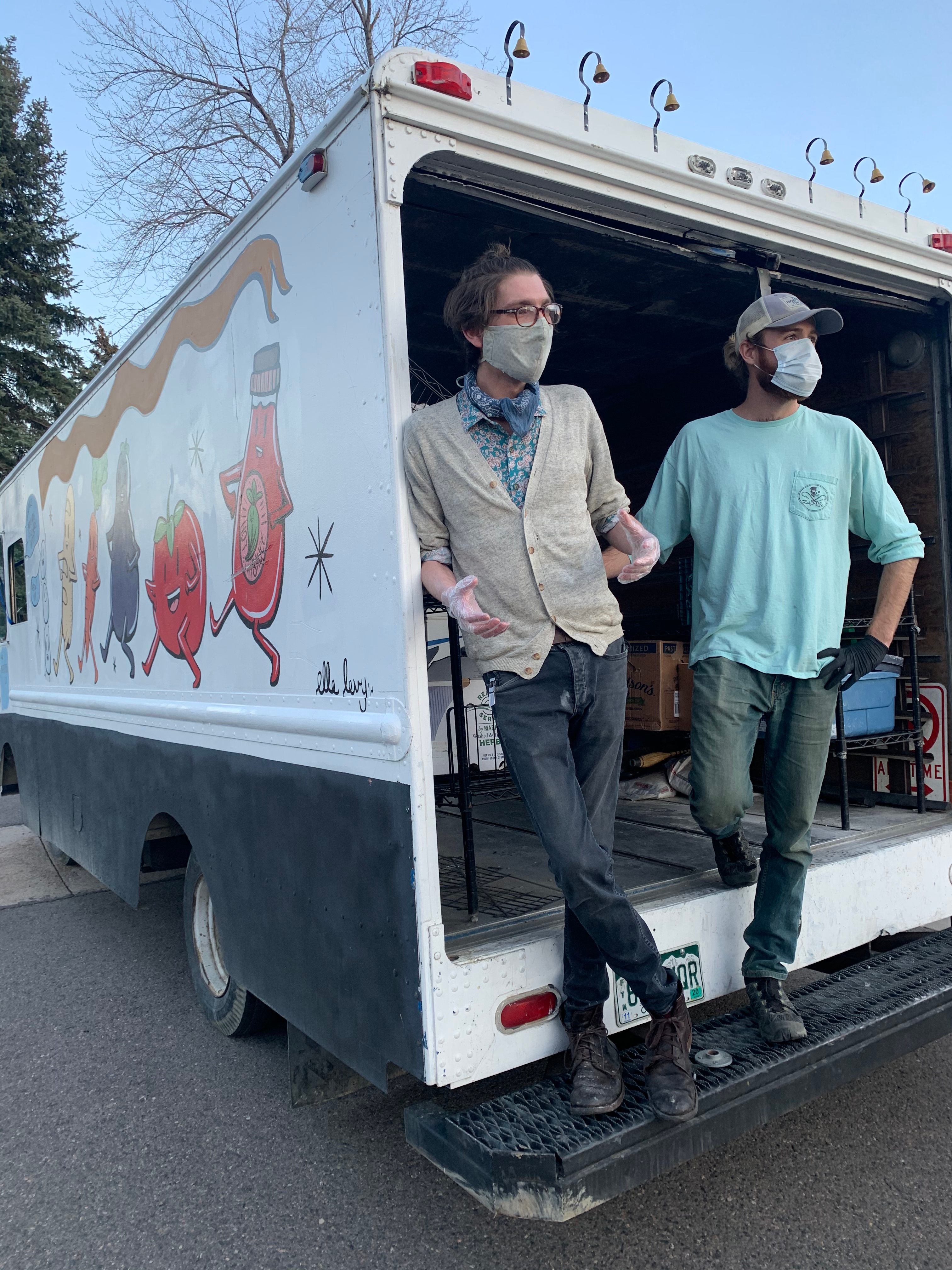 The Skokans came up with the idea after a particularly harrowing family shopping trip to the local grocery store in March. People were coughing all around them, the shelves were bare, and the aisles were crowded. So the Skokans brainstormed better ways to get food to people.
They had a steady supply of fresh produce, meat, and flour from their 425-acre organic farm, after all. And people were questioning their usual food sources and looking for local alternatives.
"I really started to understand what our community was going through, that buying patterns were fundamentally changing," says Eric. "There was this intense level of anxiety for everybody. 'How am I going to get food? How am I going to supply my house?'"
In response, Jill conjured up a long-forgotten childhood memory of an arabber who went door-to-door on a pony-drawn cart selling strawberries in her Baltimore neighborhood.
"It all became clear that we'd take one of these old farm trucks we have, we'd repurpose it, and turn it into, essentially, a glorified ice-cream truck selling bags of arugula," says Eric.
Eric assumed that this repurposed truck, which is decorated with cartoonish, multicolored fruits and sayings like "Baby carrots on board," might run for a few weeks at most. Instead, the truck surpassed everyone's expectations.
The Skokans launched Mabel in early April. Two months later, they've converted two additional trucks into Mabel II and Mabel III. Mabel is no longer just a temporary lifesaver; she's a real business.
"I really thought I would end up with an old truck with the word Mabel painted on it, parked in a field somewhere, and that I could tell my grandkids about what we did during the great pandemic. At minimum, it would just be a great story," he says. "Now we have a fleet of Mabels."
For Boulder's older residents, Mabel harkens back to when the milkman and baker made regular deliveries. Based on customer feedback, the Skokans created and distributed yard signs that people can set out in front of their home to request Mabel to stop.
To make the fleet of Mabels even more convenient, the Skokans are encouraging customers to use a free phone app that shows Mabel's location in real-time. They can request that Mabel stop in their neighborhood through the app or on Mabel's website. Or, of course, they can listen for the bells that the Skokans mounted so Mabel would announce its presence like an ice- cream truck. Mabel's daily menu is online, but a staffer also writes the daily offerings in chalk on the side of the trucks.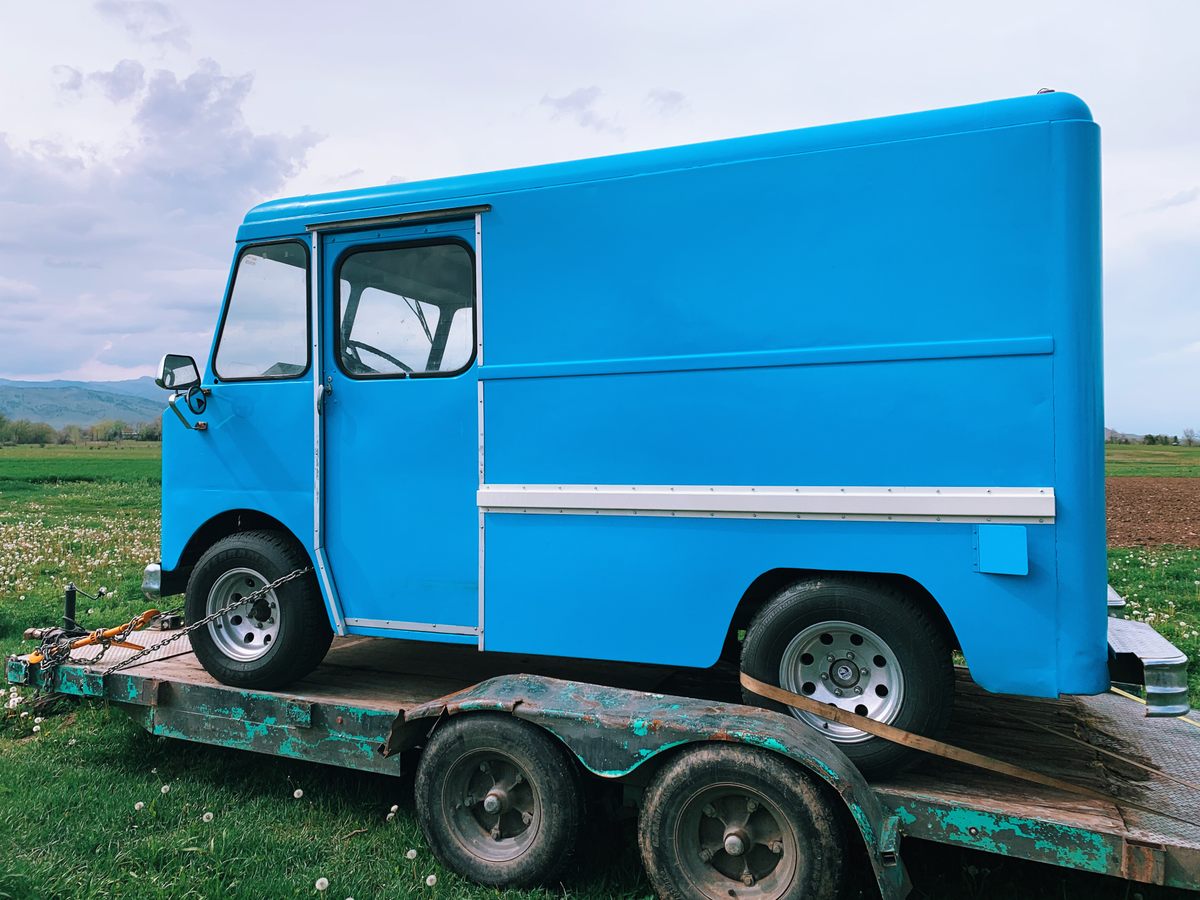 These brightly colored trucks are delivering more than just fresh veggies to people. Mabel's stops are as anticipated as any ice-cream truck, and foster a similar reaction.
"As I'm driving down the street, ringing the bells, I'll see someone at their front stoop wave and then literally jump and run down their walkway to flag us down," says Eric. "And then invariably, that person, bunch of carrots in hand, grabs their cell phone and tells all their neighbors. All of a sudden there's this little community gathering. We get to experience these little pop-ups of joy, it's amazing."
Though the Skokans laid off 30 employees at the start of the pandemic, they've been able to bring many of them back and hire additional staffers, thanks largely to the success of Mabel. This summer, they're also planning to reopen the restaurants at the farm, with socially distanced tables spread among the rustic scenery. Mabel might make an occasional appearance, after she makes her daily rounds.
Eric still sometimes finds himself staring in disbelief at the three repurposed trucks now parked at his farm, waiting to be loaded up with spinach, eggs, and fingerling potatoes.
"I'm a guy who makes souffles pretty well, and I can drive a tractor pretty well, but this is something I never expected to be doing," he says.
Gastro Obscura covers the world's most wondrous food and drink.
Sign up for our email, delivered twice a week.