Our Favorite Reader Stories of Surprising Roadside Hotels
It's check-in time for your memories of unforgettable travel lodgings.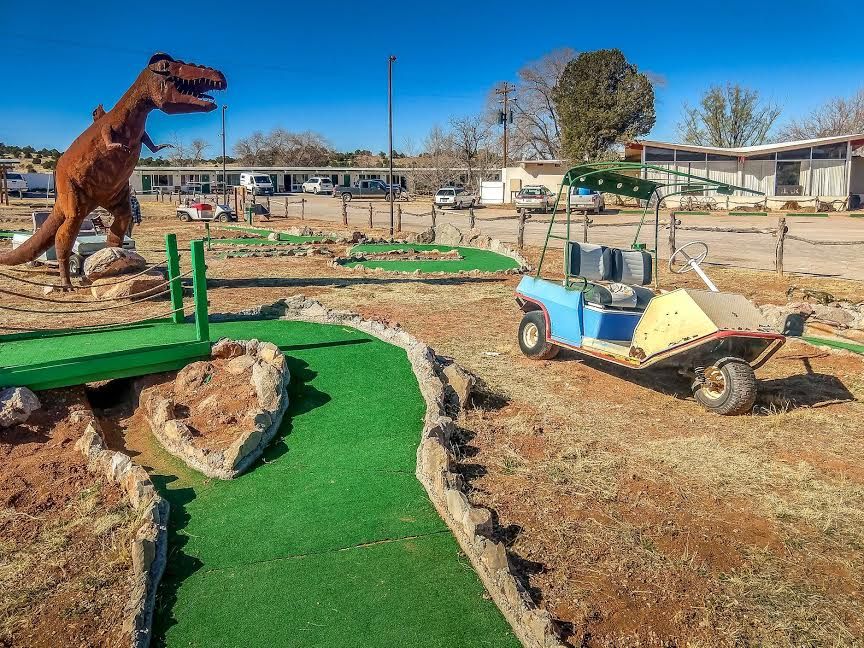 It was no doubt not long after the very first family road trip took place that hotels and motels began looking for creative ways to lure in motorists. They may not be as ubiquitous as they once were, but for many decades, especially in North America, unusual or quirky roadside hotels dotted every highway, locked in a fierce competition for drivers' attention.
Earlier this month, we asked Atlas Obscura readers to share their stories of the most surprising roadside lodgings they've ever stayed in, and as always, they gave us just what we asked for and more.
Across hundreds of responses, readers told us about roadside hotels shaped like old train cars and motels housed in former sardine factories. There were ramshackle sheds only good for waiting out a storm and lodgings where you can catch a drive-thru movie from the comfort of your room. And of course, the ever-iconic, ever-problematic Wigwam Villages came up more than once. Each one an amazing or unique place to stay.
We've collected some of our favorite reader responses below. Continental breakfast not included.
Mount Carmel, Utah
"The most surprising roadside motel that I've ever stayed at was in 2017, when I spent six months driving across the USA. I stayed in hundreds of roadside motels, but one of them was such a surprise: the Best Western East Zion Thunderbird Lodge. From the road, I didn't notice anything particularly unusual besides the amusing sign for the restaurant that said 'Home of the Ho-Made pies.' But once I checked into my room, the architecture looked strangely familiar, and definitely far more well-designed than any other motel I'd stayed in. I inquired with the staff and found out that the original owner wanted Frank Lloyd Wright to design the hotel but he was either too expensive or too busy, so she hired one of Frank's students to design the hotel, and Frank Lloyd Wright's influence can easily still be felt in the rooms today." — Stavros Mitchelides, United States
Ronks, Pennsylvania
The guest rooms are actual train cabooses. Think tiny houses on rails. There are several cabooses arranged around the property. Each one is different, in color and design. They are all super cute. I stayed in one with my husband and three school-age kids. The cabooses have their own bathrooms, mini-fridges, and microwaves. Ours had a deck, too. There's a little cafe and gift shop on site. They also have a petting zoo and horses to see. — Jeanne VanHassel, Westtown, New York
Rachel, Nevada
"It wasn't incredible because of how it looked but more so because of where it was. Rachel, Nevada, is a very tiny town right on the outskirts of Area 51. There's about 10 houses and not much else, with the Little A'le'inn being the only place for people to congregate. They have a UFO out front, and an alien standing in the window of the restaurant area. You stay in tiny trailers that have the most basic of amenities but being so secluded in the desert is what makes this place special. Standing outside at night and looking at the clear sky with all its stars, it's almost no wonder people talk about aliens out there. One of the most unique and amazing places I've ever been." — Janey, New Jersey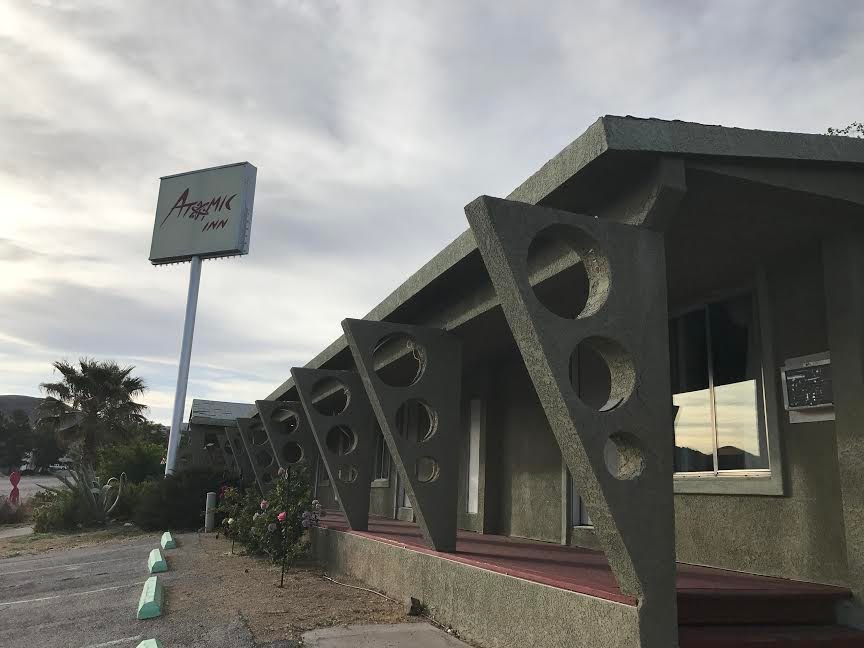 Beatty, Nevada
"It was alien and bunker-themed, and was decorated with atomic bomb art." — Julia Alexander, Asheville, North Carolina
Gallup, New Mexico
"It was a late night and I needed a place to stay for the night when the retro-neon lights of the El Rancho grabbed my eye and I knew I had to stay. The El Rancho is a classic Route 66 motel frequented by seemingly every actor/actress from the golden age of Hollywood, including John Wayne, Jane Fonda, Humphrey Bogart, and Lucille Ball. Each room has a plaque above the door of a movie star who once stayed in the room, and the whole place is seeping with quirky history." — Nick, Colorado
New Castle, Pennsylvania
"There was a petting zoo/real zoo outside. With lions and everything. The lions were very loud at night. The goat enclosure was INSANELY LARGE, and all the goats knew they were the stars of the zoo. Also the lodge itself had this Big Buck Hunter-esque deer bedspread and a totally available DVD player on the TV. I watched Rushmore there with my parents. Amazing place." — Rory Gallagher, DeKalb, Illinois
Podgorica, Montenegro
"It's a roadside hostel, located in a very beautiful mountain location. What makes it unforgettable for me is the staff and the fried fish they make." — Ilya, Tel Aviv
Lubec, Maine
"It used to be a sardine factory, so it's right on the water in the most beautiful location. The view out the windows is stunning. Small islands float over the water, the mist is salty, and the hum of the little harbor is enchanting." — Richard Honer, Northfield, New Hampshire
Cave City, Kentucky
"We were among the only guests for New Year's Eve 2012, after a day in the Smokies and before a day in Mammoth Cave. We arrived after the sun went down and collected our key from a box near the owner's house. Why they didn't stay in a teepee is beyond me. We ordered some pizza, ate it, and fell asleep, the same as we would in any other hotel, but it sure was teepee shaped." — Fred Kerner, Morrisville, Pennsylvania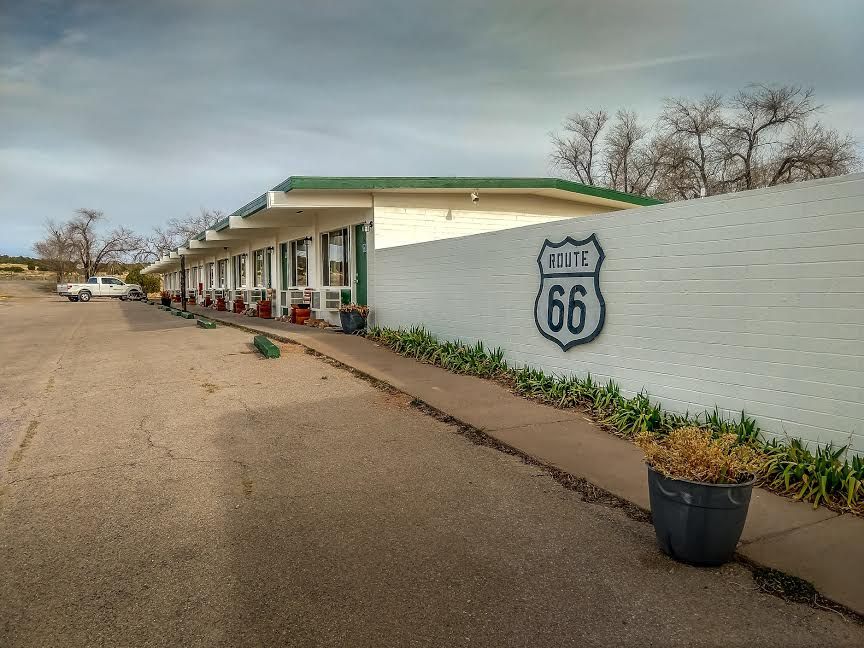 Peach Springs, Arizona
"Besides the caverns, which is worth a trip in itself, there's a totally random collection of antiques, the dinosaur golf course, and typical 1950s roadside motel. Like many places in Arizona, even though it has Grand Canyon in the name, it really has nothing to do with the Grand Canyon." — Dale, Concord, California
Savannah, Georgia
"A 1964 renovated motel that kept to the retro style with some modern additions. Staying there brought me back to my family's road trips when I was little. Not having a plan and staying wherever the road took us. Plus it's in Savannah, which is an amazing place on its own, the Thunderbird added to my adventure." — Danielle Philibert, Lynnwood, Washington
Bardstown, Kentucky
"This had been the Nelson County, Kentucky, jail, and the site of numerous executions since its construction in 1810. It was considered a prominent haunted place, but me and my wife didn't know this until we had already checked in." — Ed Fleming, Chicago, Illinois
Garberville, California
"Driving up 101 late one night just before Christmas, stopped because of the name and wandered in. A huge fire burning, an older couple asleep on the sofa, toys and lights everywhere. It was like we happened upon Santa's workshop after the elves went to bed. They held the dining room open. We had the best service and food in years. They had a vacancy! We took it! The room was small but amazing. We left in the morning, but 15 years later we still remember the magic." — Carol Rall, Kirkland, Washington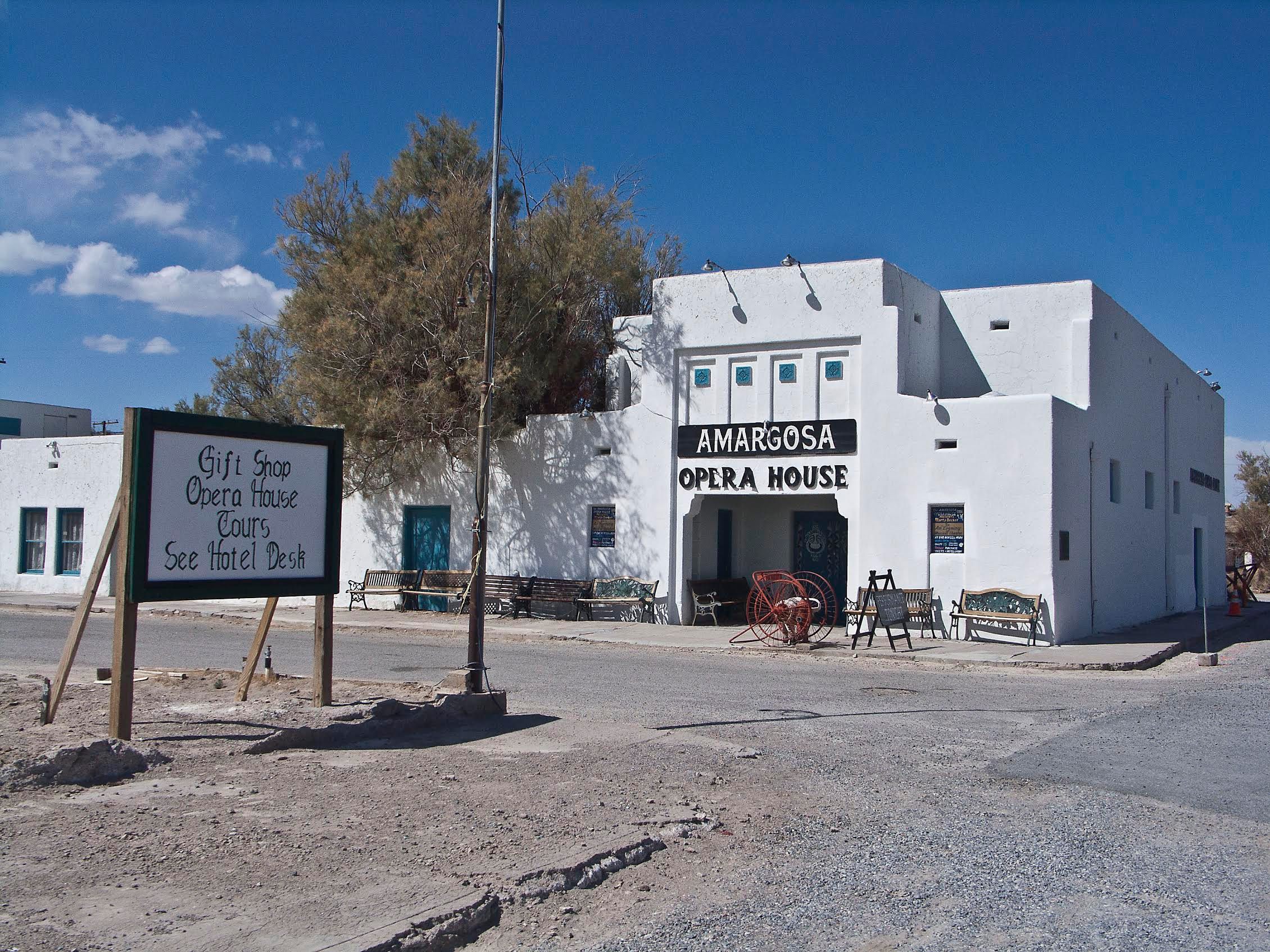 Death Valley Junction, Nevada
"Each room of the hotel was hand painted with a mural and theme by Marta Becket, as was the Opera House. The Opera House is painted with murals of a full audience to enjoy Marta's dancing and stories. Marta was a dancer and performed in Radio City Music Hall in New York City. She found the opera house while on vacation in the area and stayed to live her life there, telling her life story." — S. Berkun, Denver, Colorado
Monte Vista, Colorado
"It's in a drive-in theater and you can watch movies from your bed." — Tom Taplin, Amesbury, Massachusetts
Great Falls, Montana
"The motel is a nondescript place in a small, rough-and-tumble Montana town. Walk through the wood-paneled lobby and up the stairs, and a tired tiki lounge, the Sip 'n Dip, straight out of the '70s awaits. […] And once an hour, a merman and a mermaid would jump into the hotel pool, visible from a window behind the bar, and put on a show. When I was there, the mermaid let little plastic seahorses and whatnot float out of her coconut bra, waving to the six of us paying attention. They collected tips once they dried off. When the mermaids weren't in the pool, you could just watch hotel visitors swim, which was equal parts disturbing and entertaining. I think the incongruous nature of a very-expected basic motel (which does leave a logo'd rubber duck in each room) with a pool and this weird bar makes it one of the more memorable places I've stayed." — Andrea, Chicago, Illinois
Gila Bend, Arizona
"It's an unexpected sight in the sleepy, dusty little town of Gila Bend, Arizona. The flying saucer on top of the lobby & restaurant is certainly eye-catching!" — Kathy L. Smith, Goodyear, Arizona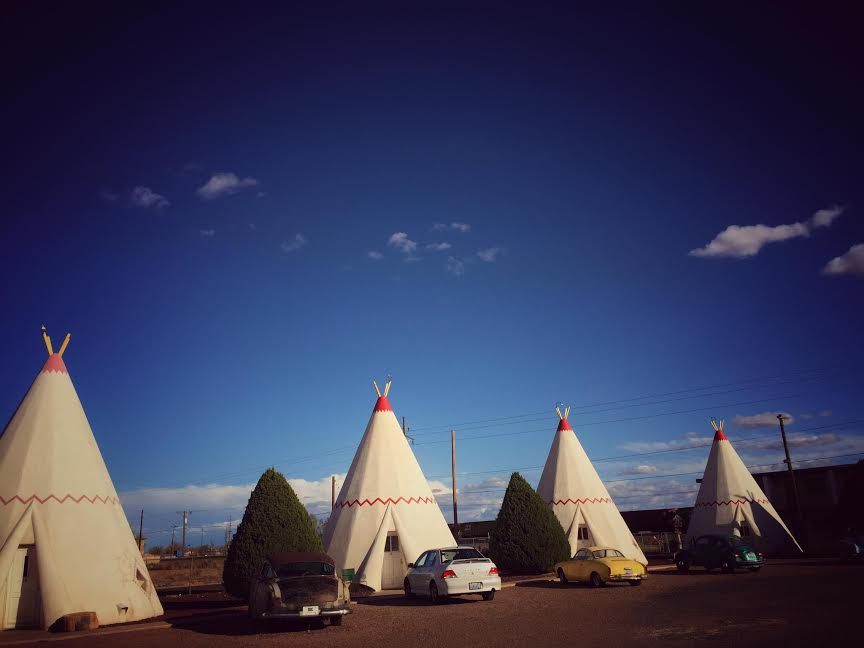 Holbrook, Arizona
"The Wigwam Motel's tagline on the sign says, 'Have You Slept in a Wigwam Lately?' Well, our answer was never, so it was definitely a bucket list item. The wigwam itself was surprisingly spacious, comfortable, well air conditioned, and definitely one-of-a-kind." — Amy Hamilton, Chanhassen, Minnesota
Caryville, Tennessee
"Well, first off there's the Model T and the llamas. Oh, and the props from the movie Roots. That's what you first notice when you drive up. Then you walk down the hall to your room and every square inch of the hallway walls is covered with antique photographs from that part of the world. The most interesting thing, though, is when you bump into the owner and he gives you the handout and the audio CD relating how his father was shot dead for bootlegging when he was a little boy. And there is his father's leather jacket hanging on the wall with the bullet hole right through it. Despite/because all of that, it was one of the nicest hotel stays I've ever had—lovely rooms, gorgeous view, and incredibly nice people all around." — Kate, Gainesville, Florida
Spring Green, Wisconsin
"The rooms are themed, there is a giant airplane parked out front, and inside a tunnel that goes underground to a bar next door. Oh and barber chairs in the lobby." — Rachael, Chicago, Illinois
San Luis Obispo, California
"On a family vacation in the mid-1960s, the hotel restaurant was recommended to us—the motel was in the final stages of construction, but some rooms were open for booking. Given their relative luxury, we discovered that the rates were less than where we were staying, at a nearby Travelodge. The exterior looked like a Swiss chalet. Each room had a separate theme—the Harvard Room, the NASA room, etc. We were given a tour of the rooms. The restaurant itself featured a skilled Swiss wood carver who had been brought in specifically to do elaborate carvings of the beams, stairways, etc. Women were lining up to go into the men's restroom to see the Mother of Pearl sinks and a waterfall inspired and designed urinal that used an electric eye to initiate flushing. Mr. Madonna was a road building contractor who had grown wealthy through projects in the region. His wife baked all the many decadent desserts. The last time I passed through this way in 2012, the place was still there and open, as it is to this day." — Michael Griggs, Portland, Oregon
Williams, Arizona
"Flintstone's Bedrock City is a campground and RV park near the Grand Canyon, and it's not just the theme that makes it seem like the land that time forgot. From the towering Fred Flintstone who welcomes you, to the volcano that looks like a giant version of your 4th grade science experiment, everything here is just the right balance of decrepit and totally charming." — Danielle Stockley, Rhode Island
Hyderabad, India
"Stayed in a Best Western in Hyderabad, India, that was styled like a medieval European castle. Big stone walls and stone floors and huge wooden doors and all sorts of medieval European ornaments. The pièce de résistance is the framed letter from then-president G. W. Bush in the lobby. He visited there for a short time (about an hour, according to the front desk staff)." — Mark Strouthes, Arnold, Maryland
Union, Washington
"A group of cottages originally built in 1934, by the set designer for the old Robin Hood movie with Tyrone Power. Each of the cottages is different, with personalized appointments like a surprise window of stained glass in the bath, and custom handmade pine cabinetry. The interiors and exteriors are charming, unique, enchanting, and romantic. It was a total surprise. We found it with our GPS late one night at the beginning stages of a month-long road trip from Vancouver to Santa Barbara. We had waited far too late after leaving Seattle to reserve a room for the night, and when we saw the name on our GPS, we said, 'Why not?' So glad we did; it's one of the great highlights of that trip and a lifetime memory. The Robin Hood has a cool pub-like bar and restaurant filled with local, colorful characters and a village aesthetic that blinks frequently between a 12th and 21st-century atmosphere." — Jeannine Seymour, Santa Fe, New Mexico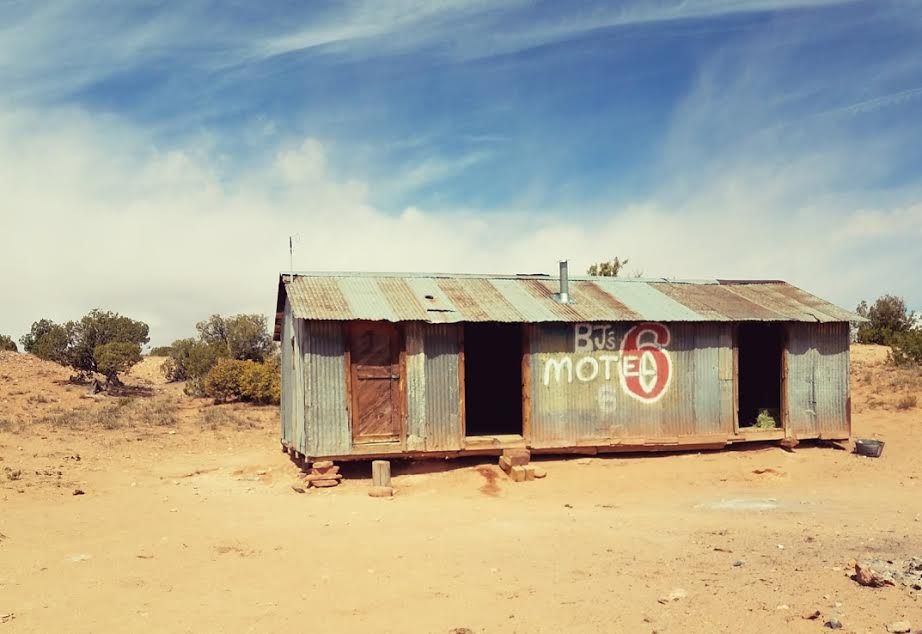 [Editor's Note: Not every hotel and motel readers sent us is still around, but some memories were just too good not to share. The following submissions are no longer helpful suggestions, but they do get at the amazing experience of finding an unforgettable place to stay on the long, lonely road.]
BJ's Motel 6
Robbers Roost, Utah
"While on a camping trip in the remote Robber's Roost canyon area of Southern Utah this past May, we came across BJ's Motel 6. We had been camping out for several days when terrible weather rolled in. We miraculously came across this cowboy-built shack and holed up in it for two days until the storms cleared. Graffiti carved into the wood indicates that it was built prior to the 1970s. It was a godsend." — Houston Hardin, Jackson, Mississippi
Unknown Motel
Ouahigouya, Burkina Faso
"Incredible because incongruous: a motel in Ouahigouya, Burkina Faso, with a miniature golf course. Who'd ever expect a miniature golf course in the Sahel?" — Steve, Cedar Grove, New Jersey
Unknown Hotel
Somewhere Outside Bakersfield, California
"On the night before my 16th birthday, my family was driving north on I-5 and pulled over at a hotel outside Bakersfield. We checked into our room and turned on the television to find the iconic '90s Bollywood music video for 'Chaiyya Chaiyya,' starring Shah Rukh Khan. We kept the television on until we fell asleep, comforted by the cultural icons. Sometimes the most surprising place is one that disarms you not with its otherworldly kitsch, but with its unexpected familiarity. People of color and immigrants are so often excluded from the narratives of road trips, from representations of the landscapes of rural America—but we very much exist there, thrive there, and occasionally find remarkable cultural touchstones in places we were not expecting to even be." — Surabhi Balachander, Mountain View, California
Bobbie's Texaco
New Mexico?
"In 1967 I was in college. One day my roommate said 'let's drive to California.' We were students at the University of Wisconsin. It was the 'Summer of Love' in San Francisco. I had a junker 1936 Packard. The next day we left. It was done on the cheap as we were broke. We stopped at a gas station about sundown and asked where there was a place to sleep. The owner pointed behind the station. There were about 40 single iron beds spread out around the desert away from the station. It was free. We threw our sleeping bags on the springs and I can attest I have never slept better since that night. Cool desert breeze, total quiet. We were on a piece of Route 66 in New Mexico or Arizona. It was a Texaco station but as it was 50 years ago, it's probably gone. The rates were quite agreeable, no room service, no room. No check out time. Excellent breakfast tacos." — Craig Campbell, Praha, Texas
Unknown Hotel
Dax, France
"In a little village in France called Dax, The Texas Chainsaw Massacre and The Sound of Music have had a baby. The hotel has vinyl grass on the bathroom floor. It rests next to the faux wood carpet. A tiny log, covered in fur, sits beneath the table, which is covered in a pine tree photograph. On the table, two lollies wrapped in pine cone paper await you. You will sleep under a mural of the forest. As I slept, I dreamt of Julie Andrews singing—or maybe that was just the quiet madness of my mind incorporating my surroundings. If this is a competition where you can win a visit of your choice. We. Do. Not. Want. To. Go. Back. To. Dax… Give the prize to someone else." — Gail May, Australia
If you have a story of your own surprising roadside lodging to share, head over to our community forums and tell us about it!