When Cactus Destruction Is Imminent, These Rescuers Come Running
The Tucson Cactus and Succulent Society is closing in on 100,000 salvaged plants.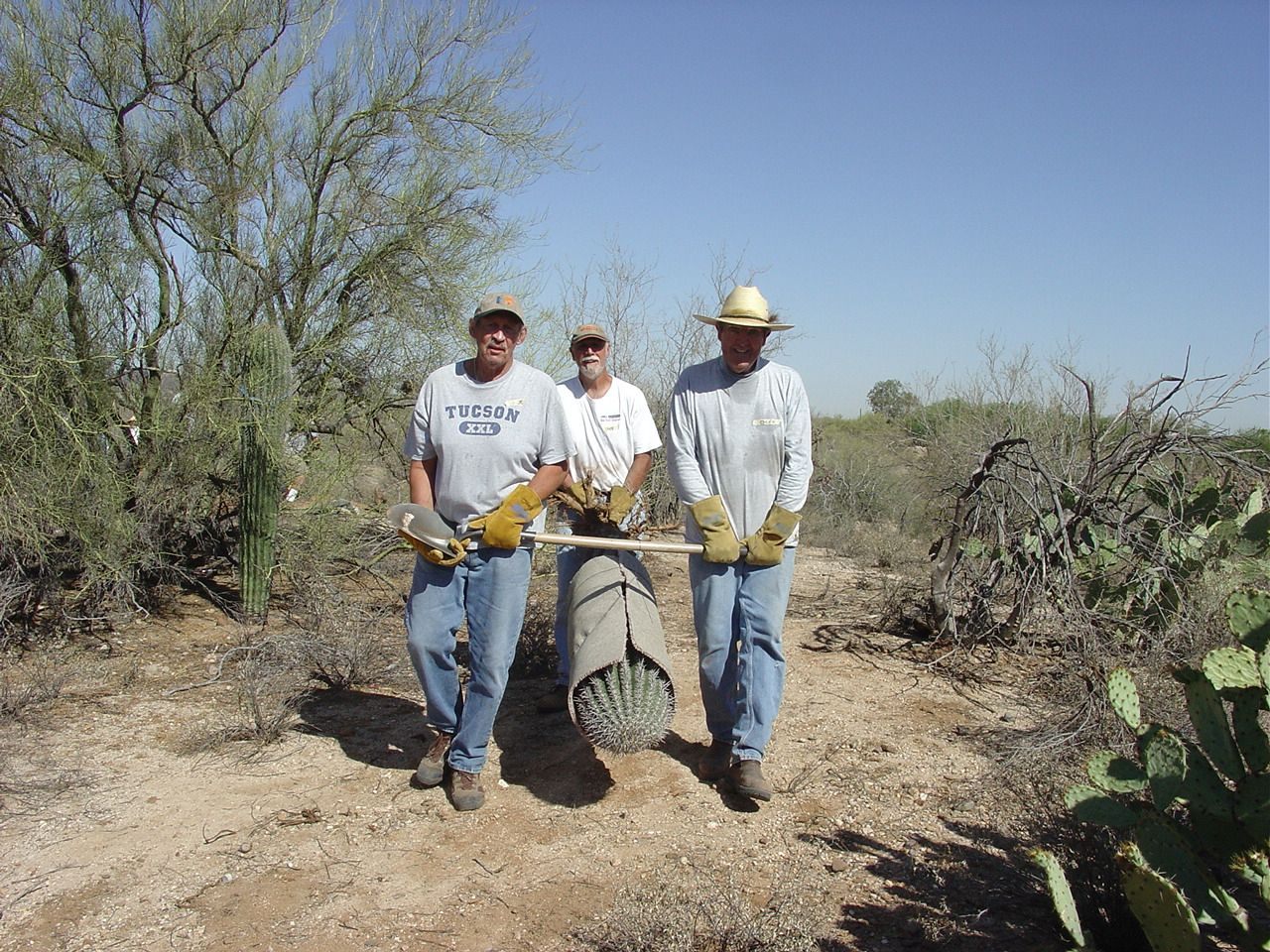 Dick Wiedhopf, a 78-year-old resident of Tucson, Arizona, and former university pharmacist, orders 144 pairs of welding gloves at a time. He's the manufacturer's biggest customer, but the gloves aren't all for him—actually, they're not for any welders.
The gloves are for the Tucson Cactus and Succulent Society, which Wiedhopf has been president of for the past 17 years. The 1,300-plus member club needs these gloves when they venture into the Sonoran Desert to rescue cacti and succulents from construction. Their collective, enthusiastic experience is summed up best by Jessie Byrd, the Pima County native plant nursery manager and society member. "It's dumbfounding how much cool shit we've dug out of deserts," she says.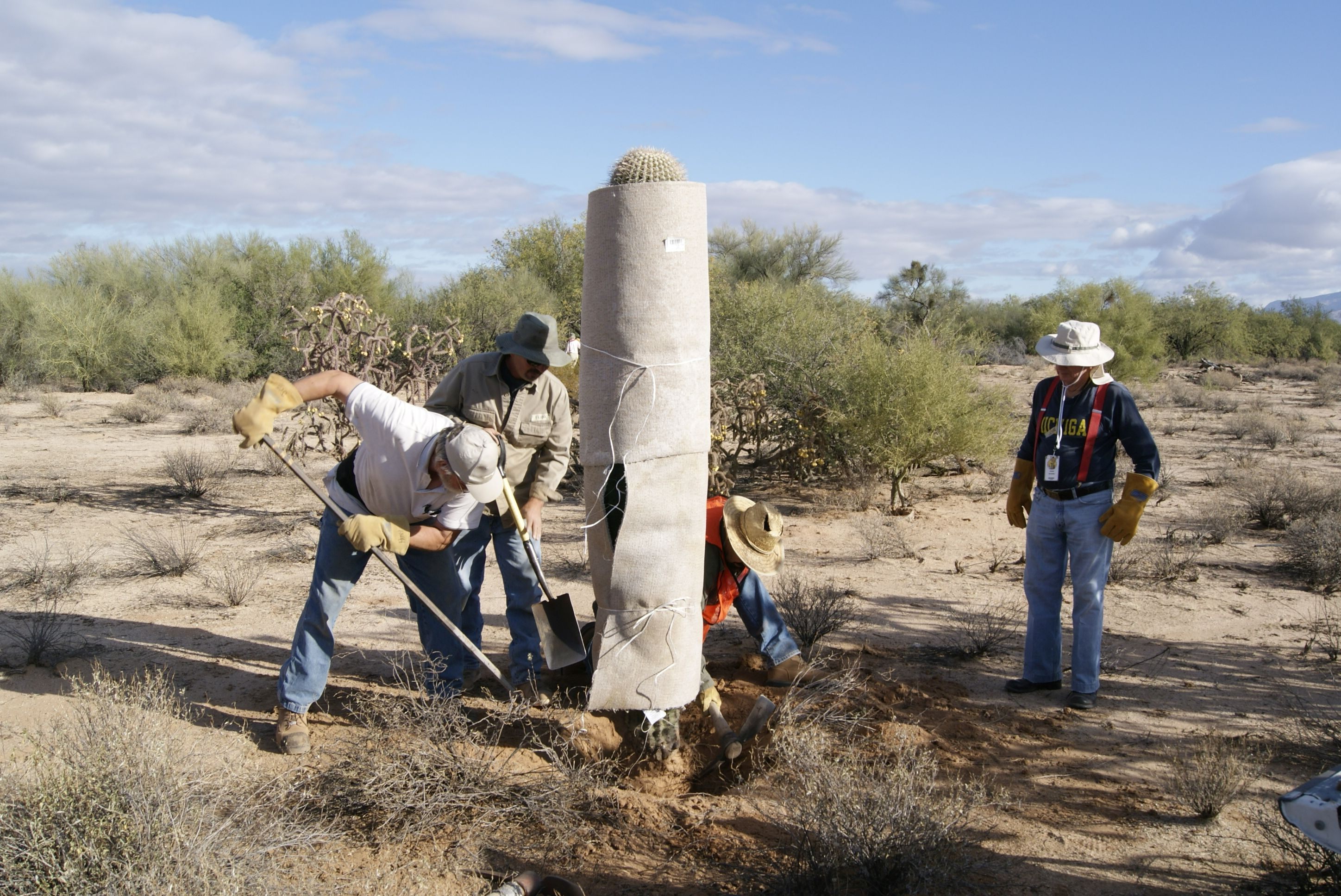 In 2019, the club will likely celebrate its 100,000th rescued plant. This accomplishment is especially meaningful in Tucson, a city that has been split for decades over how to best preserve the desert. As urban development encroaches on an adored ecosystem, the cactus society mediates conflicting Arizonian desires: to see the economy and the desert thrive. Given the local enthusiasm for succulents, though, the only surprise about the club's rescue efforts is that they didn't start sooner.
The society began in 1960, but it wasn't until 1999 that Wiedhopf and a few of his fellow members began rescuing cacti. Around that time, Tucson's development boom was turning the plants into mulch piles, and Wiedhopf and his friends figured the destruction could be avoided. This was Arizona after all, the state that banned harming native plants back in 1929. After one trial rescue on a school construction site, the project took off. "People heard about it and thought it was better than white sliced bread," says Wiedhopf. Since then, the society has completed over 400 salvages.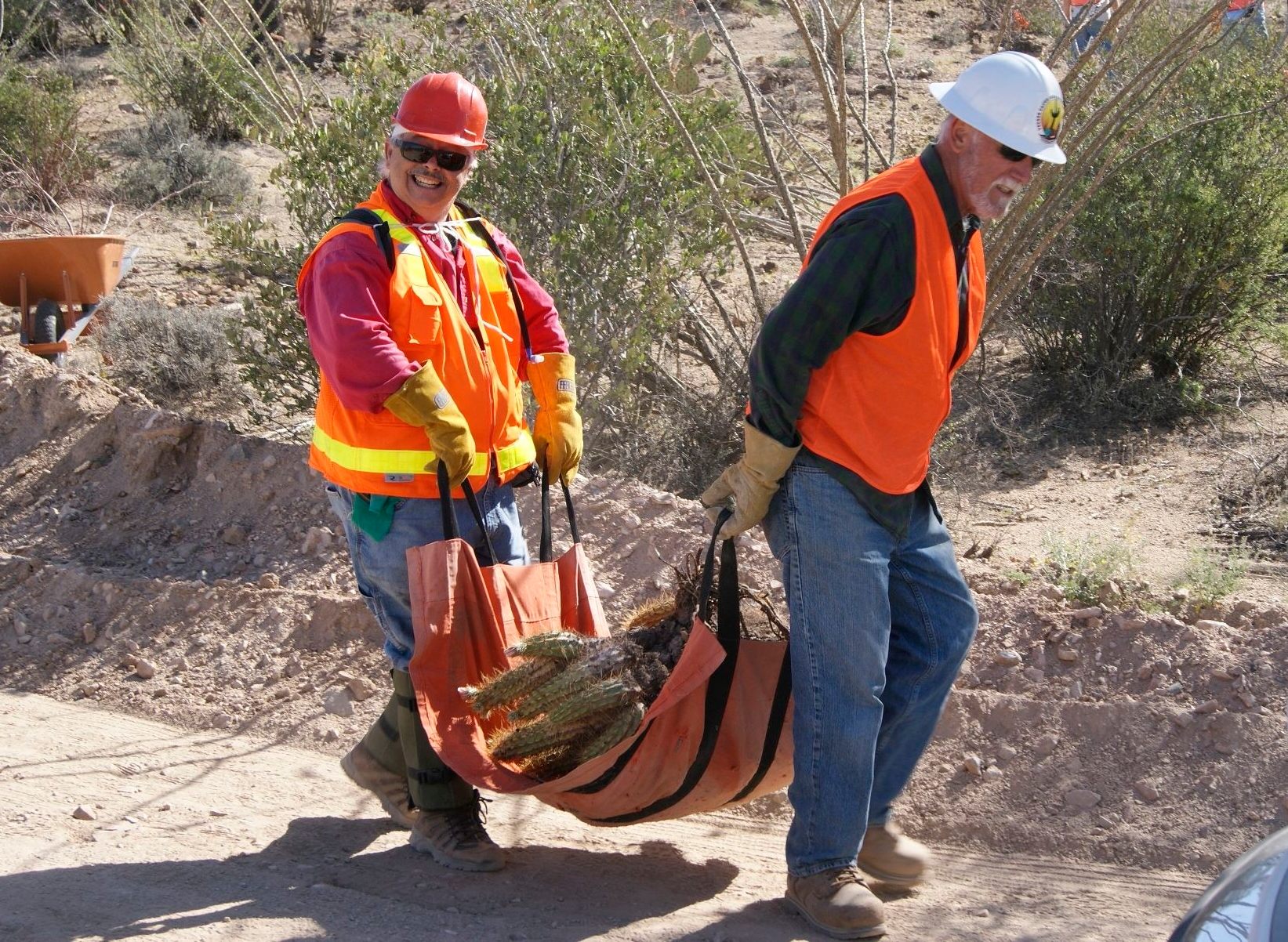 Part of the program's success is likely because the work diffuses tension over current development laws. Pima County, which governs Tucson, has some of the most progressive native plant protection requirements in the nation. Still, developers bulldoze a lot of cacti—so much so that city expansion remains the primary threat to the Sonoran Desert.
This destruction ticks off Tucsonans. They already contend with the illegal cactus trade, a booming business with shocking per plant prices—saguaros go for between $75 and $100 per foot. And since cacti grow slowly, replacing them is difficult. Byrd's nursery fosters saguaros, but the species needs 70 years to reach reproductive age. Even species that grow more quickly, such as prickly pear, take three to four years to fruit. So when cacti are permissibly gutted by development, it doesn't go over well. "People here are very sensitive about plants like saguaros—when they see an old saguaro being knocked down, they get really mad," says Wiedhopf. Egregious removals end up in the local news and create negative attention developers would rather avoid.
That's why builders, mining operations, and engineering firms call the volunteer salvage crew. The society rescues native plants for free and lets developers say they saved as many cacti as possible. "And we have more fun than anybody should have," says Wiedhopf.
For each request, a delegation treks to the site and inventories what's there. Native plants need permits and tags authorizing removal from the Arizona Department of Agriculture. Fees are between 50 cents and eight dollars a plant, and the group shells out between $2,000 and $4,000 per project, says Wiedhopf. Approvals in hand, a subset of the 400 dedicated cactus rescuers meet up, review safety procedures (no snake bites or scorpion stings yet!), and start to dig.
Getting poked is part of the process, says Byrd who, 10 years deep into volunteering, still gets whapped by errant branches. Yet despite the spines, most cacti are easy to move, says Wiedhopf. A majority ease out of the ground in under a minute, including heavy specimens, like 300- to 400-pound barrel cacti, which volunteers hoist onto a specially-designed sling to carry around. For the truly unwieldy beasts, it depends on the gumption of the crew. Rescuers recently confronted two six-foot-by-six-foot crested chollas. One was salvaged in its entirety, while another was young enough to have its arms lopped off to replant as independent chollas.
This regenerative ability of cacti makes relocating the plants easy. Many are plopped into gravel and left for months to regrow roots, which the plant takes to its permanent home. In fact, most plants dug up by the society find a new home in the society's gravel field, also called Pima Prickly Park. For some, this is a permanent resting spot, while others leave when the club holds a sale. One in particular, the August Blooming Barrel Sale, is so popular, buyers show up at 5:30 a.m. to get first pick at 8:00 a.m.. To ensure a successful transplant into their yard, customers look for the dot of white correction fluid on each plant that rescuers painted there just before digging. This indicates where the plant faced south in its natural habitat. If it's not replanted with the same orientation, the cactus sunburns and scars.
Unfortunately, the society can't save every cactus. Some, such as 15- or 20-foot saguaros that are 400 years old, wouldn't survive a move, says Wiedhopf. When people get too angry about these ancient plants coming down, he says that he finds himself wondering: "What do you think was on your property before they built your house?"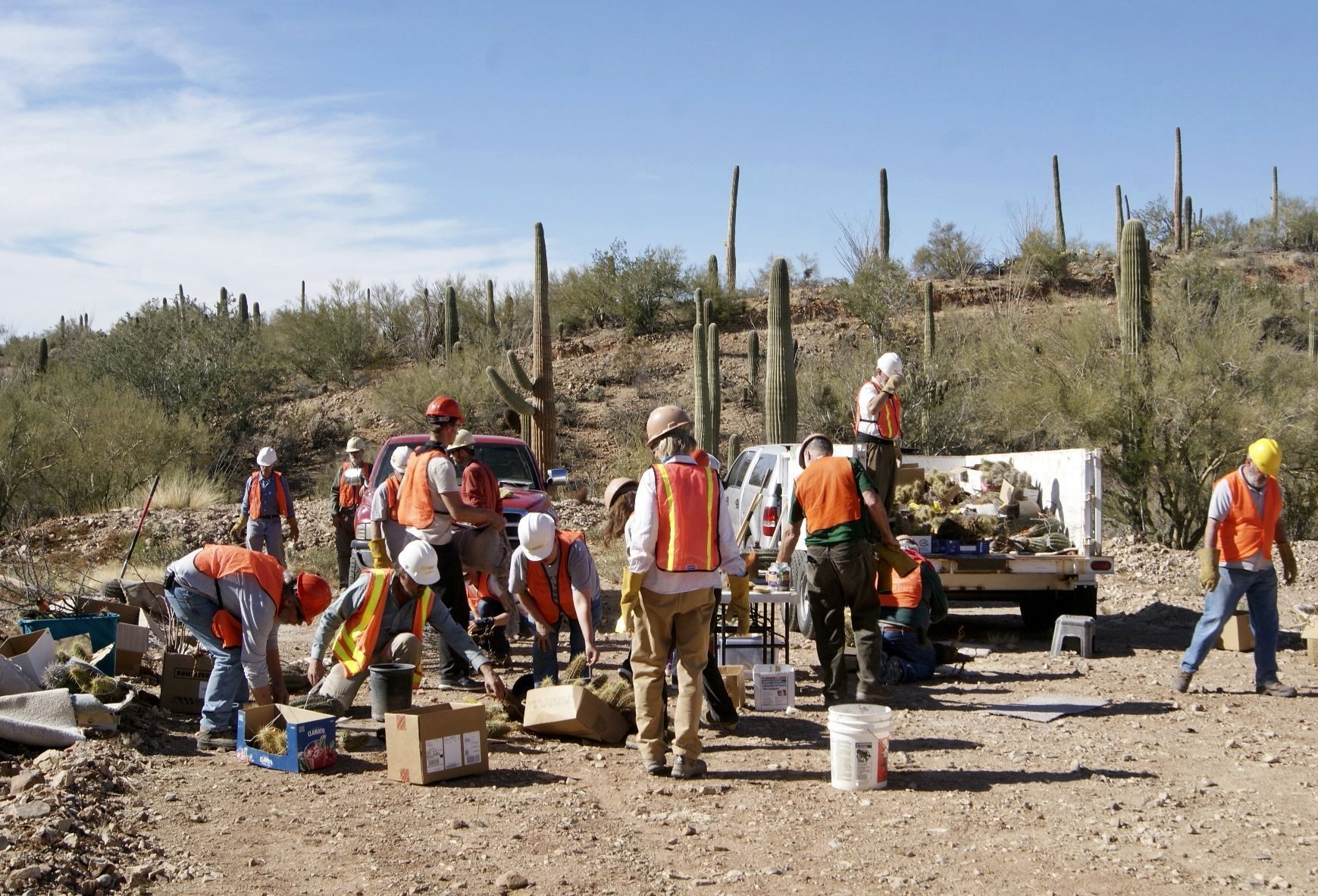 These passionate debates are expected when it comes to "charismatic megaflora." That's the term Ben Wilder, a desert ecologist with the University of Arizona, uses to describe the Sonoran Desert's prized specimens. To him, the society's work carries many ecological benefits: Saguaros are keystone species that woodpeckers nest in, owls perch on, and doves and bats drink nectar from. Transplanting them into urban settings means the plant fosters biodiversity in a new area.
But salvages also encourage succulent enthusiasm to grow in a sustainable direction. Legally sourced specimens likely limit the illegal trade demand, Wilder says, which means less poaching from wild patches. At the same time, the society's work reinforces the idea that native plants hold more than monetary value. "People are building their homes and taking in those [cacti] because they want to live immersed within them. We need to value and respect [plants] as individuals, and the people who do this work, that's the approach they're taking," Wilder says.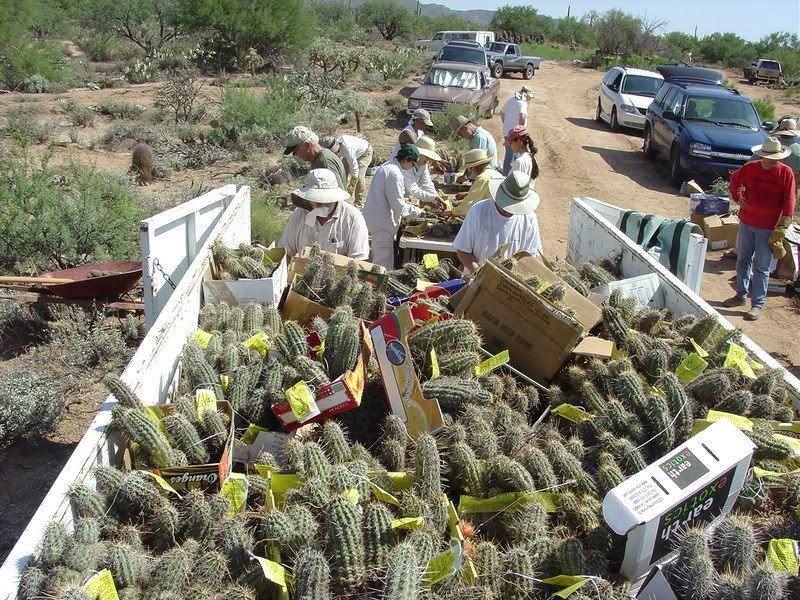 It's hard not to take this perspective when seeing how dedicated the society is to salvaging. The eclectic team of scientists, government officials, university presidents, and straight-up "cactus nerds" give up their weekends to do this labor, and even come running if Byrd needs help moving plants for county construction work. A recent mission of this sort saved 280 plants that will go back on the perimeter of the project when it's done. "We just enjoy digging plants," says Wiedhopf. "We're just helping them out because we're nutty."
Once, the society heard from an elementary school student who declared he was moving to Arizona to help rescue cacti when he was a grown-up. The members were touched, but Wiedhopf points out you probably don't have to leave your home state to join a plant rescue effort. "We need to think broadly about all the interesting plants that need to survive," he says. "And I'm not even getting into animals. I only can handle one life form at a time."