Found: A Historic Trolley Hidden Inside a House
When Trenton's streetcars came to a halt in the 1930s, one literally found a home.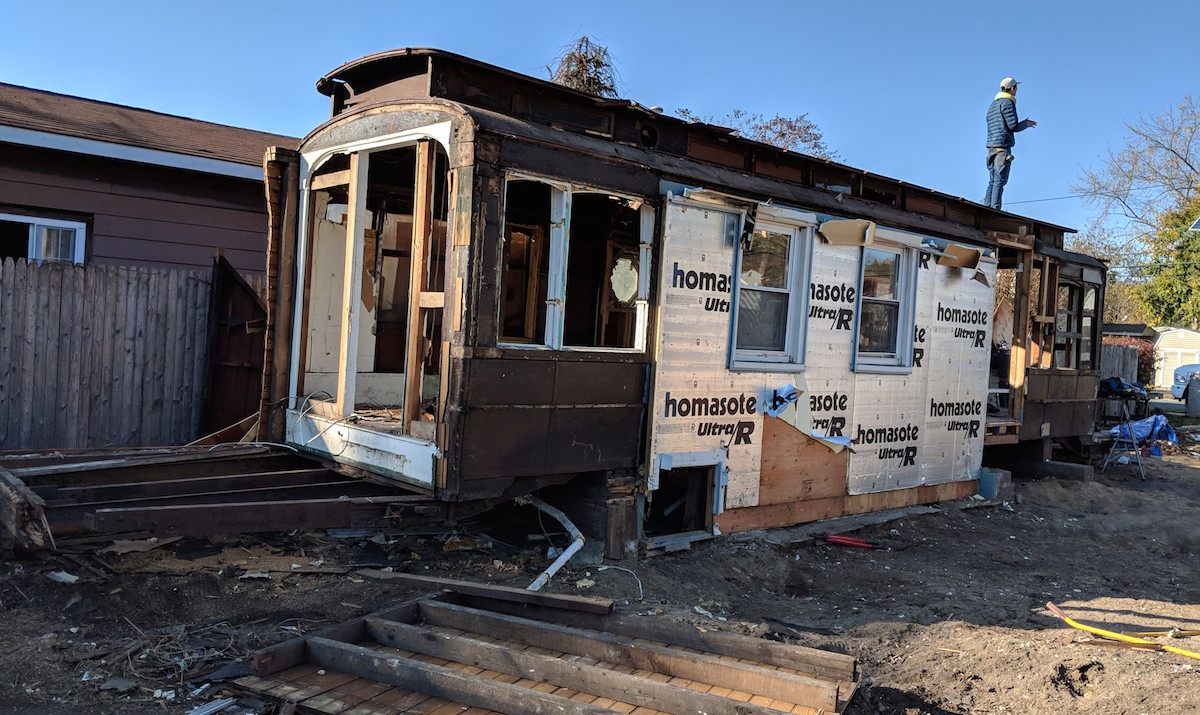 When Brandon Breza and Marc Manfredi, buddies since high school, started a real estate venture together, they didn't expect to find themselves on an adventure in historic preservation.
In August 2018, they purchased a foreclosed house at 31 Smith Avenue in Hamilton, New Jersey, with the idea that they could transform it into an appealing rental unit. The description on the property listing said that the small home had been made out of a former rail car, but on first glance it looked like an ordinary suburban house, though perhaps a little worse for wear.
"I don't think we're gonna find a dead conductor or anything here … maybe there'll be some old train parts or something," says Breza, of his thinking at the time.
They began work a few days after purchasing the property, bringing down a couple interior walls. But they got a little hammer-happy. "We watched a lot of HGTV and thought, 'This is awesome, let's start knocking down walls,'" Breza recalls. "We started thinking, we'd do it the right way and make it more attractive for renters."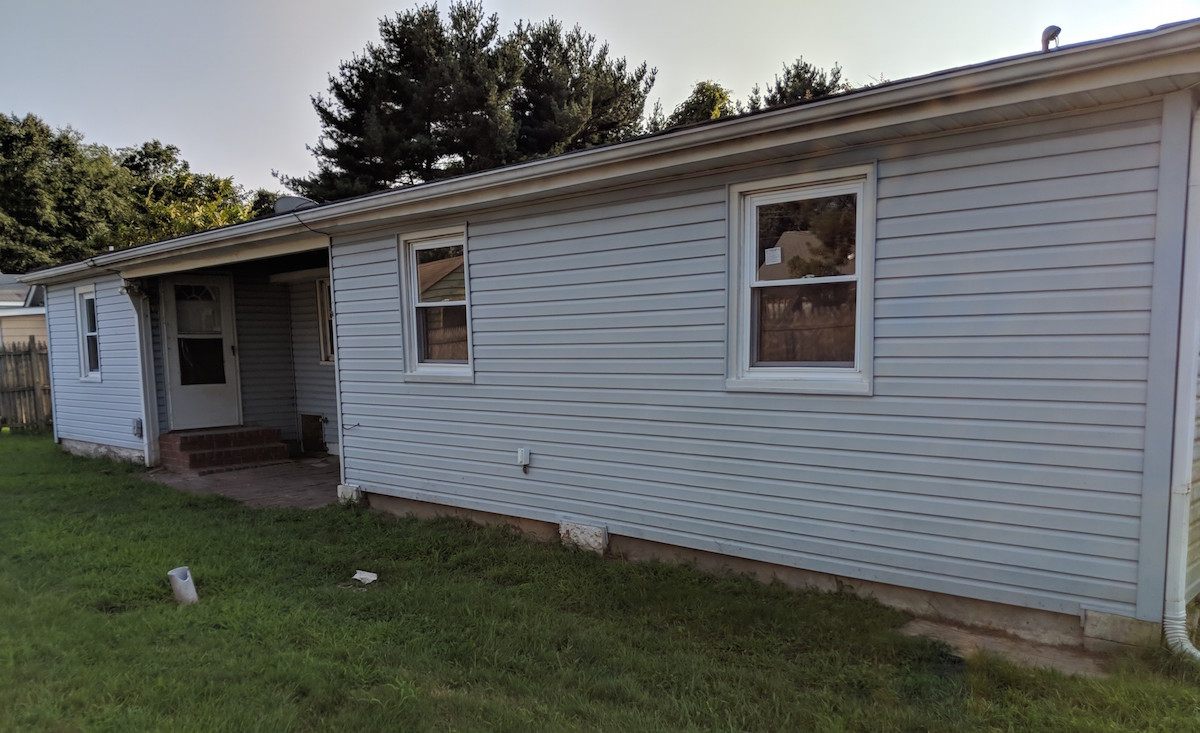 As they removed a layer of insulation, they found, to their surprise, a hidden set of windows inside a wall. They peeled back drywall and revealed a window shade marked with the year 1912. Behind another wall was a door. Bit by bit, they uncovered piece after piece, until an entire rail car emerged—ensconced smack in the center of the house.
Aside from taking down part of the ceiling, which they didn't realize was original, they did little damage to the car. Breza and Manfredi began contacting everyone they could think of to find the source of the odd gem, which they thought was from a train, and what could be done with it. At their wit's end, they decided to post their discovery on Facebook, where news of the discovery went viral.
"There was a guy from Denmark talking about it, producers wanting to make a show about it … it was out of control," recalls Breza.
The post reached Railway Preservation News, an online magazine with an active forum. Eric Strohmeyer of the CNJ (Central New Jersey) Rail Corporation and fellow preservationist J.R. May contacted Breza and Manfredi and came to Hamilton for a visit. It didn't come from a train at all, they explained: It was a trolley.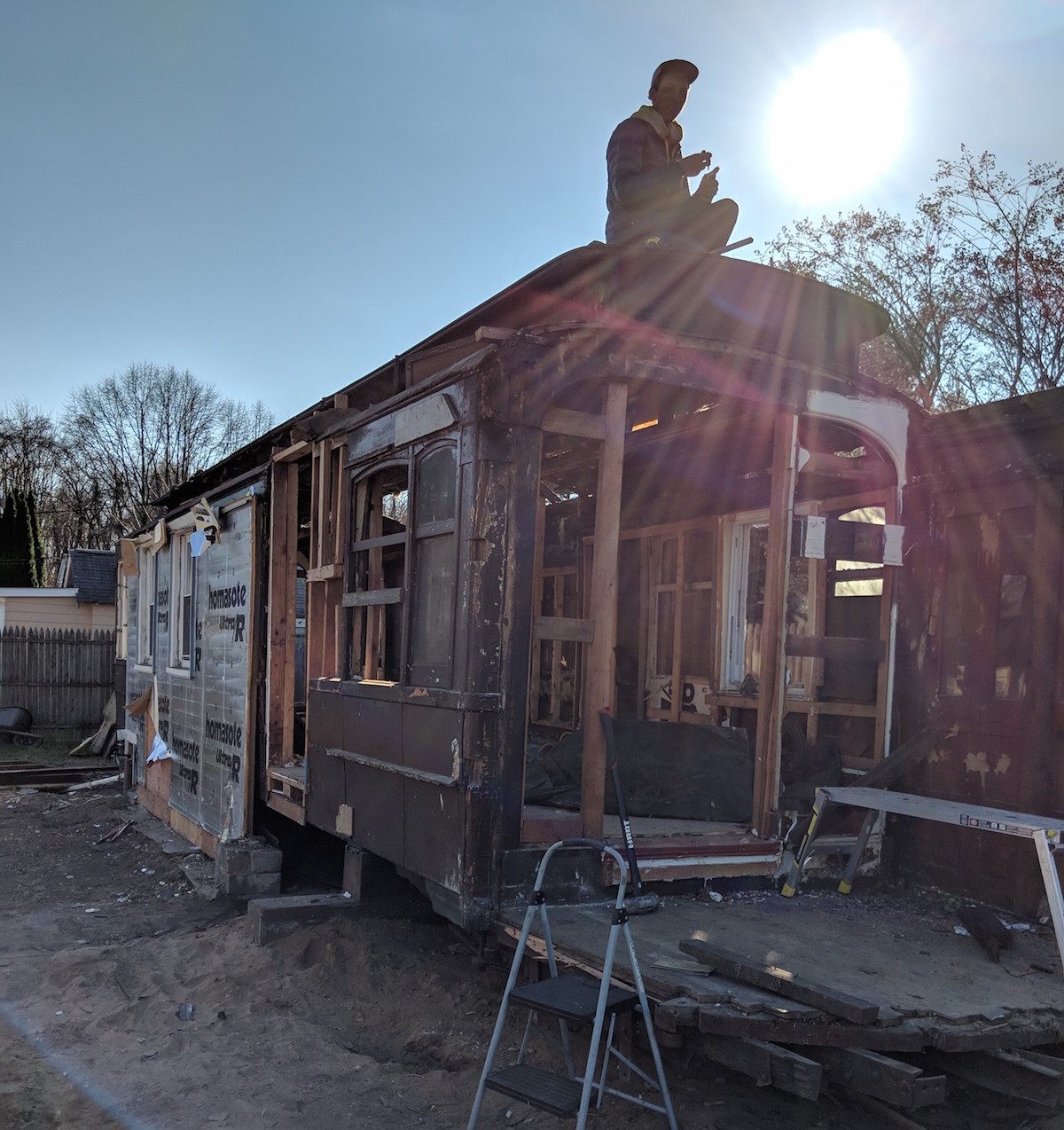 "They said, "Let's go to the back corner and find the number of the trolley car,'" says Breza. Sure enough, in the back left corner: "It was almost like National Treasure. You had to shine a light on it and there it was: #288."
From those three digits, Strohmeyer and May ascertained the car's history. It had been manufactured in Philadelphia by the J.G. Brill Trolley Company in 1914, and made its way to New Jersey, where it was part of the once-extensive trolley system operated by the Trenton & Mercer County Traction Company,* according to William "Captain Bill" McKelvey, director of Liberty Historic Railway, a nonprofit organization that educates the public about New Jersey transportation history and has taken over the task of restoring #288. The streetcar network had dozens of routes that traversed the city and extended into suburbs—such as Hamilton Township, which neighbors Trenton.
"Trenton was a heavy manufacturing town in those days, and there were literally thousands and thousands of workers that commuted to their jobs everyday from the suburbs," McKelvey says.
But how does an old trolley end up inside a home?
The Trenton trolley system had screeched to a halt in 1934, and the system's components were dismantled. The cars, made of wood with steel frames, were sturdy, but, "Ninety-five percent of [them] were simply scrapped," says McKelvey. "What they typically did was bring them to an empty lot, burn them, and salvage all the metal." A few escaped this particular fate, having been purchased for use as garden sheds, chicken coops, and even homes.
The plot of land that held the home Breza and Manfredi bought in 2018 had been purchased for a dollar by John Guthrie, a local typesetter, in the early 1900s. After his brother William traveled around the United States and came home broke, Guthrie and two of his siblings pooled their funds to purchase an old trolley to house him so he could get back on his feet. William expanded #288 into a proper house with the trolley at its heart, and it was eventually passed on to Evelyn Breece, who moved in with her husband John Breece, the elder Guthrie's grandson, and their three children in 1952."My husband inherited the house and at that time it had an outhouse and a pump in the kitchen," Breece says. "My husband put the bathroom in before we moved in, and we made two additions."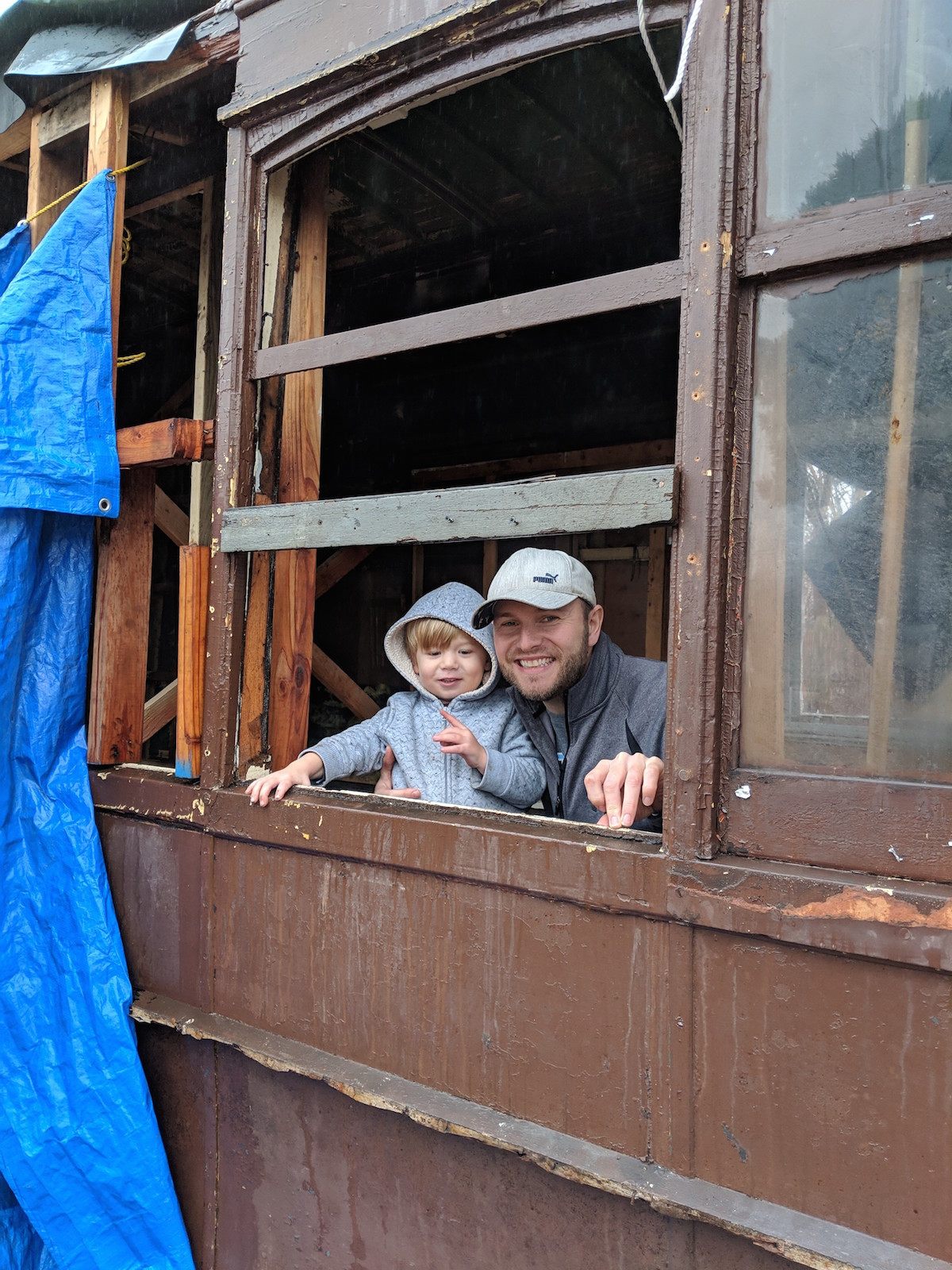 The family lived in the house, expanded to 650 square feet, for a decade. Breece and her daughter Jackie Thomas still live in the neighborhood, only two blocks away. "There were parts of [the trolley] that were exposed," Thomas says. "The ceilings were kind of curved in parts of the house, and we had a closet door that was original to the trolley. It's disappeared, but it was there when we lived there." The house then passed through more hands, of Guthrie descendants and strangers, until Breza and Manfredi bought it, started opening up the walls, and eventually demolished the house to free the trolley.
Now the trolley is sitting in a Southampton, New Jersey recycling yard, shrink-wrapped to protect it from the weather as it awaits restoration by Liberty Historic Railway.
Though it's now out of his hands, Breza wishes the trolley well. "I had an emotional attachment to it, he says. "The hope is to preserve it, restore it, and see it in a museum one day."
* Correction: This story originally identified the Trenton & Mercer County Traction Company as the Trenton & Princeton Traction Company.