The Man Who Got Hillary Clinton To Care About UFOs
The truth is out there, and this is John Podesta's last chance to make it public.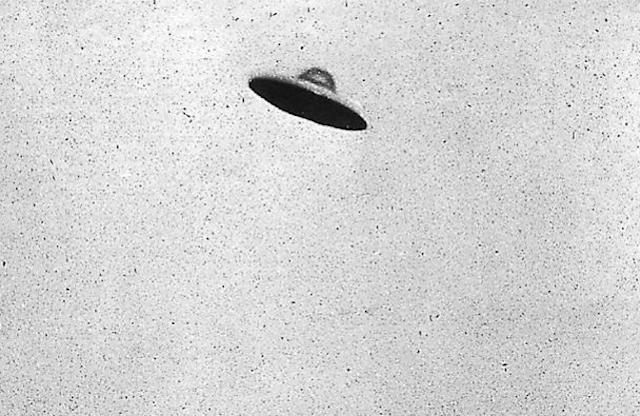 A purported UFO. (Image: Public domain)

John Podesta, the chairman of Hillary Clinton's campaign for president, is one of the most powerful people in the American political establishment today. He's also the one most likely to talk about UFOs, or as advocates prefer to say these days, "Unidentified Aerial Phenomena."
Podesta's credentials as both a political insider and a UFO advocate are sterling. He was White House chief of staff at the end of President Bill Clinton's second term and, more recently, a counselor to President Barack Obama. Since 2002, Podesta has openly advocated for the public release of documents concerning UAPs and Area 51. Since he's 67 and presumably will retire sometime, a Hillary Clinton presidency could be his last chance to succeed.  
How did Podesta become the highest-powered UFO guy in the country? As he might say, "the truth is out there"—it's just a matter of looking.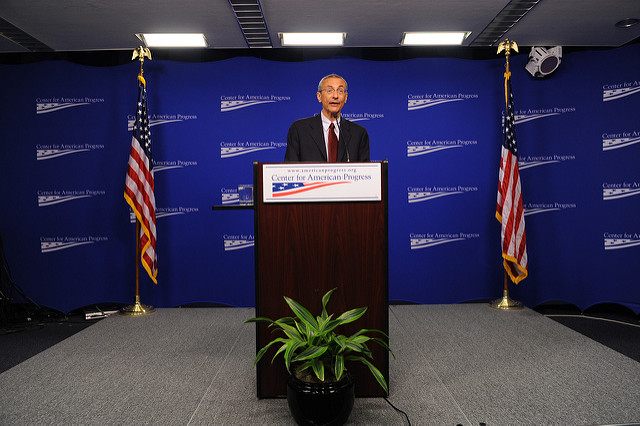 John Podesta speaking at the Center for American Progress. (Photo: Center for American Progress/CC BY-ND 2.0)
Podesta's interest in UFO disclosure is usually tied to his X-Files fandom, which appears in the public record in June 1998. Podesta, then deputy chief of staff at the White House, gave a commencement address at Knox College, his alma mater, in which he mentioned the "biggest event of the year…the opening of X-Files: The Movie" and revealed that, in his White House office, he kept "an X-Files shrine, with copies of books, fan magazines, CD-Roms, photos of David Duchovny and Gillian Anderson." His advice to graduates? "Summed up in the words of Agent Dana Scully and Agent Fox Mulder," he said, "The truth is out there. Go find it."
Later that month, Podesta was testifying before a grand jury looking for its own truth, about various Clinton-era scandals (real estate deals, Monica Lewinsky, plus all those other conspiracy theories Ken Starr spent years digging into). After being asked to confirm, on his third day before the jury, that he was the same John David Podesta who had appeared before, he noted, "I saw the X-Files over the weekend. I don't know." Later in his testimony, he noted that since Air Force 1 and Air Force 2 had "gone off the radar screen coming into LaGuardia recently," usually a sign of a visit by extraterrestrial intelligence, a colleague had concocted a "new defense that this whole matter is somehow linked to alien abductions." People laughed. Podesta allowed that it was probably a joke. "When Agents Scully and Mulder are out in those green chairs I'll really worry," he said.
That fall, speaking to the White House press corps, Podesta referred to "my well-known fascination with The X-Files, which most of you know about." (Probably many of them had even seen the desk shrine.) When he was about to be promoted to chief of staff, the beat-sweetening profiles of him that appeared in papers like the New York Times and Washington Post noted his fandom. "He's been known to pick up the phone to call the Air Force and ask them what's going on in Area 51," a colleague told the Post. (The Times identified him first as a "roller-coaster enthusiast.")
So, that part of the truth was out in public: there was an X-Files fan in the White House. Behind the scenes, though, the Clinton administration did consider the question of Area 51, unidentified flying objects, and disclosure. Former President Clinton had aides check out the files on Area 51 and Roswell, most famously.
But advocates for disclosure are more interested in contact between Laurance Rockefeller and the Clinton White House.
Rockefeller was once described to me as "the mystic Rockefeller," because, alongside more traditional philanthropy, he funded efforts like the Esalen Institute's exploration of the Soviet Union, including work being done there on parapsychology, and research into remote viewing and psychic communication with machines. In the early 1990s, Rockefeller and colleagues made a concerted push to interest Clinton and his staff in releasing documents about UFOs and extraterrestrial intelligence. This group did meet with White House staff and was in communication with then-First Lady Hillary Clinton and her office about their project.
Podesta's usually linked to this initiative by inference. He had long advocated opening up government: as a Senate staffer, he worked on the Commission on Protecting and Reducing Government Secrecy and as White House chief of staff promoted the administration's efforts to declassify previously secret documents.  As an X-Files fan, he naturally would have been interested in releasing any secret documents on UFOs, too.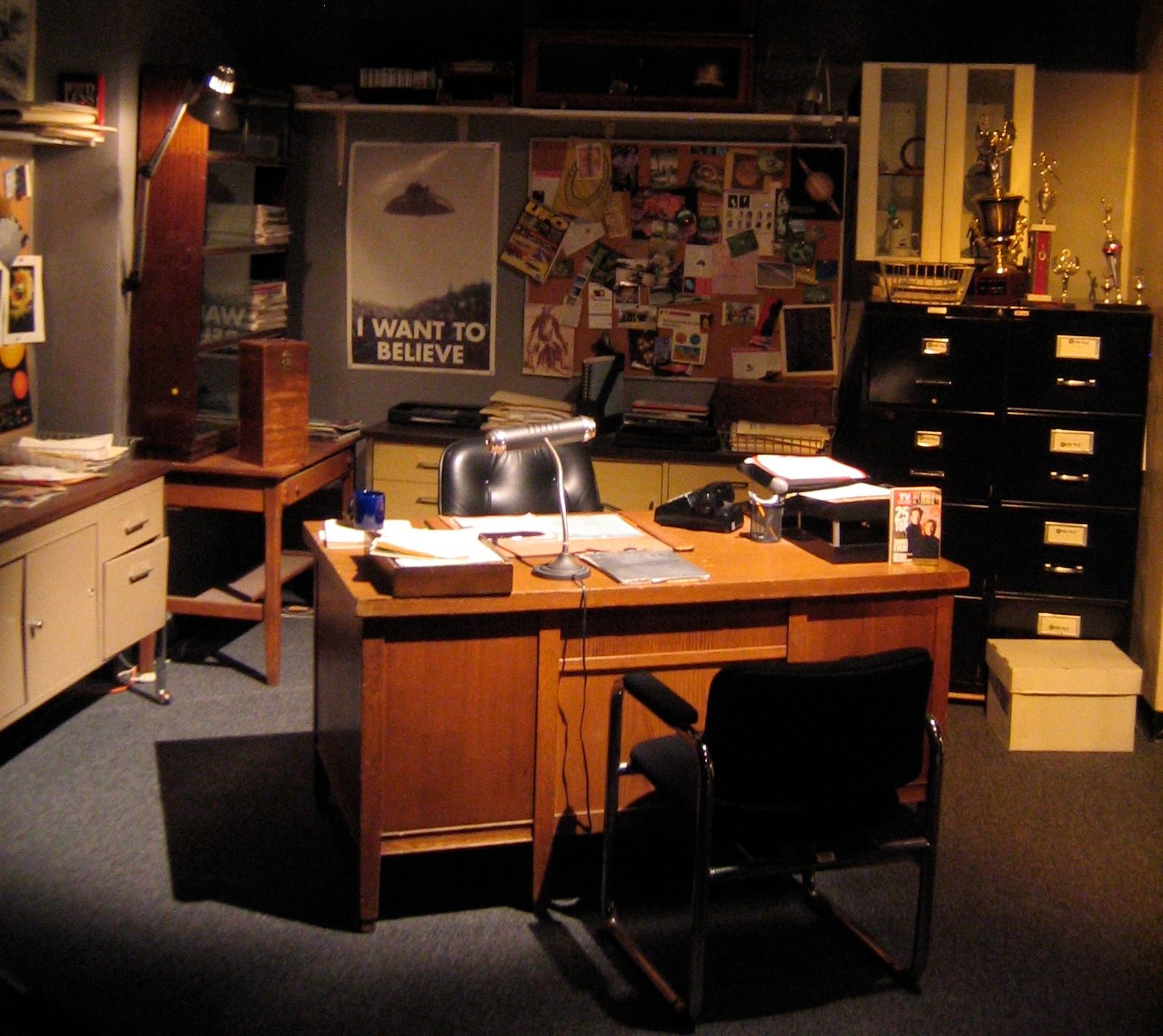 Ok, fine, this is Agent Mulder's office. (Photo: Alistair McMillan/CC BY-SA 2.0)
Now, fast-forward to 2002. George W. Bush has become president. September 11th had changed the tenor of American politics. Podesta was doing some work for PodestaMattoon, the lobbying firm that his brother ran: His disclosure forms list as clients, in 2001, the Nevada Resort Association and, in 2002, an insurance association and the private corporation of a Nevada-based developer. (To keep on theme, Nevada is where Area 51 is located.) He had not yet created the Center for American Progress, the left-leaning D.C. think tank that, starting in 2003, would snipe at conservatives, create progressive policy, and ultimately provide a farm team for the Obama White House. He was writing about civil rights in the Bush administration, the Patriot Act, and government secrecy. He was teaching law at Georgetown.
In other words, he was in a bit of a lull, at least by elite D.C. standards.
Around that same time, the SciFi Channel (now SyFy) was working on a mini-series called Taken, a fictional account of three families caught up with the Roswell crash aliens. In connection with the show, the channel launched an effort to release, through Freedom of Information Act requests, government documents related to a couple of particular UFO incidents. They commissioned journalist Leslie Kean to write a report on the government's failure to investigate UFOs, and they hired PodestaMattoon. (Disclosure reports have the channel paying the lobbying firm $140,000 in 2002.) SciFi, along with Kean, formed the Coalition for Freedom of Information, to organize the FOIA effort, and PodestaMattoon partner Ed Rothschild served as the director.
In October, the SciFi channel also put on an press conference at the National Press Club (one of the main functions of which is hosting sideshow press conferences). Although John Podesta wasn't on the SciFi account, officially, he appeared at the press conference to advocate for releasing UFO-related documents. "I think it's time to open the book on questions that have remained in the dark; on questions of government investigations of UFOs," he said.
Naturally, the SciFi channel got a lot of coverage for the press conference and its push for transparency. As a publicity stunt, it worked beautifully.
That one press conference is the main piece of public evidence of John Podesta's much-touted UFO obsession. In the years that followed, it became part of the mythology of Podesta, along with his less cuddly alter ego, Skippy, and his annual dance at the CAP Christmas party. It featured, for instance, in this CAP holiday video, made after Obama took office, that joked about mysterious "disappearances" of CAP staff to 1600 Pennsylvania Avenue.
Podesta himself spoke only intermittently about the issue. At a conference in 2007, he said again that the government should open the book on UFO investigations. In 2009, he confirmed his previous statements to CNN. In 2010, Leslie Kean published a book on UFOs with a short forward by Podesta. "The time to pull the curtain back on this subject is long overdue," he wrote. It included the same line as the 2002 press conference. "It's time to find out what the truth really is that's out there." (He has, more or less, used the same exact talking points whenever he speaks about UFO disclosure, for more than a decade.)
Basically, most of what John Podesta has said about UFOs is either a) an X-Files reference or b) about open government, not exactly the kind of issue that normally grabs headline writers.
But in this case, the latter can be tied to aliens. So whenever Podesta does say anything connected to UFOs, even if it's about disclosing documents, he gets an outsized amount of attention for it. Surely he realized this when in February of 2015, he tweeted that one of his major regrets from 2014 was "once again not securing the #disclosure of the UFO files. #thetruthisstilloutthere."
Podesta has been advocating outside of public view, too, for UFO disclosure. It first became a topic of conversation in this campaign cycle back in January, when Clinton told a New Hampshire reporter that Podesta had been noodging her about it. "He has made me personally pledge we are going to get the information out," Clinton said. "One way or another. Maybe we could have, like, a task force to go to Area 51." And Leslie Kean recently wrote on her Facebook page that "All of us should be grateful to the work of John Podesta behind the scenes." If Hillary Clinton does get elected, perhaps Americans will learn what truth is really out there.