The Svalbard Global Seed Vault Awaits Its Millionth Crop Deposit
Bambara groundnuts, black-eyed peas, and Estonian onion potato seeds are headed to the bank.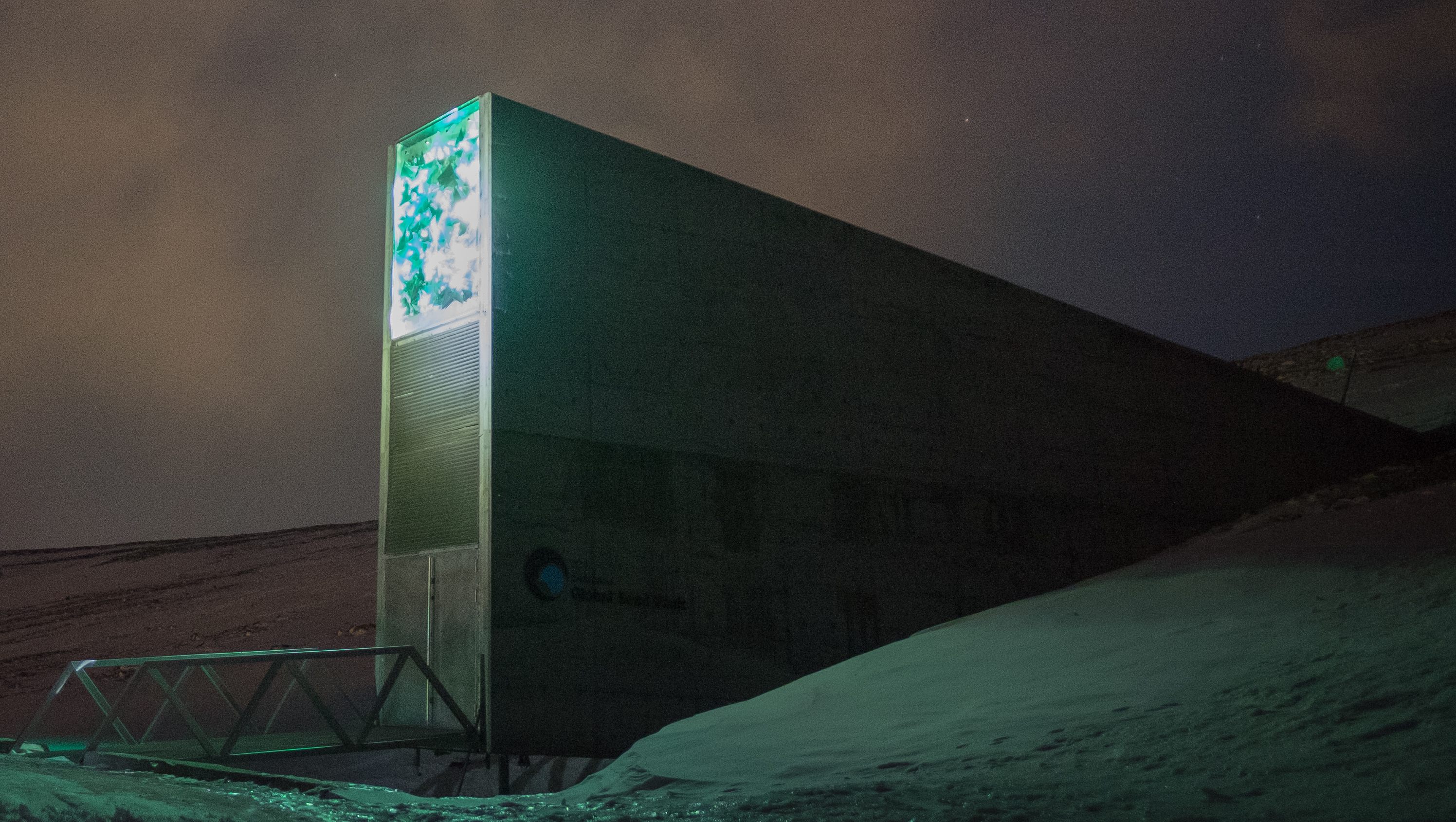 Deep inside a mountain on the Norwegian island of Svalbard, seeds from more than 900,000 crops slumber in permafrost. Each deposit is nestled in its own sealed, heatproof packet. These specks of black, brown, and taupe are protected from everything: come climate change, geopolitical disaster, nuclear war—heck, even hell or high water (literally—the facility is 426 feet above sea level). Located on the Arctic circle, Svalbard is remote and inaccessible, with no roads connecting the settlements where just 2,600 people have made their homes. It is here, buried in the virgin alpine rock, that more than 430,000,000 seeds in total serve as an agricultural insurance policy against the end of the world.
Today, on the vault's 10th anniversary, a new arrival of more than 70,000 crops will tip the total number of deposits over 1,000,000. "Hitting the million mark is really significant," Hannes Dempewolf, senior scientist of the Crop Trust, an international organization dedicated to conserving crop diversity, told the BBC. "Only a few years back I don't think we would have thought that we would get there."
Some of these seeds are cultural touchstones—the black-eyed pea, say, or barley used to brew Irish beer. Others, like the Estonian onion potato, are so unusual that even Google wrinkles its nose in confusion. There are two deposits each year, and many more seeds are yet to come—the first of three chambers is now almost full of packets of seeds, the BBC reports, but there is potentially room for millions more.
Seeds vaults like Svalbard are often referred to as "Doomsday banks," an attempt to shelter the world's agricultural food supply from some far-off disaster. In fact, they're already being put into practice. Almost exactly a year ago, the Syrian crisis prompted an emergency withdrawal of around 90,000 seeds. Many have since been replaced—but it highlights the importance the facility is likely to have in times of growing unrest. And so, after the vault was flooded last year, the Crop Trust fitted new, waterproof walls to safeguard the seeds even further. The cargo is precious now, but in years to come, it may prove priceless.
Gastro Obscura covers the world's most wondrous food and drink.
Sign up for our email, delivered twice a week.