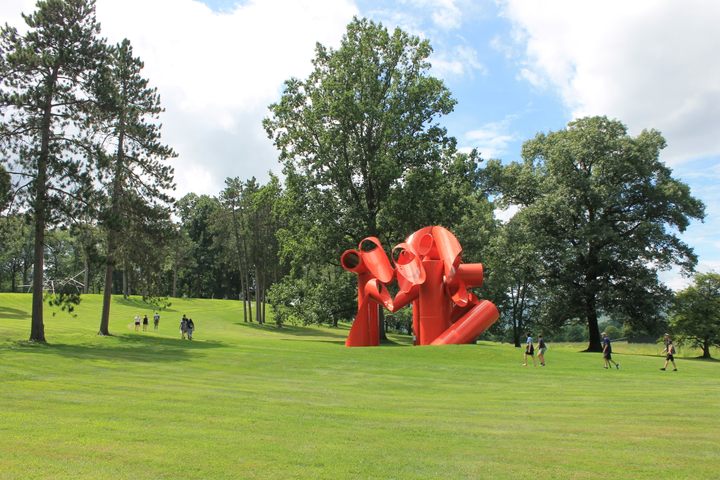 What It Takes to Maintain 500 Acres of Art and Nature
Storm King's director of facilities has to be a landscaper, an art conservator, and even a structural engineer.
It's easy to want to keep this place a secret: nearly a square mile of green fields, eye-popping sculpture, groves of trees, and spectacular, tranquil views of art in nature, all within 90 minutes of New York City. But the experience at Storm King Art Center—to call it an outdoor museum is inadequate—compels you to share. And now, more than three months after it typically welcomes visitors for the season, it's possible to visit again.
After months in quarantine, there's nothing like the site's expansive sense of space. (Storm King has pandemic-related precautions in place, even with its ample room to roam.) The scale alone stretches your perspective: Shifting clouds and sun create an ever-changing display of shadow and light, making the sculpture as integral to the landscape as the trees and hills—something to discover as you meander a path or wander a field. For 60 years the art center has showcased pieces that play with space and perspective, such as Forrest Myers's Four Corners. Sometimes the earth itself is the artwork (Maya Lin's Storm King Wavefield).
Preserving this symbiosis of art and landscape is the domain of Mike Seaman, Storm King's director of facilities and conservation, who leads a seven-person team that mows, waxes, paints, plants, trims, and sometimes builds a pond in the name of art. It's no small feat, but then again very little about Storm King is small—including the sculpture. There are 100 acres of short grass to mow every week, 150 acres of farm fields and 190 more of woodland to manage, and 60 acres of native grasses that are part of an effort to expand habitats for pollinators and local wildlife. Then there's caring for sculptures exposed to the elements year-round.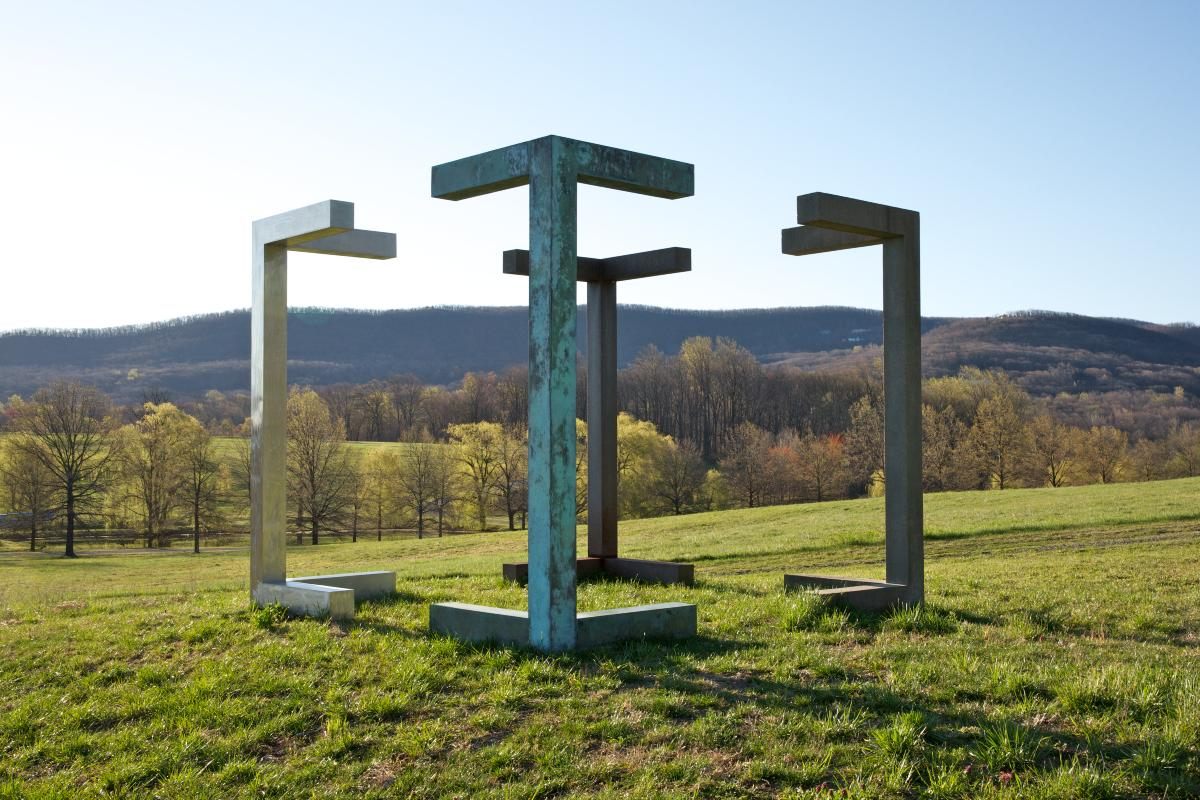 Atlas Obscura spoke with Seaman about how working at the nexus of contemporary art and nature involves being a landscaper, an art conservator, and even a structural engineer.
You've been at Storm King for nearly 30 years. How did you start there?
I started working at Storm King in 1992 as an arborist. My early training was in aeronautics, but I had an interest in being an arborist and owned my own business. Storm King was one of my clients, and our relationship grew from there.
The place must really have a special meaning for you after all these years.
Absolutely, yes. I always feel I'm very fortunate I get to work with landscape and sculpture—two things that I'm incredibly passionate about. Over the years I became interested in sculpture and fabrication, so I had opportunities to work and train with some of the greatest fabricators and conservators that exist now.
What are the biggest challenges of looking after both sculpture and landscape at Storm King?
There are many. With sculptures that are painted and exposed to UV light, the paints can fade or the colors become less vibrant. The most susceptible ones are blacks, reds, and oranges. We're always working with artists and their representatives to experiment with new paint systems that aren't as susceptible to ultraviolet light.
Being outdoors, our bronze pieces receive waxes at different times of the season to protect them from the oxidation process. It's the same with many of our steel pieces, which receive applications of oil. I'm constantly inspecting the sculptures. There is constant cleaning, too. Many of the monumental pieces require having aerial lifts and pressure-washing equipment on site.
As far as the landscape, we're constantly dealing with invasive species that grow within our fields and trying to preserve this natural relationship between the sculpture and the landscape surrounding it. We work very closely with the curatorial department to create a natural setting for the sculptures within the landscape.
How often does Maya Lin's Storm King Wavefield get mowed?
Typically once a week. It takes a couple of people mowing for the better part of a day. We keep in close contact with Maya and try to minimize any visible tire tracks.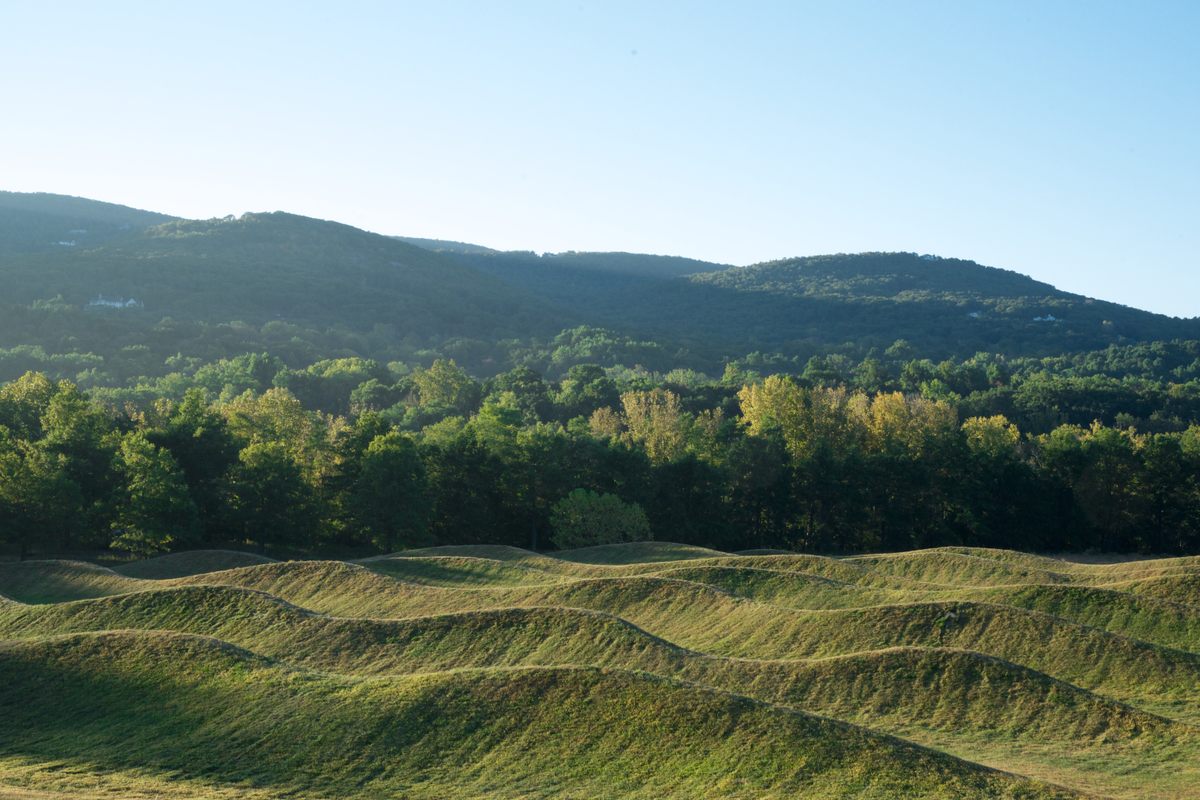 What's been unusual or unexpected about doing your work during the pandemic?
The biggest thing is being on site and having no people around. You get used to visitors walking around and often approaching you and asking what you're working on.
I understand that certain artworks need to be moved indoors during the winter. Can you describe one of these pieces and why that needs to happen?
One piece that we move indoors is the Alyson Shotz's Mirror Fence. It's constructed of glass and mirror, which does very well in the elements, but you want to avoid any moisture that gets within the fence because you don't want this freeze/thaw taking place. So we remove it late in the season and put it back out when Storm King opens. We have a trailer that was built to house the fence [for storage].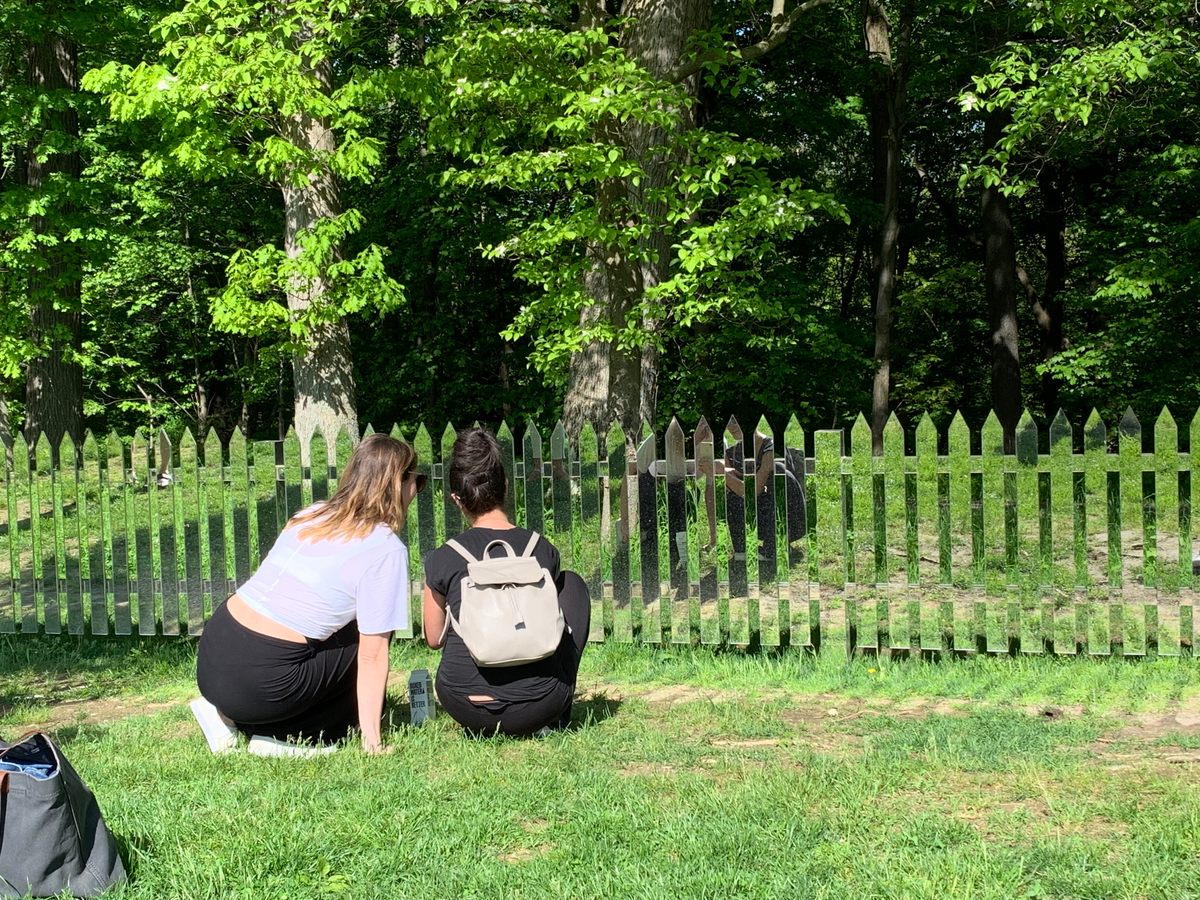 Are there any sculptures that stand out for you personally?
We have many terrific works here. I really like Alexander Calder's The Arch, which we have worked on in the past. I love the form of the piece, and being outside so much, I've had the opportunity to see it in different lighting conditions—moonlight from behind, snow on the ground. It's just a beautiful piece.
Every once in a while, I enjoy walking around without my so-called work hat on. It gives you a greater appreciation of the landscape, the sculpture, and how wonderful the place truly is.
Full Image Credits: Alexander Liberman, Iliad, 1974–76. Gift of the Ralph E. Ogden Foundation; Forrest Myers, Four Corners, 1969–70, Gift of the Ralph E. Ogden Foundation; Mark di Suvero, Figolu, 2005–11. Courtesy the artist and Spacetime C.C., E=MC2 , 1996–97. Courtesy the artist and Spacetime C.C.; Maya Lin, Storm King Wavefield, 2007–08. Gift of the Ralph E. Ogden Foundation, Janet Inskeep Benton, The Philip and Muriel Berman Foundation, The Brown Foundation Inc. of Houston, Texas, Amb. and Mrs. W. L.Lyons Brown, Jr., Callahan and Nannini Quarry Products, Charina Endowment Fund, The Donohue Family Foundation, Edmund G. Glass, the Hazen Polsky Fund, Paul and Barbara Jenkel, the Kautz Family Foundation, The Lipman Family Foundation, Martin Z. Margulies, Margaret T. Morris Foundation, Roy R. and Marie S. Neuberger Foundation, Inc., Peckham Family Foundation, Jeannette and David Redden, Gabrielle H. Reem, M.D. and Herbert J. Kayden, M.D., The Richard Salomon Family Foundation, Inc., Sara Lee and Alex H. Schupf, Anne and Constantine Sidamon-Eristoff and Mr. and Mrs. Thomas W. Smith; Alyson Shotz, Mirror Fence, 2003 (refabricated 2014). Gift of the artist and Derek Eller Gallery, with generous lead support from Roberta and Steven Denning. Additional support provided by The Donald R. Mullen Family Foundation and Mr. and Mrs. Richard J. Schwartz.