Found: A Spiral Mass Grave in Mexico City
Evidence of an elaborate ritual 2,400 years ago.
Religious sacrifice and elaborate funeral rites played important roles in a number of ancient Mesoamerican civilizations, including the Maya and the Aztecs. So it is with seeming regularity that archaeologists excavating under Mexico City unearth bones in unusual arrangements and dispositions, from an Aztec temple containing 32 sets of neck bones to elaborate racks of mounted skulls.

It takes a lot to surprise archaeologists with the National Institute of Anthropology and History (INAH), but a recent find accomplished the feat. Beneath the Pontifical University of Mexico in the Tlalpan area of the city, they uncovered 10 human skeletons were arranged in spiral shape, that appear to have been buried with interlocking arms. As explained in a statement, this 2,400-year-old grave is the most "peculiar" find at the site, which has been excavated since 2006. It is also the largest number of skeletons found in a single burial from the Preclassic period of Mesoamerican history (2000 B.C.–A.D. 200).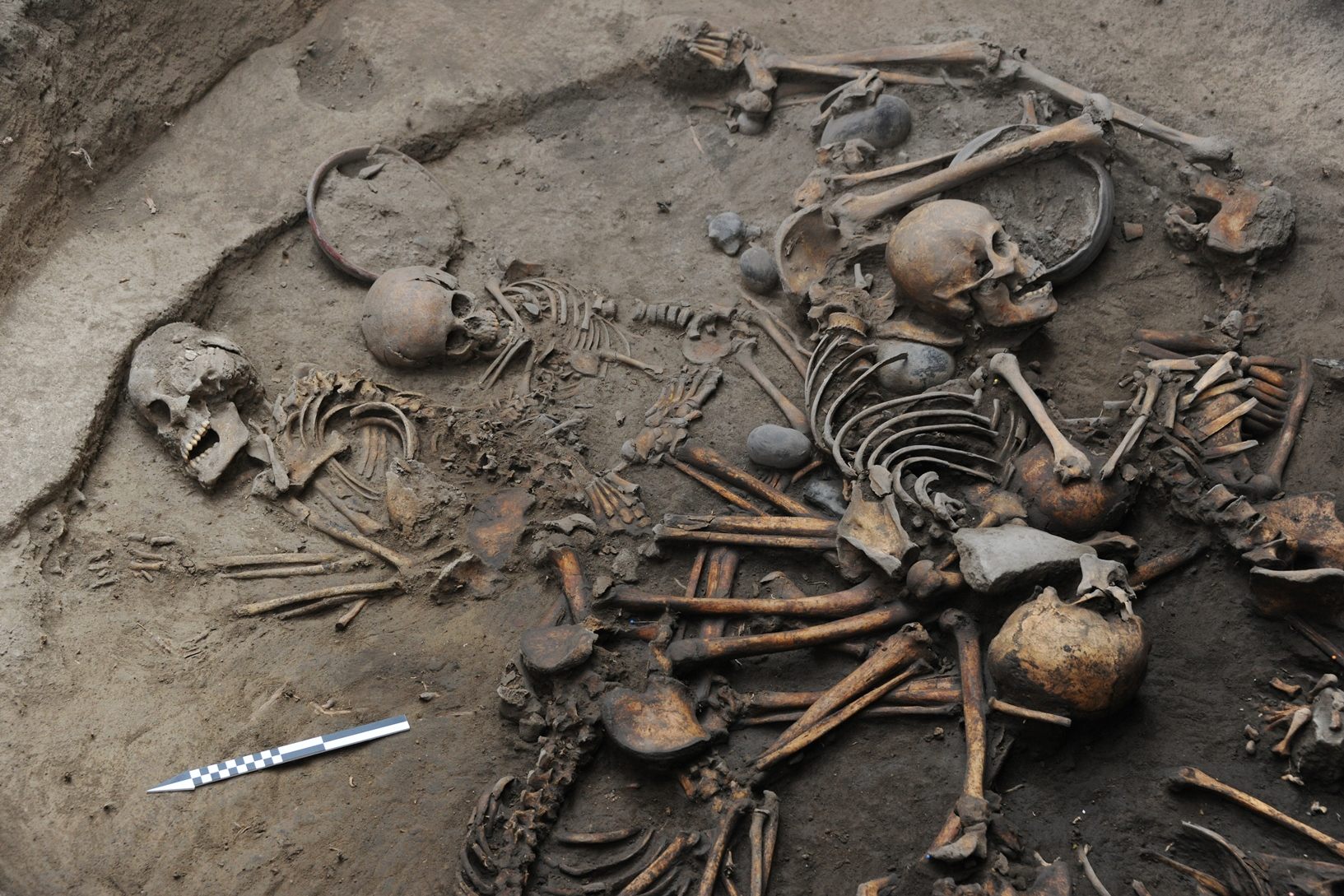 INAH researchers Lucía López Mejía and Sonia Rodríguez Martínez identified some of the remains as belonging to two women and one man, as well as a toddler and an infant. It appears they were buried in a single ritual event, the nature of which is unknown. "The bodies were buried as they were 'interacting' with each other," López Mejía said. "That's why we talk about the same event."
Jimena Rivera, an archaeologist at INAH who lead the excavations, explained to Mexican news channel Televisa that the wide range of ages in the burial suggests they might have symbolized different phases of life.