The Dazzling Quilts of 19th-Century British Soldiers Are Threaded With Mystery
We still don't know how or why they made these elaborate textiles.
There are almost as many myths about 19th-century military quilts as there are mysteries.
These intricate patchwork textiles were once believed to be the work of recovering soldiers, painstakingly stitched in some far-off corner of the British Empire. The fabric came from the uniforms of fallen comrades—a way to remember those who had given their lives for queen and for country—and the skills from occupational therapy in a clean, well-maintained hospital. They were known as "convalescence quilts," and they offered reassuring proof to the folks at home that Queen Victoria's army were being well looked after.
Or, at least, so the story went. But many things about this tale are worthy of further investigation, says Annette Gero, an international quilt historian, author, and collector. We don't know who precisely made these quilts, beyond that they were soldiers; why they made them; what they were used for; or how they picked up the ability to do so. The more scholars like Gero look into these quilts, the more unconvincing the accepted explanations seem.
Here's what we do know: During the second half of the 19th century, British soldiers produced extraordinary quilts out of thousands of tiny triangles and squares. They're made of the thick woolen felt of military uniforms, in rich primary colors—here and there, old hemlines, the outlines of jacket pockets, and even buttonholes are worked into the blankets. It's not clear whether these were scraps from discarded uniforms or the offcuts from military tailors' workshops.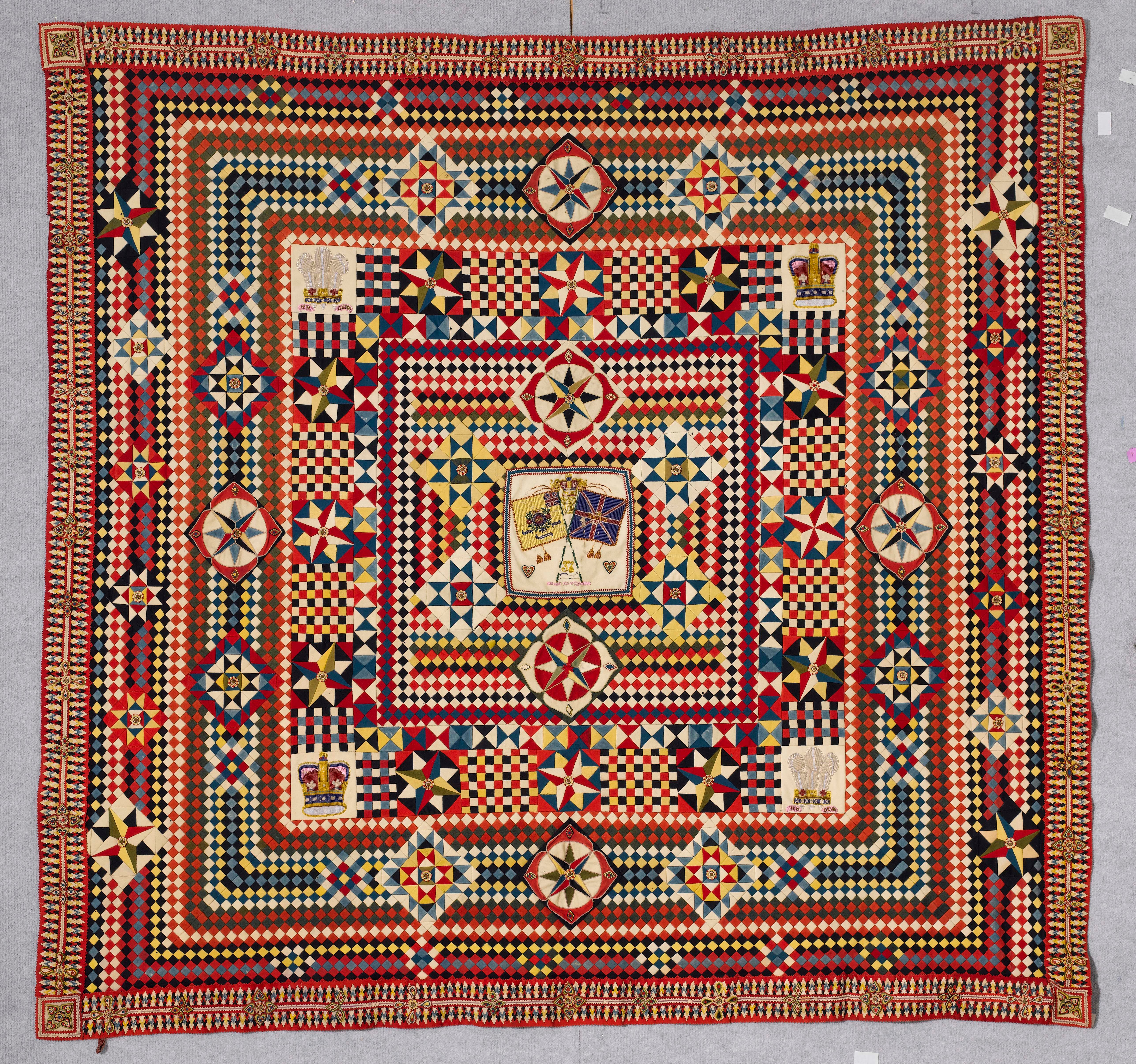 The quilts are geometric, rather than pictorial, and stitched together by hand, often using traditional patchwork overstitching, also known as "whip stitch." They're often known simply as Crimean War quilts, despite having been made in a variety of places, each with their own particular aesthetic. (Crimean War quilts, for instance, are more conservative and less vibrant than those made in India a few years later.) It seems likely that hundreds were made, but no two have been found with the same pattern, making it even less likely that they were the product of structured occupational therapy.
Some quilts are a little crude; others are staggeringly complicated. We know that some of these quilts were undoubtedly made by military tailors, as they're the work of a seasoned professional, and use particular offcuts that only these men would have had access to. On some Indian quilts, for instance, tiny circles are used as decoration. According to Gero, these would have been salvaged from a kind of special metal hole-punch used by tailors to make openings for the shanks of brass buttons.
When it comes to the quilts made by ordinary soldiers, however, there's little option but to speculate. Most of the quilts in Gero's own collection have lost their provenance: In the vast majority of cases, the maker is unidentified. When we do know who made individual quilts, Gero writes in her book Wartime Quilts: Appliqués and Geometric Masterpieces from Military Fabric, "even these may have been slightly romanticised in their history as they were passed down through the family."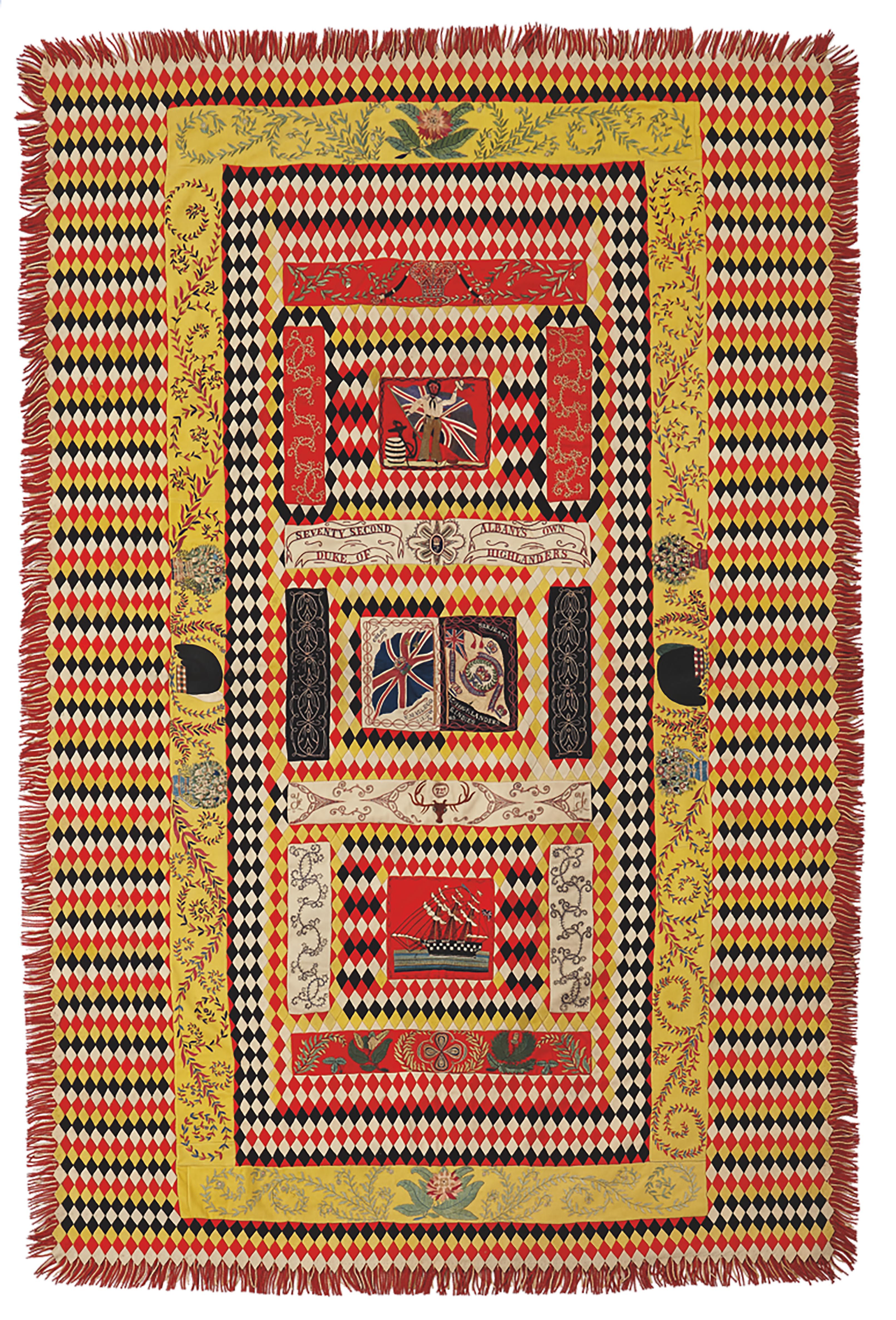 Yet for decades, rumors abounded that these quilts had been made by soldiers as they convalesced in bed. But the only evidence that any soldiers stitched in bed, Gero says, is a single 1856 painting of Private Thomas Walker. Walker is sat up between the sheets with a bandaged head, painstakingly stitching together vivid triangles of felt into a relatively simple quilt design. In a newspaper article around the same time, the painting's young subject was described as having had the "entire top of his skull […] removed by skilfull operation at different periods," after a shell burst directly over his head.
There's more to that painting than meets the eye, Gero says. It's not simply an image, but "a political painting specially made to show Queen Victoria's subjects that her soldiers were being well treated in hospitals. Clean sheets, clean bandages, and some occupational therapy." Throughout the second half of the 19th century, when many of these quilts were made, British troops were fighting in Crimea, south of Ukraine; in South Africa and India; and in other troubled reaches of the British Empire. In most of these places, however, there was little resembling Western hospitals—with no hygienic practices to speak of, men often died of their infections. Paintings such as these gave people the impression that even far away, members of the British army would be as well looked after as they would have been at home.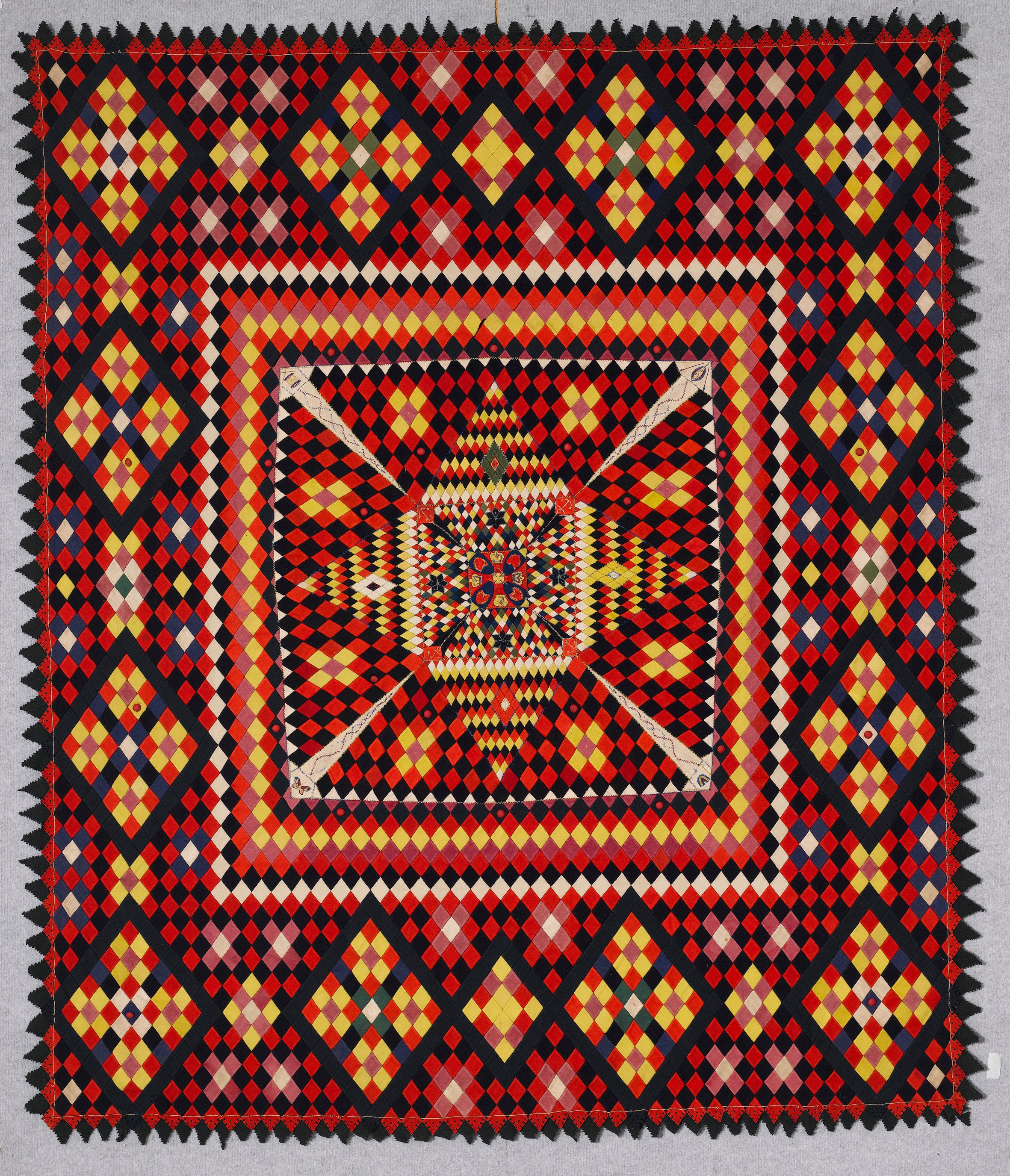 What's more, Gero says, "it is infeasible that somebody with most of their brain blown out would be able to sit and design a quilt as complex." Even the story about the cloth coming from uniforms of dead soldiers doesn't stand up to scrutiny. Joseph Rawdon, a British soldier, wrote a letter home describing how they had made a quilt that took "all of six years on and off to make … from different uniforms, more than a few pieces from poor fellows that fought hard for their country and fell in the struggle." But in a 2010 paper published in the journal Textile History, the historian Sue Pritchard revealed that, of all the known military quilts, none show signs of having seen the gore of the battlefield. These places were "dirty, bloody and chaotic," she writes. "Sparks and powder from musket fire would have left residue on uniforms." But there's no blood, oil, or gunpowder on these fabrics.
If the quilts really had been made by soldiers in bed, Gero says, she believes the level of skill required would have necessitated supervision by military tailors. Someone would also have been tasked with making sure the hospital was stocked up with felt. Instead, Gero proposes, it's quite possible they were the result of soldiers sitting around on the battlefield with nothing much to do. In India, for instance, the regiments were said to spend five percent of their time in battle and the remainder in boredom. With so little to do, men often resorted to drink or hobbies to fill the time. Pritchard quotes a letter from Private John Pearman, written in India: "Our time was spent very idly as all drill was in the morning and dismounted drill in the evening. As it was very hot in the day, we sat on our charpoys or bedsteads and played at cards, backgammon or chess or anything that took our taste. At other times I would read books or set at the needle."
But simple tedium doesn't explain how bored soldiers picked up the skills to execute these fascinating textiles. Most soldiers and sailors could sew a little: They were supplied with a "housewife" sewing pouch, which might contain needles, thread, and a few spare buttons. But they needed active training to learn how to put together quilts of this magnitude. It's not clear exactly how, or why, they received it—though the British army's antipathy to boredom, which they believed encouraged idleness and disobedience, may have inspired them to make sewing lessons a priority.
All we have by way of explanation, in fact, are the propaganda stories designed to put the British public at ease, and rebut accusations of military ineptitude. The men were so well cared for, the stories went, that they were sitting up in bed and learning to quilt. "The promotion of the soldier-quiltmaker was part of a calculated campaign throughout the United Kingdom to rehabilitate public opinion about the careless administration of the war," Gero writes, in an accompanying essay to a 2017 exhibition of the quilts at the American Folk Art Museum in New York, "and also to endorse quiltmaking as a masculine and healthful alternative to less savory activities among enlisted men, such as drinking and gambling." The real story, it seems, may be lost for good.