Why Solar Roasting Could Be the Future for New Mexico's Chiles
It may be the key to cutting down 7,800 metric tons of annual carbon emissions.
On October 21, 2021, Kenneth Armijo, an engineer at Sandia National Laboratories in Albuquerque, New Mexico, was at the top of a 200-foot-tall tower at the lab's Solar Thermal Test Facility. Armijo usually works on large-scale industrial processes. That day, however, he had given himself a rather unusual assignment. In his possession was a sack of 22 pounds of New Mexican chiles. His mission: to roast them using only the power of the sun.
Chile peppers are all but synonymous with New Mexican cuisine and culture. For more than 400 years, farmers in the Rio Grande Valley have cultivated them as a staple. They first migrated north along with the Spanish conquistador Don Juan Oñate, and quickly became a backbone of cuisine within the Pueblo Nations. In 1921, Mexican-American horticulturist Fabián García created the long green chile pepper, a highly resilient—and delicious—crop. Nowadays, his green Hatch chiles are so ubiquitous that McDonald's serves them on burgers at its New Mexico outlets. "Chile peppers are part of our culture in New Mexico," Armijo says. "You go to restaurants and ask for your order of red, green, or 'Christmas.'"
Each year, the state produces more than 150 million pounds of chiles, the majority of which are harvested and roasted in steel drums from the end of August through October. But chile roasters across New Mexico burn enough propane yearly to release 7,800 metric tons of carbon dioxide into the atmosphere.
Climate change is currently one of the greatest existential threats to New Mexico's chile farmers. Since these plants don't produce above 95° F, a prolonged heat wave can have devastating results. Meanwhile, growing water shortages threaten the already precarious arid ecosystem. "The impact of climate change is accelerating," Armijo says. "I wanted to come up with a way to help the climate, while helping farmers at the same time."
His interest is personal. Armijo's parents are farmers, who grow chiles in Lemitar, a census-designated area in Socorro County. It's a region that's especially known for its chiles.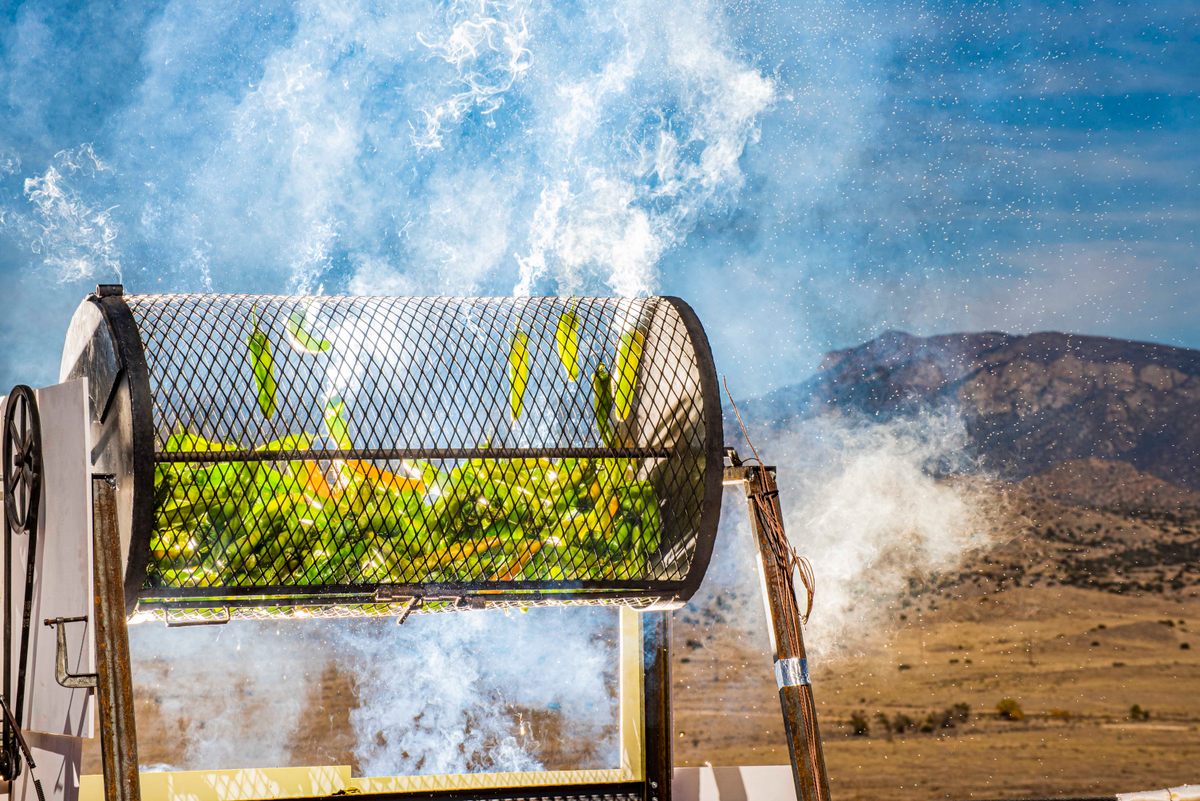 Many of the seeds growing on their family plot are heirloom varieties, descended directly from chiles planted by his grandfather. "My whole interest in this stems from growing up on that farm," Armijo says. "Just like there are grapes from Napa, in New Mexico we have the Hatch chile peppers and Lemitar chiles." While Hatch chiles may be more famous outside of the state, their larger, hotter counterparts from Lemitar have been gaining popularity in recent years.
A decade ago, working with Engineers Without Borders in Guatemala and Mexico, Armijo designed and distributed solar cookers as a way of providing communities both with heat and cleaner air. Armijo wondered if the same concept that worked for home kitchens could be applied on an industrial scale.
Solar ovens are nothing new. The first solar oven dates back to 1767, when Swiss mountaineer and Renaissance man Horace-Bénédict de Saussure devised one for his forays into the Alps. Since then, engineers and chefs from Armenia to Chile have harnessed the power of the sun for cooking. The majority of these contraptions, however, cannot sustain the blistering temperatures needed to roast large volumes of chiles.
As a third-generation New Mexican chile farmer-turned-renewable energy expert, Armijo is uniquely equipped to tackle the problem. Using several sacks of chiles provided by his father, Armijo got to work. By setting up a traditional steel-drum tumbling roaster at the top of the facility tower and focusing dozens of heliostats, or mirror-like devices, on it, he was able to maintain consistent roasting temperatures of around 900° F.
By the time he finished roasting the chiles, he was convinced he was onto something. Not only did the solar-roasted chiles cook in six minutes, but they also sported a more uniform level of caramelization compared to the traditional way. In an informal comparison, taste-testers preferred the flavor of the sun-roasted Socorro chiles. Armijo believes there could be a future where these kinds of solar cookers could become more modular and widely available.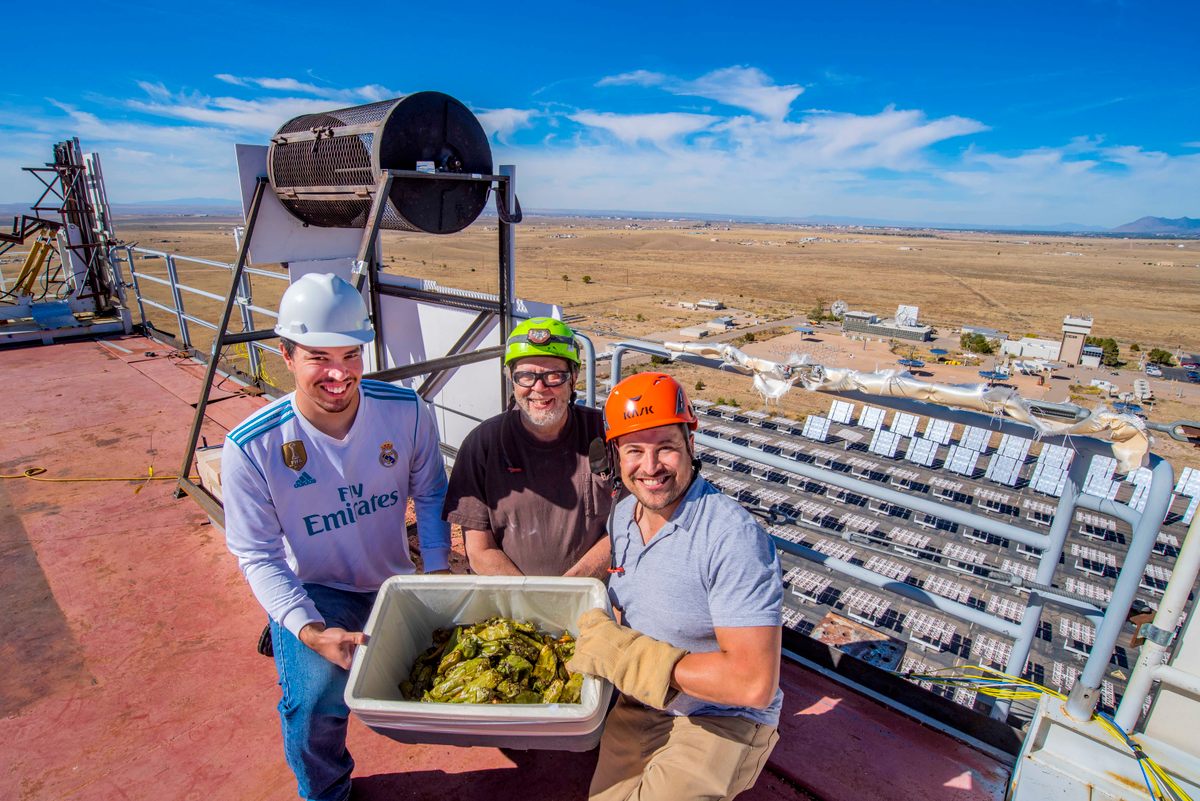 The 22 pounds of chiles he roasted that day saved 2.68 pounds of greenhouse gas emissions compared to a similar batch roasted with propane. If the whole chile industry were to follow his lead each year, it would sequester as much carbon as 130,000 trees could over the course of a decade. "Even if [chile-roasting] might be a drop in the bucket compared to the amount of emissions from power plants, that is the equivalent of about 1,700 cars taken off the road," Armijo says.
"If you extrapolate that not just to chiles, but to coffee and chocolate and other things, there's the potential for having some real impact," he continues. "Not just for carbon emissions, but for air pollution and people's health."
With an average of 300 annual days of sunlight—compared to a national average of 205—New Mexico is poised to become a leader in renewable solar technology. Armijo sees this not only as a way to slash carbon emissions, but also as the start of a new green era for his home state.
"I feel that solar technology could also become part of our culture," he says. "As a means not only of fighting climate change, but also for providing energy security, especially for poorer communities that are still living off the grid."
While chile-roasting alone may not save the world, it's a symbolically potent act for people in the region. For Armijo, the harbinger of autumn isn't the crunch of leaves or the taste of apple cider doughnuts, but rather the wafting scent of thousands of charred green and red chile peppers. "That ushers in so many traditions," he says. "You have families getting together to make tamales and enchiladas." Someday, in the not-so-distant future, New Mexicans may well associate the encroaching winter chill with chile peppers roasting in the Southwestern sunlight.
Gastro Obscura covers the world's most wondrous food and drink.
Sign up for our email, delivered twice a week.