Reconstructing a Shipwreck Site as an Underwater Exhibit
The Dominican Republic's fifth Living Museum in the Sea has just opened.
Under 55 feet of water isn't the typical setting for a museum exhibit, but it can work. For years, underwater archaeologists from Indiana University's Center for Underwater Science have collaborated with the government of the Dominican Republic to study the historic wrecks off its shores. More recently they've worked together to open a series of publicly accessible maritime archaeological parks—essentially life-size historic shipwreck museum dioramas beneath the waves. Recently, the fifth museum of this kind was put together, and will open on December 12, 2019, not far from Santo Domingo.
The new Living Museum in the Sea, as they're called, is the wreck site of a Spanish merchant vessel, Nuestra Señora de Begoña, that went down in a storm in 1725 (while smuggling silver). Other underwater museums include Spanish galleons in Samana Bay to the north, and the wreck of Captain Kidd's vessel, Quedagh Merchant, off the southern coast.
The parks are set up—using a combination of real artifacts, period-correct items, and replicas—to look like a real wreck would appear underwater when it was discovered, with the wood long eaten away, for snorkelers and divers to explore. In some cases, it also helps scientists and officials preserve wreck sites in situ.
"The thing with artifacts in maritime archaeology is that they're underwater, and they've taken in chloride and salt ions from the saltwater," says Tori Galloway, a research associate with Indiana University who helped reconstruct this wreck site. "When you pull them out of the water, they disintegrate much more quickly."
Treasure hunting remains legal in Dominican waters, on the condition that half of the objects taken from a site are given to the government. In some cases these objects, stored in government facilities, have gone back underwater into the parks, where their degradation will slow.
"People will say to me, 'Wait a minute, I've never seen archaeologists putting things back in the water,'" says Charles Beeker, a marine archaeologist and director of the Center for Underwater Science. "It's a little different from the paradigm, but it's certainly successful."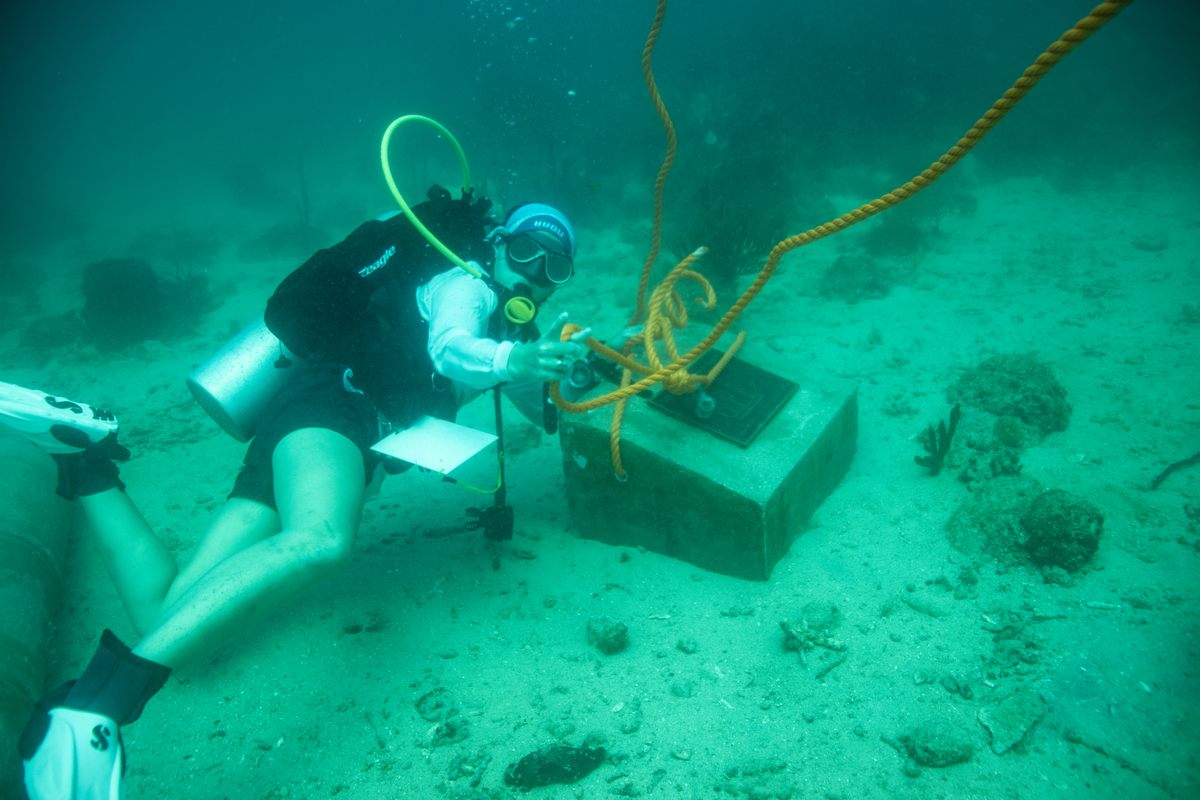 To restore and reconstruct the wreck site of Nuestra Señora de Begoña, the team lowered a couple of concrete replica cannons into the water by crane, to join a couple other period-correct cannons that had been placed there before. Then, using inflatable lift bags, divers maneuvered them into place. "I've lifted cannons before," Galloway says. "It's a recurring theme."
For those who don't want to brave the waves, some artifacts from the ship have been conserved and can be seen in the country's Royal Shipyards heritage museum in Santo Domingo's Colonial Zone. But the sense of discovery that comes with seeing 18th-century cannons underwater—even replicas, put there on purpose—is worth getting wet for.