The Mystery of the Puffer Fish Helmets of Kiribati
This ceremonial headwear was a cultural touchstone before it became a colonial curiosity.
Isaac Brower, a surgeon from rural Indiana, spent much of the mid-19th century in Fiji, promoting American interests in the region in some vague capacity, running cotton plantations, and hoovering up local artifacts. But he never set foot in what is now the island nation of Kiribati, some 1,300 miles from Fiji, according to Stéphanie Leclerc-Caffarel, a researcher at Paris's Musée du quai Branly who is writing a book about Brower. So no one's sure how he acquired the te barantauti, a type of helmet seemingly unique to that island chain, made of a dried, inflated puffer fish (or porcupine fish) with a lining woven from coconut fiber and human hair, that he donated to the Smithsonian in 1876. All we know is that these helmets were a hot item for Western interlopers—government officials, merchants, whalers, birders, missionaries, natural scientists, military ship crews, private adventurers, and more—who passed through Oceania in the period and beyond. "They were iconic Pacific objects," says Smithsonian curator Joshua Bell, "prestige items—unique, technically exquisite, and visually stunning—for their cabinets of curiosities."
Over the years dozens of these helms made their way into museums across the globe, while few remain in Kiribati. The Smithsonian actually has three, the British Museum five, and Sweden's Världskulturmuseerna "at least eight," according to their digitization curator Magnus Johansson. One te barantauti even wound up at the Fairbanks Museum and Planetarium, in the tiny town of St. Johnsbury, Vermont. Its founder reportedly bought it from a curio dealer in 1890, but that's as much as the museum knows about its provenance, according to collections manager Beau Harris.
Collectors of that time weren't scrupulous note-takers, so few of these institutions know much about how and why they acquired these helms—and also how and why the I-Kiribati made them. In fact, the Pitt Rivers Museum in Oxford, England, knew so little about the creation and function of the four helms in its collection that, in the mid-aughts, a researcher named Andy Mills noted: "When alive, the spines of this fish are poisonous, but I can find no evidence that this was considered an advantage in battle, or if we should be cautious in our handling of it."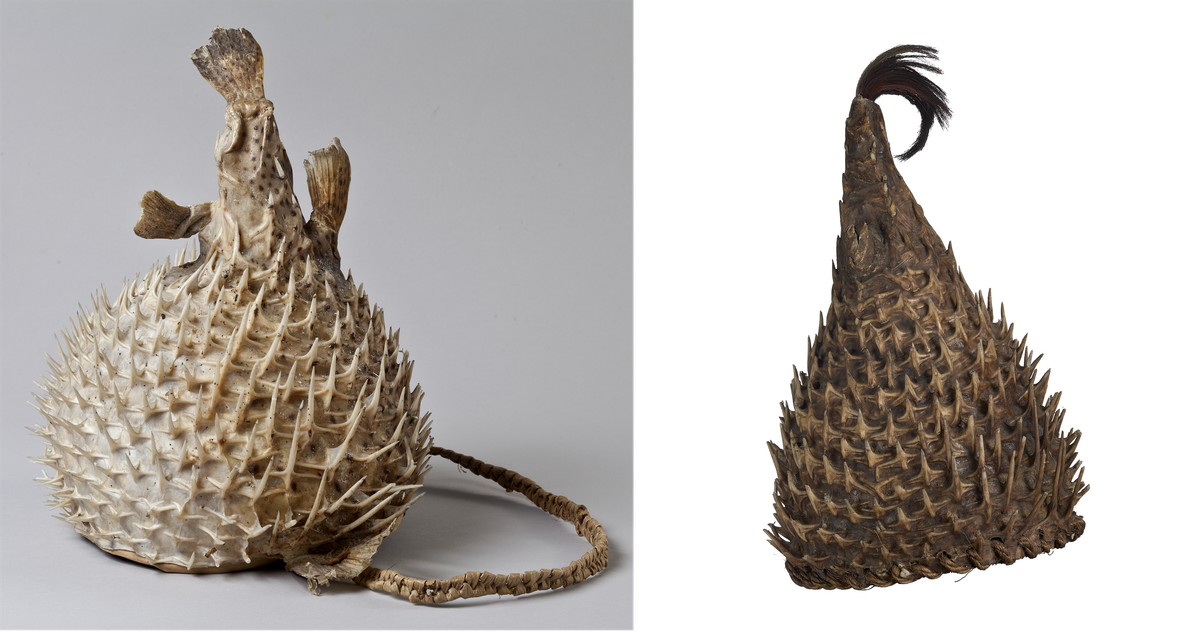 However, photos of I-Kiribati men wearing the helmets, historical accounts, and museum collections all show they were part of a wider armoring tradition unique to the islands. A full set consisted of not only a te barantauti, but also a high-backed cuirass, segmented sleeves, and overalls, all made of coconut fibers, often inlaid with patterns woven from human hair. Some also included a belt of dried stingray skin. In 2018, researchers affiliated with the British Museum published Fighting Fibres: Kiribati Armour and Museum Collections, a monograph that describes these items in detail, and offers some insights into their past use and modern significance in Kiribati.
However, the text largely homes in on "the historical context that led to these unique artifacts leaving the Pacific and entering the orbit of British collectors and institutions." As museum-bound artifacts, these pieces of armor seem to tell us more about the historical collecting practices of wealthy individuals than about the I-Kiribati, Harris argues.
Outsiders—Western explorers, anthropologists, and others—long assumed that the I-Kiribati developed this armor because they were particularly warlike and acutely resource-poor. Thus they needed to avenge insults and defend honor with the two things they had in spades: coconuts and seafood. The I-Kiribati also made spears, swords, and even knuckle dusters out of materials such as shark's teeth and stingray barbs. But there is no evidence they fought any more than other peoples in the region who did not develop such intricate armoring traditions. Their wars, anthropologists documented, were also almost always restrained and ritualistic. The intricacy of their armor speaks to that fact: While intimidating, it is not combat-practical. Anthropologist Maurizio Ali estimates that it took up to a year and hundreds of coconuts to make a full set, and constant effort to maintain it, or it'd immediately start to lose its integrity. He explains that attendants had to prop fully armored fighters up during duels—and that a te barantauti would shatter under one sound blow. Most evidence indicates that only one or two people in a community would own a full set.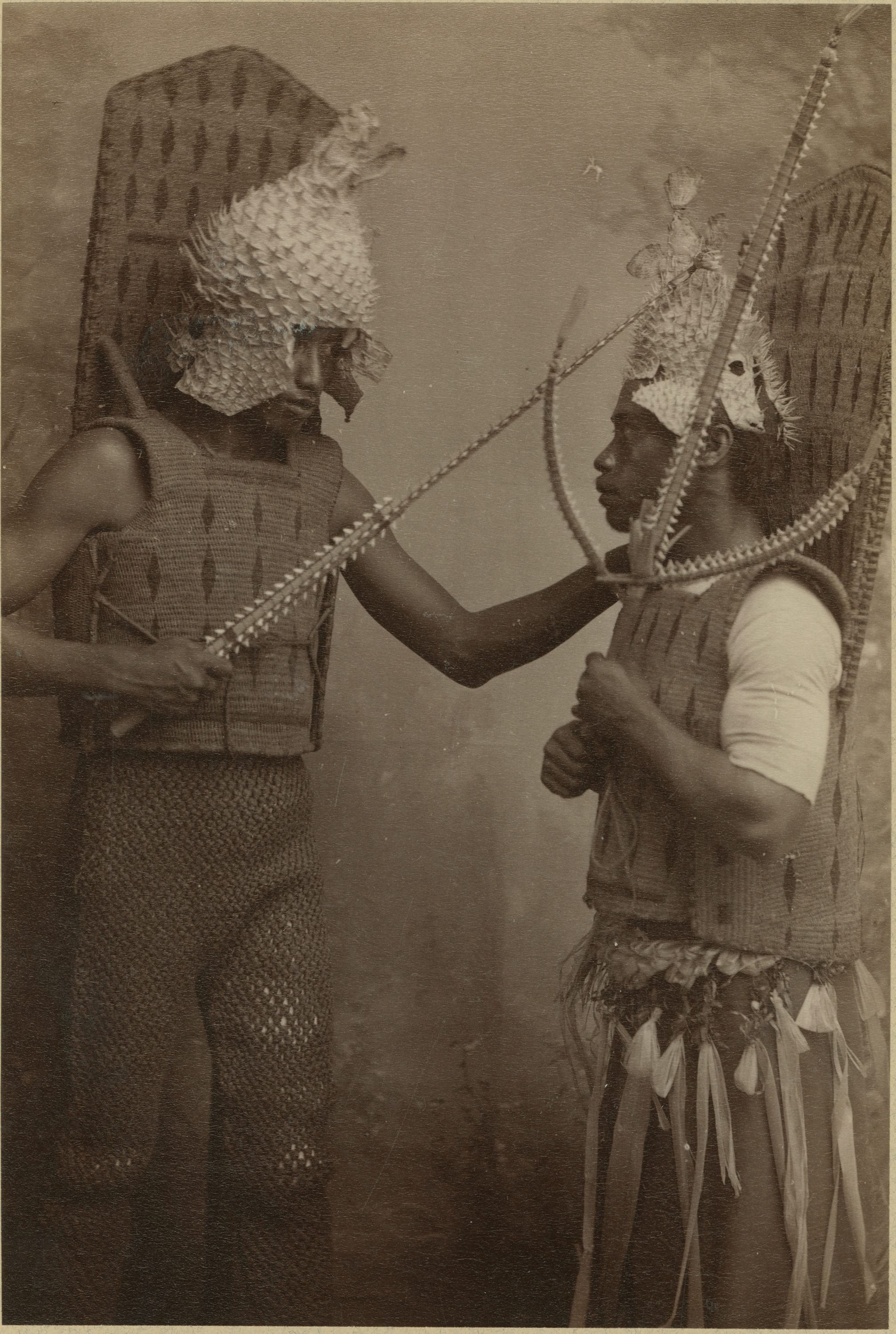 In line with its use in ritualized combat, each piece of I-Kiribati armor is a uniquely culturally and spiritually charged object, an actualization of local beliefs and traditions. However, museums and scholars know relatively little about this side of the items in their collections, not just because collectors paid little attention to these factors, but also because I-Kiribati artisans guard their communities' proprietary techniques and beliefs closely. Outsiders are rarely privy to the nuanced meaning that goes into their crafts.
Given those limitations, most knowledgeable yet measured Western curators today are loath to speculate about the origins and meaning of armor in their collections. But Fighting Fibres lays out all that we do know about the culture and craftsmanship that went into a te barantauti: Making a helm involved not only killing the right fish, at the right inflation level, and burying it in the sand to harden it just so, but also incantations and crafting practices meant to imbue it with the protection of ancestral and natural spirits, as well as the unique strengths of the fish itself.
"By using creatures that inhabit the surrounding waters in their armour, in the form of poisonous fish, shark teeth, and ray skin, Islanders were referencing their relationship with the ocean and its ancestors," Polly Bence, a British Museum curator, writes in Fighting Fibres. "If the porcupine fish was venerated as an ancestor and represented the spirit world, then perhaps fish helmets were reserved only for uea (chiefs) and were worn in order to imbue the wearer with the ocean's power."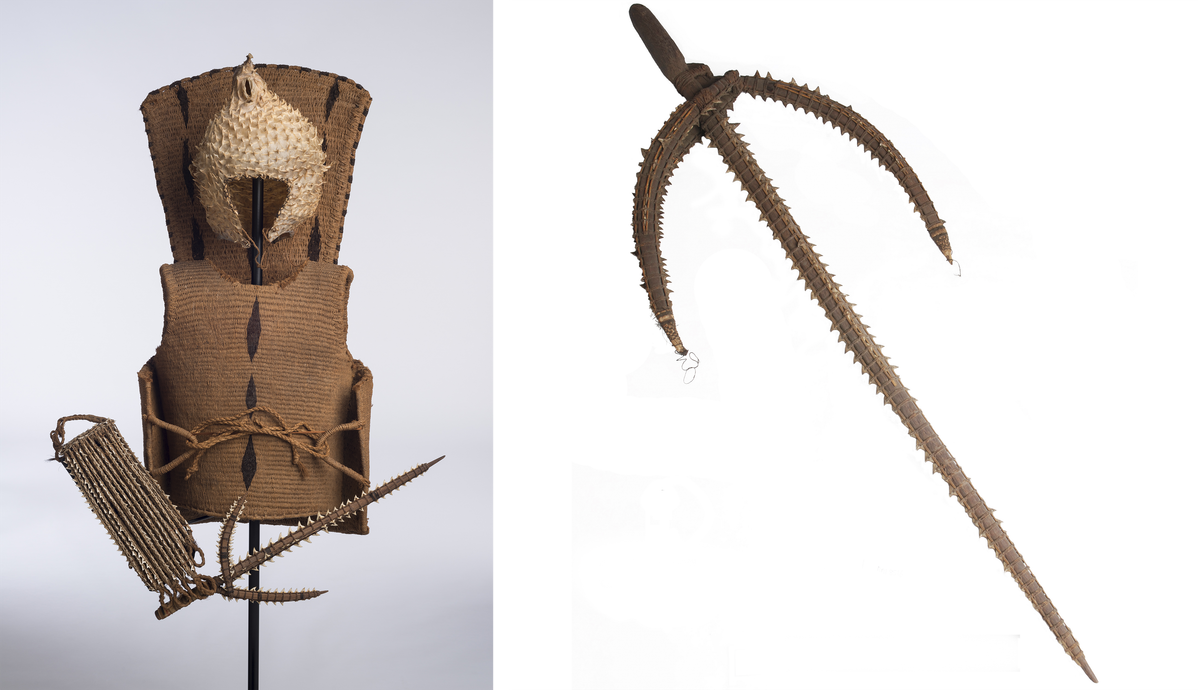 Variations in belief, rituals, and practices between communities led to differences among the items, both subtle and stark.
"Every stitch sewn carries a meaning," says Rareti Ataniberu, an I-Kiribati craftswoman. "The designs used in our armor need to be alive in a Kiribati person."
The cultural importance of items such as te barantauti makes their steady flow out of the islands and into the collections of foreigners somewhat perplexing. Ali suggests that the explanation lies in the disruptions of colonialism. Western meddling upset local trade patterns and power balances, and introduced firearms, all of which changed the nature, scale, and frequency of conflict in the region. That may have led to the production of more armor than ever before. Then, as colonial powers took direct control and Christian missionaries became highly influential in these areas, they outlawed all forms of traditional local combat.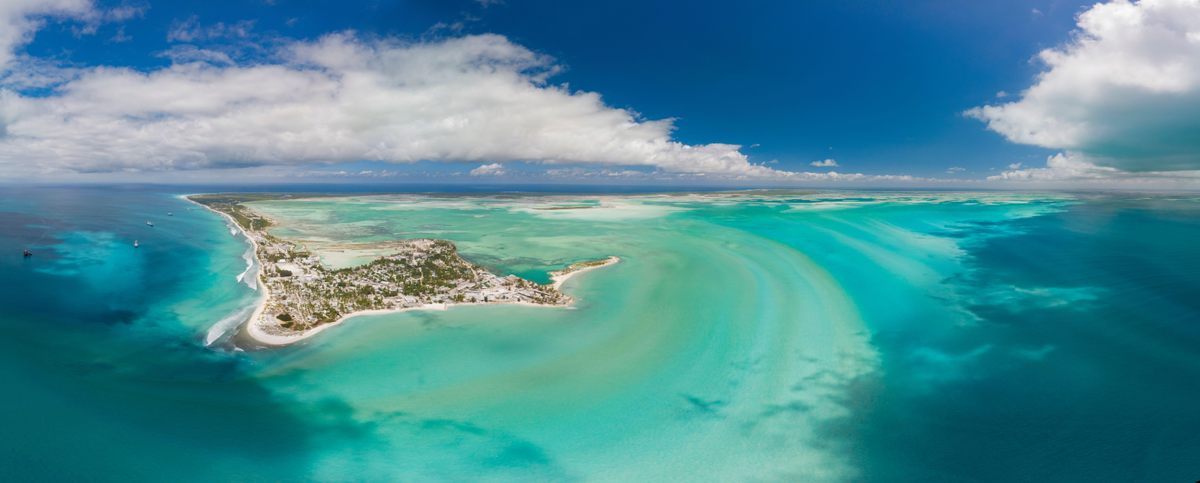 I-Kiribati communities historically valued objects only so long as they were useful, according to Fighting Fibres. So once combat ceased, armor production wound down dramatically. "There are no more wars in Kiribati, between Kiribati warriors," Ataniberu says. "So, there are hardly any more Kiribati interested in the making of it." Many families likely felt little compunction about trading pieces away, or even crafting new armor for commercial rather than ritual purposes. Kiribati's last traditional armor maker created two final sets, each with a te barantauti, in the 1950s. They now reside in the nation's cultural center, Te Umwanibong.
But over the last four decades, since Kiribati gained its independence from the United Kingdom in 1979, the armor has taken on a new meaning—as a potent symbol of local culture. It features on tourist trinkets, but also stamps and school mascots. "The armor is not just a garment to me," says Ataniberu. "It is a piece of art, a craft."
In 2016, the Kiribati-descended artist Chris Chateris, I-Kiribati weaver Kaetaeta Watson, and New Zealand traditional weaver Lizzy Leckie met Ali Clark, then a researcher working with Kiribati artifacts at Cambridge University's Museum of Archaeology and Anthropology—and later one of the coauthors of Fighting Fibres. Inspired by the trio's work on Tungaru: The Kiribati Project, an artistic initiative exploring traditional crafts and refracting them through a modern perspective, Clark proposed a project that'd bring armor pieces deracinated and locked away in Western museums back into conversation with modern I-Kiribati culture: The artists would get up close and personal with artifacts in the United Kingdom, New Zealand, and Germany, reverse-engineer how they were made, and then develop a new, modern suit of armor.
The result was Kautan Rabakau (Awakening the Knowledge), a panoply that reflects modern Kiribati. Instead of coconut fibers, the artists, alongside Ataniberu and other I-Kiribati artisans, used polyethylene twine from fishing nets and sisal baling twine and manila rope used on local boats. They still made their te barantauti, however, out of a puffer fish, the old-fashioned way.
"Making the armor was like taking part in giving life back to a dying culture," says Ataniberu. "It is kind of emotional … It makes me think, sometimes, about our long-gone ancestors who used it.
"I feel proud to be part of the resurrection of this art and craft."