19 Unforgettable First Kisses and the Ordinary Places Where They Happened
Romance can blossom anywhere. Parking lots. Sidewalks. Even the South Pole.
A few weeks back, I found myself thinking about the engraved rock that marks the spot where Michelle and Barack Obama's first kiss took place. Located on an otherwise unassuming Chicago sidewalk, it's just such a heartwarming monument to the ways that love can transform an otherwise mundane place into something wondrous. I wanted to know about more such places, so I asked Atlas Obscura readers to tell us precisely where they'd had their first kiss with the person they love. Get out the tissues, because the responses were emotional.
Before the potential overload of schmaltzy sentimentality makes you dry heave, hear us out. Our readers sent us scores of truly charming stories about first kisses in places that otherwise might seem unremarkable. We received tales about swooning romance in cruddy cars, outside a touristy gift shop, in a college dorm common area, and even at the South Pole (okay, that one is pretty amazing).
Check out a selection of our favorite submissions below and start your new year out with a little romantic inspiration. And if you have a story about the location of your own first kiss that you'd like to share, head over to our brand new community forums (they're pretty sexy), and spread the love!
In a 2005 Honda Civic
Rural Indiana
"We had been in England for a week and a half for an orchestra tour, and had been flirting the whole week and hanging out. The night we got back, I went over to his place, and we watched a movie. He drove me home and I was going to get out of his car and he wasn't going to make a move, so I did! I kissed my husband for the first time in his little 2005 Honda Civic, parked in the street in rural Indiana. A little less exciting than having a first kiss in England where we had been for 10 days, but still very memorable!" — Megan Kaercher, Cincinnati, Ohio
On a Bridge in a Public Park
Gympie, Australia
"My wife and I shared our first kiss on a bridge overlooking dozens of ducks and turtles. It was magical. Later on, I found out that she couldn't block her nose, and all she could smell were duck feces. Less magical. We still visit the spot to this day." — Clint, Brisbane, Queensland
In a Parking Lot
Addison, Texas
"Our first date was supposed to be casual drinks, but we ended up being there for around six hours, just talking, and it felt like no time had passed at all. I knew then that the relationship would be very special. We're married now and living in the U.K., where he's from." — Deanna, London, United Kingdom
During a Peaceful Protest
Los Angeles, California
"Students at UCLA were beginning to protest the People's Park incident at UC Berkeley in May, 1969. My now-husband convinced me to skip class and join the sit-in at the campus administration building. Later that evening, we shared our first kiss, sitting on the floor. The rest is history!" — Stephanie, Los Angeles, California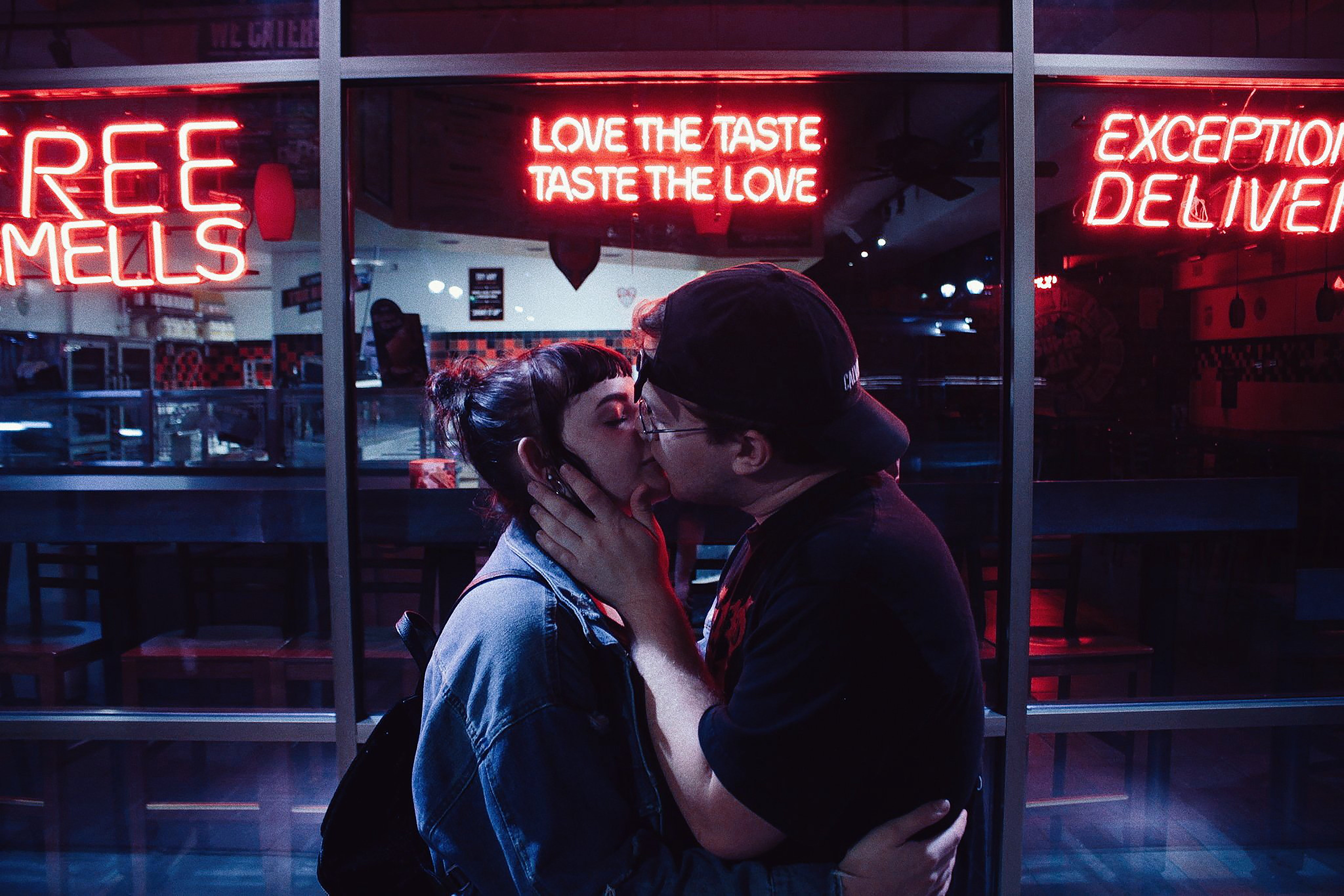 In a College Dorm Lounge
Potsdam, New York
"We were friends through our college radio station, and we were hanging out in the lounge in our dorm building with some other friends. This was a dingy room with some old couches and a huge wall of floor-to-ceiling windows overlooking the campus. Eventually our friends left and we sat close to each other watching big snowflakes come down. We joked that it looked like plankton swirling in the ocean. We had our first kiss there, in front of the wall of plankton. We're still together 11 years later!" — Jamie, Queens, New York
Outside a Science Station
Antarctica
"Walking outside by the new station at the South Pole, he said he was going to kiss me, but then I smiled and kissed him first. We met in Antarctica working on the IceCube project in 2009. He is from Sweden. I am from the U.S.A. We are currently living in Sweden and moving to the U.S. next year." — Misty Attwood, Sweden
In a Dingy Nightclub
Brisbane, Australia
"Met him that night and was trying to pick him up. Nine months later we're still going steady, to my surprise!" — Gabby, Brisbane, Australia
In a Driveway
St. Paul, Minnesota
"March 31, 1999: Brian and I (yes, we're Brian & Brian) were on our first date and we're both nervous and gave each other the tiniest kiss. He went in and as I walked back to my car, I did the biggest Happy Dance of my life. I felt like I was in some schmaltzy 1940s MGM Technicolor musical." — Brian Dahlvig, Minneapolis, Minnesota
Right On the Sidewalk, Holding a Pumpkin
Portland, Oregon
"Ned and I had just met and hit it off famously, shortly before Halloween, nine years ago. We decided to go for a walk and stumbled upon a quaint, small church where a choir was practicing an awe-inspiring gospel song inside. I don't recall how we struck up a conversation with the pastor and his wife, but they ended up gifting us a small pumpkin for the holiday. We continued walking down Mississippi Street. I looked at Ned, who was carrying this bright orange pumpkin as the sun beamed down on the leaves, blowing all around us, mirroring the same autumnal colors. I huddled under my jacket against the cool breeze. The air smelled like warm coffee, baked goods, and damp, mossy earth. Out of nowhere, Ned asked if he could kiss me. I nodded, yes. He held me close as he kissed me softly, just as a woman passed by us on the sidewalk. He said, 'Hey! Did you see that? She said I could kiss her!' The woman turned briefly to face us and smiled." — Amie Althaea, Portland, Oregon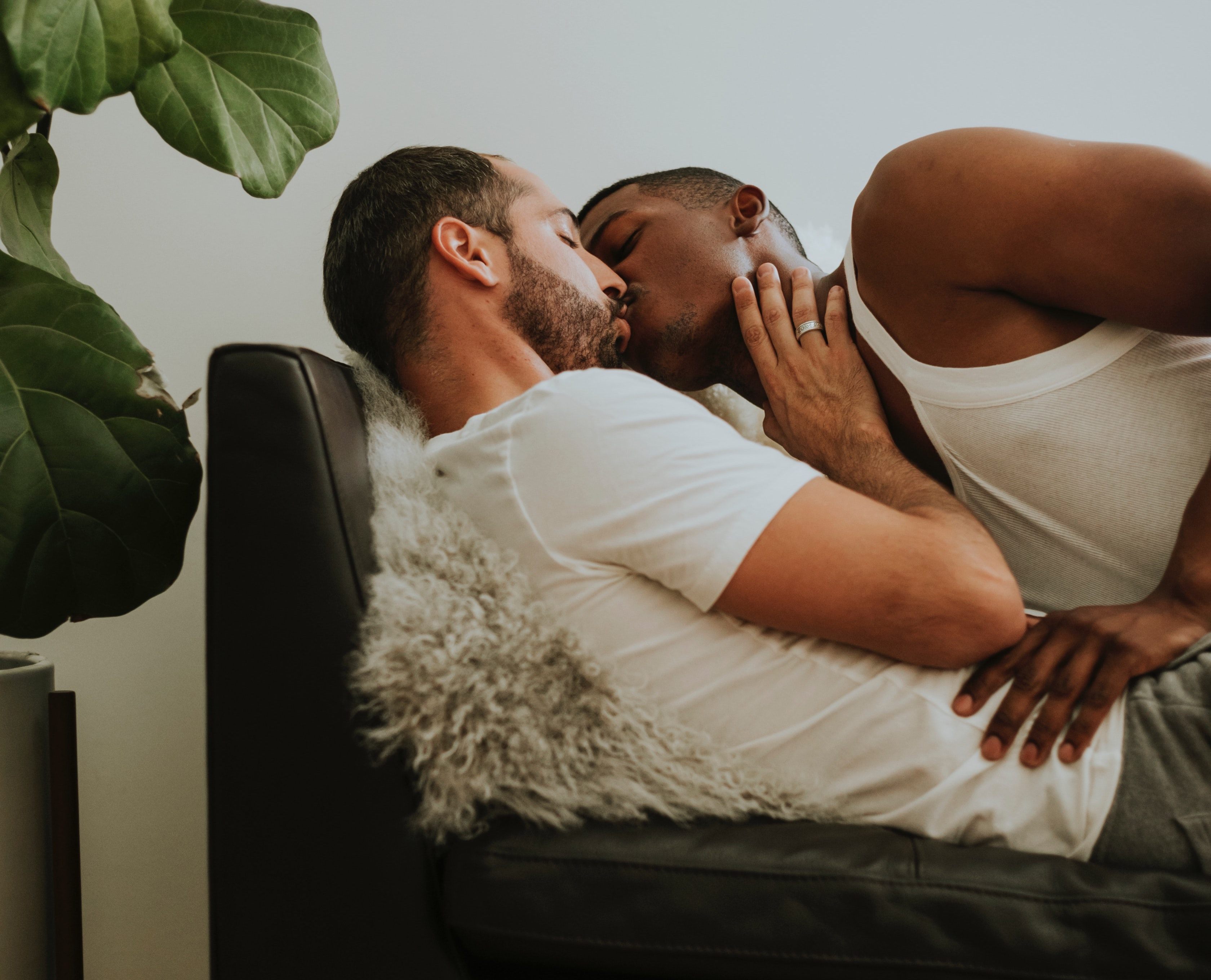 Inside a CVS Pharmacy
Rancho Bernardo, California
"We met for coffee at a nearby Starbucks, and after several hours of sitting and talking, we walked next door to the CVS. We paused in their outdoor garden department and shared a kiss." — Paul D. Bentz, San Diego, California
Onboard a Shipwreck
Ocean Shores, Washington
"My wife and I were both members of Civil Air Patrol (volunteer Civilian USAF auxiliary) and 18 when we had our first date during a conference at Ocean Shores. We went out to the wreck of the S.S. Catala and stood on the bow where I kissed her. The wreck above the sands was later chopped up and salvaged because some drunk fell off of it and broke her arm. Decades later, we went back to Ocean Shores for one of our anniversary trips. By coincidence, a storm had exposed parts of the Catala, including the spot on the bow where we had our first kiss." — Dennis Brooke, Auburn, Washington
In a Cinema, Watching Short Circuit
Durban, South Africa
"October 6, 1986: It wasn't even supposed to be a 'date.' We were just going to a movie together, him and me and my bestie from high school. Liz and I were on holiday, and Jim was showing us around town. Not too long into the movie, he made his move. We didn't see much more of the movie, and poor Liz was the unfortunate third wheel :) Jim and I have been married for 26 years now." — Jacs Bate, Durban, South Africa
While Parked at a Local Football Club
Welwyn Garden City, England
"We went to secondary school together and he was my first boyfriend when we were 12, but he dumped me! Then when we were 18 we started hanging around and going to pubs together as part of a group. One night he drove me home and for some reason he decided to pull into a small quiet car park so that we could 'chat' but it was me that made the first move. Twenty-six years later we are still together, married for 8 years!" — Hayley, The Netherlands
In a Chain Restaurant
Mexico
"I had been dating him a while. During the lunchtime meal, we had touched on some topics that made me cry, not in a bad way, but in a good way. I appreciated his tenderness in reacting to my display of emotion. Leaving the restaurant, I was overcome with a sense of affection for him and pulled him aside and kissed him full-on right in front of the restaurant with all the noon traffic looking on!" — Tom Harvey, Monterrey, Mexico
In a Historic Cemetery
Raleigh, North Carolina
"We were taking a walk through downtown Raleigh, and passed by Oakwood Cemetery. Oakwood Cemetery is one of Raleigh's most historic locations, and is notable for the luminaries buried there. Among the statuary and oak trees, I snuck a kiss which was well received thankfully! We then went to Krispy Kreme, because that's what young lovers do in North Carolina." — Max, Raleigh, North Carolina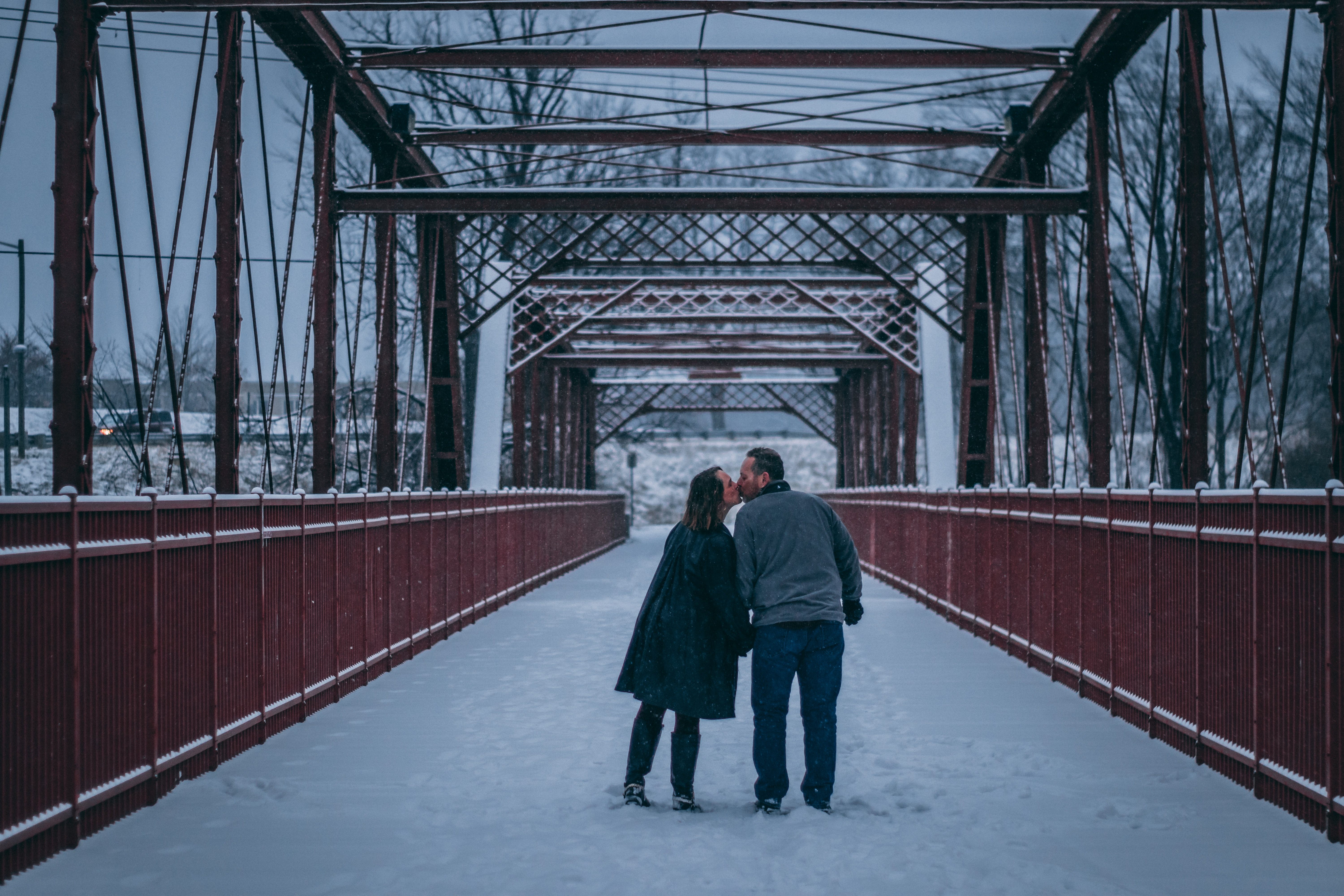 In a Car in the Suburbs
Beirut, Lebanon
"About a year ago, I was out on the second date with this highly educated, amazing man whose mind had turned me on like crazy. When we left the cafe we were dining at, and got into the car parked on the street, I couldn't hold myself anymore and made the first move. It was really scary for me, and he understood that, so he pulled me in for a second kiss, and that's how it all started. Fast forward a year, and we've set our wedding for May 2019 :)" — Myriam, Beirut, Lebanon
On the Sidewalk During a Scarecrow Festival
Woodstock, Georgia
"It was our second date, and we just finished eating dinner. It was a beautiful fall night. We decided to take a walk around downtown Woodstock, Georgia. The sidewalks were lined with eclectic scarecrows made by local businesses and schools. As we made our way down Main Street, I couldn't help but think, 'Gosh this woman is beautiful and I want to kiss her, but is it too soon?' I didn't want to leave it on the table and things seemed to be going well, so I leaned in and kissed her. The scarecrows looked on to see if I made the right decision and I had. She kissed me back and we've been lip-locked in bliss ever since." — Mike C., Acworth, Georgia
Outside a Bar
Mount Lebanon, Pennsylvania
"My husband was always shy and awkward around women. I knew that if anything were going to happen, it would be up to me. So, after going out for a beer, I decided to make my move. I closed my eyes and leaned in close and planted one on his whiskery cheek! He gave me the cheek! Humiliated, I jumped into my car and sped off. About half an hour later, he called me and asked, 'Did you just try to kiss me?' Mortified, I stammered for an answer. It turns out that my immigrant hubby thought we were doing the traditional Latino farewell with a kiss on both cheeks. He realized something was amiss when I bolted after only completing half the required cheek kisses. The next time I saw him, he greeted me with a long, slow kiss. The kind that weakens knees." — Katy Kennedy-Rodriguez, Pittsburgh, Pennsylvania
At the Ernest Hemingway House Gift Shop
Key West, Florida
"I'm from the U.S. and only speak English, she is from Peru and only spoke Spanish. With the help of an app, we were able to communicate with each other. First of all, I didn't consider this a 'date.' We had gone out to dinner the night before (with friends) and when I tried to give her a kiss goodnight, she turned her head, I kissed her cheek and she trotted off into the house. I was 100 percent sure that she wasn't interested in me, and I had already promised to take her to the Hemingway House in Key West the next day (she's an avid reader and Hemingway fan.) So considering the kiss attempt the night before, I kept a respectable distance and spoke only when she asked about something. At the end of the tour was the gift shop, and right outside its entrance, was one of those hand crank machines that imprints on pennies. She had never seen one before and was curious about it. I did my best to explain it, but decided it would be best to just show her. I reached into my pocket, and God as my witness, I had two quarters and one very shiny penny. Exactly what the machine required to work. I slid the money in, turned the crank, and out popped the penny, stretched to an oblong shape and imprinted with Hemingway. I gave it to her, she looked it over and smiled. She started to hand it back to me and I said, 'No, it's for you.' I swear you'd of thought that I just gave her the Hope Diamond. Next thing I knew, we were passionately kissing right there in front of that machine. We are now married, she speaks excellent English and I'm taking Spanish classes. The penny was made into a pendant that she still loves to wear to this day. It was by far the best penny I ever spent!" — Robert Jankowski, Key West, Florida