A $9 Million Chinese Vase Turned Up in a Central European Cupboard
It may have been crafted for the Qianlong emperor more than 275 years ago.
For decades, an ornamental vase with gilded, dragon-shaped handles sat in an open cupboard in a central European country home. Four cats roamed freely around it.
Cats may have nine lives, but delicate Chinese porcelain vases have only one. So it is fortunate indeed that this fragile 18th-century specimen, which may have been crafted for a Qianlong emperor, survived to sell for $9 million at a Sotheby's Hong Kong auction.
The vase surfaced to the public after its elderly owner, who inherited it long ago without any provenance information, decided to figure out just how much the foot-tall antique was worth. She'd always known it was a special piece: Its double layers essentially make it two vases in one. The outer wall is a lattice of peek-a-boo windows, painted celadon green with gold flourishes. A peep through this decorative screen reveals that the inner layer is also painted, depicting nine peaches in traditional blue and white. The vase is a stylistic mashup—classic blue and white on the inside, but yangcai on the outer wall, meaning that its "foreign colors" came from contact with Europe.
So the owner called Sotheby's to ask someone to take a look. The auction house's specialist immediately recognized it as a rare find. According to Nicolas Chow, chairman of Sotheby's Asia, interlaced vases like this one were only made between the 7th and 8th years of the Qianlong Emperor's reign, in the early 1740s. "The extremely small group of pierced, double-walled vases that were produced for the Qianlong Emperor provided probably the greatest technical challenge ever for the potters at the imperial kilns," adds ceramics scholar Regina Krahl, in her catalogue essay for Sotheby's. "The perfection of the execution is next to miraculous."
Soon after the vase was examined, its owner decided to offer it at auction. On the Sotheby's website, it's dubbed the Harry Garner Reticulated Vase, after a celebrated British collector who once owned this porcelain. (Curiously, it was not named after the Qianlong Emperor, who probably commissioned the object.) Garner, a mathematician and collector of Chinese art, is as far back as Sotheby's traced the artwork's sales history. He sold it in 1954 for £44, the equivalent of around $1,500 today. After bouncing between a few auction houses, the vase then entered the collection of Henry M. Knight, another European art collector.
But this short provenance doesn't even scratch the twofold surfaces of this 277-year-old vase. Where did it go after it was created in the famous Jingdezhen kilns in southern China—to Beijing's Forbidden City, or directly into the hands of European collectors? How did Garner acquire the vase? There isn't a clear answer.
The vase could have been made for the Qianlong Emperor, whose long and prosperous reign (between 1735 and 1796) was a period of rich artistic production. "Because of the extensive artistic output and the wealth of archival material," Chow explains, "there is more known about the arts and crafts under the Qianlong period than during any other." The name of the imperial kiln supervisor from this period is recorded, for example, and so we know that Tang Ying oversaw the potting, glazing, firing, and enameling of this piece and many others. "He is credited with many innovations at the kilns during his tenure, such as reticulated vases," adds Chow.
Sotheby's claims to have identified a description of this vase in the imperial inventory, placing it on display at the prestigious Palace of Heavenly Purity, where the emperor hosted banquets.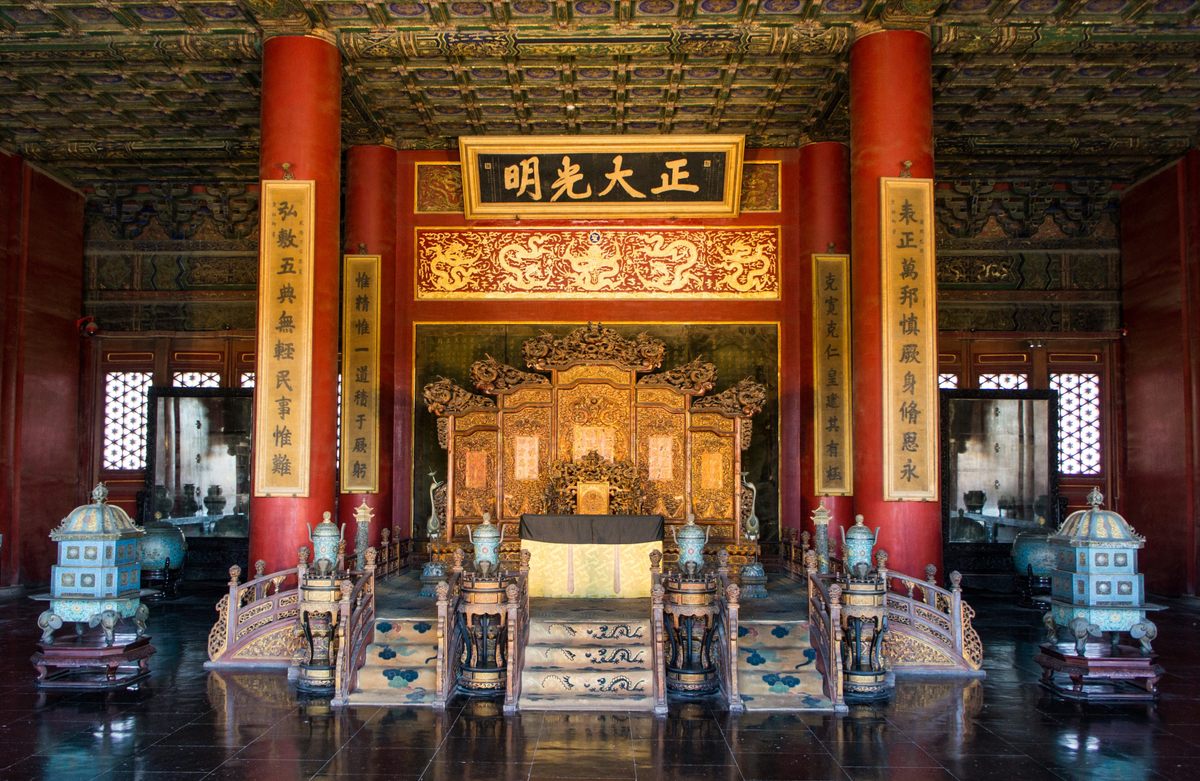 If this vase was kept at the palace, though, it would have been hard to remove from its distinguished display perch—at least until after the 19th-century Opium Wars. During that period, prized Chinese porcelains began mysteriously appearing in the collections of wealthy European and Americans. "A lot of these collections were formulated in the late-19th and early-20th century," explains Kyunghee Pyun, an art history professor at New York's Fashion Institute of Technology specializing in the history of collecting. "After the Opium Wars, from 1870 on, we see relaxed security at the Emperor's court. Eunuchs or other courtiers could steal something out of the imperial collection."
On the other hand, the vase's colors may hint that it was never meant for the palace at all. Yancai ceramics were "mostly for export and foreign markets," Pyun continues. "The imperial kiln was aware of foreign markets, so that's why they wanted to create something that was a novelty. Something extravagant, in a way. That particular ceramic is sort of an outlier in terms of Chinese taste for collectible ceramics."
What did Chinese collectors like instead? "A smooth and serene surface, and then exquisite colors," says Pyun. "So not really unusual shapes, or sculptural color."
Whoever this impressive vase was made for, it probably deserves a more descriptive name than the Harry Garner Reticulated Vase. In the meantime, the anonymous buyer who won the auction should keep one thing in mind: This beauty is best kept far from fidgety felines.