Meet Auntie Litter, the Rapping, Recycling Hero From My Childhood
Her "reuse, reduce, recycle" chant stuck in my head for years.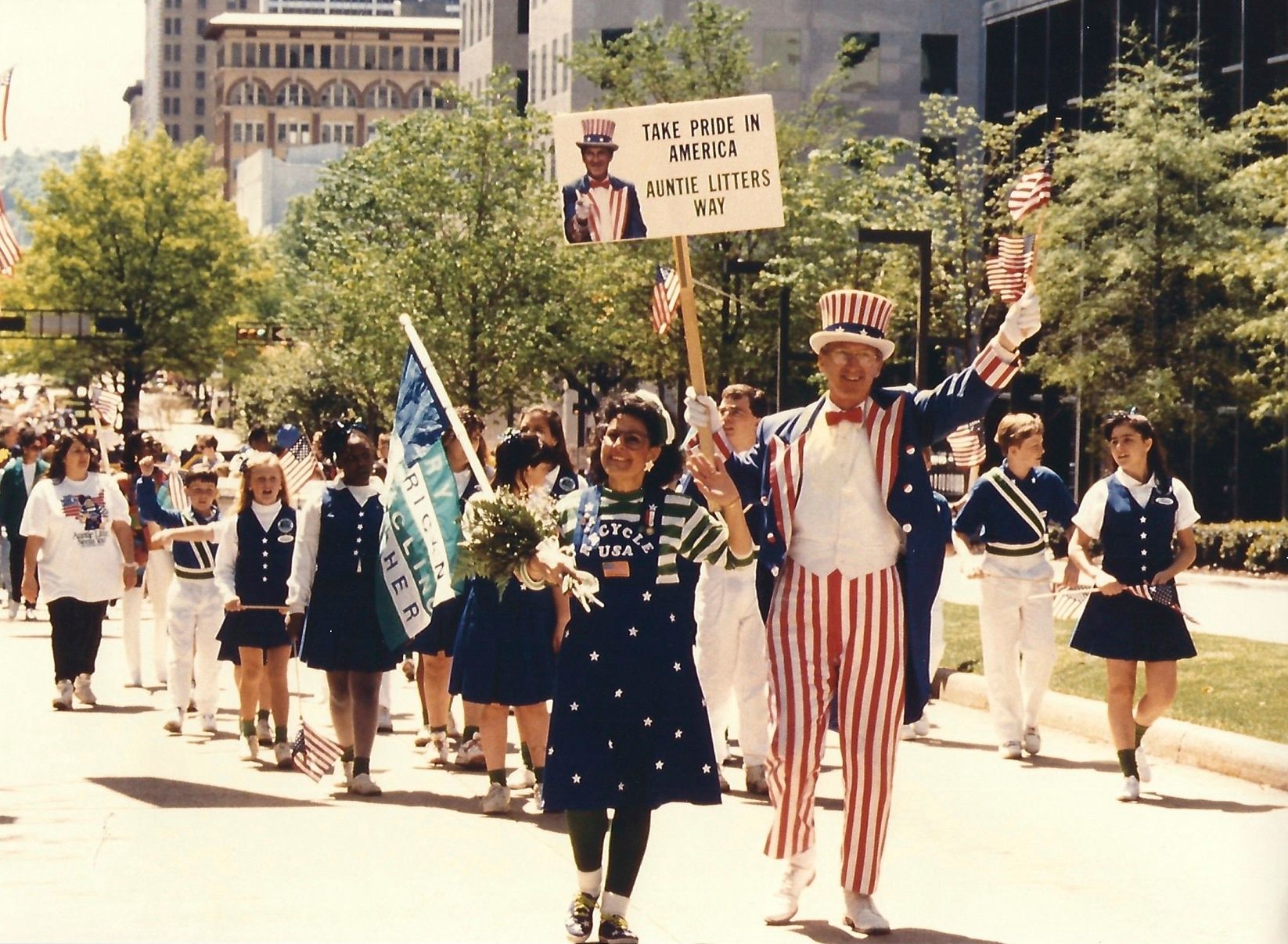 The idea for Auntie Litter came to Pat Mitchell in a flash, in 1987, on the beaches of Gulf Shores, Alabama.
Trash had been in the news that year: in the spring a barge from New York hauling 3,000 tons of garbage had been turned away from landfills in state after state on the Gulf Coast. Even without accepting another state's trash, that day on the white sand, it seemed that Alabama had more than enough of its own. Mitchell came by four boys throwing aluminum cans into the water; she saw a woman leave behind the detritus of her lunch on the sand. She came across a spread of oil cans and fishing jugs that had been dumped from some offshore ship and washed back onto land.
She prayed then, and by the time she was back at her beach blanket, a thought had blazed in her head. What if Uncle Sam had a wife? She would be the country's aunt…maybe she would be Auntie Litter.
Auntie Litter has been called a superhero, and, if that's true, this is her origin story. It took a few years before Mitchell was ready to suit up as her alter ego, in the green striped shirt and star-spangled blue smock dress costume she had dreamed up. But once she did, it stuck. 
"When I put that uniform on," Mitchell says, "I'm not Pat Mitchell anymore. I'm Auntie Litter."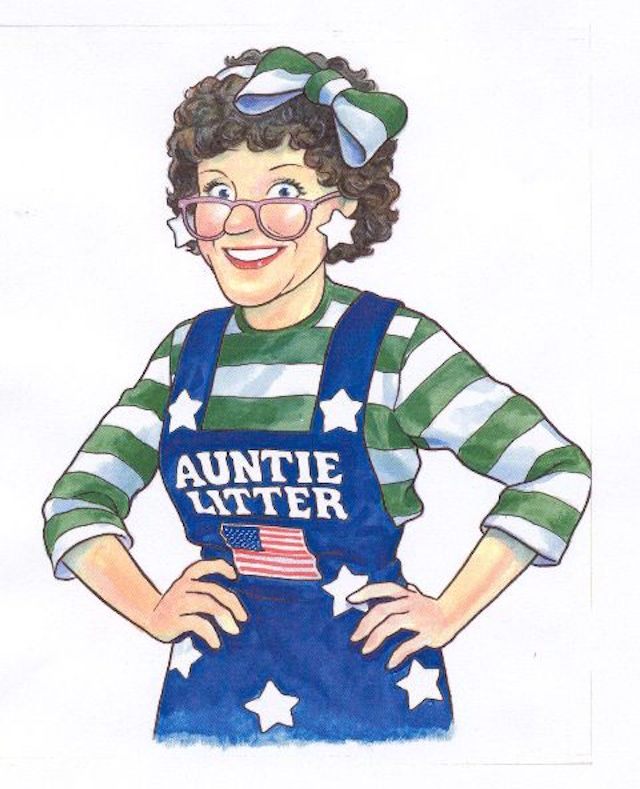 Meet Auntie Litter. (Photo: Courtesy of Pat Mitchell)
If, like me, you were born in the 1980s, you probably grew up inundated with a very specific type of gleefully '90s environmental consciousness.
The Cold War was over, and our new villains were pollution-based. On TV, Whoopi Goldberg voiced Gaia, the earth mother force who brought Captain Planet into being. There was the Rainforest Rap, which featured a wide-eyed, blond-haired white guy in a dumb hat and beats as bright and cheerful as an over-sized shirt worn with neon leggings. The trope was popular enough to be satirized years later on 30 Rock, with the advent of Greenzo, played by David Schwimmer, as an environmental mascot who gets drunk with power. 
As cheesy as these environmental education campaigns seem, somehow they could get stuck in your head forever. (The refrain to that Rainforest Rap? It's exactly as I remember it.)
Auntie Litter never had a television show, but she wormed her way into my brain all the same. I remembered her as a woman who danced at my Girl Scout camp as we sat on wooden benches, and while it might have taken me two decades to get the Auntie Litter pun, the rhythmic repetition in her Recycle Rap made it into my long-term memory.
As Mitchell describes her show, my brain coughs up an incredible number of details, some real, some imagined. It all had a spectral quality. There was a whole table of items she showed—examples of what could be reused or recycled—and there was a giant, bright orange Tide box! She had rescued it from her neighbor's trash, she told me, and when she shows it to kids today, she can tell them it's older than they are. (And maybe that was where my idea of her orange hair came from: my brain had just transposed the color of the box onto her head.)
In a way, this was the same experience that Mitchell had, after she first imagined Auntie Litter in 1987—the character haunted her, she says. She would wonder: Who is Auntie Litter? What does she wear? Is she old or is she young?
She kept trying to exorcise the character from her brain by giving it away to environmental organization, until her cold-calls led her to the EPA. The woman she talked to there told her, "Why don't you be the first Auntie Litter? Just make an appearance at your Earth Day in Alabama, and see what happens."  
So she had the costume she had imagined made, and went to Earth Day, in Birmingham, Alabama, where we both lived at the time. She stood in front of a banner that said "Auntie Litter Needs You," and handed out litter bags. "You just feel like you could get out there and save the world," she says. "I knew Auntie Litter would leave a lasting impression, more than Pat Mitchell."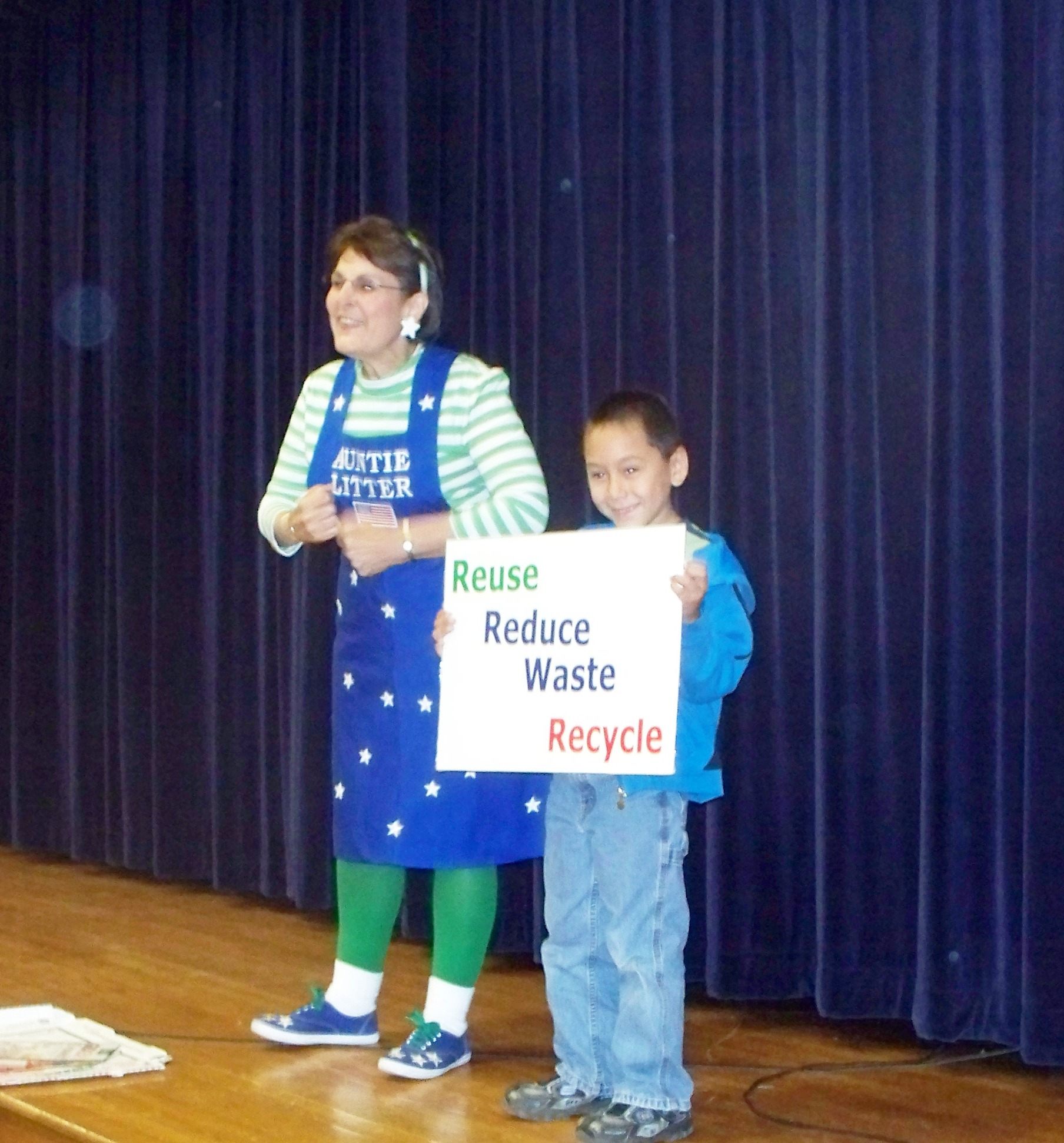 Auntie Litter performs at a school. (Photo: Courtesy of Pat Mitchell)
Soon, Auntie Litter was being booked at schools, and since Mitchell had been an elementary school teacher, it wasn't such a stretch to be teaching as Auntie Litter, although now she was performing for hundreds of children. She started spending "quite a bit of money" traveling around the state and performing for free, and in 1990, she created a non-profit organization and started to raise funds to support Auntie Litter.
The next year, she applied, via a spanking new fax machine, for the White House-sponsored Take Pride in America award, and that July she was in Washington, meeting President George H.W. Bush. She started writing more songs, and formed a Pollution Patrol of kids to sing with her. Foundations and companies in Alabama were giving her sponsorships; Walmart became a supporter. In 1996, when the Olympic torch came through Birmingham, Auntie Litter was one of the people who carried it.
Auntie Litter and the Pollution Patrol once performed in Washington. (Photo: Courtesy of Pat Mitchell)
If you do this kind of work, you have to wonder what kind of impact you're having. Since Auntie Litter came onto the scene, recycling has been mainstreamed into American waste management. But there are still some places in the country that don't have recycling programs, and Americans create as much trash as ever. The basic issues have changed little enough that there's now a next-generation trash-talking superhero, Mr. Eco.
Mr. Eco's secret identity is Brett Edwards, who created the character while he was still in college. He had an internship promoting energy efficiency to students on campus, and he noticed that people weren't really receptive to the message, in the way he had to deliver it. He rapped on the side, "about normal rapper things," under the name Mr. E—it sounds like "mystery"—and he thought he might try rapping about the environment.
Like Mitchell, he knew his character had to be more memorable than just a guy rapping, and that was how Mr. Eco came to be. Edwards dressed his character in a chain with a CFL light bulb on it ("You need to get that bling out there," he says), and a cape. Once he had the costumes, the songs started coming: he's currently raising funds, via Kickstarter, for his second album, "Renewable Rap." Of all his songs, Litterbug, he says, is a fan favorite.
Maybe this song will stick in the heads of elementary school kids today the same way that Auntie Litter's Recycle Rap stuck in mine. If it does, though, it could be years before Mr. Eco finds out. The only indication Mitchell has that Auntie Litter made a difference is when people like me tell her that we remember when she came to our school or our camp or church. It happens every so often, and she'll ask: Well, do you recycle? And we do.
Even after all these years, Auntie Litter is still on a mission. Mitchell is working on developing a series of children's books so that Auntie Litter can continue to live on in cartoon form, and she's always thought that some government agency—maybe EPA, maybe Department of Interior—could take Auntie Litter and build a standardized environmental education campaign around the character. There's already Uncle Sam and Smoky the Bear; why shouldn't Auntie Litter join their ranks? "I still believe she has a place," says Mitchell.