The Perils and Pleasures of Jack Jumping
Vermont's homegrown, DIY winter sport isn't going to make the Olympics, but it looks like great fun.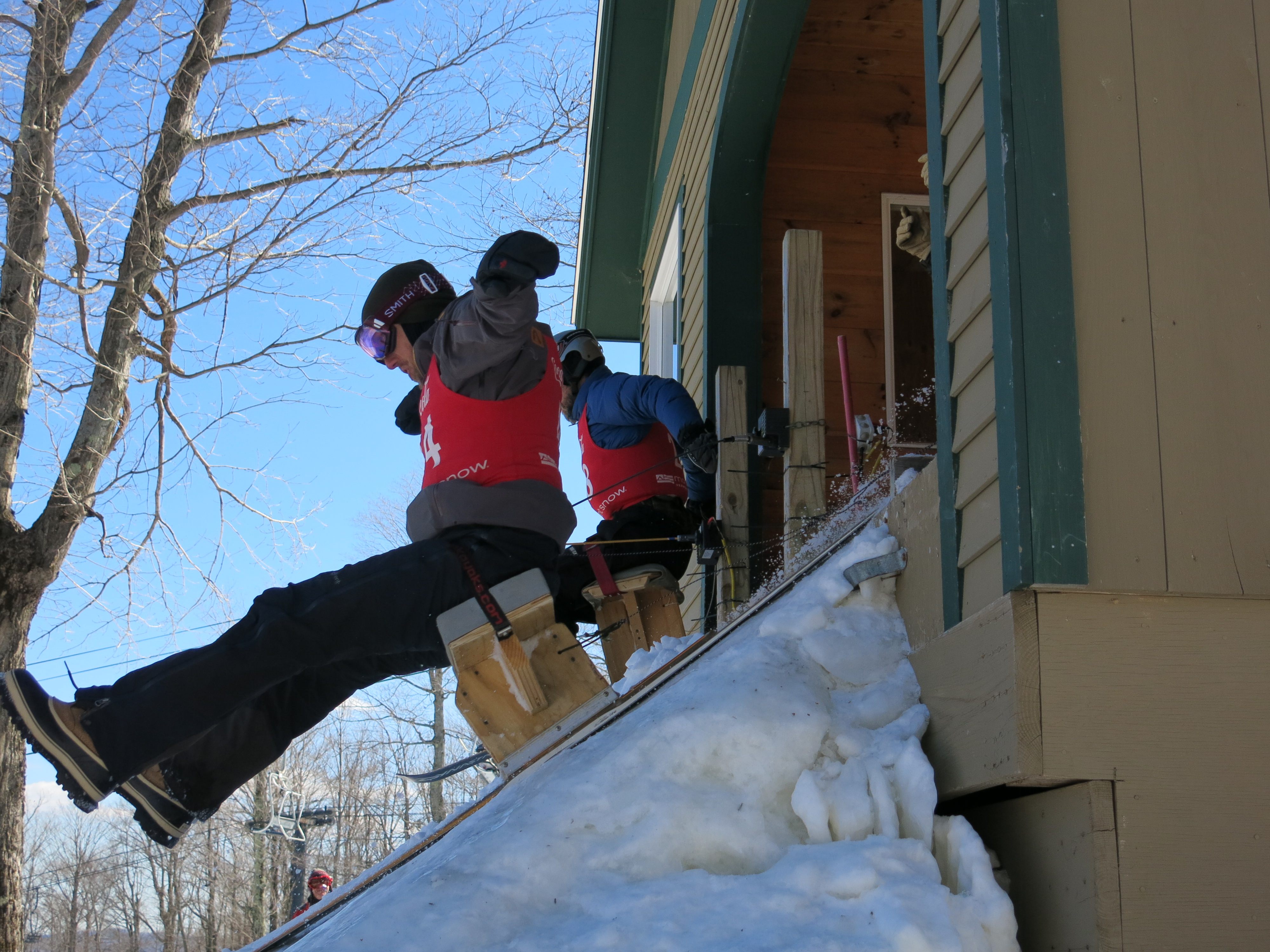 Skis, the snowboard, the toboggan, the bobsled, the luge, the inflated tube: Humans have designed plenty devices to get from the top of a snowy hill to the bottom. But some Vermonters aren't satisfied by sleek, mainstream, mass-produced equipment. A small but thriving community in the Green Mountain State is enthusiastic about a sport you definitely won't see in the PyeongChang Winter Olympics—jack jumping, a bizarre hybrid of sledding and skiing using a homemade device that looks like a seat perched atop a single ski.
"Jack jumping is its own crazy sport, filled with the best people. It takes a special type of person to get on a homemade ski and throw yourself down a mountain," says Dani Huckabone, an 18-year-old New Englander, by text message while she is on a gap year in Argentina. "There are always people on the chairlifts looking at you and pointing, because it looks INSANE when you see a group of 10 or 15 people on 'sit-skis' going mach speed, weaving in and out of the other skiers."
Huckabone's father introduced her to jack jumping when she was 14. Four years later, she is the top woman in the sport. Her one-minute-seven-second ride at the Mount Snow World Championships last March was the fourth-fastest time overall.
Like all jack jumpers, her ride is homemade, cobbled together from her aunt's old skis and foam recycled from a kayak. She and her father also used old kayak straps to create a sort of seat belt for the chair—a common modification that is not always popular with jack-jumping traditionalists. "With more confidence in knowing we aren't going to go flying off our chair mid-turn, you are therefore more capable of giving it your all and laying your whole body out at every gate," says Huckabone.
On the surface, a jack jumper bears some resemblance to the more engineered and professionally designed monoskis used by Paralympic skiers and the devices used in an obscure European sport called skibok. But those devices feature different controls, such as poles or extended handles.
Sliding downhill on a single ski, with no poles for balance, can sound like a bad idea, but longtime jack jumper Alex Bunten swears it's actually easy. "All you do is sit down and lift your feet. If you lose your balance you just put a foot down," he says. "After a run or two, people get the hang of it." Higher levels of competition require more control, he says, and top jack jumpers to use their core more than their feet for balance and steering.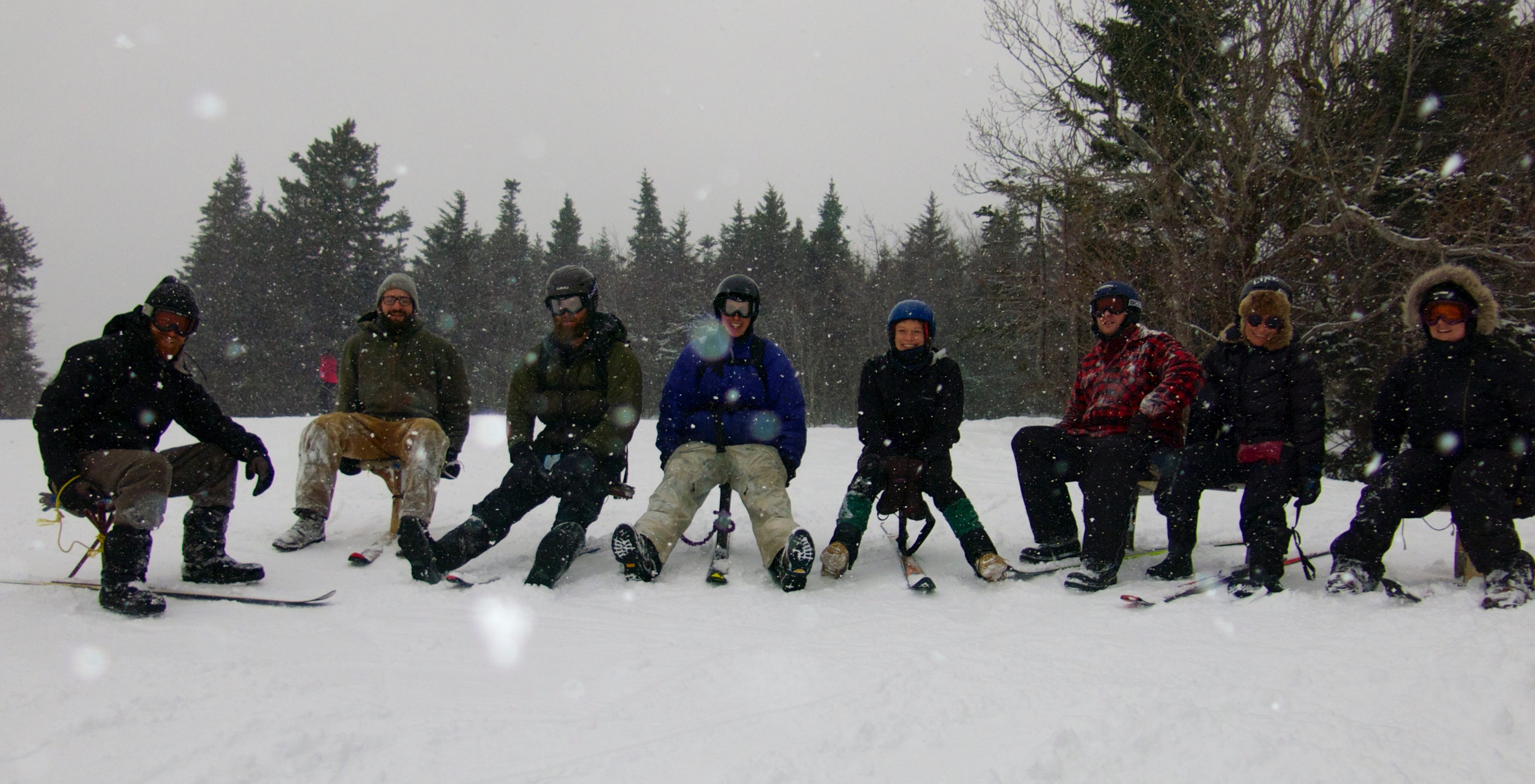 The sport offers a different kind of thrill than skiing, Bunten adds. "We've sometimes compared it to luge, because you are low and when you're going pretty fast you are basically parallel to the ground," he says. "It's a very cool feeling to be low down."
Huckabone lived in New Hampshire when she started jack jumping, but her father had learned about the sport from a friend in Vermont. Jack jumping is highly localized there, where legend has it that the first jack jumpers were used by lumberjacks to zip down the mountains after work. Perhaps it's no surprise that the classic versions are made entirely of wood. It still thrives in the area around the small town of Charlotte, where those who practice it value the do-it-yourself, backwoods nature of making and using a jack jumper of one's own design. Jack jumpers aren't allowed on very many ski lifts, so groomed slopes and warm lodges are often out of the question.
The sport appears to be growing thanks to "a bunch of younger folk who are picking it up as an alternative to the glitz of the ski areas," says 61-year-old David Garbose, co-owner of the Mt. Philo Inn in Charlotte. Garbose lets his guests borrow from a collection of 16 rides, including jack jumpers, to use at nearby Mount Philo State Park.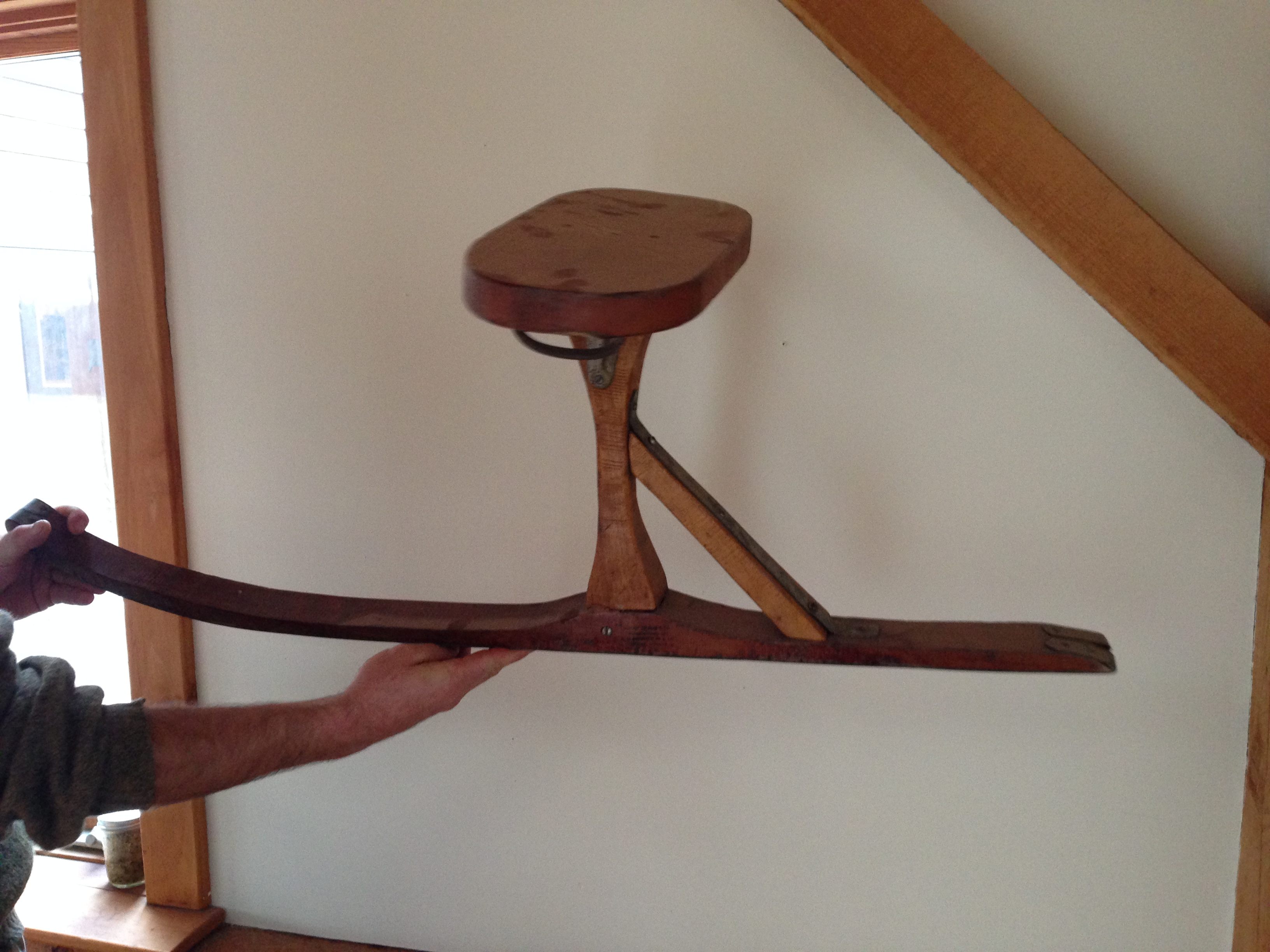 "It's low-tech," he adds. "It's the experience of being out in a relatively quiet, low-key area with beautiful surroundings and having a simple device to get down the hill." After a few jack-jumping runs, he adds, many people also "like to smoke a lot of weed." (The recreational use of cannabis will become legal in Vermont in July.)
Bunten, who jack jumps with his brother and their friends, is a Charlotte native and paints a similar picture of the activity, at least in its recreational form. "It's kind of like a bunch of dudes going into the woods hanging out," he says. "You're going up there with your boots and no special equipment other than this kind of gangly looking device slung over your shoulder." And yes, he says, confirming Garbose's observation, "Occasionally there is some enjoyment of some local herbs and spices."
Another exciting part of jack jumping, according to Bunten, is seeing people gawk when you go shooting past them on a sledding hill on a strange contraption. "We've got some artists and engineers in our group that make these wild seats. And some people use sprung steel and bike shocks. There's definitely a culture of innovation," he says.
"Everyone who sees them is like, 'Wow, where do you buy one of those?' and I'm like, "you gotta make them yourself!'" says Bunten. "And they're like, 'Oh, alright, I'm not too handy, what do I do?'"
Bunten's reply: "Welp, start training."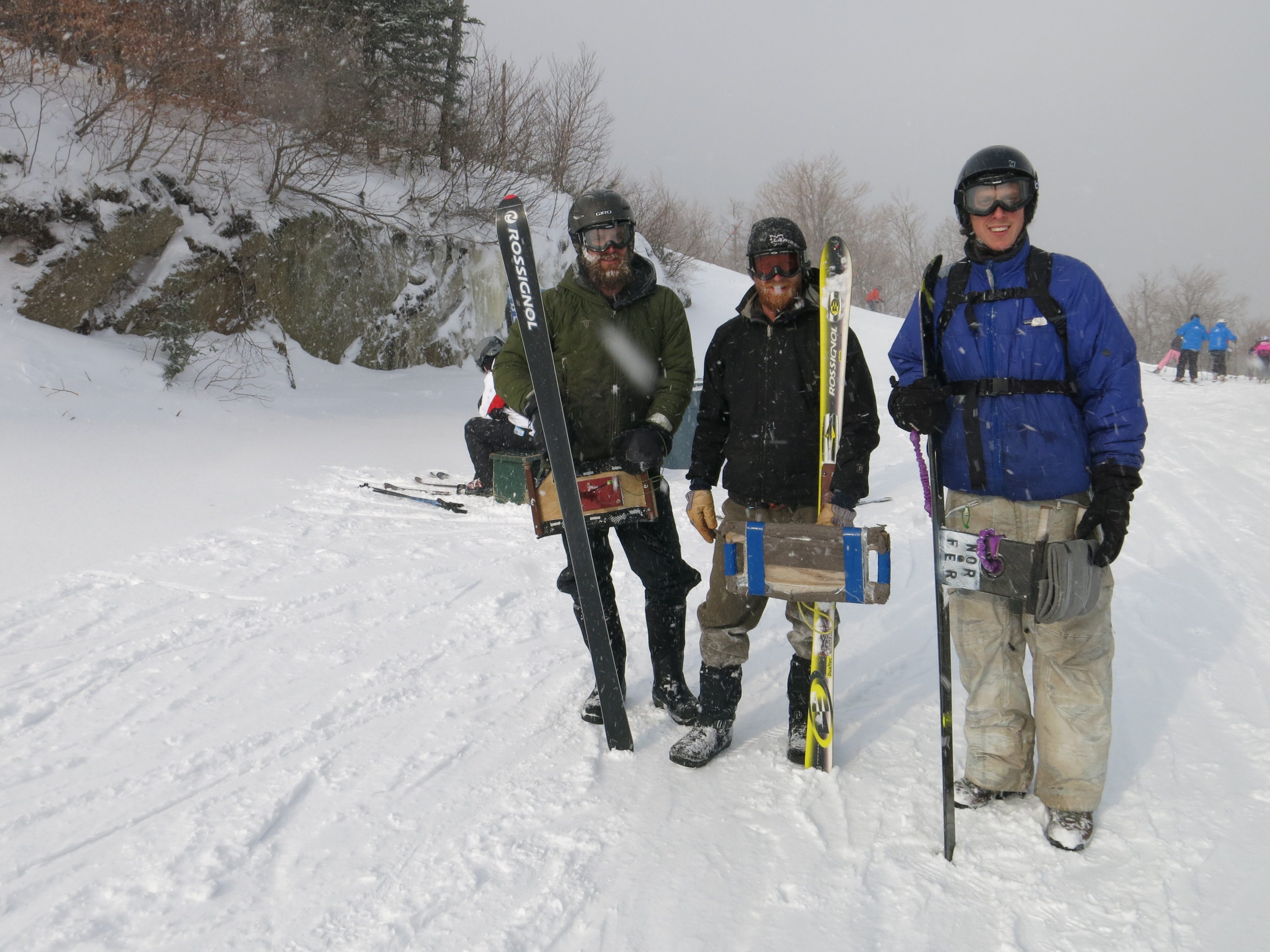 On March 4, between the closing ceremony of the Olympics and the opening of the Paralympics, jack jumpers will hold their next World Championships at Mount Snow, Vermont. Bunten, who hopes to redeem himself after a crash last year, has an experiment planned for this year.
"The course we use is also used by skiers and snowboarders. I heard a rumor that we go down it as fast if not faster," he says. "This year I'm going to try to back up that claim by bringing someone—a semiprofessional or professional slalom runner—to see if we can't do a little comparison there."
Snowboarders used to be the black sheep at ski resorts, but they are now a widely accepted part of the community and all over the Olympics. It doesn't seem likely that Bunten, Huckabone, and others will be tearing up a slalom course near Beijing in four years, but hey, you never know.