The 'Iron Lady' of Kashmir
For more than 30 years, Parveena Ahangar has looked for those who have disappeared in Indian-administered Kashmir.
Wearing a Kashmiri traditional cloak, Parveena Ahangar flips through old newspaper clippings. She has carefully laminated scores of them over the last two decades. Each clipping tells a story of loss. On the wall of the office where she sits is a huge board with names of the people Ahangar has documented as disappearing in Kashmir since the 1990s.
One of those people is Ahangar's son, Javaid.
Ahangar was a 30-year-old housewife in Indian-administered Kashmir when her 16-year-old son Javaid disappeared. "He was picked up by the security forces on 18th of August 1990 from his cousin's home where he had gone to study. Early morning a neighbor told us that there was a raid and that my son was arrested," Ahangar says. "It was a shock as he was an innocent boy who had just joined college."
In her desperation to locate him, Ahangar knocked on the doors of politicians, administrators, lawyers, and other influential people in Kashmir. She visited places that otherwise remain "no-go" zones even today: army camps, police stations, torture centers, remote forests. To her dismay, every effort to find her missing son failed—but she did find others who were also searching for loved ones who had disappeared.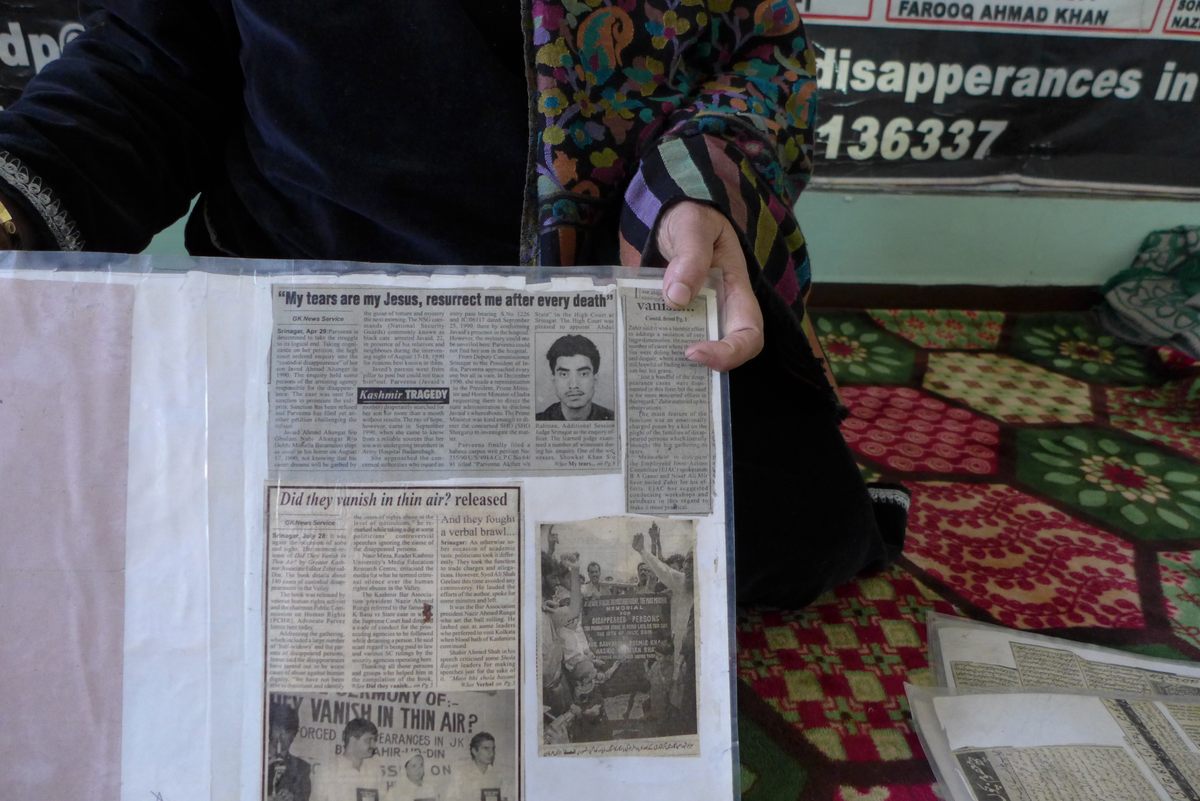 "I met people who would narrate similar incidents at the minister's offices. We would get nothing except being hushed away every time," Ahangar says. "My search led me to meet people like me and I felt that I wasn't alone."
Ahangar, now chairperson of the Association of Parents of Disappeared People, estimates that at least 8,000, and perhaps as many as 10,000 Kashmiris have disappeared since conflict in the region began in 1989.
---
The search for Javaid was never going to be easy for a young woman who had three other children to attend to and a house to maintain. It was socially unacceptable for a woman to challenge the authorities, and Ahangar's insistence in pursuing her son's disappearance caused conflict within her family, too.
"My relatives were angry with me for the fear of me getting hurt in the process," she recalls. "My husband too felt that besides putting my life in harm's way, I had also ruined the life of my other children continuing my struggle to find my lost son." Ahangar was not cowed. "I told them I will continue with my fight even if the skin of my feet comes off."
"People would try to stop me citing the consequences, but I could not give in," she says. "I would hardly see my daughter's face as I was always out trying to find the whereabouts of the people subjected to enforced disappearance. But as my children grew up, they have supported me in this fight."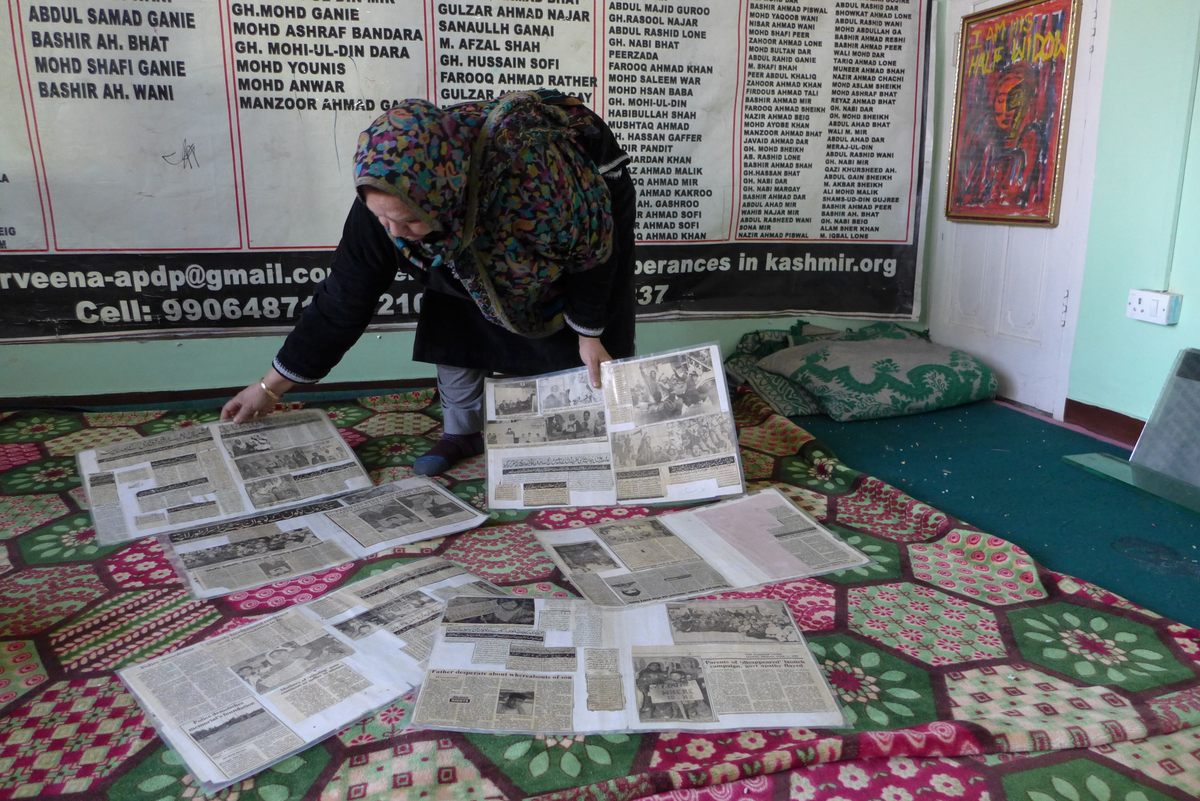 In the more than three decades since her son's disappearance, Ahangar has become a symbol of resilience for others like her. "I started the journey as a single person and with each year people joined and it became a solidarity group," Ahangar says. In 1994, she co-founded the Association of Parents of Disappeared People (APDP) to address the disappearances.
Kashmir has been a contested region since it was split into two after the partition of India and Pakistan in 1947, and three wars have been fought in the region in the years since. As of 2015, the Jammu Kashmir Coalition of Civil Society estimated between 650,000 and 750,000 Indian soldiers, paramilitary, and police were deployed in Indian-administered Kashmir. And according to Ahangar, the last two decades have witnessed countless number of human rights violations which included extra-judicial executions, custodial deaths, custodial torture, rapes, and the disappearances.
Authorities have denied the allegations claiming that most of the missing people crossed the heavily militarized Line of Control to Pakistan-administered Kashmir, for arms training. But APDP maintains that "a majority of those disappeared are young men, including minors besides people of all ages, professions, and backgrounds, many of whom have no connection with the armed opposition groups operating in Kashmir."
By the time she formed the organization, Ahangar knew that there were countless like her who had lost their loved ones and didn't know whether they were in any jail or had been killed. She also knew that she had to identify such families and reach out to them. She believed a louder, collective voice of concern might shake the authorities. She started with the vernacular Urdu newspaper Alsafa, which published reports of enforced disappearances.
"I would collect the cuttings and would go to their homes to search for the families and assembled the people from villages and city. We didn't get justice anywhere neither in court nor in any office, but the group gave me strength and motivation to fight," she says.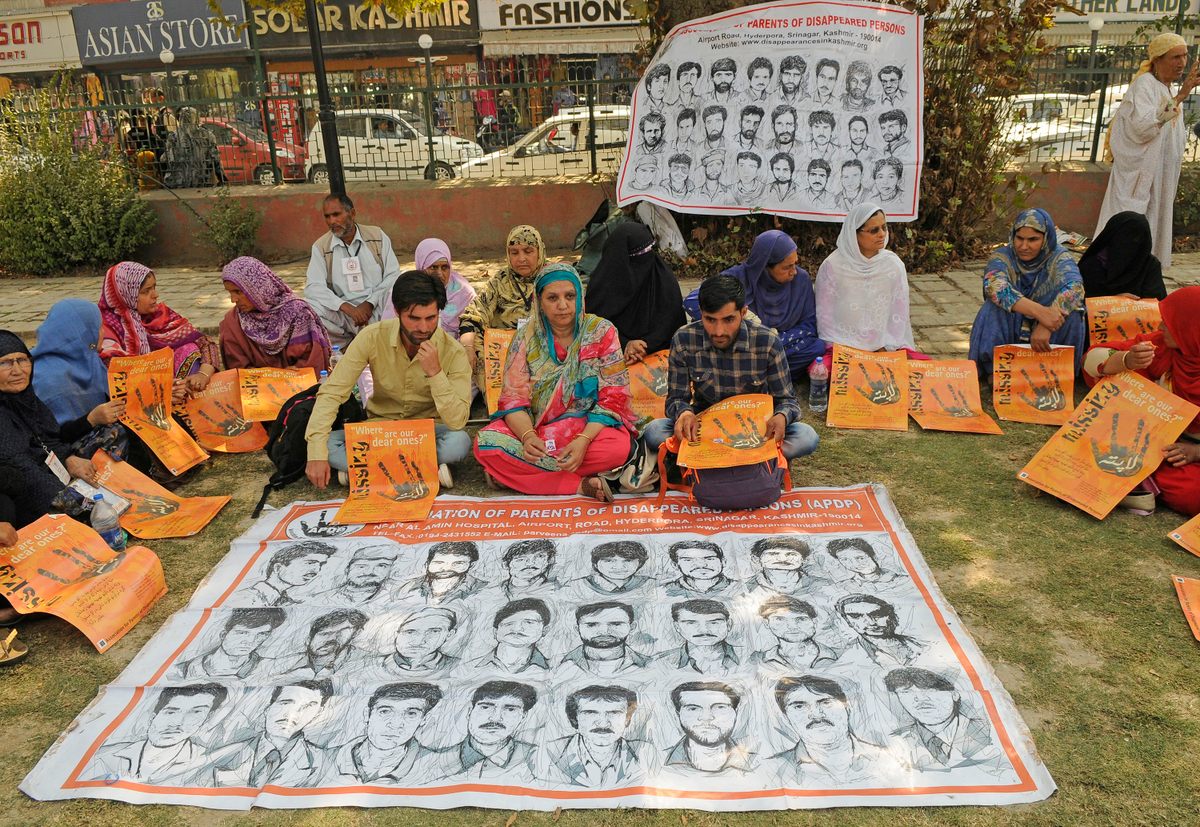 Beginning in 2004 Ahangar, who has been nominated for a Nobel Peace Prize and awarded the Rafto Laureate in 2017 for her work, hosted a silent protest on the 10th of each month in Srinagar. She and others affected by the disappearances held signs reading "Where are our loved ones?" (The protests ended with a crackdown in the region and the start of the pandemic.)
For Ali Mohammad, whose 18-year-old son disappeared in 1991, Ahangar has been a pillar of strength. "We have been waiting for justice for decades now, but she has been with us through all the years, fighting, protesting. She is always there whenever I needed any help. The years of struggle has united us like a family," Mohammad says. "If she wouldn't have stood like a wall we would have crumbled."
---
More than 30 years later, Ahangar is still desperate to know if her son is dead or alive.
"When a person is martyred or killed at least we see the body, touch it and there is an emotional end that the person is no more. But when a person disappears it is very hard to live with the longing. The thoughts pierce your heart every day. You keep thinking what happened to him, is he alive? And these all thoughts are unending," she says.
Ahangar never expected this would be the cause of her lifetime, but now she knows that it is. "The years have been very hard with many struggles, and I have been fighting for justice for the last thirty years and I will continue till the last breath of my life," she says. "We have to die one day, but I want to do something and then die."