Found: A Vivid Blue Hole in the Great Barrier Reef
Look what Google Maps can reveal.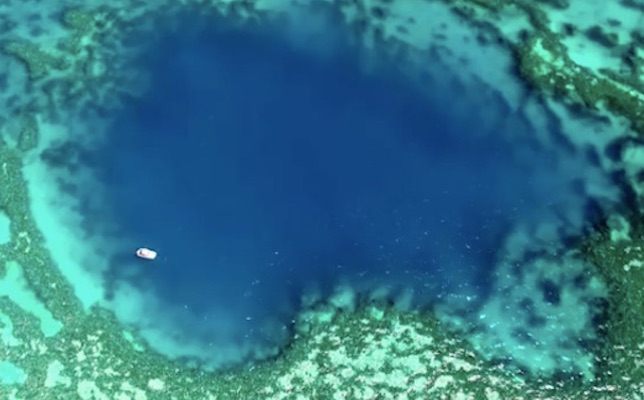 Johnny Gaskell, an Australian with a love for marine biology and underwater photography, was looking on Google Maps when he spotted a surprise—a deep blue hole. Blue holes are underwater sinkholes, where the carbonate bedrock drops deeper than the surrounding sea floor. The depth of the water in these spots makes the water appear a deep, enticing blue.
Gaskell, who according to his LinkedIn page is a researcher for Sharks and Rays Australia, took a boat out to the location where the hole should be, "out further than our normal Reef trips," he writes on Instagram.
There, he and his companions found a blue hole about 50 to 65 feet deep, which was home to "huge Birdsnest Corals" and "super elongated Staghorn Corals." These specimens, Gaskell reports, "were among the biggest and most delicate colonies I've ever seen."
This blue hole is far from the deepest in the world (that's the South China Sea's Dragon Hole, which goes 987.2 feet down) or the largest (the Great Blue Hole of Belize is 984 feet across). But its location in the Great Barrier Reef, which is the largest reef in the world, makes it a special attraction.
Gaskell seems to have named this newly discovered blue hole after himself—he refers to it as "Gaskell's blue hole"—but wants to keep the location under wraps for now. Although, presumably, if you really want to find it, you just need to spend some time on Google maps.