A Roman Emperor's Villa Is Now Producing Olive Oil
Hadrian's estate has trees found nowhere else on Earth.
When French writer Marguerite Yourcenar first visited Hadrian's Villa in Tivoli, Italy, she was mesmerized by what she defined as its "wild and free ruins." A black and white photo from 1924 shows the 21-year-old writer standing by crumbled walls against a background of cypresses and olive trees.
During that trip, Yourcenar jotted down some notes that, decades later, would be turned into her masterpiece, Memoirs of Hadrian, a fictional account of Emperor Hadrian's life based on both her imagination and historical documents.
"Last night at the Villa I thought of the thousand silent existences that have lived here between the time of Hadrian and us," she wrote during her visit, referencing not only the human, but also the animal and plant life that inhabited the villa in the 2,000 years since its founding.
Appreciation of Villa Adriana and all its historical residents has only grown since. In fact, the 250-acre archeological complex located in Tivoli, 20 miles outside of Rome, has inspired an unlikely collaboration between art historians and farmers.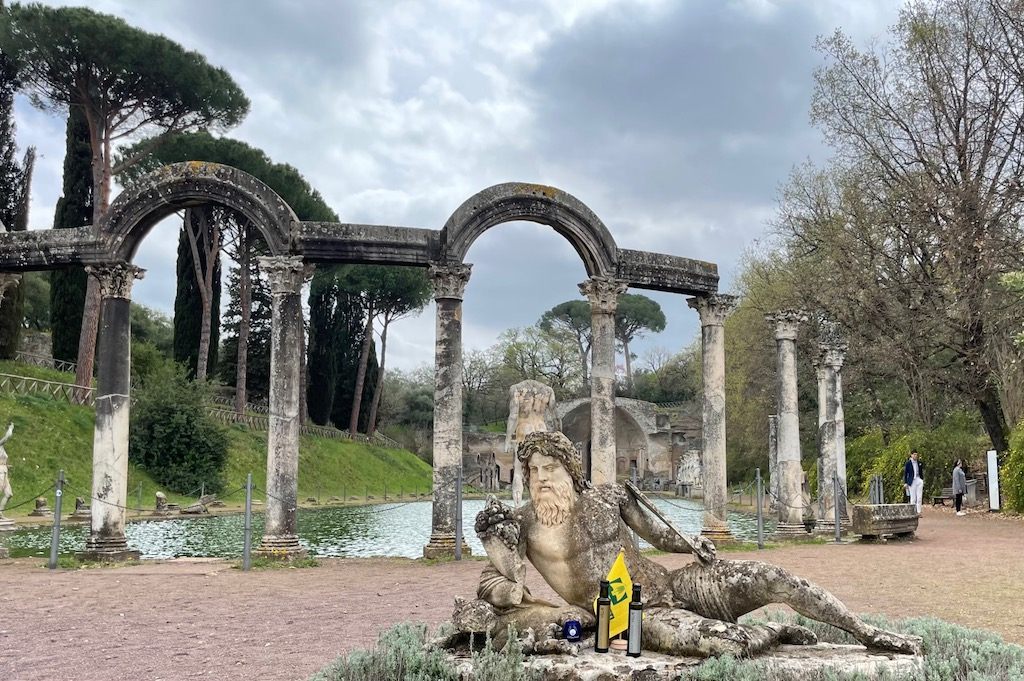 Today, Hadrian's Villa produces around 1,500 liters of olive oil yearly, made from olives harvested from the 3,000 olive trees in the villa gardens. "Because of their age and the way they have become part of the landscape, the olive trees of Hadrian Villa can be thought of as a green monument," wrote David Granieri, president of the local chapter of Coldiretti, Italy's farmers association, in a press release.
To preserve the villa's unique botanical heritage, Coldiretti, together with Italy's olive farmers association, reached out to Hadrian Villa's curators to propose the olive oil venture back in 2018. These days, harvesters take the fruits from Hadrian's Villa to an olive crusher in the nearby town of Palombara Sabina, where they are turned into golden oil. Recently, Olea Hadriani (Hadrian's oil, in Latin) was officially recognized as a product of Rome, according to the European Union's Protected Geographical Indication (PGI) classification.
Emperor Hadrian, known as omnium curiositatum explorator, an explorer of all curiosities, built the Tivoli estate between 117 and 138. Its buildings combined elements of Egyptian, Greek, and Roman architecture that he witnessed during his extensive travels across the Roman empire. Famous features include the Maritime Theater, a circular structure surrounded by water where Hadrian spent time reflecting and meditating, and the Canopus, a statue-lined oval pool representing the river Nile. Hadrian included gardens, farmed areas, and patches of wilderness into the estate's design.
After his death, the villa passed into different hands until it was abandoned by the 6th century. For nearly a millennium, the complex was used for radically different purposes than the one intended by its founder. Foreign troops used part of the estate as their headquarters, local farmers used the land to grow crops, and builders would notoriously steal marble and other stones needed for new buildings in the area.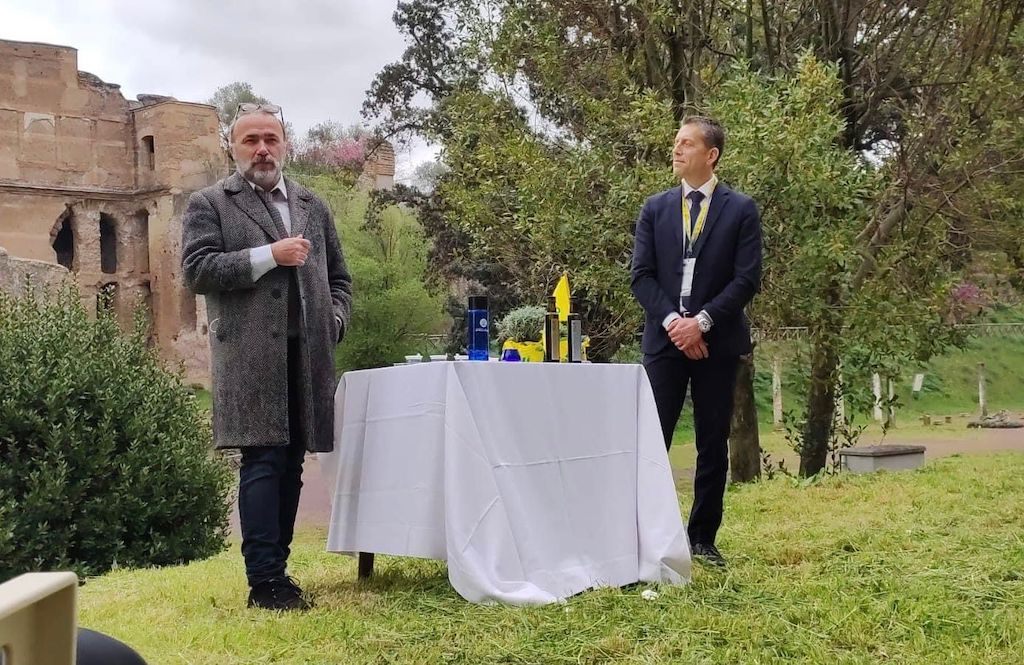 It was only in the 15th century that the estate was "rediscovered" and treated as a monument. Throughout the centuries, olive trees were silent witnesses to the villa's highs and lows.
"We know from visitors' notes that there were olive trees in the area for centuries," says Andrea Bruciati, an art historian and director of Hadrian Villa archeological complex, adding that the majority of olive trees used for current production are only a few hundred years old. As many as seven different cultivars of olive trees grow on the estate, including one totally unique variety called Albero Bello, or the beautiful tree. Dating to the 13th century, the tree stands 52 feet tall. Last month, the villa produced special olive oil made only from the olives of this nearly thousand-year-old giant.
Putting the olive grove back in production, Bruciati says, allows for an active preservation of the villa's botanical heritage and highlights the surrounding landscape, as Tivoli has been known for its olive oil farming through the ages. "We want to preserve the olive trees not just for their aesthetic value but for their actual productive value," he notes.
For now, Olea Hadriana is not available to the public. Its production is intended only for visitors to the villa to taste. In the fall, guests can witness the olive harvest, while school groups attend open-air lessons about olive oil production. Such gastronomical events, Bruciati explains, allow for a different kind of experience on the land on which the archeological complex stands. "I have always thought of Hadrian Villa not just as an archeological entity, but as a place where visitors can engage in slow and thoughtful exploration," he says.
Gastro Obscura covers the world's most wondrous food and drink.
Sign up for our email, delivered twice a week.