The Colorful World of Edible Flowers
A new book catalogs 105 floral ingredients for everything from pasta to pies.
At most sit-down restaurants, a skinny vase containing a flower or two on every table is as common as cutlery and placemats. But occasionally, flowers end up alongside or atop the food. Take an orchid in your cocktail: Some might pick out that orchid and set it aside, or put it into their hair. What they might not know is that the orchid is edible. Actually, according to the upcoming book Edible Flowers: How, Why, and When We Eat Flowers, "all orchids within the genus Dendrobium can be eaten." That includes, author Monica Nelson writes, the colorful karma orchids so common in tropical drinks.
Orchid flowers ("dense and crisp like endive or watercress") have their own entry in the book, along with 104 other edible florals. Most people aren't completely unfamiliar with eating flowers. Around the world, people enjoy fried zucchini flowers, bright red drinks made from hibiscus petals, and sweets flavored with the essence of rose.
But this guide takes floral food a few steps further, covering the history and common uses of flowers in the kitchen. Take the camellia, for example. You probably have some dried Camellia sinensis in your kitchen, as tea. Your garden may have a Camellia japonica plant, but instead of its large, glossy leaves, Nelson writes that its "petals can be candied and tossed in a fruit salad, for a pop of color and sweetness." Cornflowers, meanwhile, are "subtly spiced and sweet," making them the perfect addition to pasta or cookie dough.
While Nelson notes that most of the flowers in the book are varieties that are common across Europe and North America, many originated in Asia or South America, or were widely adopted in those places. Alongside the useful index of flowers and their place of origins, cooks and gardeners from around the world share recipes using edible blooms, from bougainvillea agua fresca to a rose syrup suited for classic Middle Eastern desserts.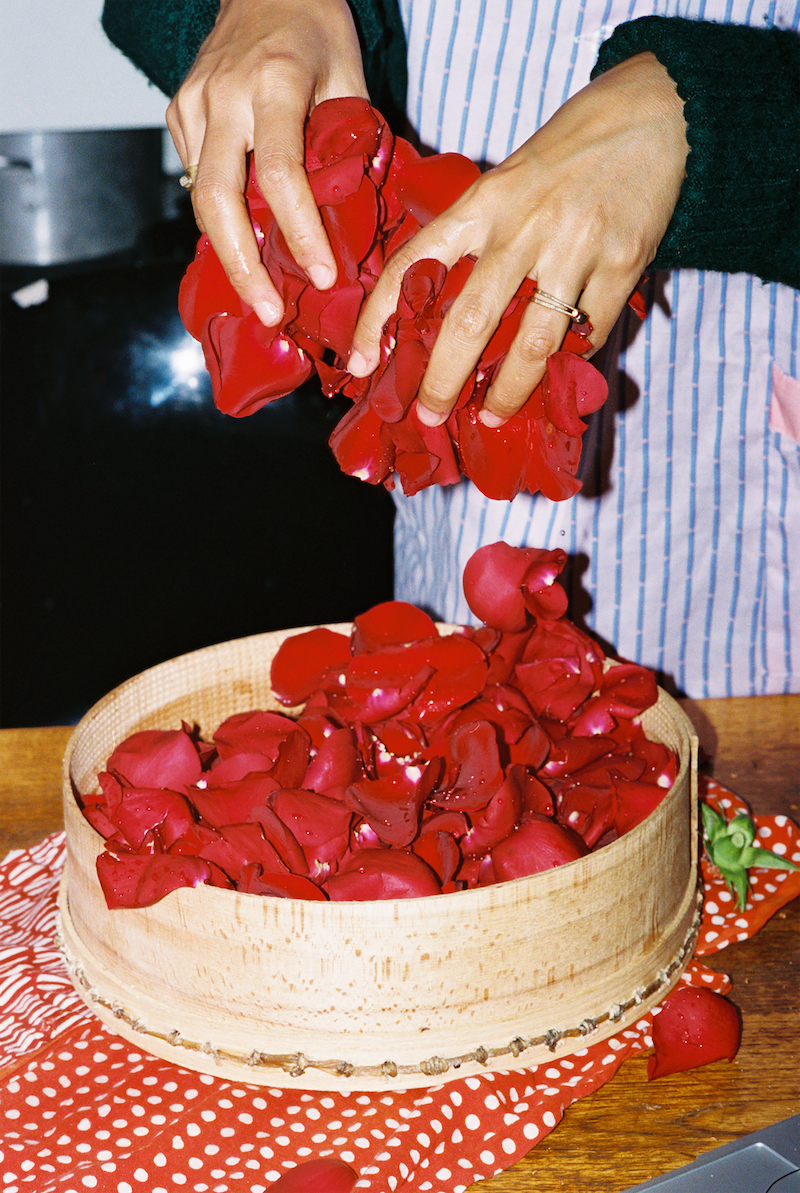 Nelson, a graphic designer, has spent her share of time with flowers. Once, she was creative director of the now-defunct gardening magazine Wilder Quarterly. While she appreciates the sight of a nice vase of flowers, "they don't have to be precious objects," she notes. Eating a flower you've grown is no more disrespectful than eating a garden tomato, and sprinkling nasturtium petals on a salad or turning magnolias into pickles can bring as much pleasure as keeping the blooms in a vase until they fade.
The following is a recipe and short essay about agua fresca de bugambilia by Aurora Robles, one of the contributors to Edible Flowers.
Bougainvillea Agua Fresca
(Agua fresca de bugambilia)
The most widely known agua fresca of the floral variety is agua de jamaica, which can easily be found in traditional Mexican restaurants or food trucks in the United States. A more rarely seen agua fresca is made of bougainvillea, boiled or steeped, sometimes using both fresh and dried flowers (the piercing purple variety is said to produce the most intense color). Most recipes for bougainvillea tea note its health benefits, from reducing fever to treating a dry cough. It is often mixed with lime juice and, to be honest, the lime flavor does prevail, and one is left wondering if some of the healing power lies in the innate pleasure of drinking that inimitable hue, so evocative of summers under the hot sun in Mexico and California.
Ingredients
A few branches of bougainvillea (20–30 flowers)
5 cups water
Juice of 4 to 6 limes (about 1/2 cup)
Sweetener, such as cane sugar or honey (optional)
Dried bougainvillea or a slice of lime, for garnish
After collecting the bougainvillea, snip the flowers off and remove the calyx. (It is sometimes white and looks like another smaller flower sitting inside the pink, papery petals holding the stamen and pistils. It can impart bitterness, so it is best removed.)


Rinse the flowers and set them aside to dry. Depending on the heat and humidity, this can take between one and four days. The dried flowers are said to intensify the hue of the drink.


Bring the water to a boil, and add the dried flowers. Lower the heat and let the flowers steep for about 15 minutes. If you are curious to try the brew at this point, it has a lightly herbal flavor. Add a sweetener of your choice to taste (if you're using cane sugar or honey, add it while the liquid is still warm to dissolve the sweetener thoroughly). Let the mixture cool.


Add the lime juice to the cooled and sweetened "tea."


Serve the agua fresca chilled or over ice, and garnish with dried bougainvillea or a slice of lime.
Gastro Obscura covers the world's most wondrous food and drink.
Sign up for our email, delivered twice a week.