How Drones Help Archaeologists Peer Into the Earth
A late-night drone flight spotted a large, circular earthwork beneath a field in Kansas.
For the archaeologist Jesse Casana, midnight is the best time to find things underground. "It's always in the middle of the night, sometime between late and very late," he says. Casana, an anthropology professor at Dartmouth, has been testing a new thermal imaging drone for archaeological research. "It's a very weird kind of archaeology because usually we go and spend weeks and weeks working in the sun. In this case we just go in the middle of the night—once."
The advantage of late-night archaeology is that big, underground objects retain and emit heat at different rates than the soil surrounding them. Take thermal images of the ground at just the right moment, when everything is cooling down, and you'll see clear subterranean variations that may be undetectable using other methods.
Casana has a grant from the National Endowment for the Humanities to test this thermal imaging drone in different environments around the world, and for different archaeological features. So far, he's spent sleepless nights using the device in the Middle East, Hawai'i, and Mexico. Archaeologists keep asking him to fly out to particular patches of land that they're curious about.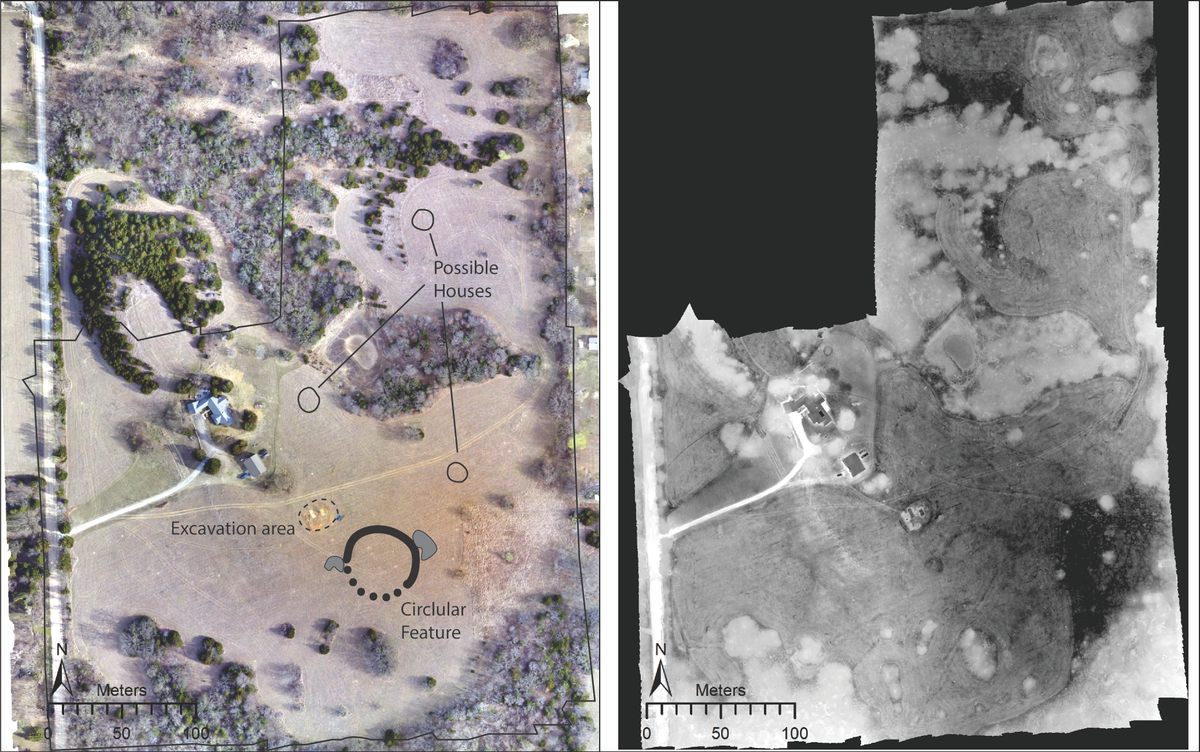 One such request came from Donald Blakeslee, an archaeology professor at Wichita State University. Blakeslee and his team had already experimented with a drone, but its regular camera didn't register enough detail. They also used magnetometry, ground-penetrating radar, and electromagnetic conductivity devices. These methods were all noninvasive and faster than digging, but still considerably slower than Casana's drone, which could survey a 45-acre cattle ranch in just two nights.
Today, with so many digital technologies that can be used to spot ancient relics, deciding which gadget to pull out of the contemporary archaeologist's toolbox can be a challenge. "Jesse is the guy with the new toy, let's put it that way," Blakeslee says. "It works. It works under certain circumstances, and we certainly got one."
In April 2018, Casana used his drone to help Blakeslee find a large, circular earthwork that measures around 165 feet in diameter and 6.5 feet thick. Blakeslee and Casana concluded that the find, published for the first time last month in American Antiquity journal, is the remains of one of the area's six surviving earthworks, which they refer to as council circles.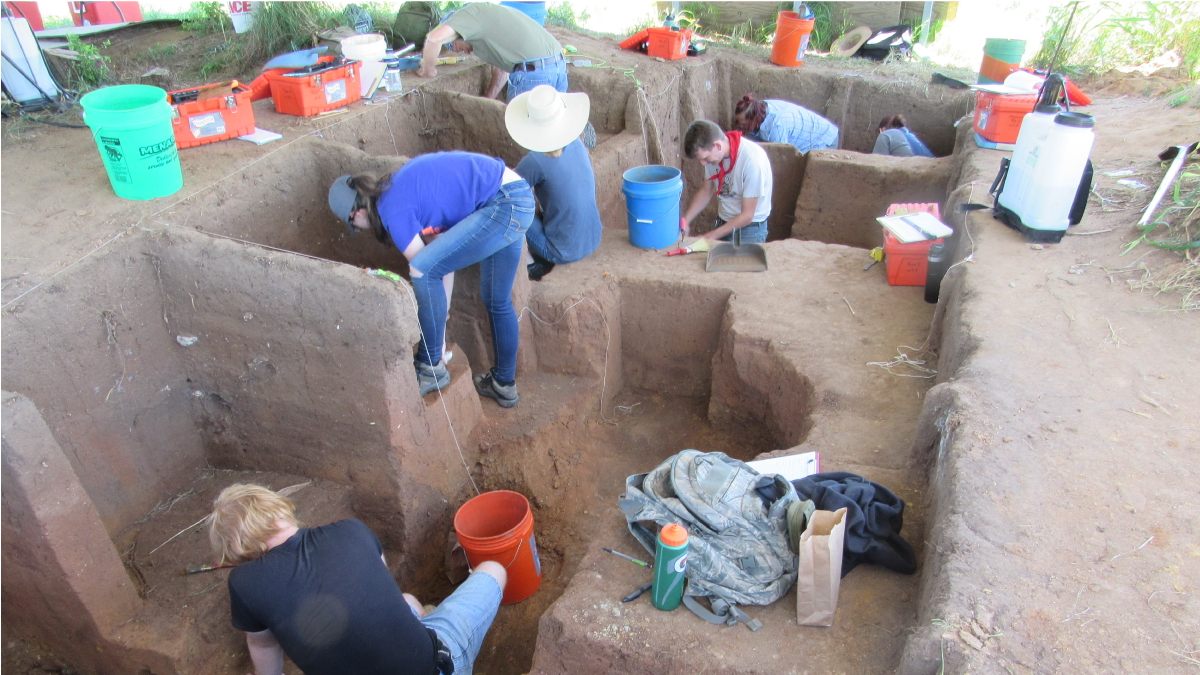 Blakeslee believes that the area around the earthwork was an ancestral Wichita settlement that was attacked by Spanish soldiers in 1601. Locals have been finding artifacts in the area's plowed fields for years: In 2017, a high schooler with a metal detector found a Spanish cannon shot. As Blakeslee tells the story, the settlement was referred to as Etzanoa by an Indigenous prisoner of the Spanish. He hopes to identify more evidence that the area was Etzanoa before more fields are plowed, destroying historic artifacts or structures.
Gary McAdams, the cultural planner of the Wichita and Affiliated Tribes, says that he's not aware of any oral histories about Etzanoa. He told NPR in 2017 that "our history, you know, is in the ground, centuries of it, rather than being on written paper." Casana, for his part, doesn't take a side on whether this site was Etzanoa. "I don't really have a dog in that fight," Casana shares. "Whether it's actually the same location that the Spanish visited or not is sort of ancillary to what I was doing there."
McAdams adds that large earthworks like the one found by Blakeslee and Casana are not currently used by the Wichita, but that his community does use large, circular dance-ground arbors. "These spaces are described as being at the center or along the edge of settlements where the people gathered to play traditional games and have dances," McAdams says. "None of the stories describe earthworks but it's possible that these 'council circles' served similar functions."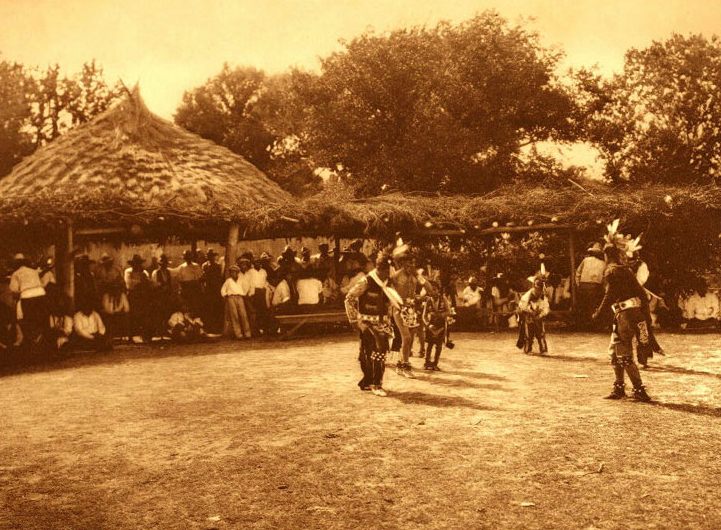 The dance-ground arbors used today are around 100 feet in diameter, made from a ring of posts outfitted with a willow branch roof. Oral histories of these communal spaces go back over a century, and were also collected and published in 1901 by the American anthropologist George Dorsey.
Once international travel is more feasible, Casana plans to continue his midnight excursions. One of his next stops may be Tlaxcala, Mexico. He's also excited about a new tool that he says "has barely been used in archaeology before." Using a new grant from NASA, he plans to mount a short-wave infrared sensor onto a drone and collect images of hunter-gatherer sites in Wyoming, early Polynesian settlements in New Zealand, and archaeological sites in Peru and Kurdistan. Countless stories remain buried underground—and it may take an airborne technology to unearth them.