Found: A Quack's Medicine Bottles, Buried Behind a Haunted Hotel
Some of the vessels contain tissue samples, while others held a dubious "cancer cure."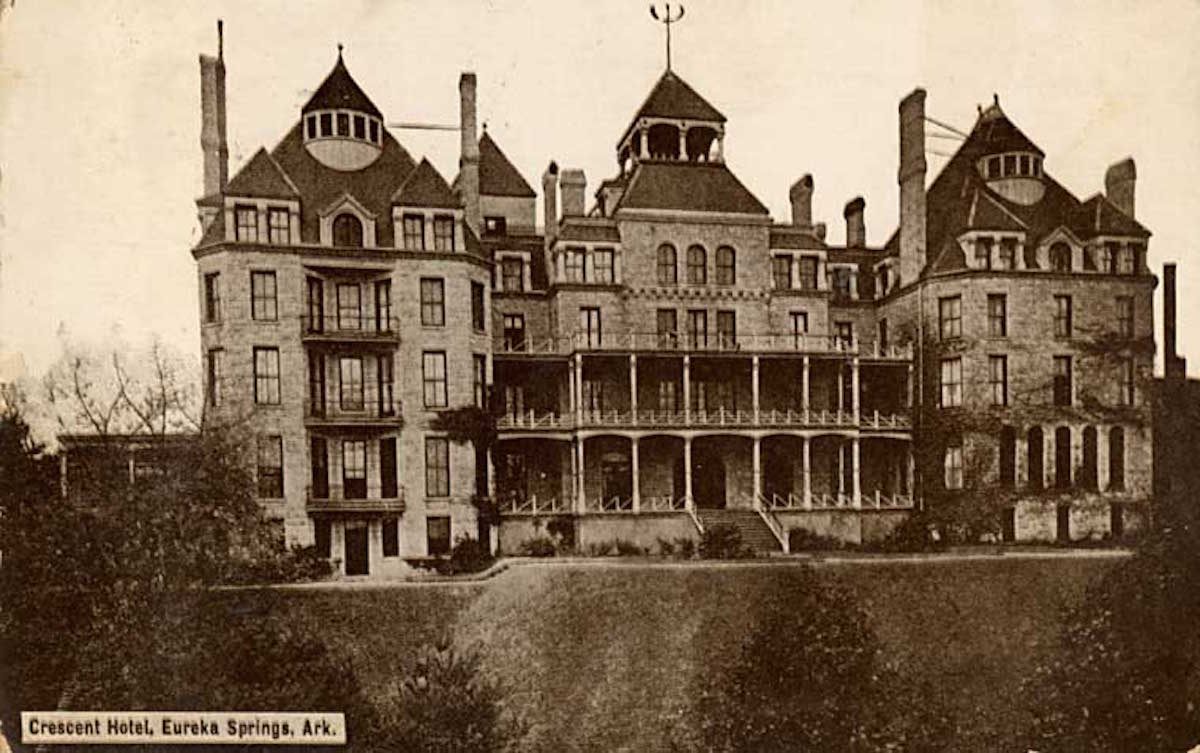 Two months ago, a landscape artist stumbled upon a cache of hundreds of glass bottles buried behind Arkansas's purportedly haunted Crescent Hotel and Spa. As reported by the Northwest Arkansas Democrat Gazette, archaeologists who were subsequently called to the site found that some bottles contain what appear to be tumor and tissue samples preserved in alcohol. Others hold a tincture once marketed as a cancer cure. Together, the vessels tell the story of a dubious chapter in the state's medical history.
Sitting high in the Ozark Mountains overlooking Eureka Springs, the rambling Victorian building operated as the Baker Hotel and Health Resort between 1938 and 1940. Norman Baker founded the Arkansas resort after being driven from his home state of Iowa. In 1925, Baker had founded KTNT—Know the Naked Truth—radio with sponsorship from the chamber of commerce in Muscatine, Iowa. He used the station to hawk his cancer cure—a feckless combination of corn silk, red clover, watermelon seeds, and water—throughout the U.S. Radio was a common vehicle for the dissemination of fishy cures in the 1930s, a period during which cancer became one of the leading causes of death in the country. The American Medical Association pressured the Federal Radio Commission to crack down on Baker, and he lost his radio license in 1931, after which he turned around and sued the AMA (he lost the case) before making his way to Arkansas.
Baker had led a colorful life even prior to his radio quackery. Dressed flamboyantly in white or purple suits, he first made his fortune as a vaudeville performer and as the inventor of a whistling mechanical instrument. A lavender tie and car tied his look together.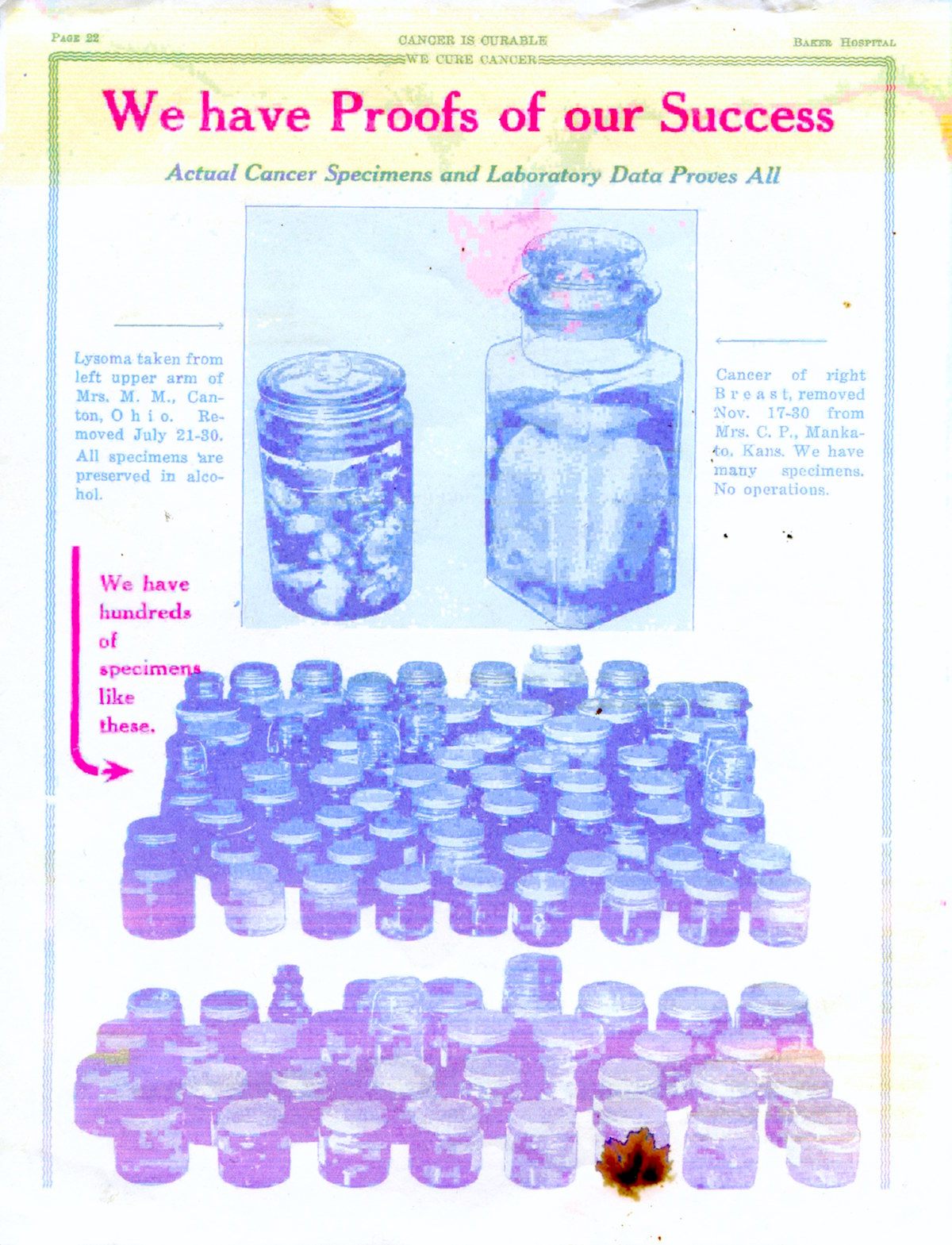 When he arrived in Eureka Springs, Baker purchased the downtrodden Crescent Hotel building, painted the walls his signature shades, and began recruiting new patients. His advertisements and brochures claimed, "We cure cancer-tumor without operation, radium or X-ray. We treat all ailments. We do not cut any organ." These assertions, combined with increasing evidence that he was coercing his "patients"—over 40 died—and their families, got him nabbed for mail fraud in 1940.
As the Democrat Gazette reports, the bottles that appear to contain tissue will be sent away for analysis, specifically to the state's crime lab and the University of Arkansas for Medical Sciences. Along with the glassware—including several bottles of what Baker called "Cure #5"—Arkansas Archaeological Survey members unearthed reels of 16mm film advertisements for the cancer elixir, a medical dispensing spoon, and a bone saw.
"Baker was a charlatan touting that he had the cure to cancer. Obviously that proved not to be the case," says Jack Moyer, the hotel's vice president. Although they don't contain a healing cure as Baker claimed, the newly rediscovered bottles are a welcome verification of a local legend built on tall tales.