An Unfinished, 511-Foot Skyscraper Is Being Auctioned Off Online
The answer to the $84 million burning a hole in your pocket.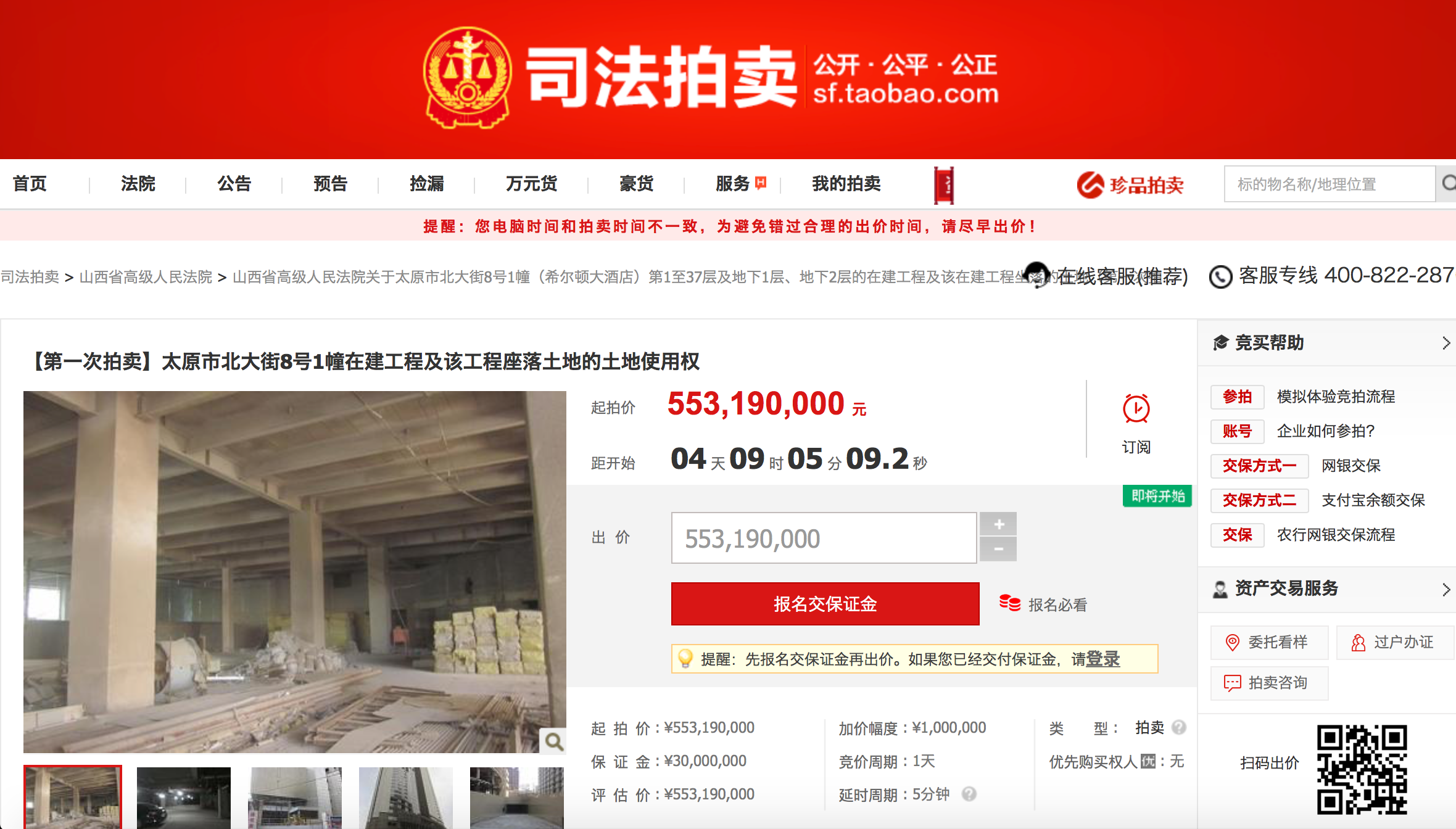 The new Hilton was supposed to be a glorious addition to Taiyuan, a city in northern China with a population the size of Los Angeles. It was to be a five-star hotel, and the tallest building in Shanxi Province. But 11 years after construction began, the building remains unfinished. Its interior is piled high with dusty stacks of construction materials; its dimly lit carpark is near-empty. Windows are missing, and scaffolding still clings to the lower floors.
Someone else may get a chance to help it achieve glory. After the developer ran into funding troubles, the building was seized by the Shanxi Provincial Higher People's Court—who, like many faced with an unwanted acquisition, have put it online, the BBC reports, to go to the highest possible bidder.
Listed on Taobao, a Chinese eBay equivalent owned by Alibaba, this is no ordinary internet auction listing. The starting price, $84 million, reaches almost as high as the building itself (511 feet, if you wondered). And the buyer, whoever they might be, will have to finish off the project themselves. Why put such a pricey item online? "Online auctions help transparency in legal affairs because all information is there for all to see," Lu Weixing, the general manager of Alibaba's auction business, told the Chinese news agency Xinhua. In recent years, almost every court in China has registered on the site to sell off everything from shopping malls to hotels.
While Taobao has a selection of residential listings, few are as eye-catching as this unfinished skyscraper, or have as eye-watering a price tag. Other big-ticket items in recent years have included 372 live deer, sold off for around $260,000.