Meet the Woman on a Quest to Attend Every Wondrous British Festival
The historian behind an online database of eccentric traditions has already visited more than 550 events.
On Midsummer's Eve, the central square in Whalton, a small village in Northern England, glows red with fire. The Baal Fire tradition—locals build a bonfire and light it up—is intended to bless the season's crops and has continued uninterrupted for centuries. The Mari Lwyd tradition in South Wales is so old that no one knows how or when it began. In the depths of winter each year, individuals wearing sheets or sacks carry mounted, decorated horse skulls door to door, singing and hoping to be invited inside, a gesture reported to bring the household good luck. Across Great Britain, there are hundreds of festivals and other events, often honoring nearly-lost pagan traditions. They celebrate every aspect of the human experience, both mundane and marvelous: porridge, sports, cheese, and fire—so much fire, from flaming tar barrels to wooden longships set alight. One woman has made it her mission to experience them all.
Since 2010, historian Averil Shepherd has been tracking down the quirky, mystical, and ancient rituals of Great Britain. The task isn't all bonfires and wassailing, however. It's an enormous logistical undertaking to find accurate, current information about events that are often hyperlocal and organized by volunteers with little promotion. Shepherd met the challenge by creating Calendar Customs, a comprehensive online database of roughly 750 traditions currently celebrated in England, Scotland, and Wales.
Atlas Obscura spoke with Shepherd from her home in Northumberland, England, about dancing with antlers, partying with Vikings, and other memorable moments from the more than 550 festivals she has attended.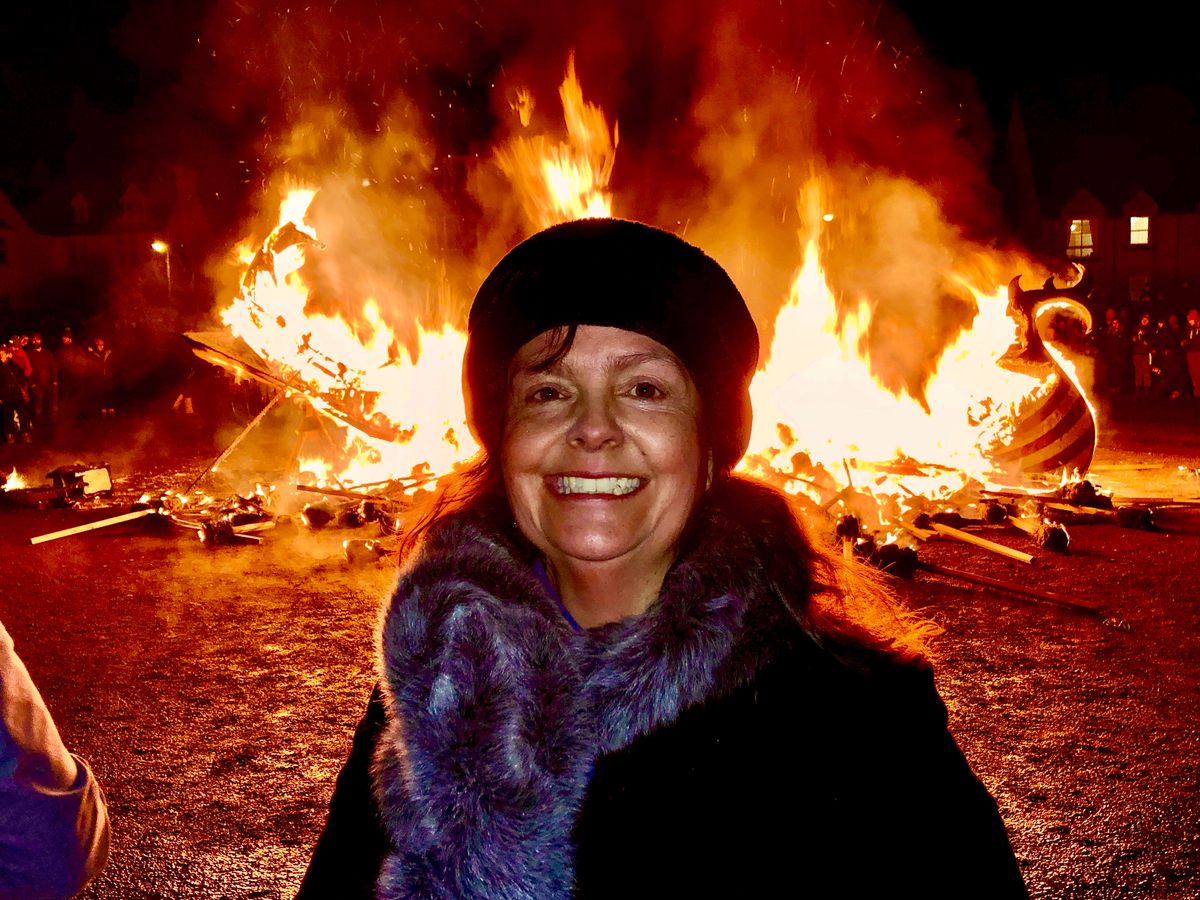 Did your upbringing help cultivate your fascination with ancient customs?
As a family we practiced a number of domestic traditions, such as having Halloween parties which would involve apple bobbing, turnip lanterns and trying to scare the neighbors half to death. And we tried to remember to wash our faces in the May dew; say "Rabbits, rabbits, rabbits" on the first of the month; and other seasonal delights and superstitions.
The first festival I attended was the Tar Barrels [in Allendale, England]; we used to go regularly when I was a schoolgirl as we lived only a few miles away. On New Year's Eve, a group of between 40 and 50 guisers in fancy dress parade around the village, carrying half-barrels filled with burning materials on their heads. They make their way to the marketplace, where a large bonfire waits to be lit by the burning barrels on the stroke of midnight. Once the bonfire takes hold, everyone joins hands and sings "Auld Lang Syne" to welcome in the New Year. It was always a thrilling sight watching the guisers; when they passed close by, you could feel the heat from the burning barrels.
What inspired you to create Calendar Customs?
The Abbots Bromley Horn Dance [in Central England], reputedly one of the oldest traditions in Europe. There are six sets of reindeer antlers, and six dancers carry them. Its origins are lost in the mists of time, but some believe it to be connected with bringing good luck to the village, or to preserving ancient rights to roam the Forest of Needwood and use its resources. Sometimes visitors are allowed to dance with the "horns," which is regarded as a great privilege; as the musicians set off leading the dancers, the hairs stood up on the back of my neck. I had a "road to Damascus" moment and realized that I wanted to do more things like that.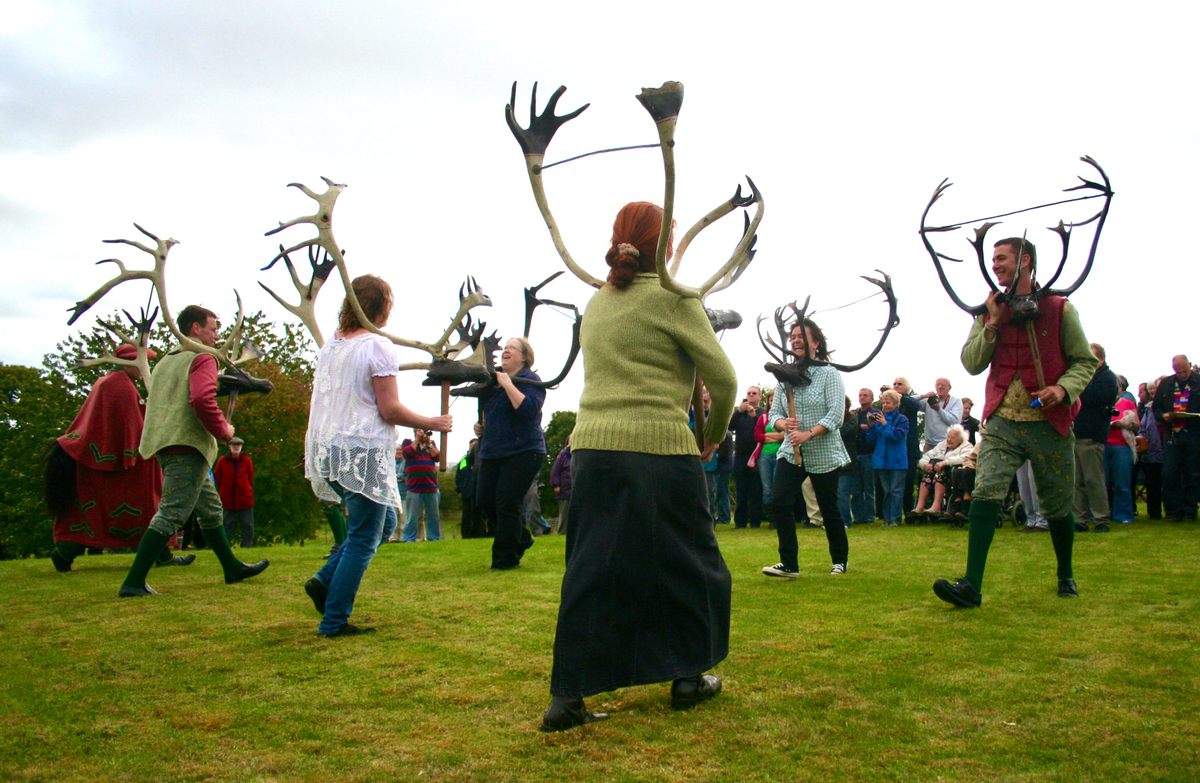 How many festivals are there in Great Britain and which one is the oldest?
That's exceedingly difficult to answer. For example, there are over 250 different wassailing events around the country in a normal year, and countless bonfires, Christmas tree festivals, galas, shows, fêtes, civic ceremonies, wreath-layings, quirky competitions—the total will run literally into the thousands and it's hard to know where to stop. Even after running the site for over a decade I'm still finding more and more, which is good. I don't want to run out of inspiration. Nobody knows what the oldest continuous festival is, and if anyone claims to know they'd be misleading you!
Which custom do you find most mysterious?
The Burryman at South Queensferry, Scotland. A man completely encased in a covering of sticky burdock burrs parades the streets, apparently to bring good luck. Luck-bringing is generally a bit mysterious; for example, I'm really not sure why being given a sprig from Jack in the Green on May Day in Hastings or a piece of the Straw Bear in Whittlesey, England, is propitious—but it is!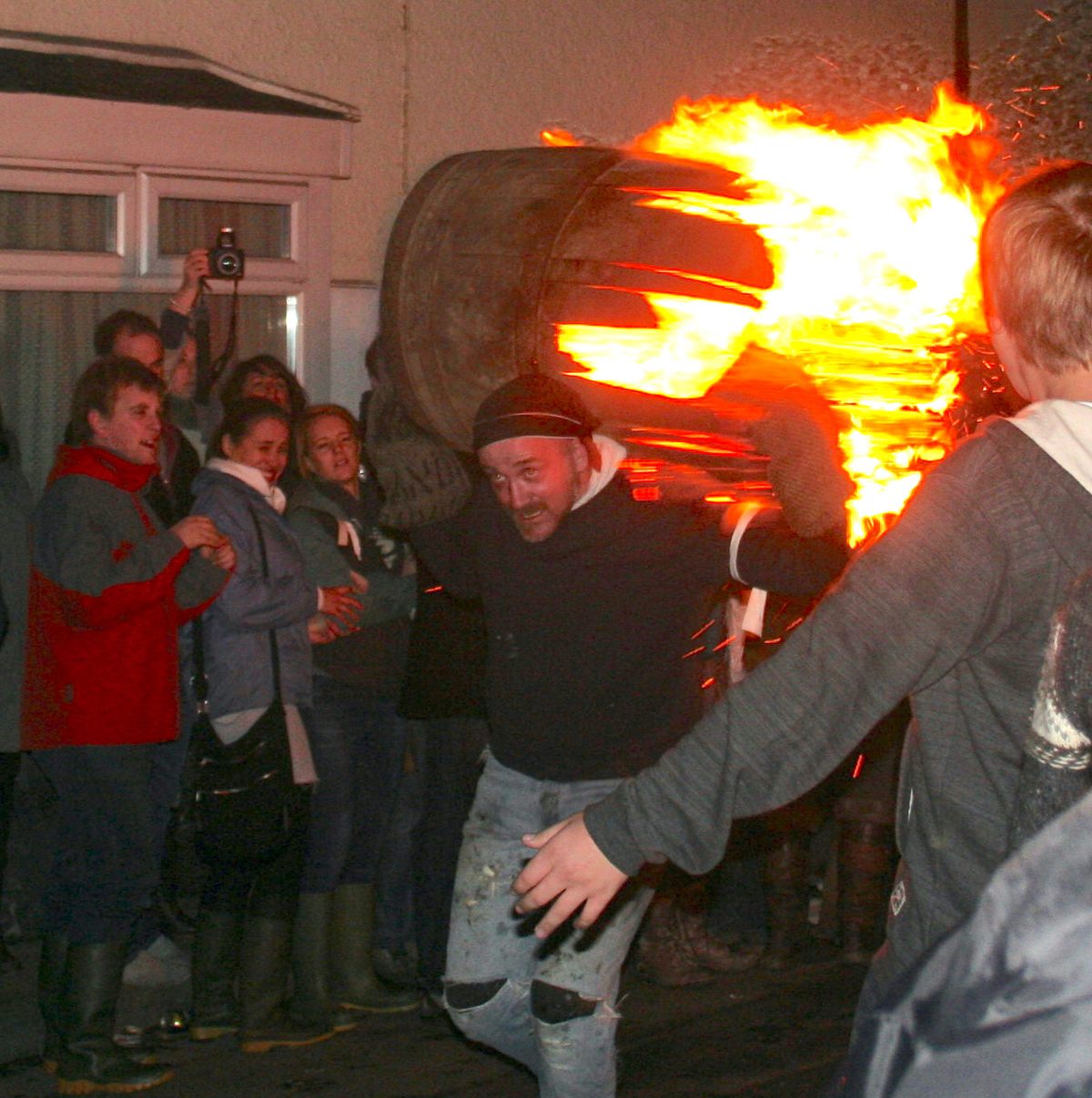 What's the most extraordinary thing that you have witnessed?
The racing of the tar barrels up the streets of Ottery Saint Mary in Devon. There's a constant background noise of screaming, a tingle of excitement in the air, and a perceptible whiff of anarchy. Runner-up may well be Up Helly Aa in the Shetland Islands, Scotland, which celebrates the long Viking heritage of the islands. The main event is most definitely the burning of the Viking ship. I remember seeing some very worse-for-wear Vikings the following morning, as they'd been up dancing all night!
This interview has been edited for length and clarity.