Edible Architecture: 20 Buildings Shaped Like Food
Happy Thanksgiving! In honor of the day of feasting, we are celebrating the the unusual architecture of buildings shaped like food. This novelty architecture was especially popular in roadside attractions to perhaps inspire some stomach growling as travelers passed by, but you'll see examples both old and new where tasty meals served as inspiration for design.
Our only rules for the list are one building per food item (sorry multitude of giant milk bottles), and that the food itself must be part of the form of the building, not just some giant sculpture on top (sorry giant donuts). We've previously looked at buildings shaped like animals and buildings shaped like obsolete technology, and these 20 buildings show that the edible is just as appealing for architecture.
PEACH
Beach Kiosk, Penticton Beach, British Columbia, Canada (photograph by dawn-pinkchick/Flickr user) The T.S. Eliot reference may or may not be intentional.
PINEAPPLE
Dunmore Pineapple, Scotland (photograph by Steve Macfriendly)
DONUT

Donut Hole, La Puente, California (photograph by soupstance/Flickr user)
LOAF OF BREAD
The Loaf, Elysburg, Pennsylvania (photograph by zizzybaloobah/Flickr user)
HOT DOG
Coney Island Hot Dog Stand, Bailey, Colorado (photograph by Ron McDonald)
ICE CREAM
Twistee Treat, Hudson, Florida (photograph by Daniel Oines) There are actually quite a few of these Twistee Treats around the USA, all shaped like ice cream cones.
COFFEE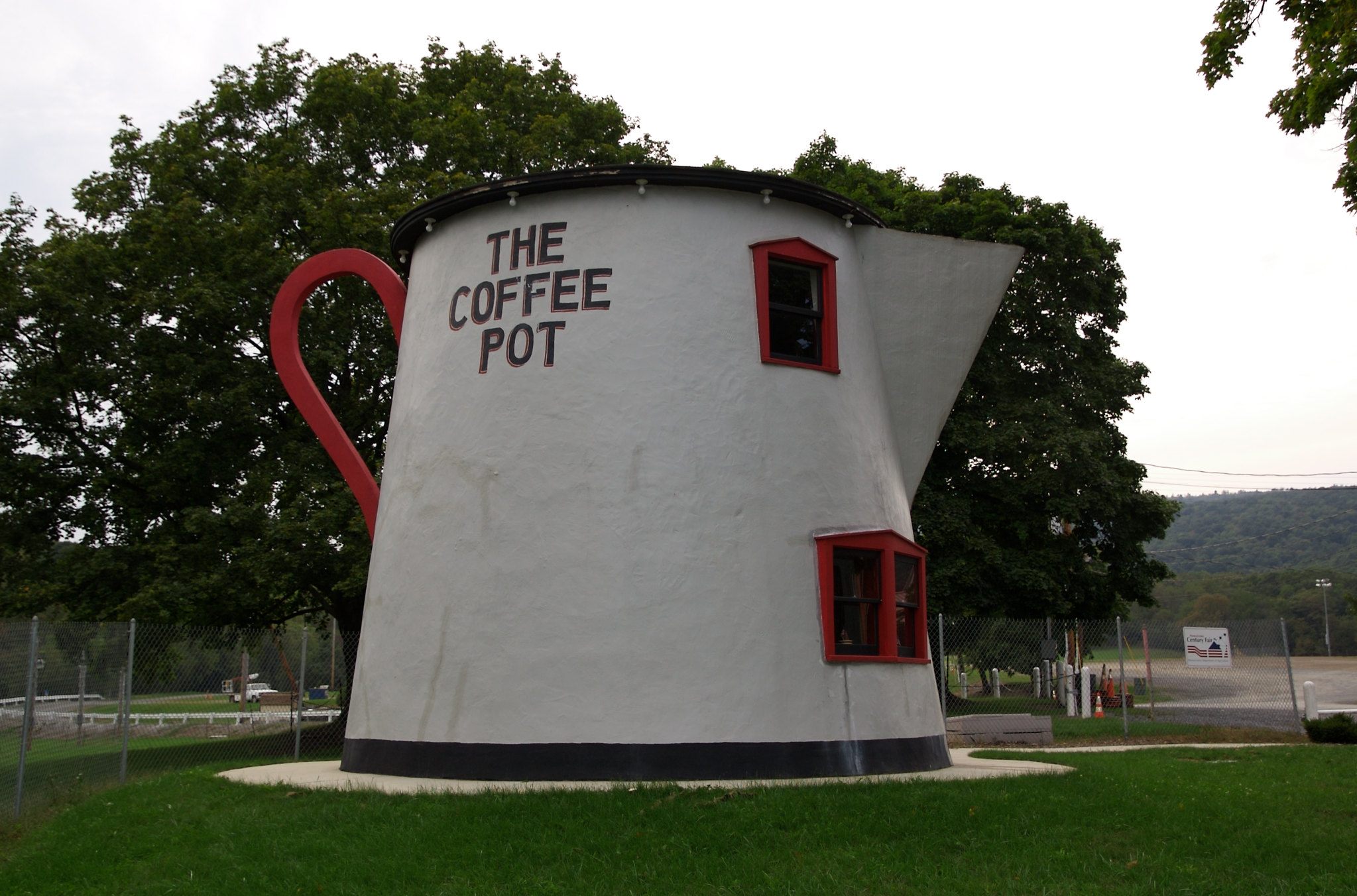 The Coffee Pot, Bedford, Pennsylvania (photograph by Jeff Kubina/Flickr user)
MILK

Hood Milk Bottle, Boston, Massachusetts (photograph by joseph a/Flickr user)
APPLE
The Big Apple, Colborne, Ontario, Canada (photograph by Colin Jagoe)
ORANGE
The Orange Julep, Montreal, Canada (photograph by afternoon_sunlight/Flickr user)
OYSTER

Big Oyster, Taree, Australia (photograph by Stuart Edwards)
BOX OF FUDGE

Doug Murdick's Fudge, Traverse City, Michigan (photograph by joseph a/Flickr user)
SIX PACK OF BEER

World's Largest Six Pack, La Crosse, Wisconsin (photograph by Brian Moen)
ARTICHOKE

Giant Artichoke, Castroville, California (photograph by brenbot/Flickr user)
CORN

Ear of Corn Rest Area, Olivia, Minnesota (photograph by Jimmy Emerson)
FRENCH FRIES

McDonald's, Orlando, Florida (photograph by Mike Burton)
STRAWBERRY

Sanrio Strawberry House, Tokyo, Japan (photograph by Valeri-DBF/Flickr user)
CHEESE

Wine and Cheese House, Wells, Maine (photograph by Charles Hathaway)
LEMON

Big Lemon, Los Angeles, California (photograph by Cathy Cole)
BANANAS
Bluth Banana Stand, New York, New York (photograph by Phil Nolan) Yes, we know it isn't real, but a writer can dream…
SEE MORE NOVELTY ARCHITECTURE:
25 Animal-Shaped Buildings From Around the World
Five Buildings Shaped Like Obsolete Technology
Gastro Obscura covers the world's most wondrous food and drink.
Sign up for our email, delivered twice a week.