Who Steals a Bollard?
An Irish pub reports that a woman pulled a steel bollard right out of the ground.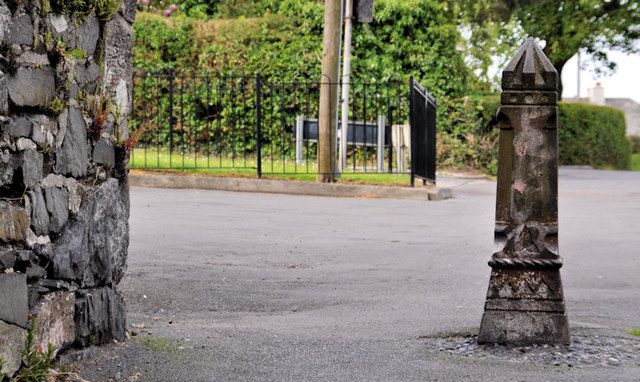 Bollards, the posts planted in urban areas to delineate space and keep cars where they're supposed to be, are not meant to move. That's their whole point. They're meant to be rooted deeply into the ground; some of them are strong enough to arrest the force of a moving car should its driver careen off the road. It shouldn't be possible for a person to pull one out of the ground as casually as if they're pulling up a bunch of carrots.
And yet this happened, earlier this week, outside a pub in Galway, Ireland:
What you are witnessing here is a woman pulling a bollard from the ground and carrying it away with relative ease. Her male companion waits while she accomplishes this feat of strength. They then stroll off, bollard in arms.
The pub in question, Carroll's on Dominick Street, posted this video on Facebook with the request: "Can someone please tell us who this lady is? She has literally pulled our steel bollard out of the ground."
So far, no one has been able to identify the bollard burglar.
Plastic bollards that protect bike lanes often disappear; fanciful bollard covers have also gone missing in the village of Saundersfoot, Wales, and in Melbourne, Australia. But bollards usually stay in the ground, and stealing a metal bollard seems to be an almost unprecedented feat.
Andrew Choate, who has a particular interest in bollards and goes by Saint Bollard on Instagram, writes that this incident is "very strange." "I think it is pretty rare, because even ones that lay on the ground stay there for quite some time," says Choate, who is based in Los Angeles. "I actually saw one that had been uprooted and went back for it several weeks later, but struggled to get it in my car."*
To be fair, if a bollard can be pulled out of the ground by a person, no matter how strong, it's a pretty shoddy bollard. (Some bollards can be unscrewed from the ground, but usually this requires a special key to unlock it at the base.) The possibility remains open that this is merely a publicity stunt, and the bollard pulled from the ground was put there for the express purpose of making this video. But we hope that's not the case. In the best of all possible worlds, a woman in Galway has a bollard in her possession, proudly displayed now and always as a trophy in her living room.
*Update: This post has been updated to include comment from a bollard expert.