33 of the World's Most Enchanting Local Magic Shops
Atlas Obscura readers share their personal favorites.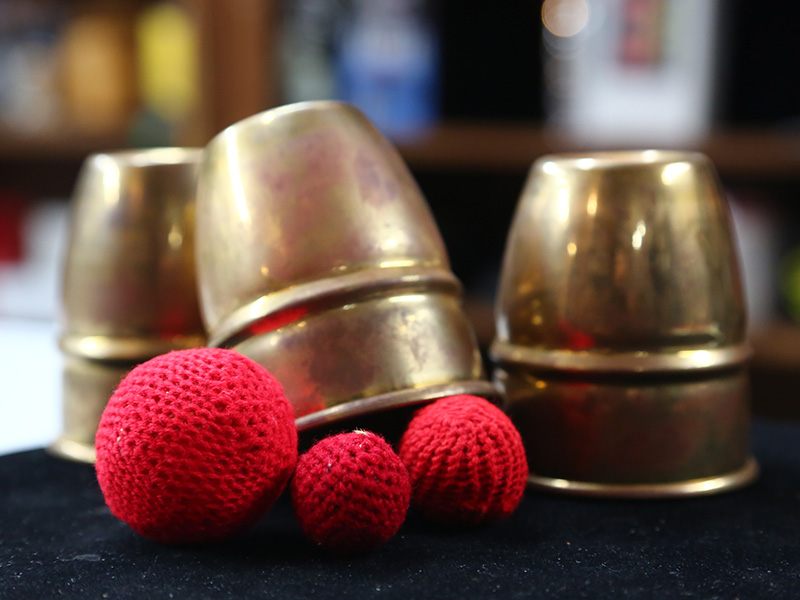 Recently, we asked Atlas Obscura readers to tell us about their favorite local magic shops. We got hundreds of passionate responses from around the world, the vast majority of which focused on the people behind the shops—the proprietors and staff members—who've performed the truly amazing trick of building real communities around their small businesses.
Like a delightful and surprising sleight of hand reveal, it's clear that it's the wizards behind the counter who bring magic shops to life. We heard about Brian at Big Guy's Magic in Wisconsin, who helped one reader's son enter the world of performance magic. We heard about Larry Kahlow, who has kept the Eagle Magic and Joke Store in Minnesota, one of America's oldest magic shops, running year after year. And we heard about Scotland's Roy Walton, of Tam Shepherds Trick Shop in Glasgow, who personally introduced one of our readers to the wonders of close-up magic.
Read on to learn more secrets of the world's most memorable magic shops—and especially the people and communities that keep them going.
---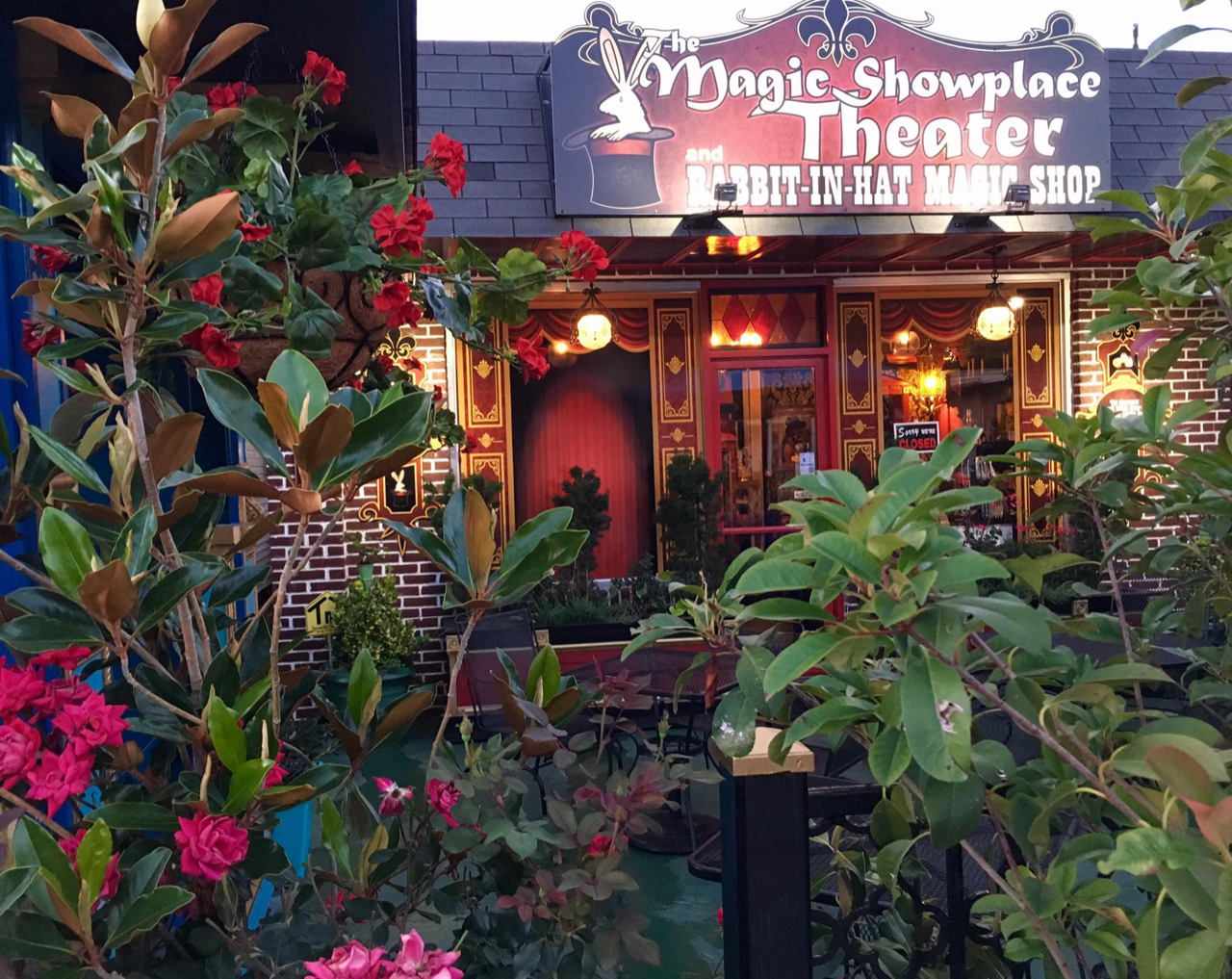 Locust Grove, Oklahoma
"What a great little shop! Clark is a fantastic guy. The 'vibe' of this shop is so cool. Clark did some great magic for me, and even invited me to do one of my favorite tricks behind the counter. The whole experience was fantastic! Can't wait to go back. All the details, the decor, the cool stuff, and of course, the tricks, make this definitely a must-visit magic shop!" — Rob Signs, Joplin, Missouri
Colon, Michigan
"They hold the annual Abbott's Magic Get Together every year in August. Often they are asked to make illusions for huge companies such as Disney." — Joe Bennett, Paw Paw, Michigan
"My grandparents were professional magicians that lived in Colon, Michigan. He also worked at Abbott's. I have been attending the ever-so-famous Mayberry-meets-Vegas magic convention known as Abbott's Get Together for 37 years! It is a treasure in our very small, one-blinking-light community!" — Kylie Bowen, Colon, Michigan
"Abbott's is an iconic brick-and-mortar magic shop with an amazing heritage and an annual Get Together that draws magicians from around the world and triples the towns population for a week. Abbott's Magic was primarily a mail order enterprise, but developed unique and distinctive props for magicians. Abbott's props have appeared in many movies (The Wizard of Oz, The Prestige), supplied tricks for virtually every famous magician over the last century (Harry Blackstone, Sr. and Jr., Penn & Teller, David Copperfield), and most personally, launched a lifelong love of magic in so many impressionable wizards (myself included)." — Mickey Blashfield, Bloomfield Hills, Michigan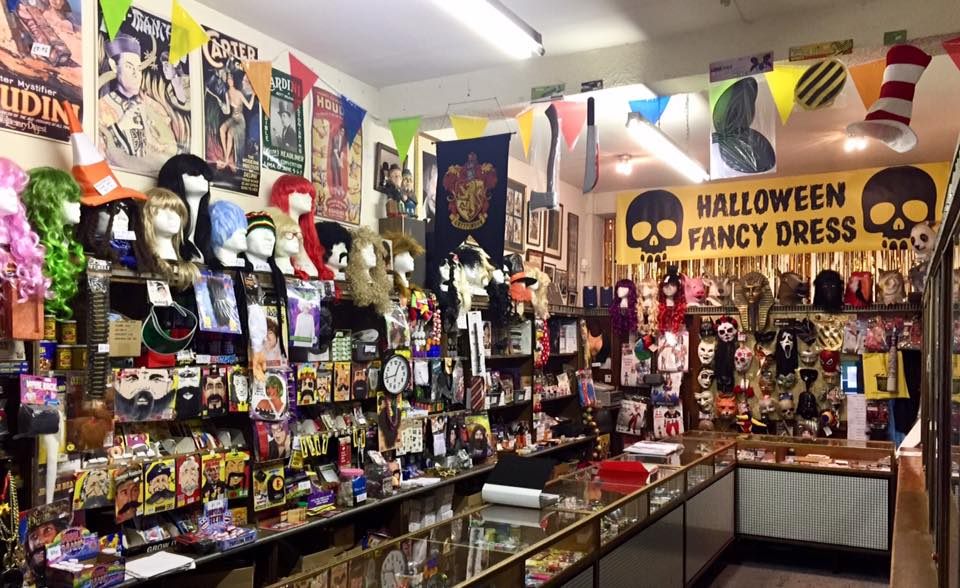 Glasgow, Scotland
"It's run by world-class card expert Roy Walton, now 86. He has mentored numerous Scottish magicians including Jerry Sadowitz, R. Paul Wilson, and Peter Duffie. Roy introduced me to the wonder and love of close-up magic. He has a beautifully simple and elegant style." — John Donachie, Scotland
Anaheim, California
"The people who work there are super knowledgeable about various illusions, extremely helpful, and really go way out of their way to make sure that their customers, beginner or professional, have exactly the resources they need. They encourage beginners and help them connect to the magic community and help them get started in a very solid way. I highly recommend them to anyone interested in the art of magic!" — Kris Johns, California
Pewaukee, Wisconsin
"We met the Big Guy, Brian, and the gang four years ago when our son showed some interest in magic. They took him under his wing and three years later he won Abbott's magic talent competition and was invited to perform as a star of tomorrow at the International Magicians Society. They treat customers like family and always have fresh tricks to buy." — Nate London, Sussex, Wisconsin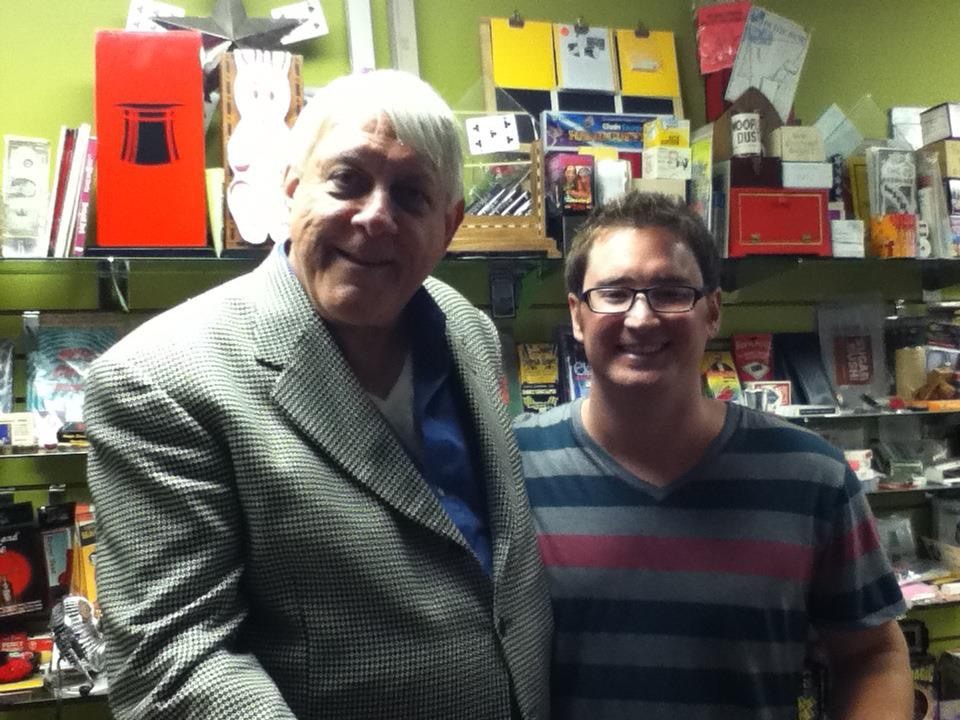 Burnsville, Minnesota
"Been going there since I was 10. Now I bring my son there. Some of the same props and cabinets and books that the great magicians from a century ago gathered around." — Timm Vedder, Sartell, Minnesota
"Eagle Magic is like a candy shop is for a kid. Larry most likely has what you need, want, or have any interest in. If you want an experience, not just a cheap trick, visit Larry at Eagle." — Marty Grah, Minneapolis, Minnesota
"Eagle is a true house of mysteries! Owner Larry Kahlow is a never-ending fountain of magic knowledge. If you're nice, he'll take you to his back room collection of priceless antique magic apparatus. A history lesson in itself!" — Trent Rentsch, Raleigh, North Carolina
Chicago, Illinois
"Ash is immortal! As long as I remember, there's always been Ash's Magic Shop and he is always appearing somewhere." — Karen Johnson, Fort Collins, Colorado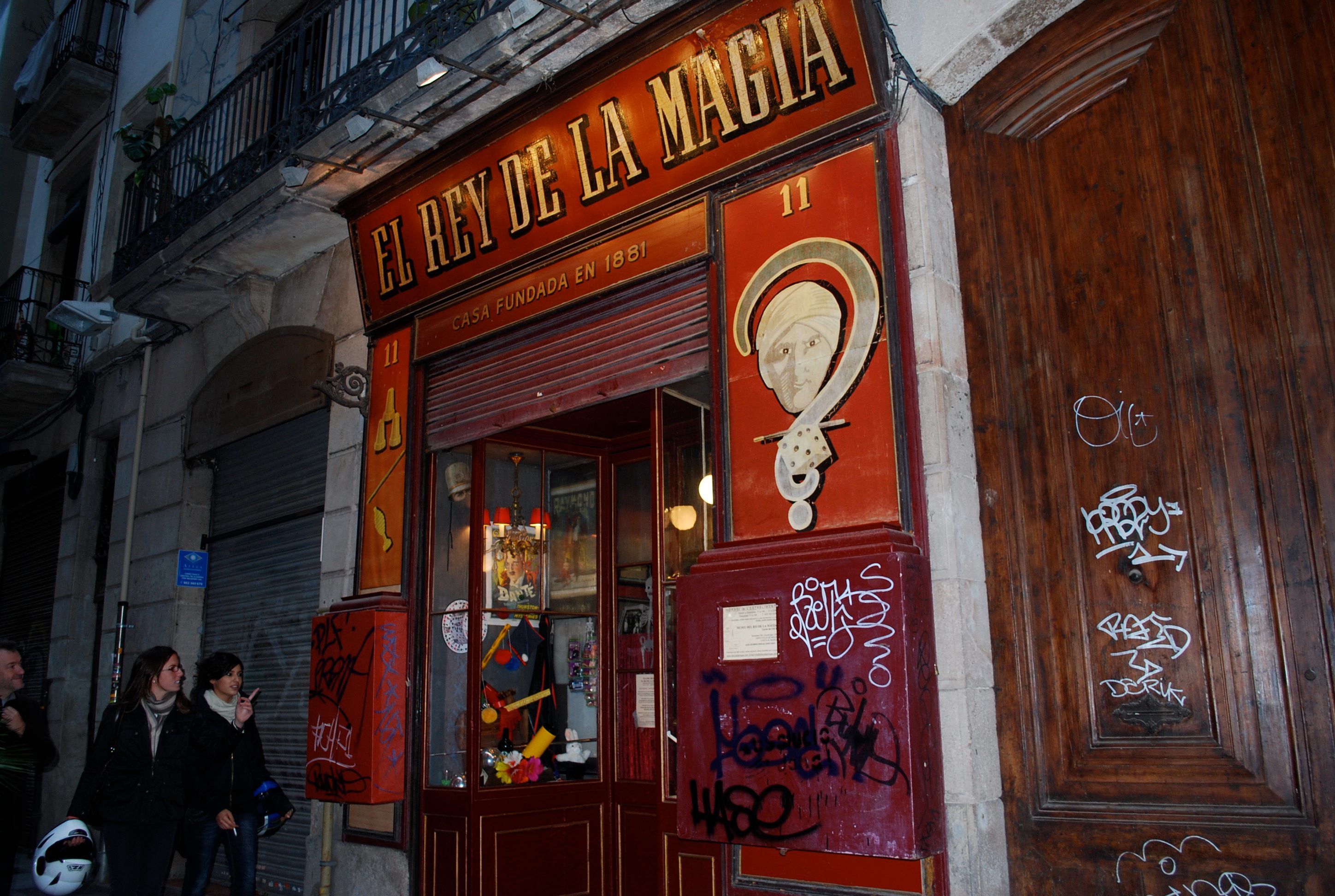 Barcelona, Spain
"It has been in service since 1881. The shop has everything a magician needs, from beginners to professionals." — Manel Roca, Barcelona, Spain
Toronto, Ontario
"As a woman in a male-dominated field, the Den has provided me with a space to learn and share magic without feeling like an outsider. The people who run the store are always willing to help, demonstrate tricks, and recommend additional resources for hobbyists and pros alike. I've never experienced another store quite like the Browser's Den." — Jacqueline Swan, Toronto, Ontario
"Jeff and the staff provide excellent service to magicians at all stages of development, and they go out of their way to be welcoming and encouraging. They are there to help, not just to make a sale. Conventions, special events, auctions, lectures, and club meetings at the shop all contribute to making Browser's Den a very special place for Canadian magicians." — Robin Dawes, Kingston, Ontario
"The store does so much more then sell magic. It strives to build a community. Brings in top magicians for lectures. Hosts a magic club, helps magicians sell magic tricks they no longer need. Any questions answered. Jeff Pinsky loves magic and it shows." — Jim Byrns, Toronto, Ontario
Richmond, Virginia
"The owner is a humdinger of a magician himself. He's a MASTER of sleight of hand, I can stand two feet away and have no idea what he's doing. Also, his magician pals from all over the place come in there and demonstrate tricks, try out new ones, talk about magic, etc. And they're always friendly and helpful to younger people. There's potentially a magic show happening at any time. Plus a really fab inventory. I'm not a magician, but I love going by there. You just never know what you're gonna encounter. They've just got to be up there with the best." — Ronnie Childs, Richmond, Virginia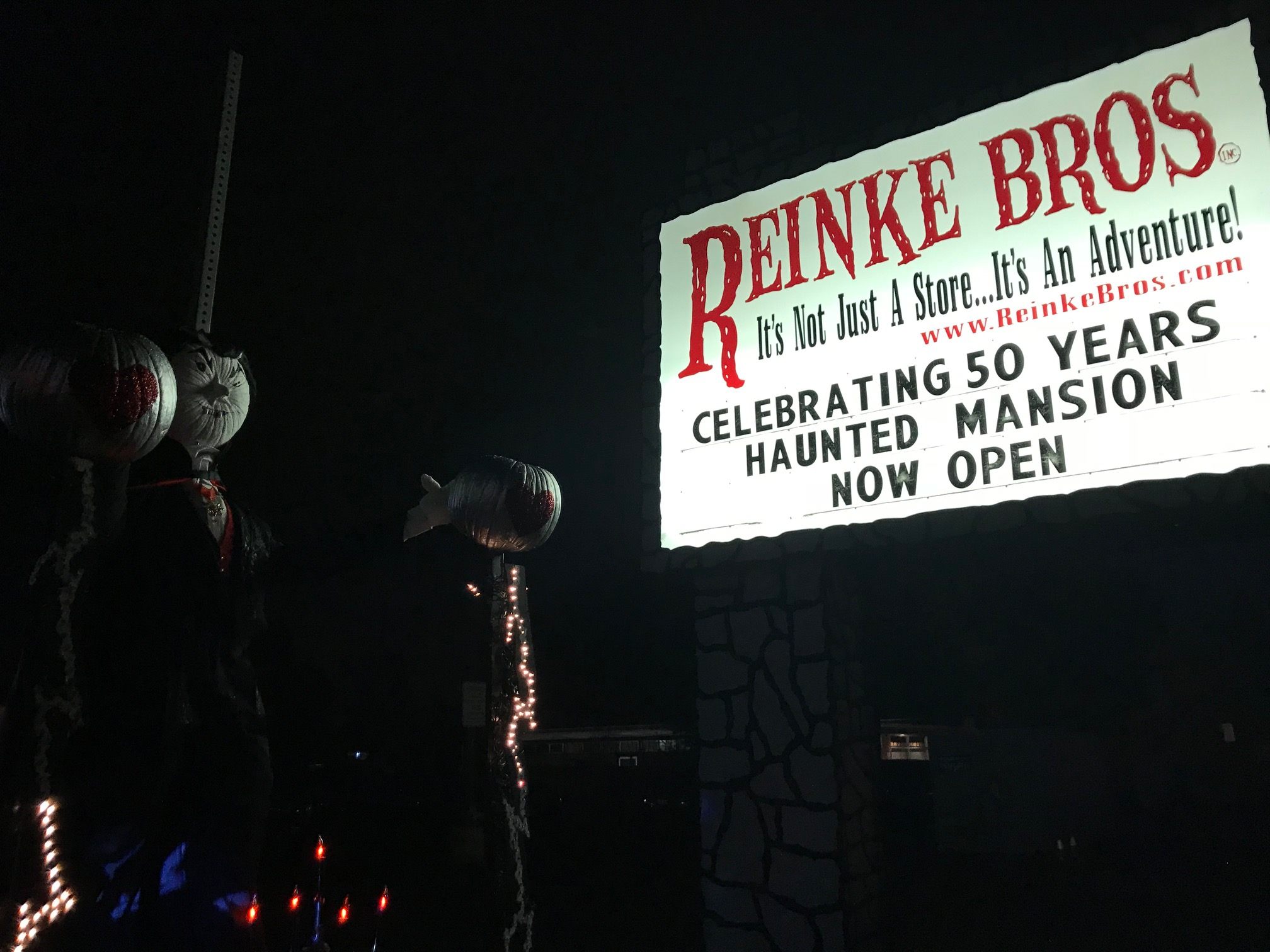 Littleton, Colorado
"They are a big part of the Littleton community, and they work hard to promote our historic downtown. When my kids were small, we took them there for magic lessons, they also have a haunted house. They just went through a grand reopening after a long process of rebuilding a roof construction mess up." — Amy Reichardt, Littleton, Colorado
Carmichael, California
"Family-run magic shop in its second generation. Dedicated to teaching and passing on the art of magic. Frequently hosts seminars and lectures. All in all, just an awesome family!" — Justin Walker, Elk Grove, California
Norwood, Ohio
"The shop is extremely personal. It's a small shop, so the two employees can easily help explain tricks and advertise them. They also produce a ton of their own special tricks and decks. They host many shows, and get famous magicians like Xavier Spade to perform. The prices are excellent, and they are all extremely nice people. It's overall an intimate and pleasant experience." — Joanna Thorman, Cincinnati, Ohio
"Haines is not just a place where you can buy magic. It is also a place where magic is made. They make special decks and cards for magicians. I made the trip there for one of the shows that they put on. The show had some experienced, professional performers as well as giving newbies a place to try out their newfound skills." — Barry Rice, Fishers, Indiana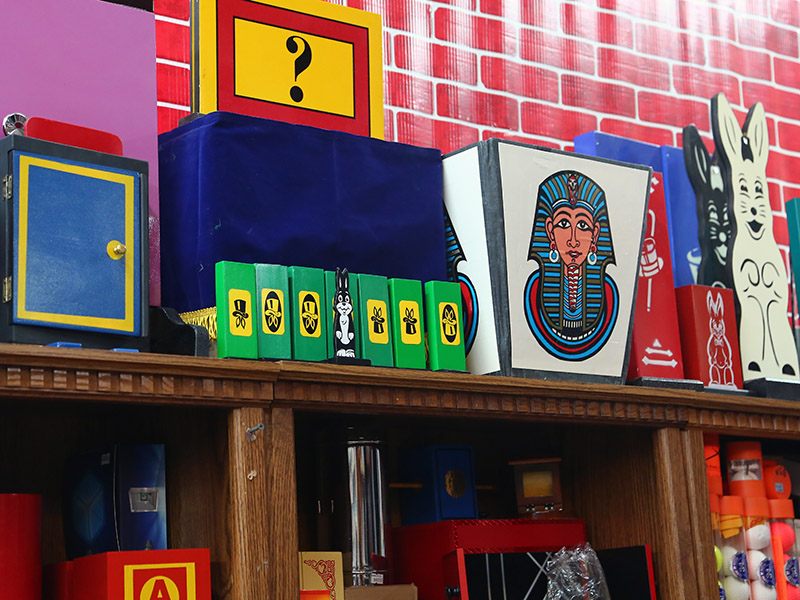 Champaign, Illinois
"Great store with a wide variety of magic and juggling equipment. Regularly holds workshops." — Ed Delaporte, Champaign, Illinois
Cape Town, South Africa
"This shop is run by professional magicians who give the best help and advice. It is based in the famous College of Magic and is open six days a week." — Michael Fenwick, South Africa
Holborn, London
"Run by Jerry Sadowitz, the U.K.'s best close-up magician. An incredible array of tricks." — Malcolm Marr, London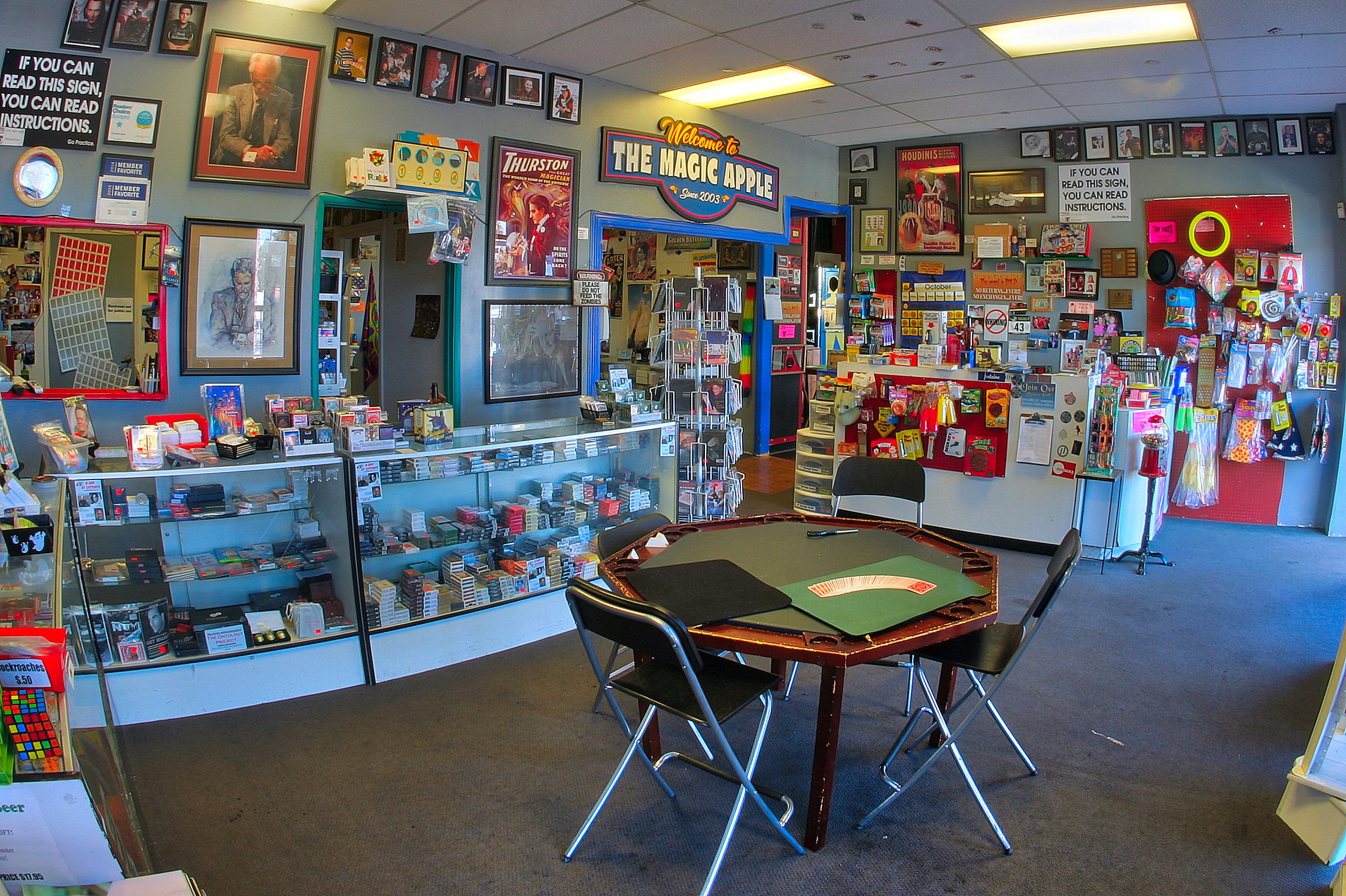 Studio City, California
"I have gone to lectures there, and it is a great place for magicians to hang and teach and learn." — Whitney W. Hadden, Los Angeles, California
Budapest, Hungary
"The shop is located on a busy road in Budapest, Hungary, yet often overlooked as a goofy place for the uninitiated. This place is packed with magic from all around the world, and some are of their own making. From amateurs to master magicians, everyone is capable of getting what they need. There is no need left unsatisfied. If you want a goofy trick to fool your friends, they got it, if you are hopping tables in a bar or at a wedding, they got stuff to help you out. If you want to host a night on a stage, Joker Magic can help you there too. The shop is manned by the owner and his family, always able to even just help you if you need a good advice and are not buying a thing. They are helpful and trained in the arcane. Furthermore if you want to dig deeper, they offer training too, from the young to the elderly, one-on-one or in groups. Best thing about the shop, that every two week on Wednesdays, it transforms into a hidey-hole for practitioners of this ancient art, where the young, and the old, the amateur and the master, where the professional and hobbyist can meet and learn from one another. If you are interested in conjuration this is the best place to start to search. This shop, is the gateway to magic." — Nor, Budapest, Hungary
Watertown, Massachusetts
"This is THE place to find magic! As a young man, any given Saturday there was always a diverse array of magicians. It was here that I met the owner, Ray Goulet, in his own right a very accomplished and well traveled stage magician. Cesareo Pelaez, founder and lead of the Le Grand David magic troupe, would occasionally visit. Not to mention David Cresey, as the man behind the counter, as well as the creator of the Cresey Coil, a staple of magicians around the world. Many more would find their way to Watertown to celebrate magic in all its forms." — Mark Troy, Boston, Massachusetts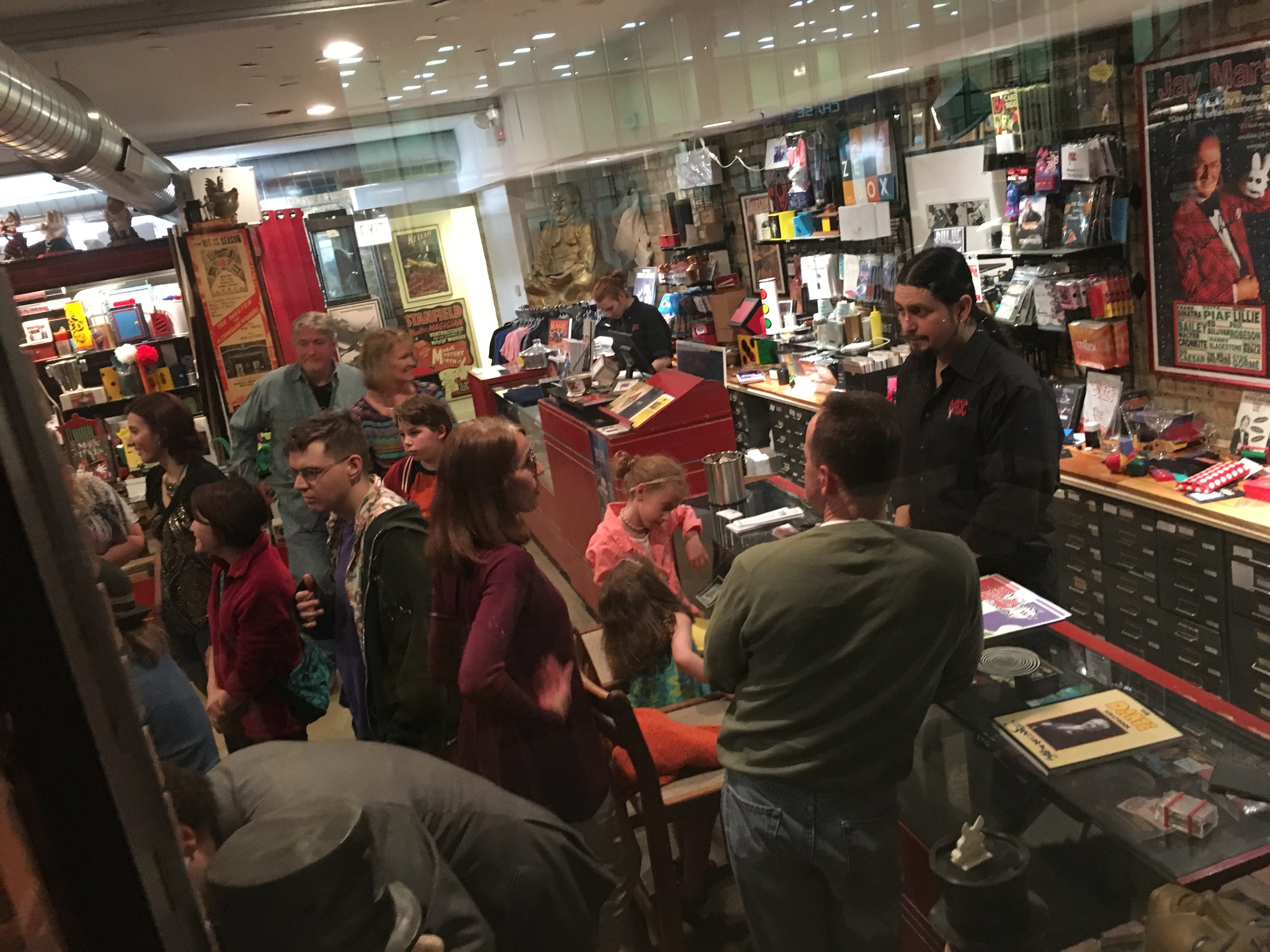 Chicago, Illinois
"These guys serve magicians of all ages and abilities. From nationally known professionals to the kids from the elementary school across the street from the shop. Their enthusiasm in serving a parent and child looking for the kid's first trick is rooted in a true affection for all who enjoy magic." — Judy Hanthorn, Mableton, Georgia
"This is where my 26-year-and-counting magic career started! Their excellent professional staff is always helpful and knowledgeable on all levels of the art. The last thing I'll say is that Magic Inc. is my family, they have celebrated my best of times and have supported and help carried me through my worst, you can't say that about many shops." — Tevell Rose, Chicago, Illinois
"It's just a family! If you are new to the art or a professional, they treat you just the same (not every magic shop does this.) Even if you just want to hang out and talk shop, they are there for you. I love everyone who works there and the owners are wonderful. They just won't quit. A staple in the magic community." — Craig J. Newman, Portland, Oregon
Rosedale, Maryland
"Denny Haney was a full-time pro. A highly respected magician who could pull off a full evening show that was amazing, funny, and unlike any other magician. As such, he knows what a pro wants and needs. Unlike an online store, Denny does not stock the latest thing just because it is new. Unless it could be performed live, to entertain real people, he won't waste his shelf space or your time. Denny constantly reminds his customers of the value in buying (and studying) magic books to help them develop a unique voice. Okay, it smells like cigarettes, and his politics are uncomfortably to the right of mine, but if I want to know if something new is the real deal, there is no better place to turn." — Mark Phillips, Washington D.C.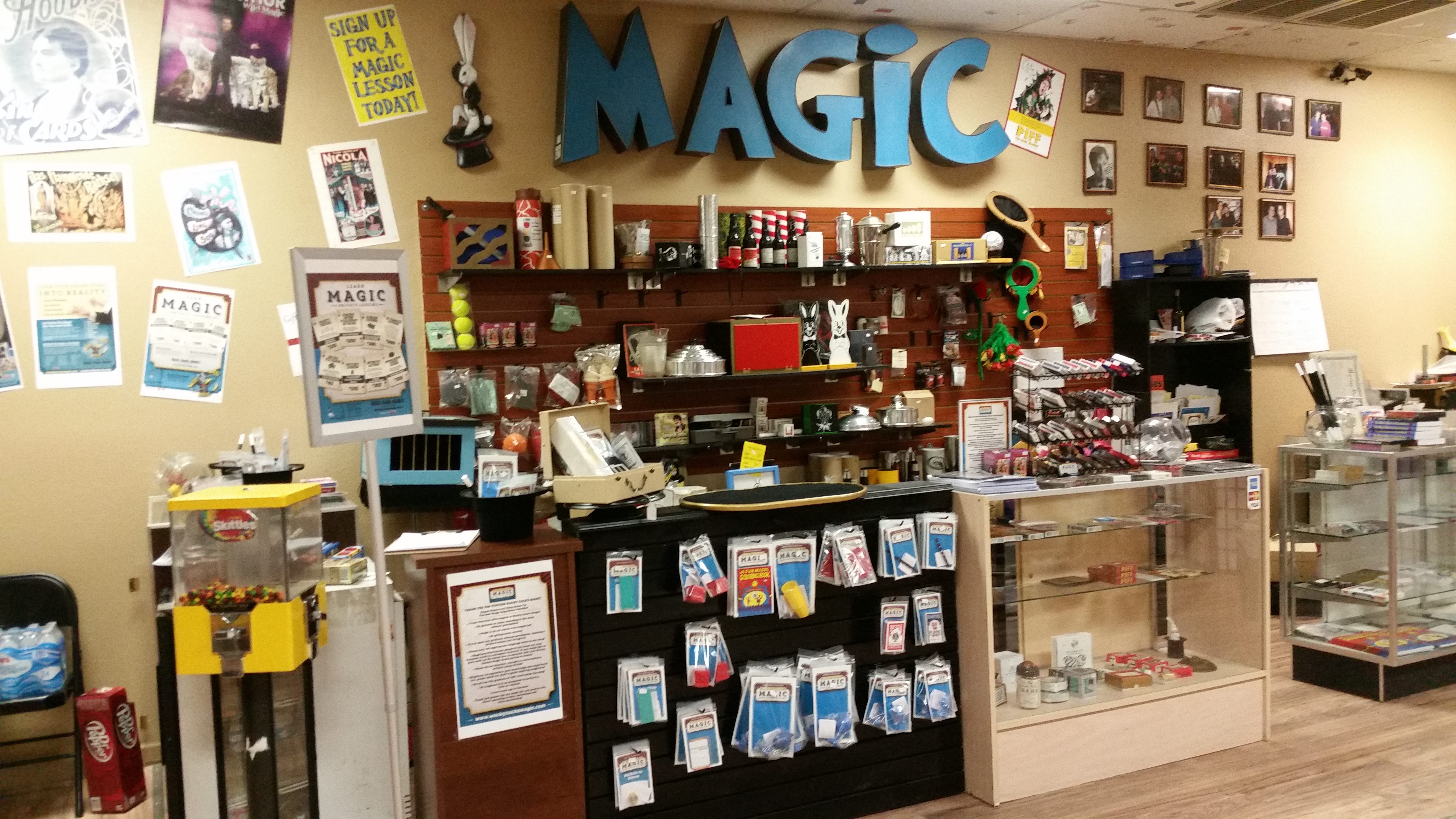 Phoenix, Arizona
"It's a great place to find magic for beginners and professionals alike, with anything from small children's tricks to big illusions." — Joseph, Arizona
Colon, Michigan
"We have known Rick Fisher for six years. From the very beginning he has supported my son with his magic endeavors. He is truly a kind spirit. I am so thankful that we met him. I consider him a true friend." — Jennifer Elkowitz, Grand Rapids, Michigan
Tokyo, Japan
"Our guru, Ton Onosaka. His deep knowledge on magic IS this shop's speciality." — Yuki Kadoya, Nagoya, Japan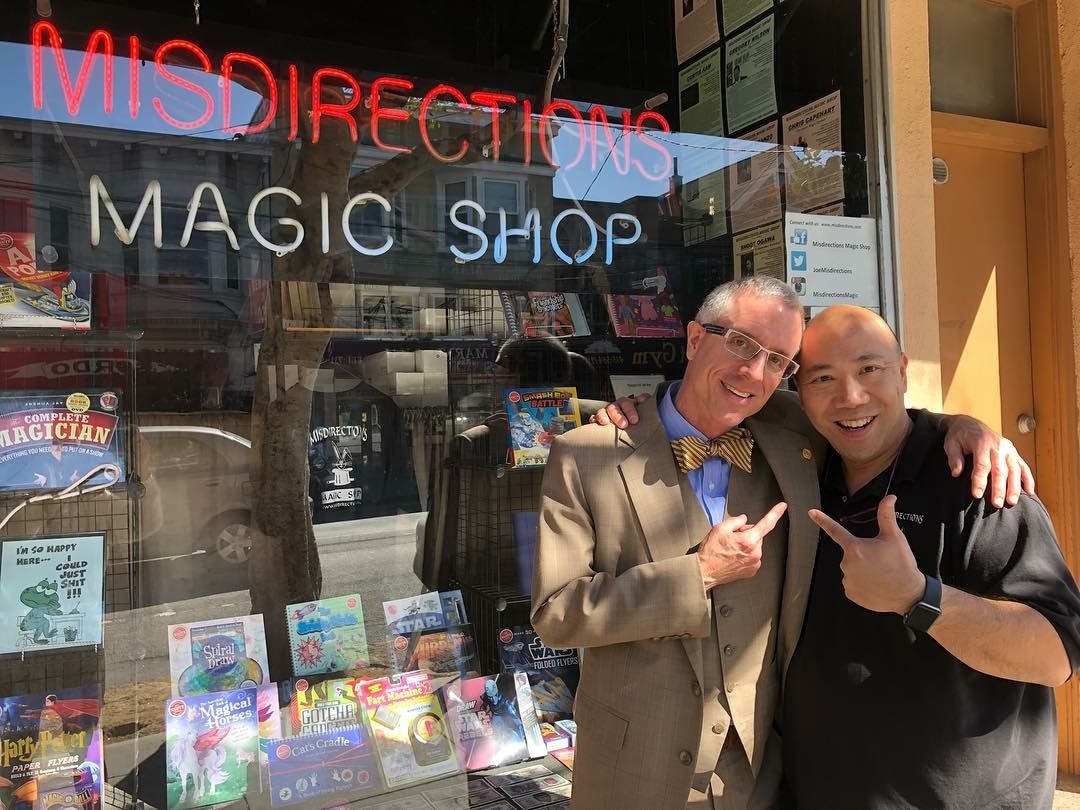 San Francisco, California
"If the world of Harry Potter was real, this store would be in Diagon Alley. You can find any magic trick here and Joe is always a savvy and patient teacher." — Federico Chavez, San Francisco, California
"I've been in every magic shop in every major city in America. I was also a professional magician for 22 years. I'd been a working magician for almost ten years when I first walked into Misdirections and asked to see some top shelf magic books. Joe refused to serve me until I could convince him I understood the craft enough to deserve it. He cared more about the ethics of the art than the sale. I respected that so much. I hung out there all day until I could convince him to let me see the book I wanted and kept hanging out there for years as he built a community of great magicians, by guiding and elevating them (and me) through his personalized curation of books, lectures and secrets. Misdirections is proof that a great magic shop can survive in this online economy through curation, community and trust." — Ryan Majestic, Los Angeles, California
"I have been going here since I was a kid and started my own magic show. The shop is owned by a man named Joe, who learned his first trick at the age of five after watching someone change the color of a handkerchief. He taught himself magic by checking out a book from the library. His shop has been open for more than 20 years. To paraphrase why he told me he thinks people love magic, 'It's like Santa for adults. As we grow older, we become more set in what we believe to be true. Magic disrupts that. It allows us to tap into that same sense of wonder we felt as kids.'" — Kevin Oliver, Los Angeles, California
Kalamazoo, Michigan
"I've spent hours and hours in that shop. Sometimes attending magic workshops that would end when the sun came up. Great selection of magic supplies as well as an amazing amount of knowledge that the owner, Antony, has and shares." — Tom Kracker, Ohio
Port Jefferson, New York
"A lot of classic effects, as well as original, exclusive stuff that you can only find at Ronjo. Ron Diamond, the owner, is as friendly and helpful as can be, and everyone that works there is always eager to demo and chat." — Dave Dodds, Long Island, New York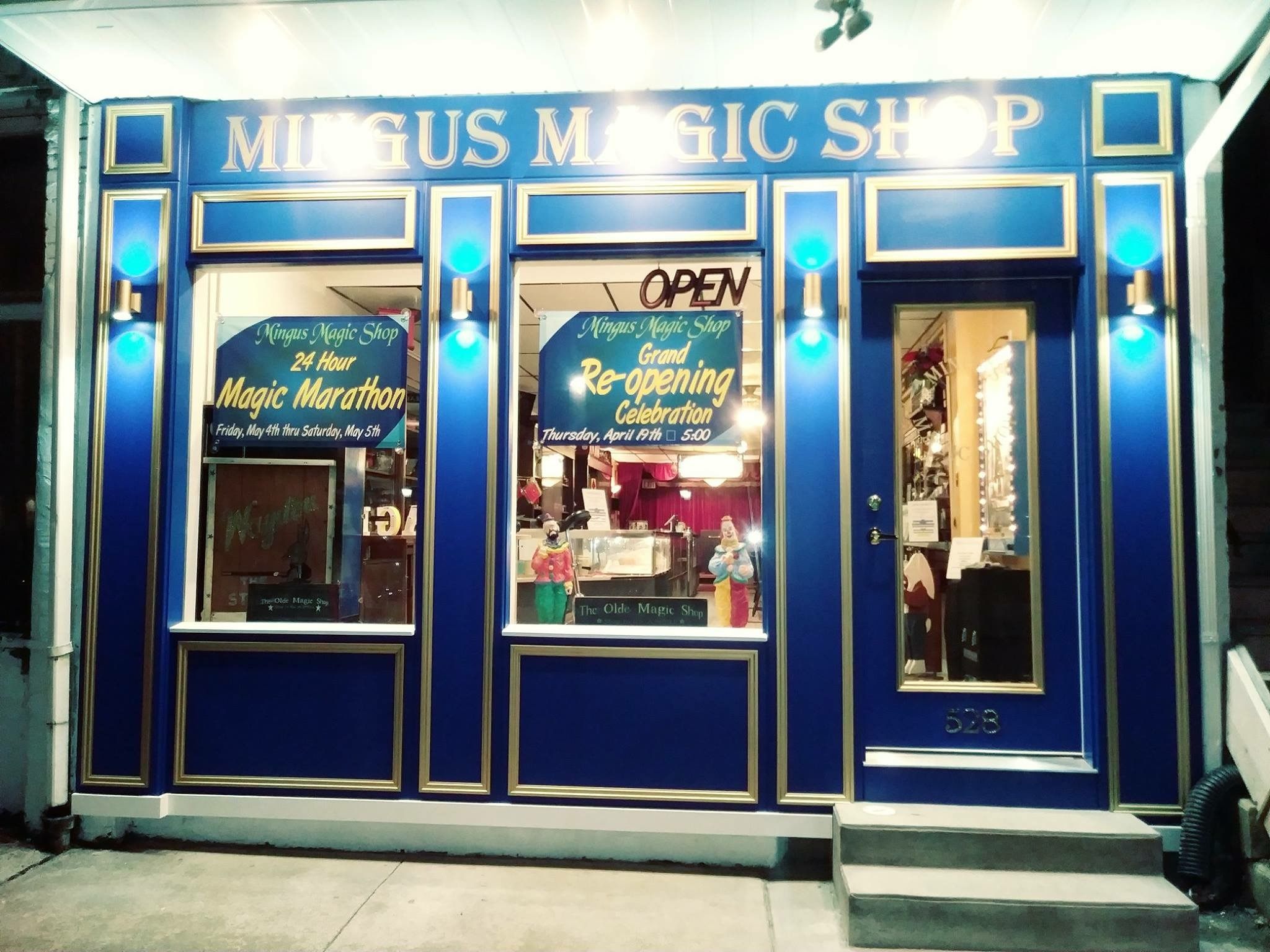 Reading, Pennsylvania
"This is a beautiful shop with a built-in parlor theater, incredible service, and a place in which I purchased my first floating glass illusion." — Daniel Eckert, Sykesville, Maryland
"This 80-year-old shop regularly hosts a 24-hour magic marathon to support children's charities, hosts local magic clubs, jam sessions, lectures, and (of course) supplies various tricks and apparatus. In addition to its longevity, it has survived no less than four competing shops in its tenure. It is central Pennsylvania's last, best magic shop and a local treasure." — Vincent Dangolovich, Harrisburg, Pennsylvania
Tullahoma, Tennessee
"Great shop with a good selection and knowledgeable staff." — Jim Hooten, Nashville, Tennessee
Galena, Illinois
"It's a cute, secret location just off of the downtown Galena Main Street!" — Brett O'Donnell, Orland Park, Illinois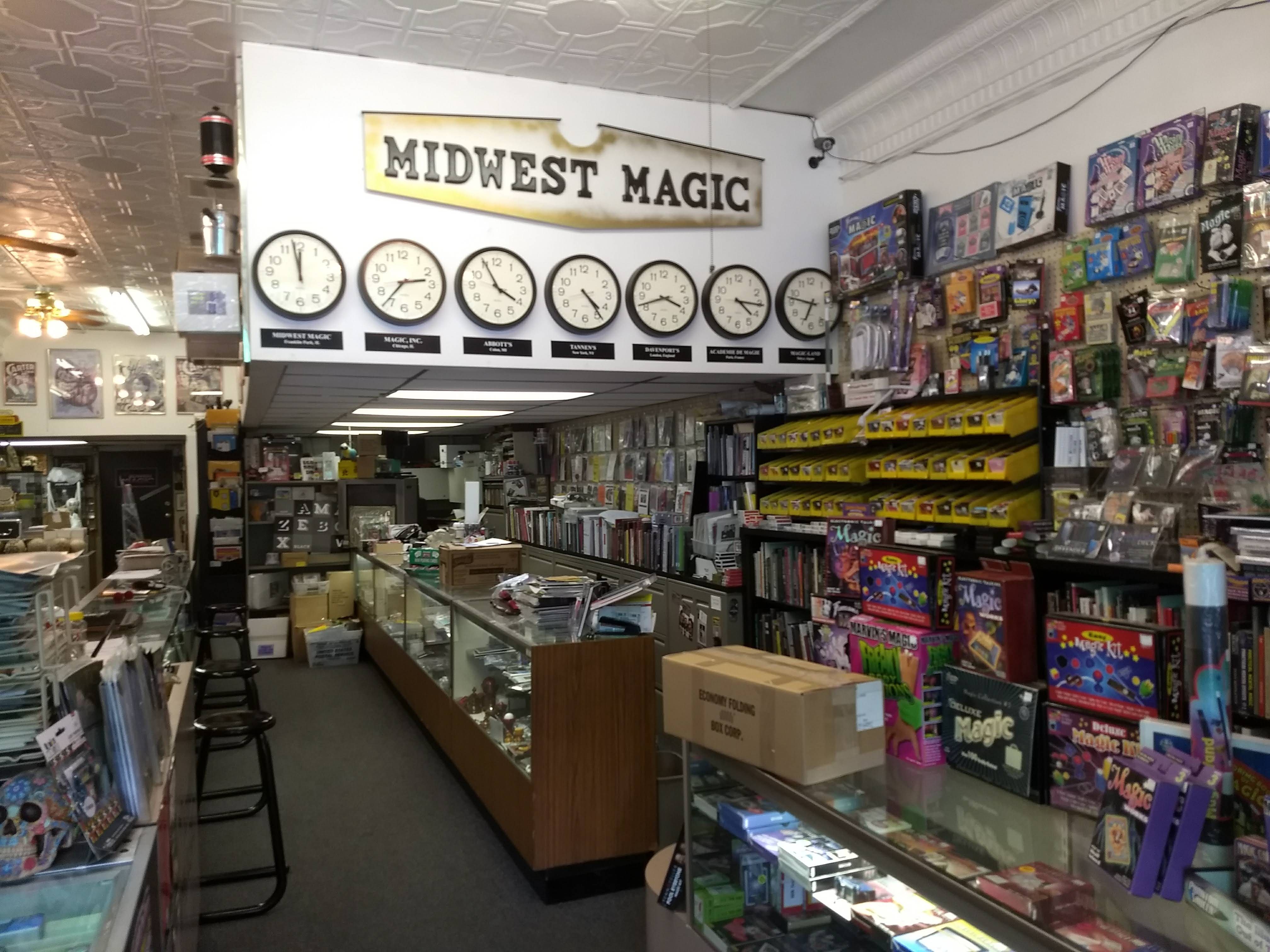 Franklin Park, Illinois
"There's a secret room in the back behind a bookshelf!" — Joe Diamond, Chicago, Illinois
"Best shop owner and really cute too!" — Cheryl Felix, Downers Grove, Illinois
"It's not just a shop, it's a magicians hangout. Countless Saturdays have been spent there with the guys working on tricks and having fun. To boot, Tim, the owner, knows quite a bit of magic history and the shop has virtually one of everything. " — Royal Jenner, Frankfort, Illinois
Naples, Florida
"Within a beautiful pier in Naples, there is a small magic space that takes you back to your childhood. The owner who is a magician is usually there to sell everything, from jokes to serious books about the art of magic. Don't forget: only after you pay will the secret be revealed." — Yali J. Luna, Naples, Florida
Gatlinburg, Tennessee
"This store also sells wood carvings, and hand-crafted tchotchkes. The owner is a tiny woman who has worked as a clown and showgirl. One whole room of the store (which is their house, and their family kitchen is in plain view), is dedicated to magic tricks, gadgets, books, and paraphernalia." — Sheridan Roberts, Gatlinburg, Tennessee
If you have a favorite magic shop of your own to share, head over to our community forums and tell us about it!