Inspiration for Your Next Food-Related Adventure
Atlas Obscura readers share their most memorable experiences of traveling for the sake of eating.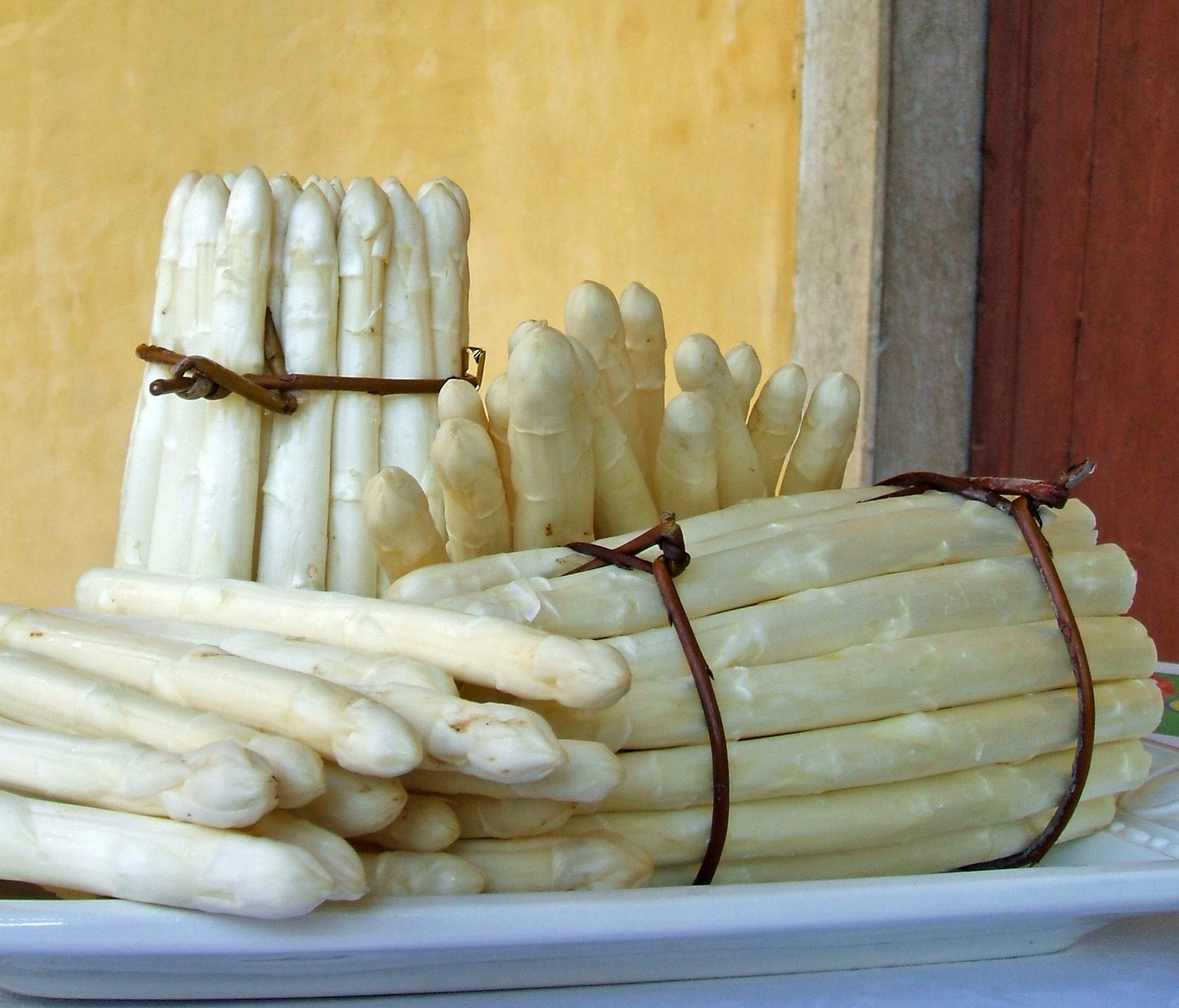 Traveling is hungry business—and sometimes hunger can lead to traveling business. Food is one of the most visceral ways people experience new places, so much so that we often plan trips entirely around what (and where) we're most excited to eat. Recently we asked Atlas Obscura readers to share the story of their most memorable culinary journey. The results will make your mouth water.
We received heartfelt stories of how food inspired what turned out to be incredible trips, as well as of trips that ended up being indelibly enhanced by incredible food. Whether it was learning all about one of Italy's rarest pastas, or traveling all over New York just to find a specific brand of ice cream, each of our readers' submissions spoke to that key connection between food and discovery.
You'll find a selection of some our favorite reader responses below. Fair warning: They may inspire you to embark on a tasty adventure of your own!
A Month of White Asparagus
Germany
"I have visited Europe and Germany many times but never in the spring, and earlier this year I spent the month of May going all over Germany. I did not realize that for six weeks in May/June, it is white asparagus season and the whole of Germany embraces this wonderful vegetable. Every restaurant had white asparagus on their menu and I managed to have it every day in some form or another for three-and-a-half weeks. There were even small towns where their entire economy is based on this six-week season. It was very fun to see all the different ways asparagus could be served and I will be back again next year!"
— Michele Davis, Santa Cruz, California
An Unforgettable Meal
Ronda, Spain
"It was a honeymoon journey, a search for the spirit of the poet Lorca and dinner at Tragabuches… The meal began with an appetizer that came in a shot glass. Some sort of hot, rich, thick drinkable almost-yogurt-but-not that I wanted another glass of, but was too shy to ask for. Next came the goat. If I'd known goat could taste like that, I'd have eaten it before and after. [I'd never had] goat like that, gamey-but-not; seasoned aromatically, but I couldn't say with what. Dessert was chocolates from around the world. We drank a good rioja. Yes, we were newly in love, and yes, quite hungry, but nowhere before nor since, despite larger price tags, have I had a meal like that. That meal has lasted in the heart/mind for these many years, blending with lust and love and lives yet on the tongue."
— Patrice Vecchione, Monterey, California
40-Year-Old Soup
Somewhere in Ohio
"Back in the 1940s it was legal and possible to hitchhike. One Sunday I was hitchhiking to Chicago and stopped in a small town somewhere in Ohio, looking for something to eat. I noticed a bar that offered something intriguing: a sign on the window proclaimed, 'Try Our 40-Year-Old Bean Soup… .' I had to try it, and it was delicious! The bartender/owner who served it told me the story. His father owned the bar, and served bean soup every day. When the war began he joined the army and left the bar to his teenage son. The boy continued working in the bar and continued making the soup, but now all he did was to put a huge pot on the back burner of the stove, filled it with pork bones, navy beans, tomatoes, and onions, and let it simmer slowly for hours. He never stopped the slow cooking on the stove, and when the levels went down in the soup (it was very popular), he kept on adding more pork, beans, tomatoes, onions, and water. I'm not at all sure that the health authorities today would permit that, and I don't think a teenager should have run a bar, but that was then. The soup was really delicious, and I had two bowls. The sad part was that the father never came home from the war, but was killed in action, according to the son, in Normandy in 1944. If offered again, I would have some, but probably not two full bowls!"
— Jobaron, Israel
When Getting There Is Half the Fun
Knoydart, Scotland
"With no roads in or out, The Old Forge in the tiny village of Inverie on the Knoydart peninsula is the most remote pub on mainland Britain. Known as the last wilderness area in Great Britain, getting there involves an 18-mile hike over the peninsula's Munros or a seven-mile, scenic sea crossing. We opted to take one of the passenger ferries from the port of Malliag. After a rather damp and misty crossing, we landed at the pier in picturesque Inverie. Situated right on the seashore, The Old Forge looks out over stunning Loch Nevis to the Outer Isles. The journey from Otley to Mallaig itself involved a 360-mile round trip, through the most amazing scenery, including Glencoe. One of the most scenic mountain drives in the world. The journey alone was amazing and the seafood and setting was awesome! We tried to take a walk along the shore after lunch, but the rain came lashing down and we had to take shelter before we caught the return ferry back to Mallaig. Although the Scottish weather left much to be desired, The Old Forge did not. Its spectacular out-of-the-way location and fresh, simply cooked seafood make it well worth an excursion."
— Claire Donkin, Otley, United Kingdom
Finding Threads of God
Nuoro, Italy
"In researching our (my husband and I's) trip to Sardinia and later Rome and Tuscany, I came across an astounding fact. In Nuoro, there was a woman, Paola, who was one of the three remaining people on Earth that made the pasta known as 'Su Filendeu' or 'God's Thread.' It's a tedious process and was originally made for the festival of St. Francis Day. The dough is folded and pulled many, many times until it is infinitesimally thin. It is laid over a 'drum' and the procedure is repeated twice more, criss-crossing each batch, allowing it to dry. Paola still makes it for the festival and for a few restaurants in town. We spent a lovely few hours with her in her home, being served coffee and biscuits. Her daughter was summoned from nearby and told us all about her mother and her career, as Paola speaks no English. We left the apartment smiling and went to a local restaurant, Antica Trattoria Il Rifugio, 'The Refuge,' to taste Paola's pasta. It is simply cooked in a sheep broth and then sprinkled with shredded Romano cheese. It was very basic and satisfying, just as it was intended to warm the bodies and souls of the pilgrims walking through the night on St. Francis Day. After dinner the chef allowed me to enter the kitchen and he specially cooked a portion, showing me how it was done. Aside from meeting a wonderful lady, I got to taste a food that may well die out with Paola, as she can find no one to teach the method to."
— Andrea Swenson, Nyack, New York
An Entire Day of Pizza
Naples, Italy
"For some time I had wanted to experience authentic Neapolitan pizza in Naples, Italy. So this summer, while attending meetings in Rome, my colleague and I took the high-speed train to Naples and spent the entire day eating pizza in Naples. We walked 15 miles by the end of the day. I think we must've consumed 6-7 pies each, throughout the day, finishing off with the famous Pizzaria de Michelle. It was amazing! I have been making pizza at home for many years. I am so into pizza I even built my own brick oven in the backyard. I am always trying to perfect my pizzas. While the pizza in Naples was amazing, in the end, I realized that my pizzas have gotten pretty good. However, I will keep trying to reach pizza perfection."
— Jeff Gang, Redlands, California
An Unexpectedly Transcendent Burger
Big Timber, Montana
"We took an RV vacation last summer, traveling from New Orleans to Montana. New Orleans cuisine is world renowned, and we are blessed to have eaten it all of our lives, so we weren't expecting to be wowed by food on our trip (mountainous scenery, yes). Then we were blown away by the humble hamburger in the small Montana town of Big Timber. I don't know, maybe the altitude makes cows happier, because I've never had an organic grass-fed hamburger with so much flavor! If I could afford to, I would fly to Timber Bar & Grill once a week for one of those burgers. The most delicious, flavorful hamburger!"
— Debra Horst, New Orleans, Louisiana
Life-Changing Oranges
Ashkelon Beach, Israel
"Many years ago I lived in the U.S., and a friend of mine invited me to travel with her to Israel. We stopped at a grocery store and found the elusive Jaffa orange, so we bought a few. The next day we wanted to travel south to the beach in Ashkalon. The weather was amazing, the water was perfect, and we stood there with the waves lapping our shins as we ate the oranges. We had juice running down our chins, hands, all the way down to our elbows. The flavor was impossible to describe, rich, like honey, delicate notes of neroli, and just a bit of lemongrass. There's really nothing like it. As the sun was setting, a lovely young man started playing the flute, and the whole day was simply magical. I can't imagine a five-star restaurant making me any happier. I think that may have been the moment that made me decide to move there for good. Israel is the BEST!"
— Cynthia Acosta, Bet Shemesh, Israel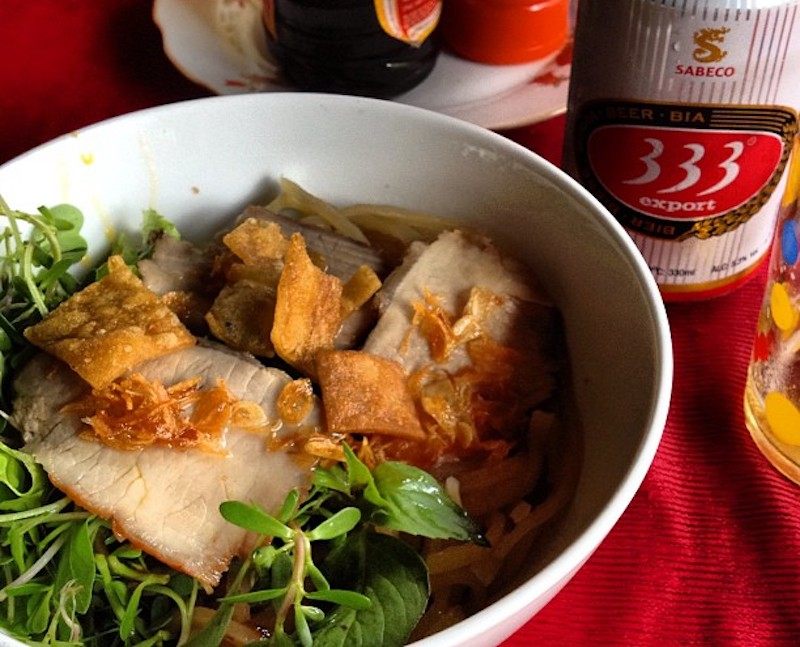 Cao Lầu Forever
Vietnam
"I saw a documentary about food in Vietnam and one dish stood out: Cao Lầu, made only in Hoi An, Vietnam. As I am a single women traveling alone, I thought it safer if I joined a tour group for a tour. The tour began in Hanoi, ending in Ho Chi Minh City. One of our destinations was Hoi An, an ancient city on Vietnam's central coast and the home of the dish, Cao lầu. As soon as we arrived, I went in search of a steaming bowl of Cao lầu. I discovered the main thing that makes Cao lầu different and delicious is the water used to prepare it is from a spring in Hoi An. The water is not found any place but Hoi An! After the tour ended, I returned to Hoi An for two weeks without my group. In those two weeks, I think I ate Cao lầu in every place that made it. But the very best I ate was prepared in the kitchen of the woman I rented my little apartment from. She invited me in the kitchen and let me help prepare the dish. The secret is, of course, the special water, and also the fresh organically grown local greens, but the love my landlady put in the dish made all the difference. To this day it is my very best foodie experience. Yes, it was worth the trip and I learned food made with local ingredients and love make the difference. But further, I encourage everyone to spend time with the people who prepare food and see the food from their perspective. It's the best cultural experience."
— Patricia Forcier, Jacksonville, Florida
Freshly Caught Scallops
Peru
"At almost the end of this culinary journey to Peru, we went to a small restaurant where we were to go out in a boat to harvest scallops that these 'farmers' were growing. The seas were determined to be unsafe for us in the small boat, but the farmers went out to their fields in the sea and harvested enough scallops for us to have a magnificent meal of them. They were simply served and we drank the coldest beer we had ever tasted. They were so very good. Even though we had to miss the actual harvest, we did watch it from land, and enjoyed a wonderful meal cooked by the man who had brought the scallops up from the sea."
— Pam Sall, Lincolnwood, Illinois
It Never Hurts to Arrive Starving
Ozello, Florida
"This five-star fish restaurant is based on the Gulf of Mexico inlet of St. Martin's Marsh Aquatic Preserve. It is way out in the marshes where a narrow, winding, often-flooded road takes hungry folks, lusting for fresh Southern-prepared seafoods into the little fishing village of Ozello, Florida. Me and two friends decided to kayak there from Fort King Island beach in Crystal River. We got seriously exhausted fighting a stiff March breeze and a bouncy sea but finally made it to the docks behind the Peck's Port Cove Restaurant, got out of our kayaks and staggered up to the patio. Very much worth the paddling experience, and because we had burned so many calories, we ate like starved pirates. Scallops and shrimp were to die for! Key Lime pie was the best on the West coast of the Sunshine State."
— Jan, Dunnellon, Florida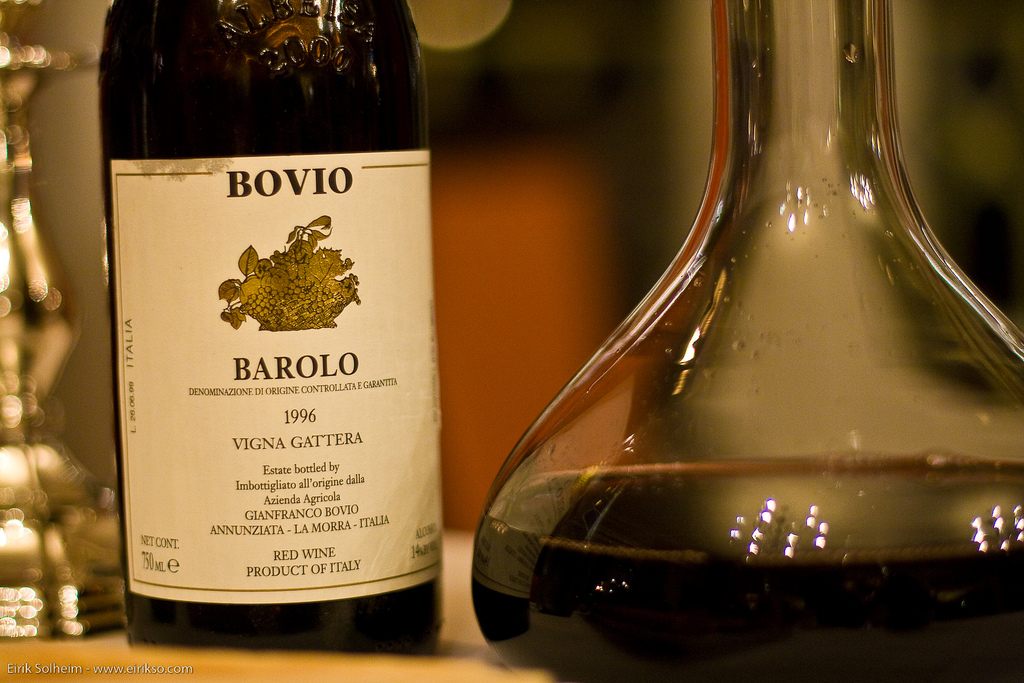 The Royal Treatment
Barolo, Italy
"In the land of Barolo, the king of wines, and Barbaresco, the queen, the river Tanaro winds through the lush green valley. Vines grow on steep slopes, well above the fog lines. Raw meats, rich risottos, lamb, and truffles are paired with the juice of the Nebbiolo grapes. Small, historic villages with cobblestone streets, some designated the prettiest small villages in Italy, are havens for great food and wine, but lack the hordes of tourists at most wine destinations. I challenge you not to eat your weight in grissini, the lowly breadstick invented in the 1600s for the King of Piedmonte. At the Cantina Marchesi di Barolo we enjoyed a food and wine pairing of traditional foods paired with their fabulous wines.* While dining we enjoyed a visit with one of the winery owners who made us feel as though we were the most important people in the room. After dinner we had a private tour of the wine cellars and library. It was a day to remember!"
— Penny Sadler, Dallas, Texas
Have Cheese — Will Travel
Galicia, Spain
"We wanted to travel to that part of Spain because of the famous cheeses produced there, and planned our trip from village to village (most of them have their own cheese recipe). It was worth the travel. Not only for the cheese. Galicia proved to be a beautiful province of Spain. It combines traditional farming areas (that's where they do the cheese things), religious sites (Santiago de Compostela), and Roman architecture. The latter was the most intriguing during the tour, as many of the old Roman buildings (churches, monasteries, etc.) were lying in ruins and could be visited (at least we did so). It was kind of a spooky feeling, searching the ruins with partly destroyed wall paintings, and dark chambers under the floor—particularly creepy when visiting them at dawn. We tried all the cheeses we met (with pure bread only). We mistakenly bought them also to bring them back home. But, there the taste was not that good anymore. Obviously, you need the special atmosphere of Galicia to find pleasure in tasting them."
— Frank Brandstaetter, Dortmund, Germany
When a Craving Becomes a Quest
The Bronx, New York
"I was living in New York at the time, and I was craving Magnolia ice cream. Two trains and hours later, including getting lost twice and being new to the city, I was exhausted from the journey. I don't know why I wanted this particular brand, but I'm from the Bay Area and it's ubiquitous there. And for some random reason, I decided I would chase this ice cream craving. But by the time I was at the store, they did not have the flavor I wanted: vanilla. Ironic I know. Sigh."
— Veronica Ng, Palo Alto, California
If you have a culinary journey story of your own to share, head over to our community forums and tell us about it!
*Update 10/03: The story was amended by suggestion of the original user to include the name of the restaurant.
Gastro Obscura covers the world's most wondrous food and drink.
Sign up for our email, delivered twice a week.