Beatles Monuments in Unexpected Places
Seven less likely destinations for Fab Four fanatics.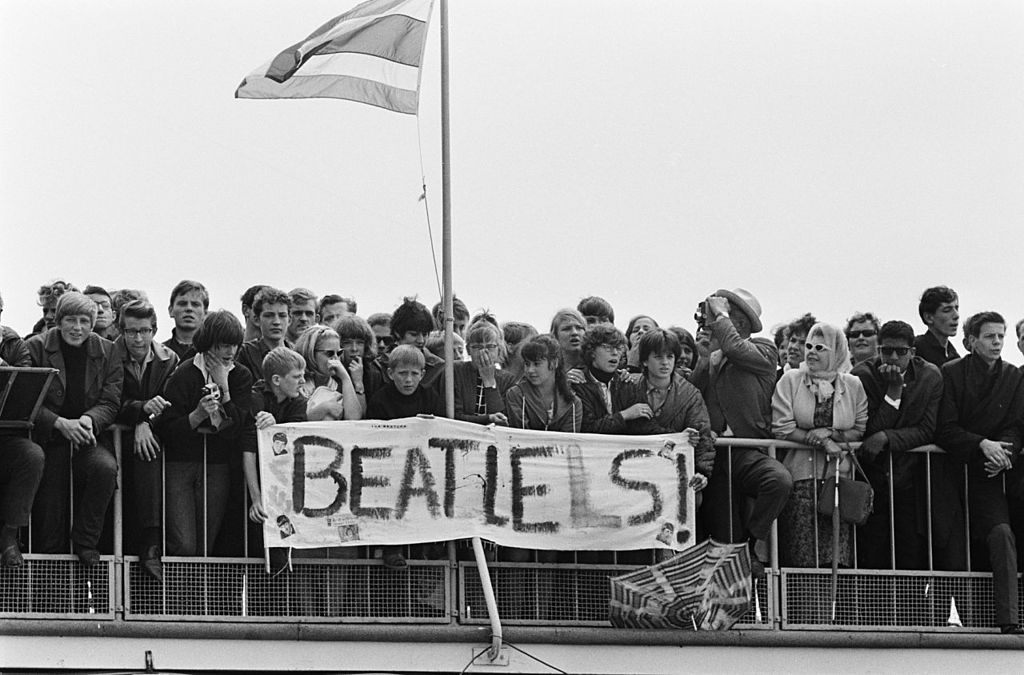 There are plenty of well-known destinations for Beatles fans. Countless British Invasion enthusiasts have no doubt ended their pilgrimages on Abbey Road (hopefully the right one), or at Andrew Edwards' relatively new statues at the Pier Head in Liverpool.
New Yorkers can readily visit the Strawberry Fields Memorial across from the building where John Lennon was killed. And those who've found themselves shopping for a sleeping bag or a tent in Washington, D.C., may have taken a moment to appreciate the coliseum where the Beatles played their first U.S. concert―now an REI.
But some monuments to Beatlemania are featured in places one might not expect to find them. From the bronze statues of Paul, George, Ringo, and John in Kazakhstan to a wall in Prague dedicated to their legacy, the British Invasion, which gained momentum after the group's performance on The Ed Sullivan Show on February 9, 1964, made its way to places that aren't often associated with rock 'n' roll history.
If you've already seen the Battersea Power Station, which makes an appearance in Help!, or Penny Lane, which still boasts the "shelter in the middle of a roundabout" and the shop where the barber showed photographs "of every head he's had the pleasure to have known," maybe a John Lennon statue commissioned by Fidel Castro can satisfy your desire for visiting Fab Four historical markers off the Beatle path.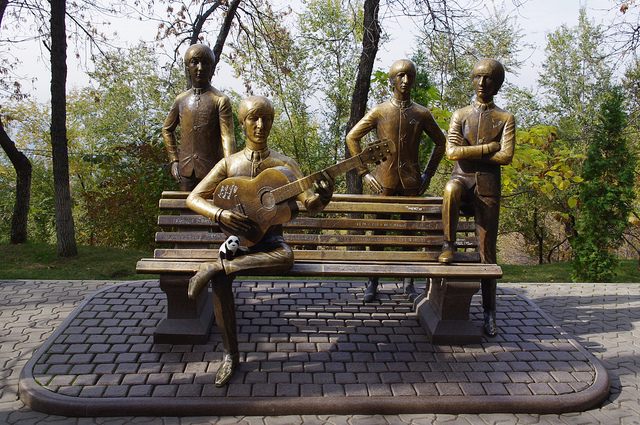 Almaty, Kazakhstan
This youthful, cartoonish representation of the worldwide musical sensation was created in 2007 by the artist Eduard Kazaryan as an homage to the popularity and universal appeal of the Beatles, and as another piece of artistic flair to go along with the existing attractions in Kazakhstan's largest city.
The statue stands near the Almaty Tower, which it seems is starting to be a rallying point for artists and tourists alike due to its attractive scenic vistas.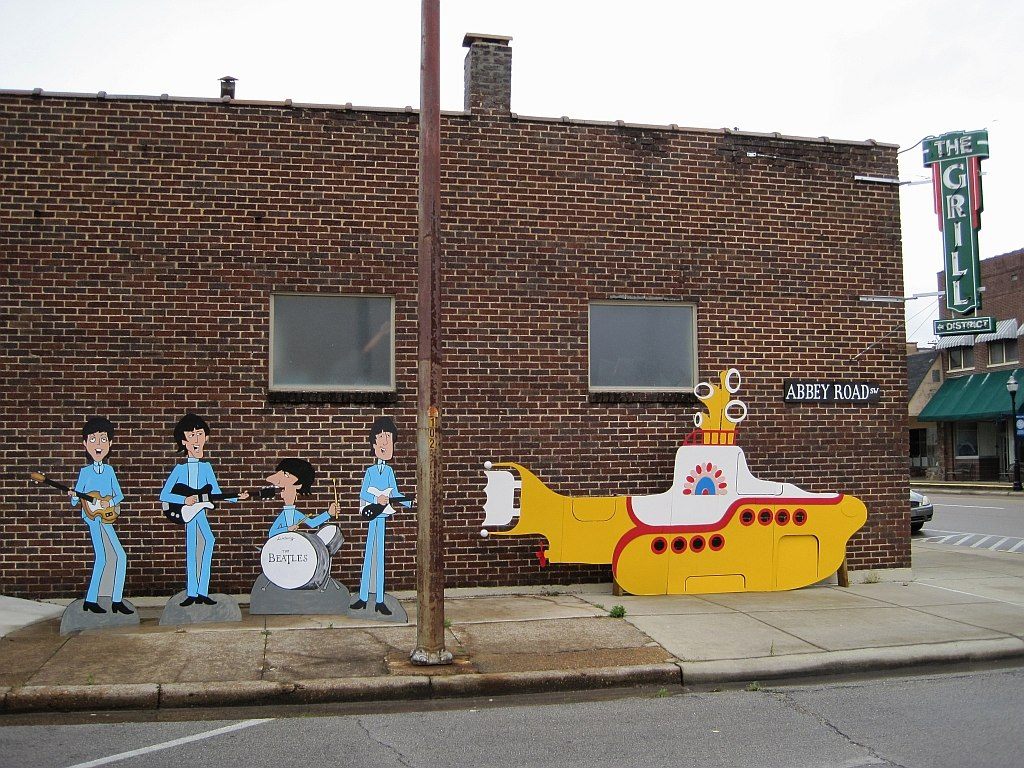 Walnut Ridge, Arkansas
In September 1964, the Beatles landed at the Walnut Ridge airport. The plan was for them to be secretly transported to a nearby vacation spot, and then return to the airport two days later. But fans were tipped off, and nearly the entire town turned up to catch a glimpse.
The quick stopover in Walnut Ridge marked the only place that the band stepped foot in Arkansas throughout their entire run, making what should have been a quick and easy layover into a monumental event for the town's residents, who to this day pass on stories of their encounters with John, Paul, George, and Ringo.
In remembrance of the fateful day, Walnut Ridge created "Beatles Park," a public area complete with cutouts, sculptures, and murals of the four band members and various other objects symbolic of the band, such as a yellow submarine and a piano painted with the word "Imagine." Every September the town hosts the Beatles at the Ridge Music Festival.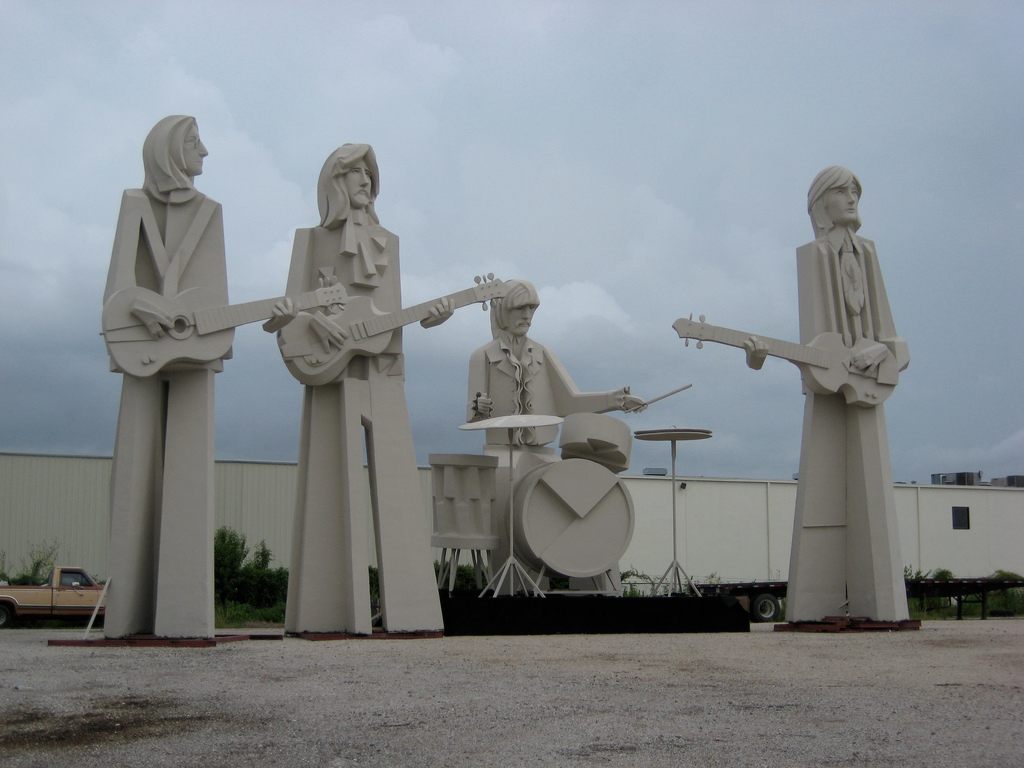 Houston, Texas
The 36-foot tall Beatles statues were once kept at David Adickes' studio, among his 43 giant busts of U.S. presidents, but they've since been moved to a temporary location nearby. The concrete behemoths are currently standing in the backyard of Houston's 8th Wonder Brewery (they're set to remain for at least a year). And they're for sale; if anyone has an extra $350,000―and enough room for them―the Fab Four is theirs to keep.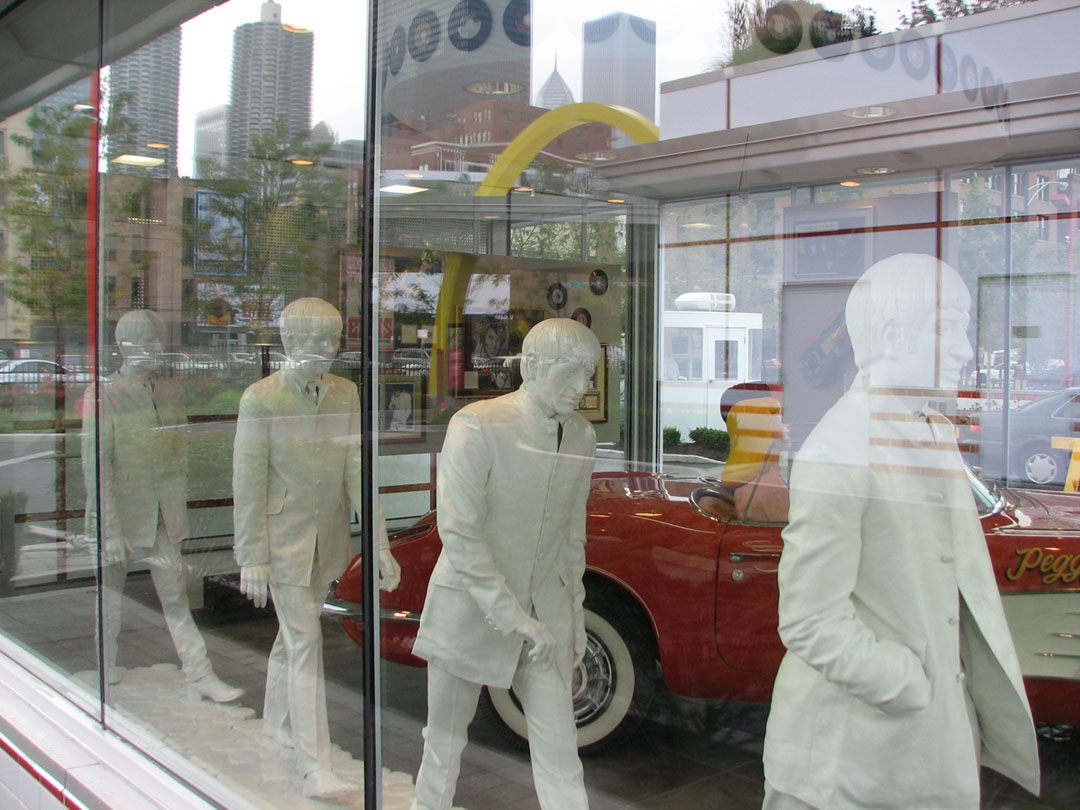 Chicago, Illinois
The Rock N Roll McDonald's in Chicago features a museum dedicated to the genre's history. Plaster statues of the Fab Four are frozen in a constant state of walking by the window for customers to admire. One can't help but wonder what vegetarian Paul McCartney thinks of it; a few years ago, when a Liverpool McDonald's hung photographs of the Beatles on its walls, McCartney's spokesman Geoff Baker responded" "What sort of morons do McDonald's think Beatles fans are? It's ridiculous and insulting to use images to peddle hamburgers."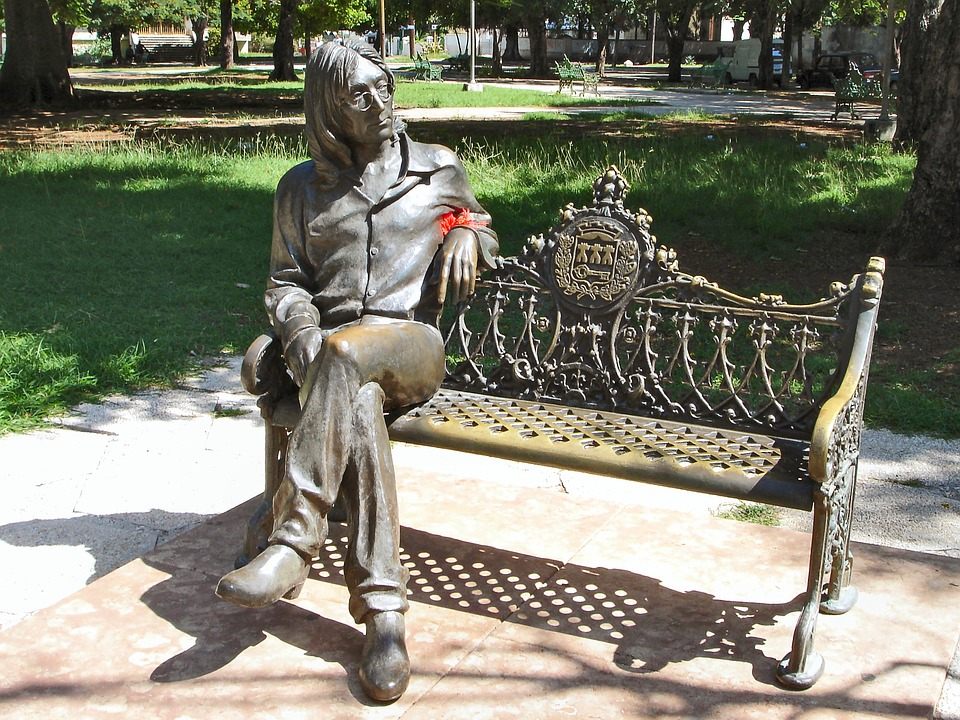 Havana, Cuba
It's no surprise that the music of the Beatles was banned from Communist Cuba in the 1960s and '70s. Cuban authorities considered the music "ideological diversionism," and a decadent American influence during a time of Revolution.
But 20 years after John Lennon's death, Castro made a complete 180. No longer was his music banned, but instead Lennon was to be celebrated as a hero. Castro unveiled a shiny new bronze statue of Lennon in the year 2000, at the then-new John Lennon Park, and spoke of a feeling of kinship to the artist: "I share his dreams completely. I too am a dreamer who has seen his dreams turn into reality." Lennon was also harassed by the U.S. government in the later years of his life, and Cuba considers him both a rebel and a victim—a kindred spirit to Cuba's relationship with the U.S.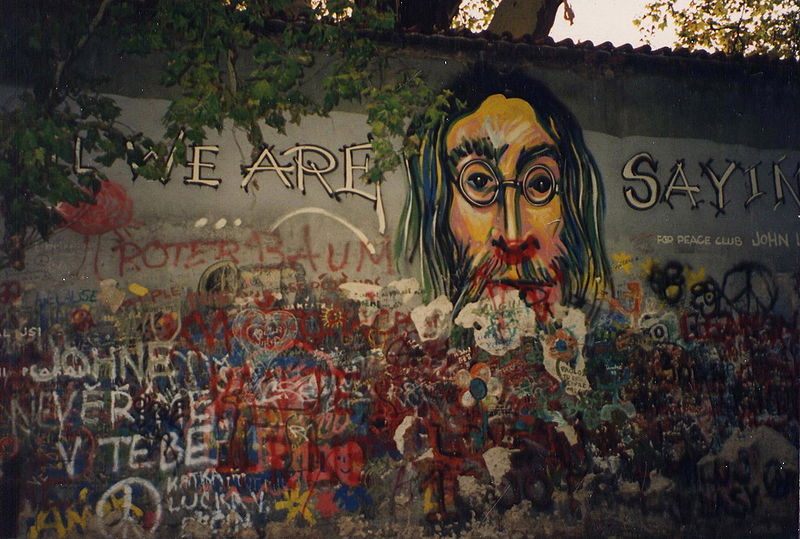 Prague, Czechia
Tucked away into a nondescript street far from the touristy hustle and bustle that pervades much of Prague, the Lennon Wall is covered with Lennon-inspired graffiti and Beatles song lyrics.
An image of John Lennon was first painted on the wall opposite the French Embassy after his murder in December 1980. Soon it became a prime site for political and Beatles-inspired graffiti and a sounding board for disgruntled youth. Several attempts were made by the police to whitewash the wall, but in vain. Artists continued to paint on the wall, refusing to be pinned down. After so many attempts to keep the wall clean, the Knights of Malta, who own the wall, finally gave in and it now stands in all its graffitied glory.
Yekaterinburg, Russia
This monument to the Beatles in central Russia may seem out of place, but considering their popularity in the underground music scene of the USSR, and their cultural impact, the monument, comprised of a wall sculpture and accompanying mural, seems right where it should be.
The Beatles' place in Soviet hearts and musical souls was hard won. If USSR teenagers couldn't buy Beatles jackets or boots, they'd make their own by refashioning the bulky coats and chunky boots they had. When they couldn't get their hands on actual albums or 45s, they'd bootleg their own versions by scratching the grooves into discarded X-ray plates, creating what became known as "bone music." It could be risky to exchange Western music in the USSR, but for those who loved and revered the lads from Liverpool, it was worth the risk.