Behold: An Ode to Concrete
7 beautiful modernist structures that look out of this world.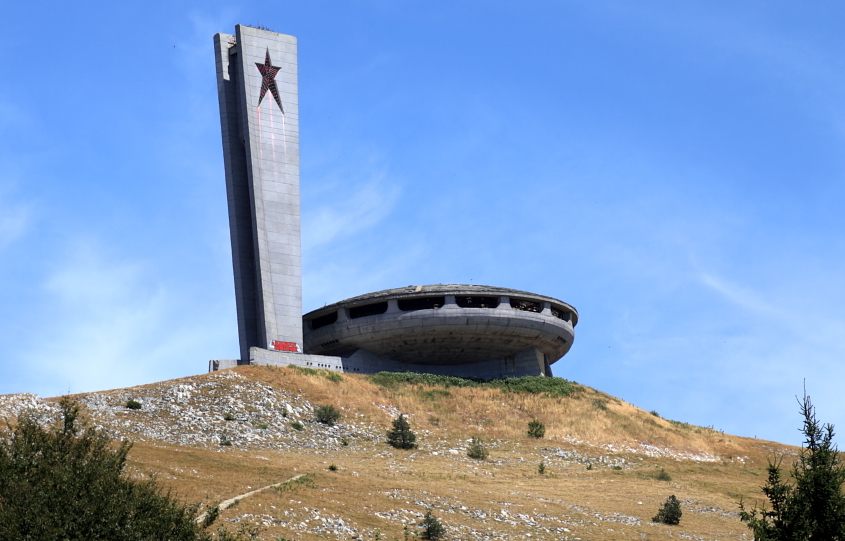 Buzludzha monument in Bulgaria. (Photo: decar66/CC BY 2.0)
In the middle of the 20th century a new wave of modernism swept over the architectural world, and it was made of concrete. The material's low cost and quick construction made it a natural choice for rebuilding post-war Europe as well as expanding the swelling universities in the United States. The new Brutalist architectural style taking hold with the younger generation centered around rugged and raw exposed concrete structures as a symbol of anti-bourgeois, unpretentious honestly touted as progressive and modern. It follows that these bold concrete monoliths associated with a socialist ideology and postwar austerity were a popular building material in communist nations throughout the 1960s and '70s.
By the end of the 1980s the zeitgeist had largely turned against the crude material, but not before our midcentury concrete love affair poured into existence some incredible structures so novel they look almost alien. Below are seven otherworldly concrete beauties found in the Atlas. And if we've missed any, be sure to add it to the Atlas.
BOURG-LA-REINE, FRANCE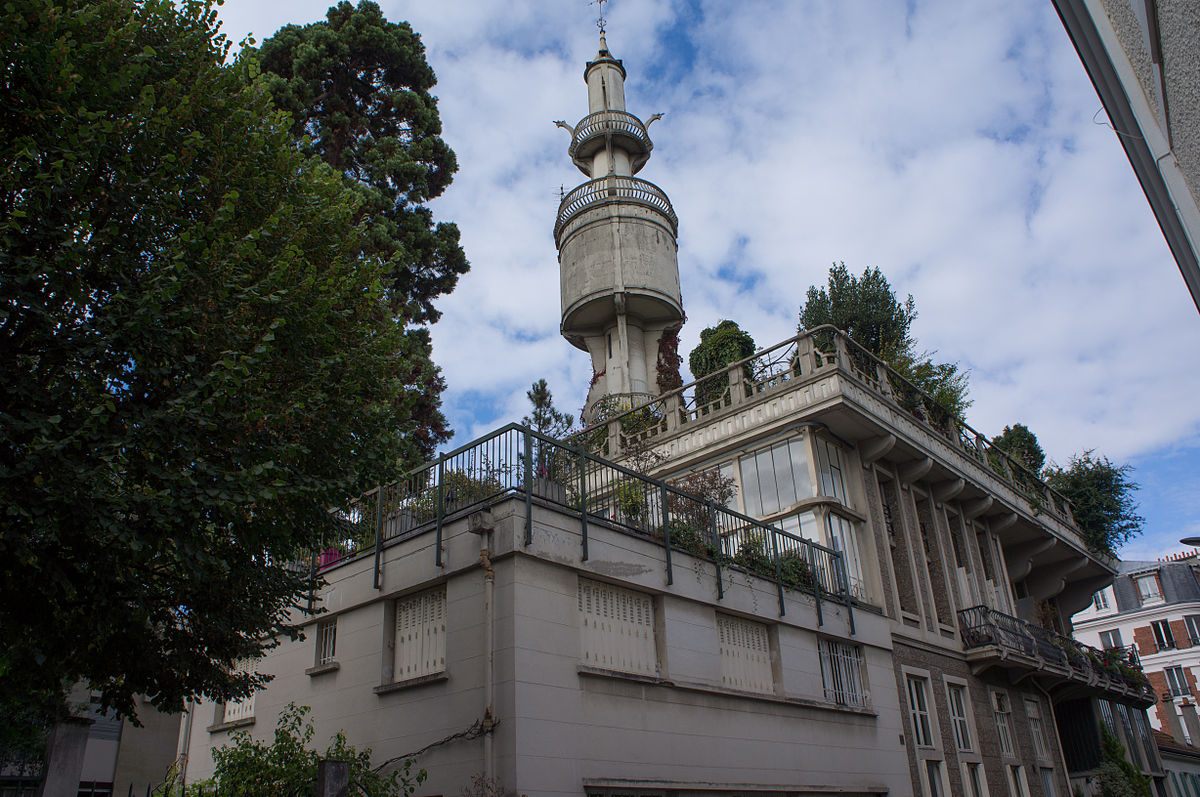 Villa Hennebique. (Photo: Jc7447/CC BY-SA 3.0)
Any ode to concrete ought to begin with Francois Hennebiques, the man who introduced reinforced concrete to the world—and demonstrated its genius by using it to build his own house. In 1910, the self-taught engineer designed a manor made of concrete, an experiment that would allow him to explore the strength and solidity that reinforced concrete could provide. The design and construction of his massive yet elegant concrete house allowed Hennebique to demonstrate the infinite possibilities offered by his revolutionary invention. He subsequently built more than 1,200 reinforced concrete structures around the world. While his name may be unfamiliar to you, you're probably surrounded right now by what he created over a hundred years ago.
KRUSHEVO, MACEDONIA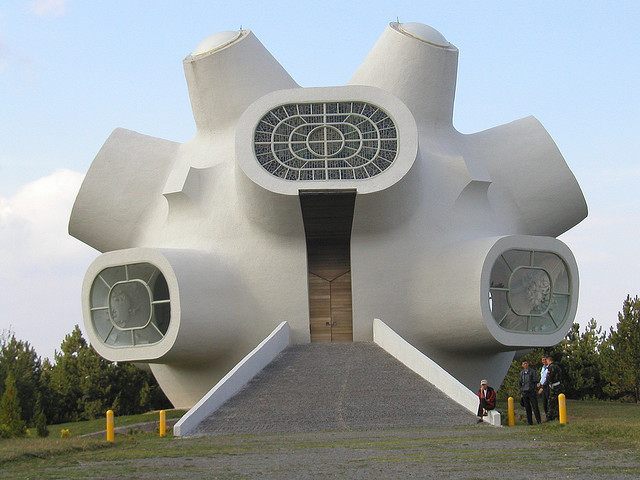 Kruševo Makedonium. (Photo: vesnamarkoska/CC BY-SA 2.0)
The Makedonium almost looks like a giant concrete heart valve, except it's white and has around 10 massive stained-glass skylights poking out from its circular base. This space-age monument was erected to remember an early 20th century uprising in Macedonia against the Ottoman Empire. However if the artist and surrounding memorial park didn't state explicitly that the building was in honor of the Ilinden Uprising, it stands to reason that no one would ever make the connection. There are no statues of soldiers holding a flag or grand statements of statehood. There is only an oddly-shaped modernist structure. Maybe that's the point of the monument—it is looking toward the future.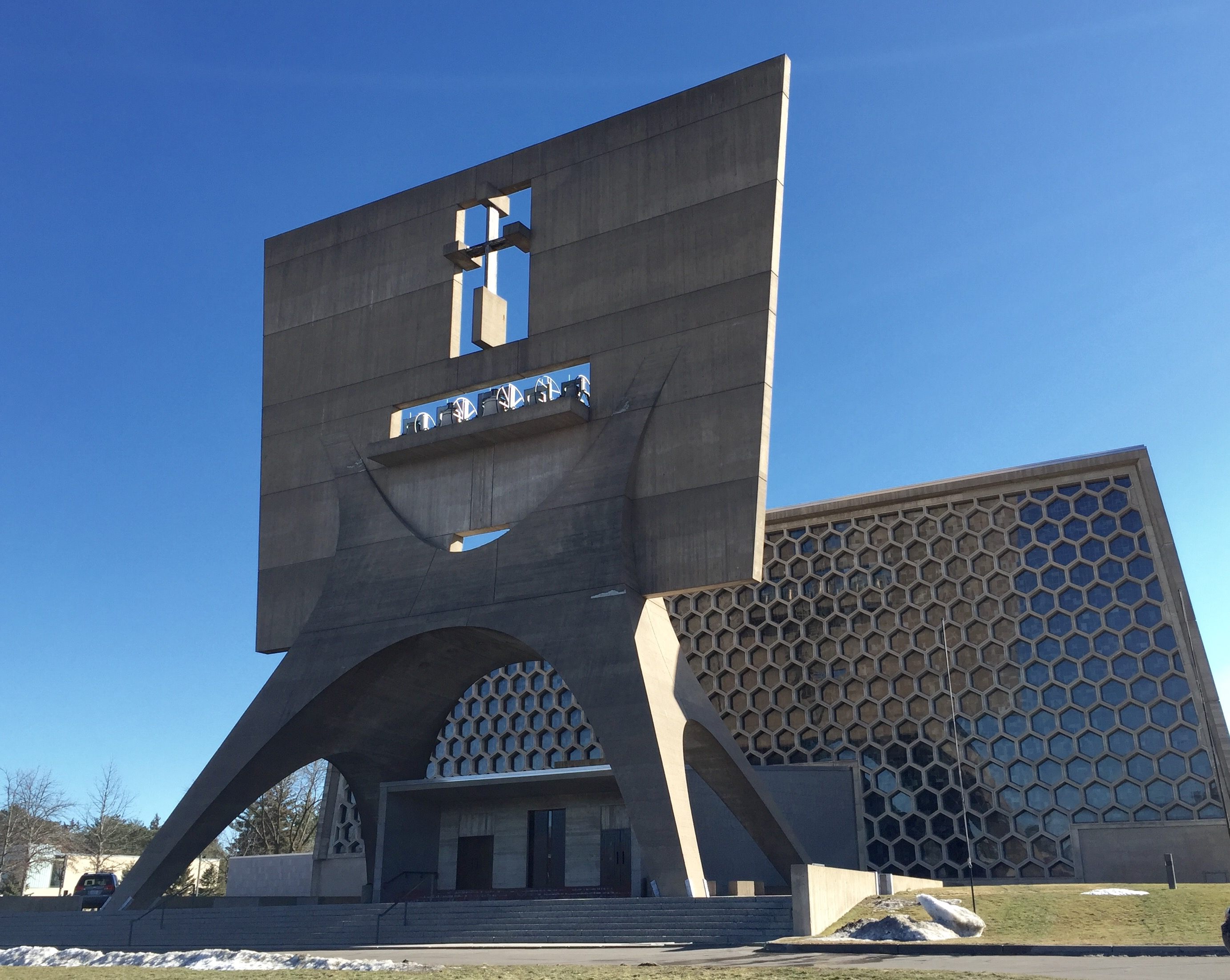 (Photo: Sarah Brumble/Used with Permission)
Built between May of 1958 and August of 1961, the church of Saint John's Abbey bursts forth from the plains of central Minnesota like a concrete demon from a galaxy far, far away. Lording over the campus of Saint John's University, the concrete behemoth looks more like an imported relic from Eastern Europe's post-Soviet glory than a homegrown feature of soybean fields and flyover country.
This epic brutalist church was created by the legendary designer and architect Marcel Breuer. Inside, the ceiling folds like a great fan above two areas of seating for the congregation: a loft whose back presses against the bright honeycombed north wall, and an expansive lower level of seating that surrounds the altar in a semicircle. A Star Trek-esque abbot's throne hovers in the back of the asp, framed in gold. With such flowing and pleated grace, it's mind-boggling that everything at Saint John's is made of concrete poured on-site by the monks themselves.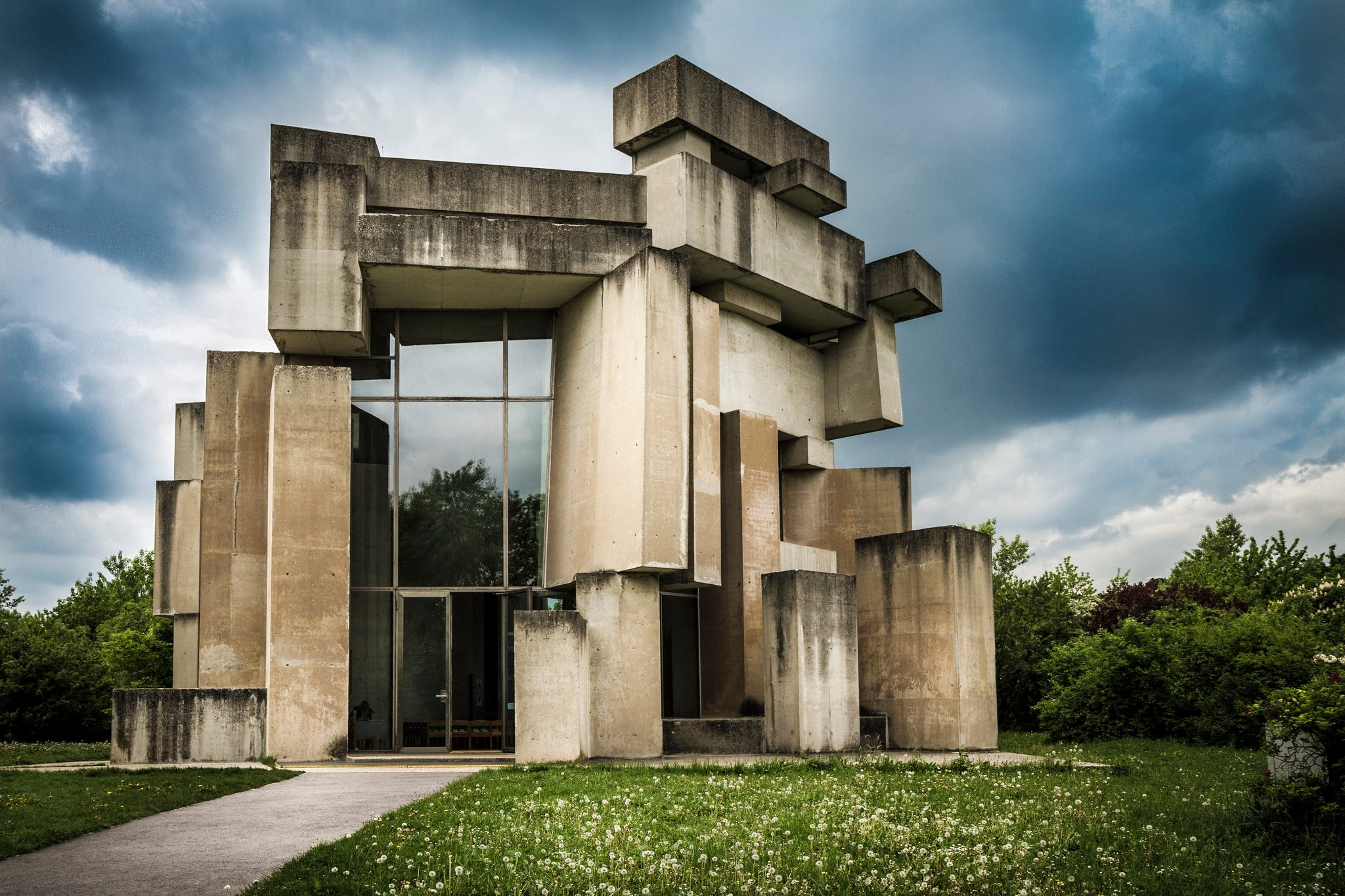 (Photo: [AUT]side/CC BY-ND 2.0)
Sitting atop a grassy hill in Vienna, this cubist church building looks like some sort of alien Stonehenge—an asymmetrical jumble of stark concrete slabs precariously threaded together. The modernist chapel takes its name from the visionary architect behind its creation, Fritz Wotruba. The sculptor-cum-architect began building the strange building in 1974, inspired by elaborately gothic Chartres Cathedral, though you could be forgiven for not seeing the connection, given the brutalist church that he ended up designing.
Built on the site of a former Nazi barracks, the church is formed from 152 concrete blocks, bolted together like a Jenga tower in mid-tumble. The windows are built into the irregular spaces between the blocks. This chapel may seem a bit cold and abstract in comparison to more traditional churches, but the experience of walking into a giant brutalist sculpture is heavenly in its own right.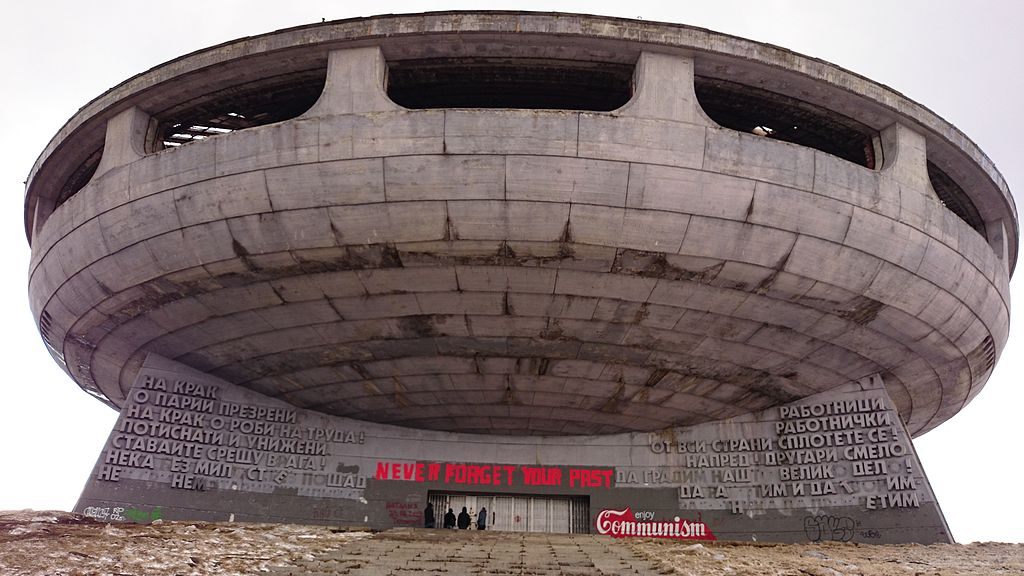 (Photo: Scroch/CC BY-SA 4.0)
On the remote Buzludzha peak in the mountains of Bulgaria stands an unusual abandoned saucer-shaped monument. The peak itself was the site of a battle between the Bulgarians and the Turks in 1868, and in 1891 a group of socialists met on the peak to plan for Bulgaria's socialist future.
To celebrate these historic events, the government in power during the height of Soviet influence decided to erect a monument commemorating communism. Large images of Lenin and Marx looked over the arena built for state functions and celebrations. Above it all blazed a red star-shaped window in honor of Soviet Russia. However, after the communist government's fall from power in 1989, the site was abandoned and became a target of vandalism. Most of the artwork has been removed or destroyed, but the concrete structure still stands against the elements.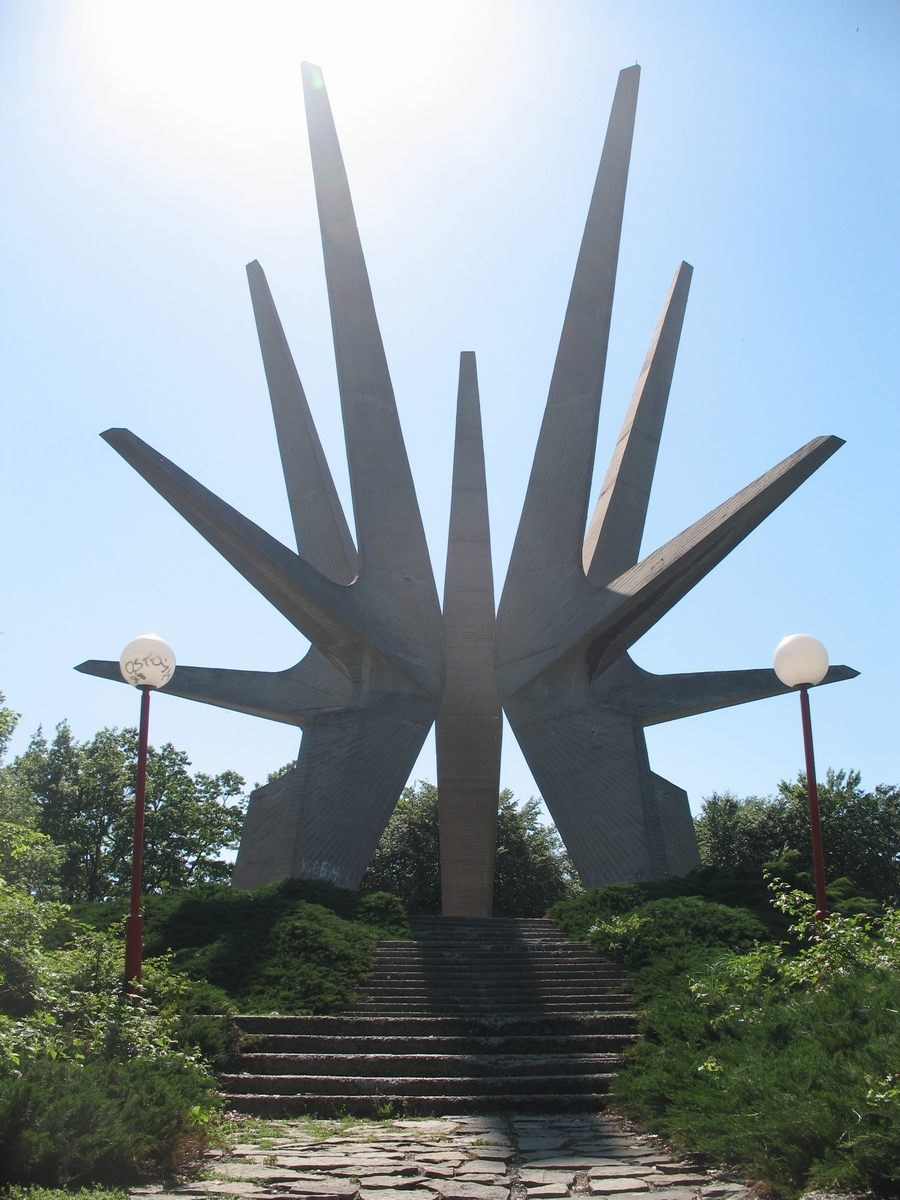 (Photo: CrniBombarder!!!/Public Domain)
The Kosmaj Monument (Kosmaj Spomenik in Serbian), is made of six freestanding concrete structures, each roughly 40 meters high, that taken together look a bit like a spaceship sent through time from a future envisioned in the 1970s. This spaceship-like Serbian monument reaches for the stars in celebration of the fallen fighters of fascism. Built in 1971 by sculptor Vojin Stojić and architect Gradimir Medaković, the brutalist monument celebrates a group of partisan fighters in World War II who battled against German occupation in the south of Belgrade.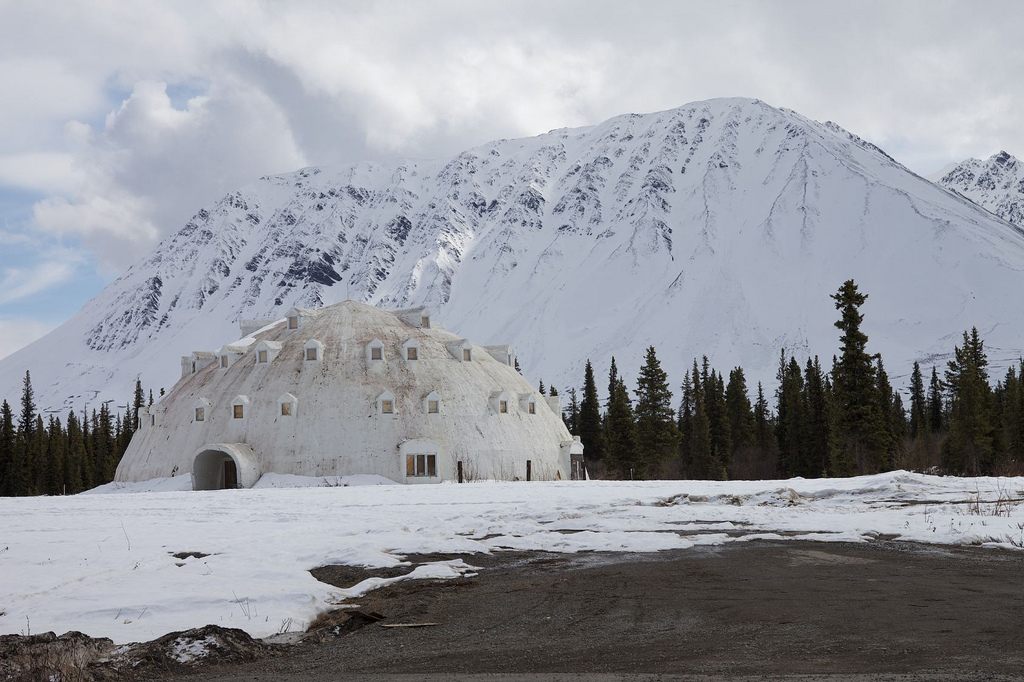 (Photo: Malcolm Manners/CC BY 2.0)
Sitting empty in a remote region, this four-story concrete structure is so large it can be seen by airplanes at 30,000 feet. Thing is, it never even opened for business. Intended to one day serve as a hotel, Igloo City in Cantwell, Alaska, was never completed. These days the abandoned giant concrete igloo has become an attraction nonetheless. It has proven impossible to keep curious passersby from wandering in to explore the imposing concrete structure.