A Subway Station in London Has Been Taken Over by Cat Photos
It's the first feline guerilla action from the Citizens Advertising Takeover Service.
A cat-guarded turnstile in Clapham Common. (All photos: #CatsNotAds)
A small subset of commuters in London is having a good Monday. Rather than being plastered all over with advertisements, South London's Clapham Common tube station is suddenly covered in cats.
Lucky traingoers are greeted by 68 different pointy-eared portraits. Some tumble down the walls next to the escalator. A few guard the turnstiles. Others line the walls of the station itself. Many of the photos depict cats currently in shelters, and seeking homes. They will be around for two weeks before being replaced by your everyday smug movie dudes and glamour shots of sandwiches.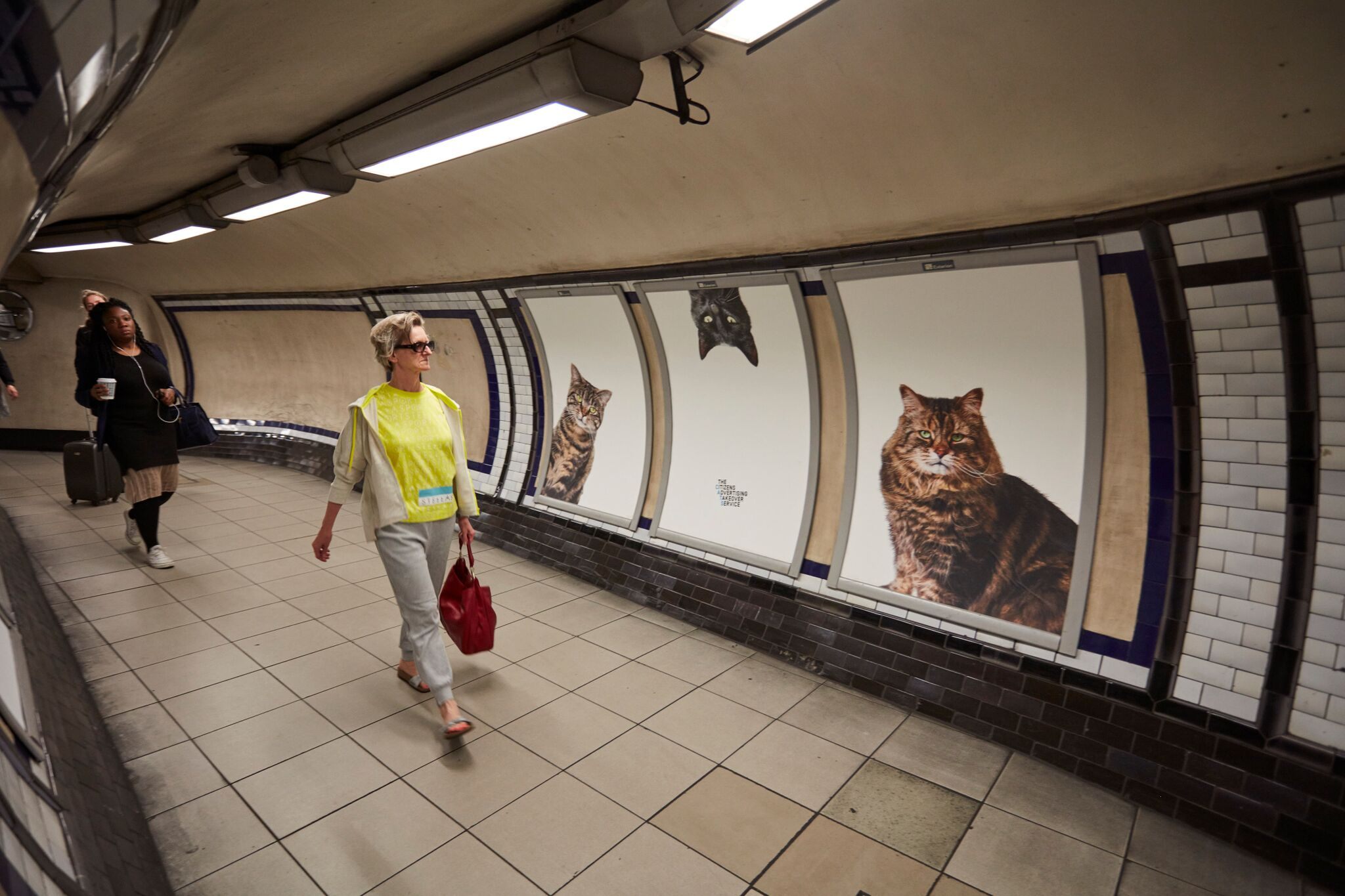 The group responsible—the Citizens Advertising Takeover Service (CATS)—has been scheming about this since at least April, when their Kickstarter page first popped up. In less than a month, they raised £23,131—enough to turn Clapham Common into Cat-fan Paw-mon. (Sorry.)
"This isn't a clever marketing stunt for a pet food brand, or a guerrilla campaign for a new TV series," explained CATS founder James Turner in a Medium post. "We want to inspire people to think differently about the world and realize they have the power to change it." According to this post, CATS is the first action of a new collective called "Glimpse," which seeks to "use the power of creativity for good."
Turner also details their strategy: "We wanted this to become famous, so we needed something the internet would love," he explains. In other words, it kind of is a clever marketing stunt. But a cute, savvy marketing stunt that makes people happy. Mar-kat-ing? (Sorry again.)
Every day, we track down a fleeting wonder—something amazing that's only happening right now. Have a tip for us? Tell us about it! Send your temporary miracles to cara@atlasobscura.com.